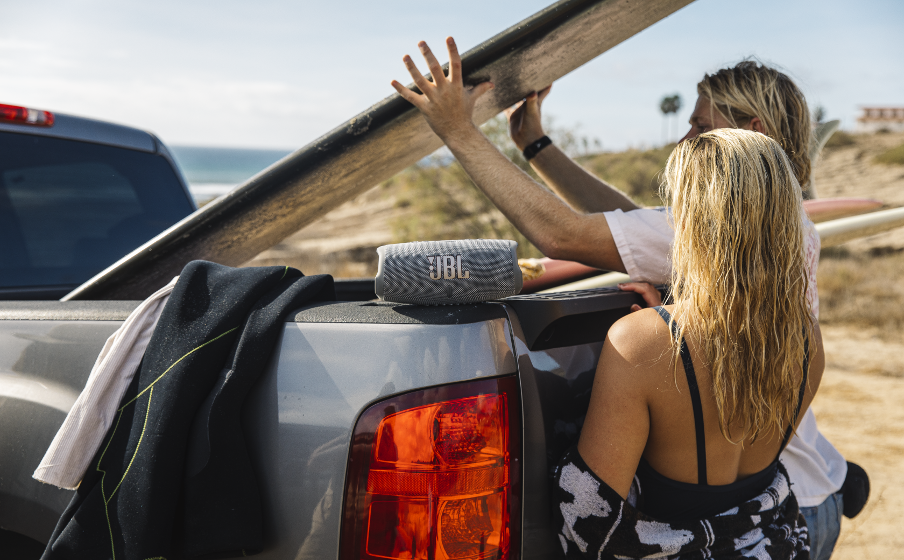 JBL Pros kraftfulla originalljud
Ta JBL Pro-ljudet med dig. JBL Charge 5 har ett optimerat element med lång slaglängd, ett separat diskantelement och dubbla JBL-baselement, och alla levererar ett imponerande fylligt och klart ljud. Få det där ljudet som fyller upp rummet, även utomhus.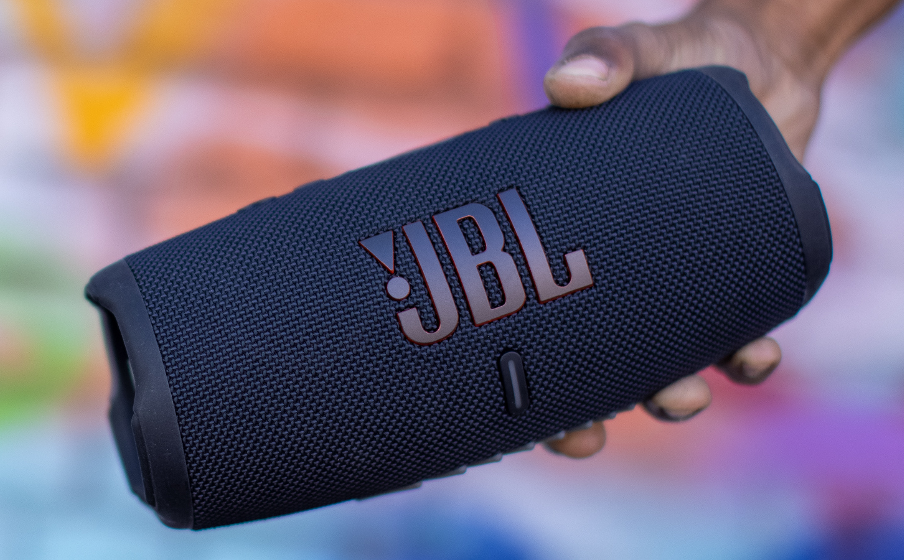 20 timmars speltid
Det roliga behöver inte ta slut. JBL Charge 5 håller igång festen både dag och natt med otroliga 20 timmars batteritid.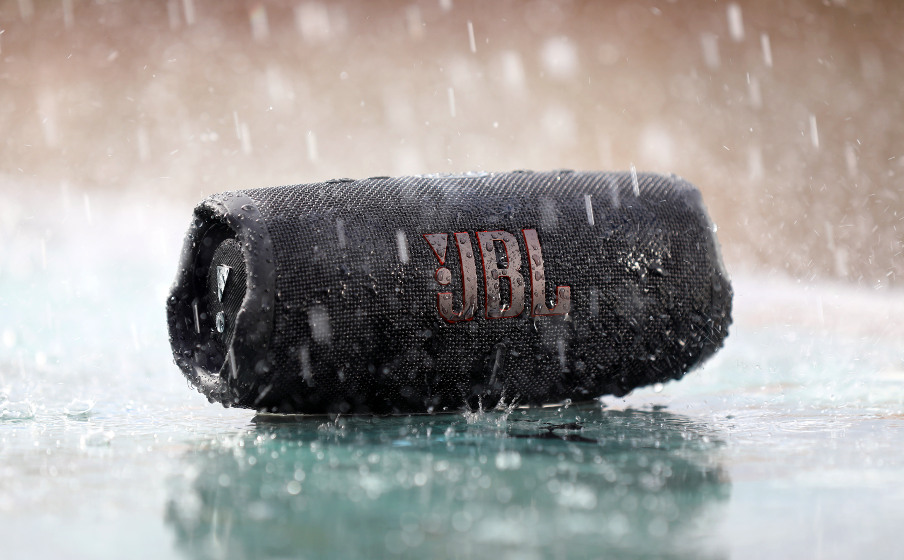 Vatten- och dammtät enligt IP67
Till poolen. Till parken. JBL Charge 5 är vatten- och dammtät enligt IP67, så du kan ta med din högtalare överallt.
Funktioner

Trådlös Bluetooth-strömning
Anslut upp till två mobiltelefoner eller surfplattor trådlöst till högtalaren och turas om att spela låtar med JBL Pro-ljud.

Ännu roligare med PartyBoost
Med Partyboost kan du parkoppla två PartyBoost-kompatibla högtalare och få ett kraftfullt stereoljud eller koppla ihop flera PartyBoost-enheter för att verkligen höja stämningen.

Ladda med den inbyggda powerbanken
Pausa inte festen. En inbyggd powerbank låter dig ladda dina enheter utan att pausa musiken.
Produktjämförelse
Hitta den bärbara Bluetooth-högtalaren som passar dig bäst
CHARGE5-
XTREME-3-
BOOMBOX-3-
FLIP-6-
JBL CHARGE 4
CHARGE-ESSENTIAL-2-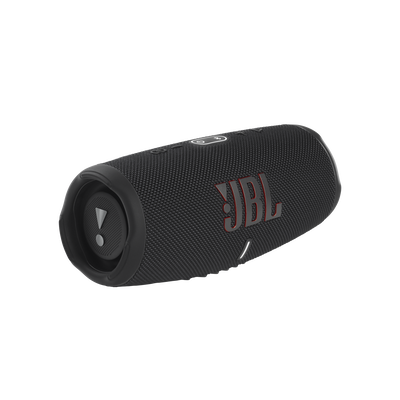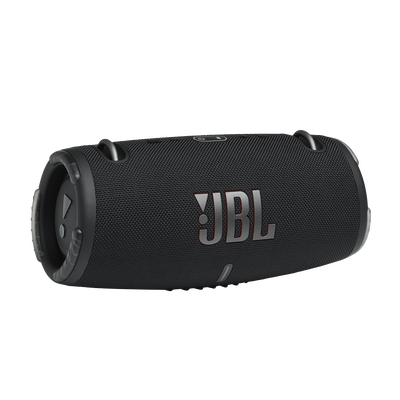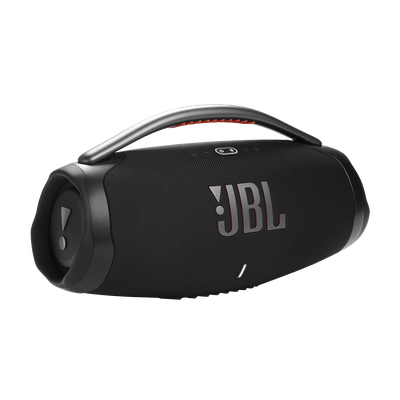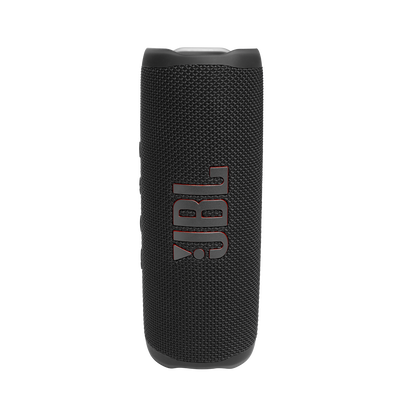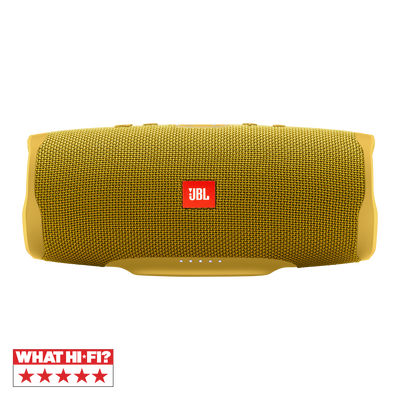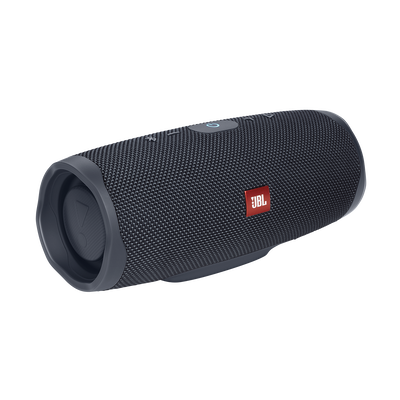 Allmänna Specifikationer
Uteffekt (W)
2 x 25W RMS woofer + 2 x 25W RMS tweeter
Uteffekt (W)
1x80W RMS-subwoofer + 2x40W RMS-midrange + 2x10W RMS-tweeter (AC mode) 1x60W RMS-subwoofer + 2x30W RMS-midrange + 2x8W RMS-tweeter (Battery mode)
Mått
Mått (cm)
29.8 x 13.6 x 13.4
Mått (cm)
48.2 x 25.7 x 20.0
Mått (cm)
17.8 x 6.8 x 7.2
Mått (cm)
22.1 x 9.4 x 9.4
Mått (cm)
22.0 x 9.60 x 9.34
Detaljer & Nedladdningar
Item# JBLCHARGE5BLK
Beskrivning
Spela och ladda hur mycket du vill

Ta festen med dig oavsett väder. Högtalaren JBL Charge 5 levererar JBL Pros kraftfulla originalljud med optimerad lång slaglängd, separat diskantelement och dubbla pulserande JBL-baselement. Upp till 20 timmars speltid och en praktisk powerbank för att hålla dina enheter laddade hela natten. Regn? Spillda drycker? Sand? Ingen fara! Charge 5 är vatten- och dammtät enligt IP67 och överlever allt. Tack vare PartyBoost kan du ansluta flera JBL PartyBoost-högtalare och få ett ljud som är tillräckligt stort för alla. Med helt nya färger inspirerade av de senaste gatutrenderna är den lika snygg som den låter.
Allmänna specifikationer
Ljudspecifikationer
Dynamiskt frekvensomfång (Hz)

60 Hz - 20k Hz
Mått
Mått (inch)

8.7 x 3.76 x 3.67

Mått (cm)

22 x 9.6 x 9.3

Vikt (kg)

0.96

Vikt (lbs)

2.11
Specifikationer, styrning och anslutning
Bluetooth-profiler

A2DP 1.3, AVRCP 1.6

Bluetooth-frekvens

2400 MHz - 2483.5 MHz

Bluetooth-sändarmodulering

GFSK, π/4 DQPSK, 8DPSK

Bluetooth-sändareffekt

≤ 20 dBm (EIRP)

Bluetooth-version

5.1
Batteri
Laddningstid (h)

4

Speltid (h)

20
Egenskaper
JBL PartyBoost

Ja

IPX-klassificering

IP67

Charging cable

Ja

Powerbank

Ja

Vattentät

Ja

Wireless

Ja

Uppladdningsbart batteri

Ja

Bluetooth

Ja
Vad innehåller förpackningen?
1 x JBL Charge 5
1 x USB-kabel typ C
1 x Säkerhetsblad
1 x Snabbguide
1 x Garantikort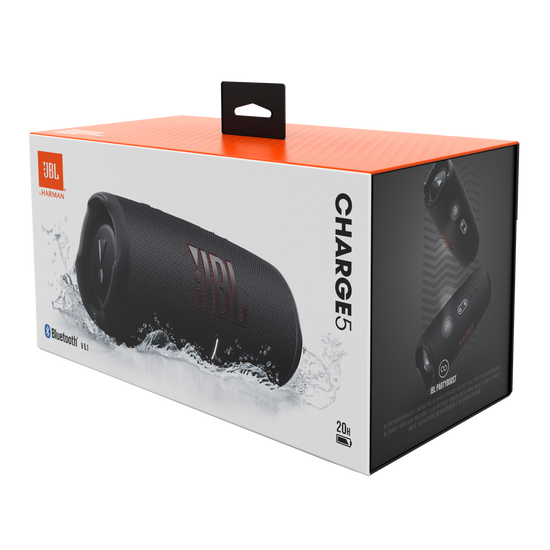 Dokument och hämtningar
Kundrecensioner
Rated

5

out of

5
by
68eight
from
Durable for Outdoor use
I needed a new speaker for work but needed something durable.I was hesitant to get this because looked too sexy to take to industrial environment.I took a chance and glad i did.Not only is this a beauty its a beast.The build quality is top notch the rubber sides and grill make me feel confident it will hold its own out here.Battery life is great i currently work 12 hours due to being short handed during pandemic and it has about 25% battery at end of shift while playing at about 75% volume.The type C charging port charges it up real quick about 1 hour or so.I haven't got it wet but i have got it dirty.Overall im happy and recommed if looking for something rugged yet pretty.
Date published: 2021-04-21
Rated

5

out of

5
by
Isa85testet
from
Excellent battery performance , rich sound
I have been the proud owner of the JBL Charge 5 for 1 week. The coupling with the box was completed within seconds and I was able to enjox the great sound of the box. The tone is already full and can convince in highs and lows. The battery life is terrific , it feels like you don`t get the battery empty and recharging is also quick. The JBL Charge 5 also leaves nothing to be desired in terms of processing. JBL is also following the current trend towards sustanability and only supplies the charging cable without a plug, exemplary! I have to say that with the Charge 5 ,JBL has really succeeded in creating a very successfil bluetooth soundbox that really leaves nothing to be desired.
Date published: 2021-04-13
Rated

5

out of

5
by
SouthportOwl
from
Great Upgrade to a favourite!
Received my new JBL charge 5 in blue (great colour). I'm really impressed with the update it's almost the same size as my old JBL Charge 4 but the design is just fantastic a bit like a mini JBL Xtreme 3 which I also own in black. Now to the sound. First there is not a Huge difference between the new charge 4 and 5 but because of the edition of a tweeter there is more clarity and it seems to hold on to more bass at higher volumes than the charge 4. Bass is slightly stronger to my ears even if the specs say different. Charge 4 plays down to 60Hz charge 5 65Hz thou there various videos around showing the Charge 5 playing down a lot lower than that. All in all it's a decent upgrade. Lovely design superb crisp sound and crazy powerful if you need it. I rarely go above 50% volume indoors because that's more than loud enough. well done JBL yet another cracker!
Date published: 2021-03-12
Rated

5

out of

5
by
theballer24
from
Best Purchase Ever!
I have never written a review for anything before, but I've always said I would for this speaker so I'm finally getting around to it. I bought the JBL Charge 3 a long time ago when it first came out. I didn't know what to expect, but I have been absolutely blown away. I love this speaker and I bring it to nearly everything I do. It's been at the pool, on the beach, on a kayak, and so much more. The sound is incredible, and it blows my mind how long the battery lasts. My friends and family have gotten on board and gotten themselves one too. If this Charge 5 is anything like my Charge 3, I will no doubt be getting one if my 3 ever goes out on me.
Date published: 2021-05-03
Rated

3

out of

5
by
Johnjr79
from
Nice upgrade.
I went down the review line and read this reviews and nobody seems to mention the sound muffle if you are holding the charge 5 on the exclamation j side. The tweeter is producing most of the sound. I reviewed the charge 4 and the only gripe I had with that was to move the driver to the center instead of one side for balanced sound that way if you grab it from any end you still hear sound instead of blockage. It's the same with the charge 5 you have to watch how you hold or grab it to not block sound. Sound quality is amazing just wish they could of move the smaller jbl logo to the upper right or left side and put the single driver dead in the center. Just my humble opinion. Still great product more power better sound nice exterior design.
Date published: 2021-07-06
bvseo_sdk, dw_cartridge, 18.2.0, p_sdk_3.2.0
CLOUD, getReviews, 3ms
reviews, product
Frågor och svar
Can you charge the speaker with the power bank
There are not two batteries in the device. The power bank feature is just accessing the battery you use to power the speaker when playing music.
Date published: 2023-02-01
Can you play music while this device is charging? My pulse 3 needs to be off with no music playing in order to charge. I want to keep the party going!
Yes, however as with many speakers with usually 5v 3a inputs, playing music above 60-70% volume while plugged in will consume more power than the unit can charge itself.
Date published: 2022-09-16
I updated the firmware in my two JBL Charge 5s. Since the update, it is almost impossible to connect the two JBL Charge 5s together, using the PartyBoost Button or JPL App. When I try to connect the second one, the first one disconnects.
I worked with the Customer Service and determined it is better to connect the speakers together using the Party Boost buttons on each unit. Then open the App if one wants to use the Stereo or equalizer features. It was hit or miss trying to connect the speakers together using the App, where one speaker would drop off. Also, it helps to have the speakers next to each other and my iPhone to make the initial connections. Both of my speakers have the latest firmware 0.8.6.0, and I am using the latest App 5.6.7 for my iPhone.
Date published: 2023-01-01
I cannot get phone call rings, text message notifications or other notification sounds to come thru speaker. Have tried with iPad Pro, iPhone 8 & iPhone 11 all with newest iOS software. But all work fine with Charge 4. 
I understand it does not have a mic.  I'm not trying to talk thru the speaker.  I never said anything about talking thru it.  I said NOTIFICATION SOUNDS from my device do not come thru the speaker. Sounds like text messages and social media notification sounds.  Using an iPad, an iPhone 8, and an iPhone 11 (all with the newest iOS software, you cannot hear these notifications on an updated Charge 5, or a updated Charge 3,  BUT I CAN hear these sounds on a JBL LIVE 500.  But a JBL representative told me that the newest software my Charge 5 and Charge 3 were update to, does not support the newest iOS software yet. 
Date published: 2022-03-25
I just bought the JBL Charge 5. On JBL website, under Tech Specs, Dynamic range is 60Hz - to 20 kHZ. On the Tech Spec paper I received with the product, The frequency response is listed as 65Hz to 20 kHZ. Which is correct? Is this false advertising?
Our JBL Charge 5 has a dynamic frequency response range of 60 Hz–20 kHz. We're always looking for ways to improve. We'll make sure to submit your feedback to the appropriate department. If you have any questions or concerns with your device, please contact our customer support service via our official website or toll-free hotline.
Date published: 2022-09-19
What is the difference in bt connectivity from partybox 310 and charge 5 i have one bt device she can connect to pb 310 and play music but on charge 5 it is connect but he dont play music, thx
Our JBL PartyBox 310 and Charge 5 have the same Bluetooth specifications: Bluetooth version: 5.1 Bluetooth profile: A2DP 1.3, AVRCP Please make sure that other Bluetooth devices are turned off. Also, check the BT menu of your phone if the media audio is enabled.
Date published: 2021-06-06
Why is my brand new JBL charge 5 not charging? Software is updated and I have used different cables etc. Please Help! 
Thank you for bringing this to our attention. Please follow the troubleshooting steps outlined in our ' Battery and Charging Issues' guide using this link. https://bit.ly/3blwbWY
Date published: 2022-11-29
What's the estimated "standby" time, assuming it's connected to my iPhone or other BT source but not playing any music? Are there any auto-shut-off or power-save features to conserve battery power when not in active use?
We appreciate the feedback you've provided to us. Our JBL Charge 5 has an auto-shut-off feature that disconnects the device after 10-15 minutes when not in use. This is mainly to save battery power and cannot be disabled. You will need to keep on playing music on your source device if you don't want it to shut off. We're always looking for ways to improve so we'll make sure to submit your feedback to the right department. If you have other questions or concerns, feel free to contact us here: hhttps://support.jbl.com/us/en/
Date published: 2021-10-10
bvseo_sdk, dw_cartridge, 18.2.0, p_sdk_3.2.0
CLOUD, getContent, 3ms
questions, product