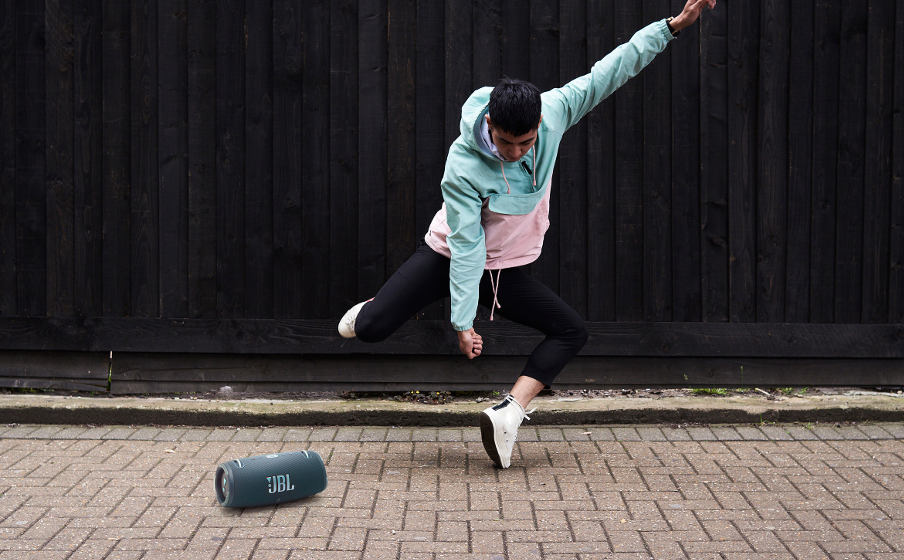 JBL Pros kraftfulla originalljud
Fyra element och två basreflektorer levererar ett dynamiskt och omslutande ljud med djup bas och massor av detaljer. Låt dig uppslukas av musiken var du än befinner dig.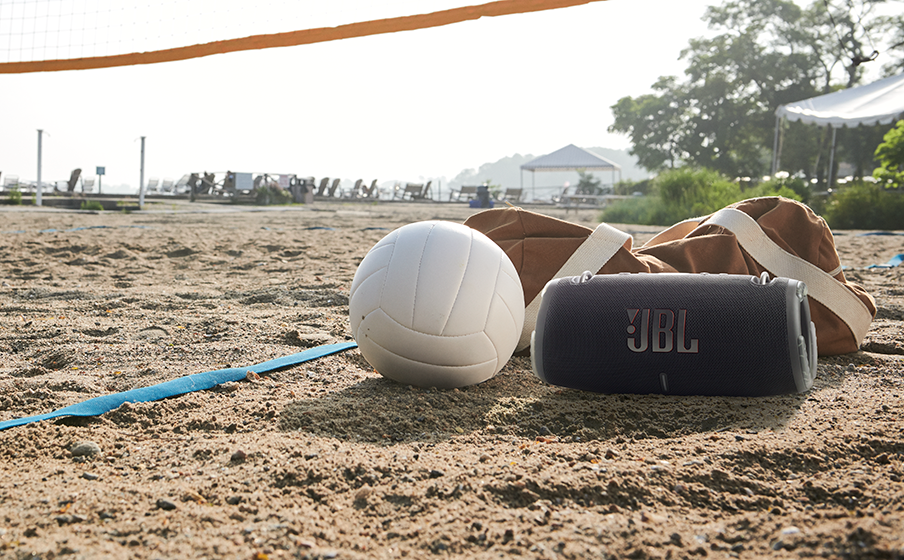 15 timmars speltid
Det roliga behöver inte ta slut. JBL Xtreme 3 håller igång festen både dag och natt med otroliga 15 timmars batteritid.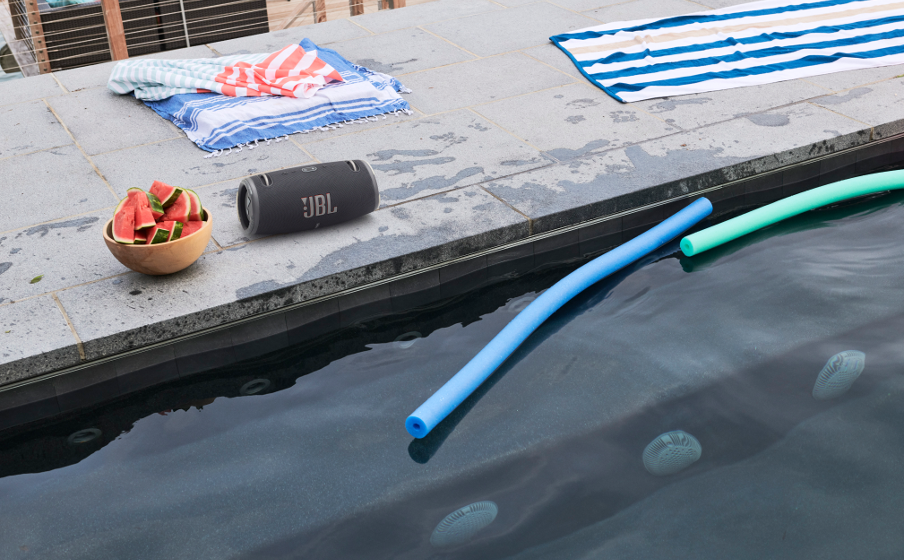 Vatten- och dammtät enligt IP67
Till poolen. Till parken. JBL Xtreme 3 är vatten- och dammtät enligt IP67, så du kan ta med din högtalare överallt.
Funktioner

Trådlös Bluetooth-strömning
Anslut upp till två mobiltelefoner eller surfplattor trådlöst till högtalaren och turas om att spela låtar med JBL Pro-ljud.

Låt festligheterna börja med PartyBoost
Med Partyboost kan du parkoppla två PartyBoost-kompatibla högtalare och få ett kraftfullt stereoljud eller koppla ihop flera PartyBoost-enheter för att verkligen höja stämningen.

Ta med den överallt
Den bekväma bärremmen gör högtalaren enkel att ta med och den inbyggda flasköppnaren gör den till festens höjdpunkt, var du än befinner dig.

Ladda med den inbyggda powerbanken
Pausa inte festen. En inbyggd powerbank låter dig ladda dina enheter utan att pausa musiken.
Produktjämförelse
Hitta den bärbara Bluetooth-högtalaren som passar dig bäst
XTREME-3-
BOOMBOX-3-
CHARGE5-
FLIP-6-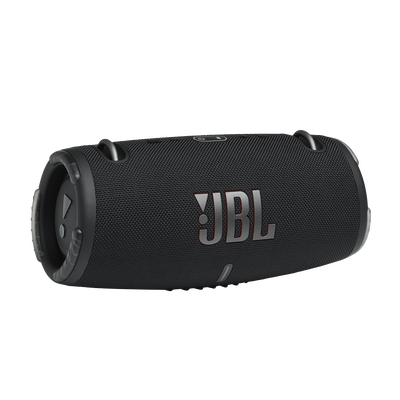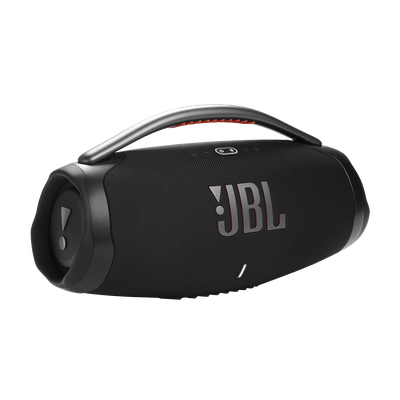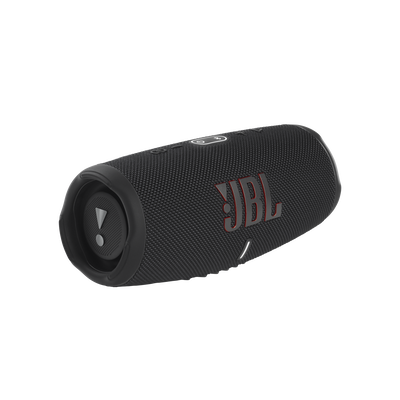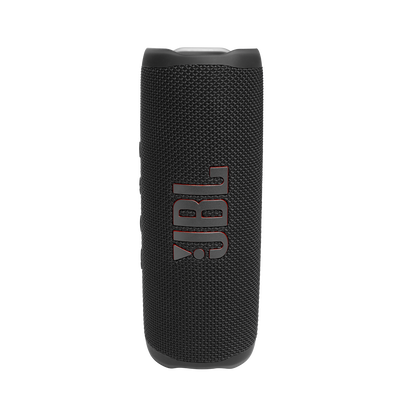 Allmänna Specifikationer
Uteffekt (W)
2 x 25W RMS woofer + 2 x 25W RMS tweeter
Uteffekt (W)
1x80W RMS-subwoofer + 2x40W RMS-midrange + 2x10W RMS-tweeter (AC mode) 1x60W RMS-subwoofer + 2x30W RMS-midrange + 2x8W RMS-tweeter (Battery mode)
Mått
Mått (cm)
29.8 x 13.6 x 13.4
Mått (cm)
48.2 x 25.7 x 20.0
Mått (cm)
17.8 x 6.8 x 7.2
Detaljer & Nedladdningar
Item# JBLXTREME3BLKEU
Beskrivning
Kraftfullt ljud var du än är

Musik vid poolen. Picknick ute i det gröna. Eller en trevlig stund med vännerna. Musiken skapar festen. Den bärbara Bluetooth-högtalaren Xtreme 3 levererar enkelt JBL:s mäktiga proffsljud. Denna högtalare har fyra element och två pulserande baselement för att ge de kraftfulla ljudet som drar igång festen. Den har även PartyBoost-funktionen som gör att du kan ansluta flera PartyBoost-aktiverade JBL-högtalare för att ta festen till nästa nivå. Låt musiken flöda var du än befinner dig, med inbyggd flasköppnare blir Xtreme 3 snabbt festens centralpunkt. Lite regn kommer inte att förstöra din enhet, den är vatten- och dammtät, men en bekväm bärrem som gör det enkelt för dig när det blir dags att flytta festen inomhus. JBL Xtreme 3 blir festens höjdpunkt var du än befinner dig.
Allmänna specifikationer
Uteffekt (W)

2 x 25W RMS woofer + 2 x 25W RMS tweeter
Ljudspecifikationer
Dynamiskt frekvensomfång (Hz)

53.5 Hz - 20k Hz
Mått
Mått (inch)

11.75 x 5.35 x 5.28

Mått (cm)

29.8 x 13.6 x 13.4

Vikt (kg)

1.97

Vikt (lbs)

4.34
Specifikationer, styrning och anslutning
Bluetooth-profiler

A2DP 1.3, AVRCP 1.6

Bluetooth-frekvens

2400MHz - 2483.5 MHz

Bluetooth-sändarmodulering

GFSK, π/4 DQPSK, 8DPSK

Bluetooth-sändareffekt

≤ 12dBm (EIRP)

Bluetooth-version

5.1
Batteri
Laddningstid (h)

2.5

Speltid (h)

15
Egenskaper
JBL PartyBoost

Ja

Charging cable

Ja

3,5 mm ljudingång

Ja

Powerbank

Ja

Vattentät

Ja

Wireless

Ja

Uppladdningsbart batteri

Ja

Bluetooth

Ja
Vad innehåller förpackningen?
Högtalaren JBL Xtreme 3
Snabbguide
JBL-adapter med strömkabel och regional stickkontakt
Bärrem till JBL Xtreme 3
garantisedel
säkerhetsblad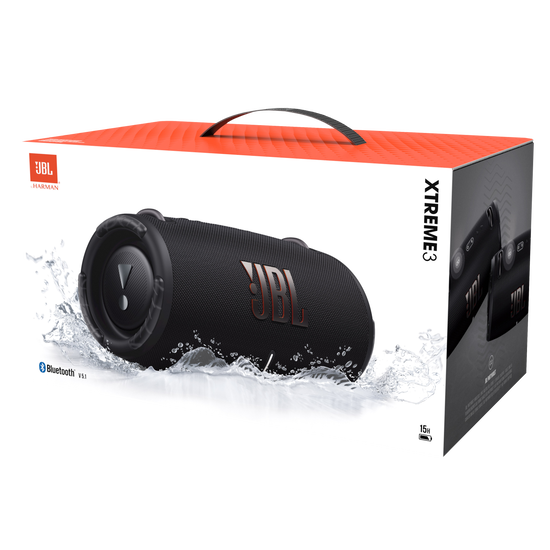 Dokument och hämtningar
Kundrecensioner
Rated

2

out of

5
by
Danny
from
Not as Good as Xtreme 2
The Xtreme 3 has an annoying treble boost in comparison to the Xtreme 2. When turned on high inside a room, it hurts the ears. Bass is also reduced when compared to my Xtreme 2 side by side. I expected this release to outdo the previous version. Not worth $345. I'll probably return it.
Date published: 2020-12-06
Rated

3

out of

5
by
PetrV
from
balanced sound
JBL is a brand of quality and great speakers, Xtreme 3 disappointed me a bit with the bass component. But after a few days I got used to it, the sound is cleaner, the treble is excellent. bass could be more. What disappointed me is charging, the USB C is really great, but the speaker only manages to charge with a 65w charger, that the 45w charger cannot be charged during operation. I thought that Samsung's chargers would be compatible, and everything would work. Unfortunately 45w is not possible.
Date published: 2021-04-01
Rated

4

out of

5
by
jhalnbk
from
GREAT PORTABLE SPEAKER
I just got this speaker a couple days ago, and I love it. The strap it comes with is awesome if you ever want to throw it over your shoulder and take it on the go. Take this thing to the beach, take this thing camping, take it wherever you are headed and you won't be let down. The sound quality on this speaker is great, however I do think it could get a little louder. The speaker has a cool, sleek design and is easily fits into a backpack or gym bag. However, the BEST part about this speaker is that it has a USB port in the back. You can use it to charge your phone or other devices, which to me is game changing. Highly recommend this speaker if you are looking for something to take with you on the go.
Date published: 2021-01-05
Rated

4

out of

5
by
JUST1CE
from
Good besides reproducing treble!
There are a lot of complaints about the grinding of high frequencies. It is necessary to modify the SBC codec to two-channel, with the bitpool settings. Or apply the ability to use other codecs with higher bandwidth to improve sound quality. I ask you to transfer this to the department that is engaged in the development and updating of software. There are already cases of returning the Xtreme 3 due to this flaw!
Date published: 2021-04-18
Rated

5

out of

5
by
rlmoyer
from
JBL Extreme 3 delivers!
The JBL Xtreme 3 delivers! It feels like a callback to the days of boomboxes on shoulders. It has a decent heft and size to it, but the included strap makes carrying it a breeze. Its construction is solid and gives a premium feel. The battery lasts quite some time between charges; I'm not sure if I get the full 15 hrs promised, but it holds charge for multiple days of regular use before dying/battery light coming on. I wish I had another so I could utilize its PartyBoost feature; that would be an awesome capability to access. Now the big question, how's it sound? I've got quite a few JBL products and I can say for certain it you like other JBL audio devices you'll like this one. It's got their touch to the audio for sure. I was hoping a little more depth from the bass, drops off any meaningful volume under 40hz (nerd speak here, it can't do REALLY really low sounds). That being said, the beauty in this speaker is in its default EQ and crossover. They really hit the nail on the head finding a setting that makes the bass very present and clear at any volume and still keeps all of its higher register fidelity. Translation? It makes everything you listen to clear crisp and lively and projects well. Overall it's a solid speaker, my only issue with it currently (if I can even call it an issue) is it's so pretty, I don't want to get it dirty!! But that's what it's built for and it's been very easy to clean so far. I definitely recommend the JBL Xtreme 3.
Date published: 2021-01-14
Rated

3

out of

5
by
DM330
from
Extreme 3 Boom Box 3 and 2
I love the waterproof rating. I listened to JBL since the 70's and they sound good. The Bose home smart speaker sounded better but I did not keep it either. Bose support needs attention and the need to update the bluetooth connection and get waterproof ratings updated. If the Extreme 3 had more base I would have kept it for portability. I hope an Extreme 4 is coming with more base!! I will buy it. I kept the Boom Box 3 because of sound quality, but can't put in backpack for traveling. The BoomBox 2 had more CLEAR base but no midrange. Please put the Boombox 2 subs (or 2 bigger ) in the Boom box 3, then you would have it!!!!!!!!
Date published: 2023-05-10
Rated

4

out of

5
by
Meghan
from
Great sound and great base
Overall, I am really enjoying this speaker. It is slightly heavier than I thought it would be but it's not too heavy. For the type of product this is I am very satisfied with the sound quality and the base quality. You can definitely feel the base from the speaker which I enjoy. I do wish that it had speakers on the back of it. Since it is round it would be cool if sound came out on both the front and back instead of just the front. But I still love it, the sound quality, and love that it has an added strap!
Date published: 2021-01-04
Rated

3

out of

5
by
Steve Verdon
from
Its Great But.......Does not connect to older JBL
Got it to add to my JBL Xtreme and Charge 3. Does not connect to them. JBL has 3 versions of Connect, Connect + and PartyBoost. I updated firmware for the Xtreme and Charge 3, now none of them connect at all. My cheaper older Xrtreme is louder than the new Xtreme 3. If your wanted to add to your JBL collection, beware and get informed. If your buying your first JBL, than overall its a good speaker. I'll be returning mine.
Date published: 2021-04-11
Rated

5

out of

5
by
Jcuevas
from
One of the best portable speakers
I have been using this speaker for close to two weeks now. It came shipped in a very well packed Jbl box. Upon opening I was presented with the well packaged Extreme 3 speaker and all of the accessories. It's always a treat when you open an item from JBL. The presentation upon opening these products made by this company are some of the best. The speaker itself feels very sturdy and very well constructed. It includes the charging cable and a carrying strap which has a very thoughtful bottle opener on it. Great touch and idea in my opinion. The strap was fairly easy to put on and makes carrying the speaker fairly easy and lite. After charging the speaker I synced it to my iPhone. This speaker has Bluetooth 5.1. It connected right away with no issues. The speaker has great presence and has a very full, warm sound. I was in my basement and could still hear and slightly feel the music when I went upstairs for a quick drink, leaving the speaker downstairs and still playing music at about 40 percent volume. I played all different genres of music through the speaker and really enjoyed the sound quality. Playing some salsa music, you could hear all the instruments fluidly. Nothing overbearing or muffled. Clear and crisp without any hints of distortion. Very impressive at all volumes. I played some hip hop and r&b music and again it was very impressive. I then tried some test tones from an audio track which does sweeps of lower and higher end notes. The speaker has two small woofers which are 2.75" as well as two small tweeters. The speaker was able to produce lows with some authority which is very surprising and impressive for its size. Not bone shattering but you can hear and feel the low notes. It played the mids very well and had great highs. It is a very warm blend of the entire frequency range. if you load this speaker up by placing it in a corner you will get more low and midrange output out of it. I tried it in my bathroom on a tiled floor and this speaker slams! It does get loud! I then tried the speaker outside. I have a very big yard and live on a busy street. I had the speaker positioned on the floor, about 25 feet away from where I was washing my car. I could hear it just fine over the traffic and noise from the hose from me washing my car. I also had a few kids trying to scream over the speaker but the extreme 3 one that battle. I felt very confident bringing this speaker outside. It's sturdy craftsmanship makes it feel like it can take some abuse. A few falls and maybe an accidental kick into a pool. The back of the speaker has a very water tight cover that houses the 3 ports. One is for USB port for charging a device. Another is the usb-c port to charge the speaker and the other is an auxiliary in jack that is 1/8" headphone style jack. The bottom has rubber grips to help keep the speaker planted. Like I mentioned before. Very well throughout design and feels sturdy. The front has an led that works as a battery indicator. I love that this speaker has so much output and it's battery operated. If you connect the power charging cord to it while it's playing, it does sound a little more powerful. It's loud and powerful enough to let it just run on battery power. Using the speaker for the two weeks I have had it, I have charged it twice running it down to a dead battery which took some time. I usually play it at around 3/4 volume for at least 3 hours a day. I bring it to work and play it conservatively at 1/4 volume. The battery is practically still charged at the end of an 8 hour shift. After two work days it's at around 70 percent battery. It drains faster the louder you have it. I have to say, the design of this speaker with its passive radiators and tubular shape makes for a great sounding speaker. I love watching the radiators move. They really help bring out the low notes. Never would of thought I would here 2.75" woofers go down to 52 hertz when I played the bass sweeps. I will be purchasing another one of these in the future so I can further utilize the party mode feature. This allows you to link two speakers together. This will be beneficial for when I have my pool parties. I usually have to lug a big ac powered speaker for my parties, but this speaker which is honestly 1/4 of the size and 1/8 the weight, and is also wireless, sounds better is just all around easier for me. You can even have two phones linked to it simultaneously. I am truly enjoying this extreme 3 speaker. Another great JBL product!
Date published: 2021-01-06
Rated

4

out of

5
by
Berto
from
Nice travel speaker
Received this a little over a week ago and have been putting it thru the test. Sound quality is good but lacking the bass found in speakers of this price range. Out the box, I was disappointed with the speaker, but after a full charge, I was surprised at the quality and the sound, minus the bass. This speaker is extremely portablle, compact, and goes anywhere! Would recommend this for people who are looking for a travel speaker and don't minds have a lot bass!
Date published: 2021-01-05
Rated

5

out of

5
by
Musicguy24
from
Best Speaker I've Bought Yet
The speaker itself is quite possibly the best I've owned, it may not be worth the cost to upgrade for some, but if you are in the market for a new speaker this is a serious contender, the bass is heavy and for acoustics it is crystal clear Have yet to test how durable it is (I don't intend to) but it looks pretty solid the strap is nice and speakers sling to you nicer than I expected, its an interesting choice instead of a handle but I'm not against it
Date published: 2020-11-30
Rated

5

out of

5
by
hagaynor
from
Best speaker I own extreme sound
I love my xtreme 3 speaker the sound is top notch and I love that I can also charge my phone with it. Easy to connect to my phone and I highly recommend.
Date published: 2020-12-31
Rated

5

out of

5
by
Miguelito 350
from
Great Speaker
JBL Xtreme 3 I just got The New JBL Xtreme 3 Speaker I really like this speaker, the way it looks and even better the way it sounds. .. Looks : I am impressed by the way that the new JBL logo Looks in front of it , a well done logo.. .. Nice Rubber / silicon lines under the speaker , they give it a better grip on all surfaces.. .. Side bumpers at first they do look a bit weird.. But my guess is that they are there for more protection in case we drop the speaker.. also , i noticed that if you put the speaker in a vertical way , those bumpers give the unit more space for the sound to come out and the driver won't suffocate.. .. Holding Strap : also has some rubber / silicone lines on it for better grip , and to prevent from slipping / sliding.. .. Charging Port : I really like that this speaker comes with a Type - C charging cable option.. if for some reason the battery dies when i am out and about , i can use my Cellphone cable to charge it.. very good idea JBL team.. .. No Aux connection input in this particular speaker.. .. Sound : The JBL Xtreme speaker lineup has been very popular for their sound quality.. and this one is no exception.. the sound is great , very loud and impressive.. .. Battery fife : it is very good , up to 10 hrs at high volume, and about 15 hrs at reasonable volume.. Overall this is another Well made / Great sound Speaker from JBL ...
Date published: 2020-12-30
Rated

3

out of

5
by
Nazarenergy
from
I have the 2nd and REALLY want the 3rd iteration!
Butt... what keeps me from making the jump (to be abe to hook my Flip2, charge 3, x2 and x3 up in a symphony of utter madness is one glaring problem. The extreme series (and possibly newer models of other ones) have a deal breaker for me. They in an attempt to save battery (I can only assume) will cut power to the speaker only. The whole unit doesn't power down until 30 minutes have elapsed but if there is a (large) break in music or any silence in a movie especially if plugged into the aux the sound (or lack there of) will stop! Upon restarting when sound is detected it will effectively cut off the first part of a word or note of a song. Infuriating!!! I didn't notice this as it usually stayed playing music, but once I used it for a sound bar as mine had died I noticed and have ever since then as well! Jbl please, please for the love of great sounding music movies and whatnot. You guys make great stuff! Fix this! Maybe through an update that let's you disable it in the app. But I have seen this in MANY THREADS people playing ultra low or extremely hight frequency im talking 10 or 25k htz 24/7 just to keep the darn thing running. I am willing to buy the x3 if you fix this! If it is mechanical I am also willing to pay to fix the one I have and buy the 3rd and pay to fix it as well! Address this! Please! Sound quality 4.6 Visually appealing 5.0 Durability 5.0 Portability 3.9 (this doesn't count to the average) Should be a rounded up 5 But I must dock 2 solid stars
Date published: 2021-01-26
Rated

1

out of

5
by
Jonpem
from
Extreme 2 was louder and better and cheaper
I like this model but I feel as if the fell short on the performance of the speaker , the jbl extreme 2 was way louder than this one and the bass was unmatched.
Date published: 2021-12-13
Rated

5

out of

5
by
EventPlanner1001
from
Work Great with Big and Small Groups
Ww organize training events ranging from 20 to 200 people, and we require different types of speakers for our events. This speaker works great for small events up to 50 people, and has the ability to connect to our mixer to connect our microphones and laptops via the AUX 3.5 mm connection. We are extremely happy with the 100w output and the portability. In the past we used to carry heavier speakers to our events, and JBL Xtreme 3 has been a lifesaver. We looked at various comparable models, but this speaker has functions that other speakers don't have. Very highly recommended for indoor and outdoor use.
Date published: 2022-08-13
Rated

4

out of

5
by
Mr Kandi
from
Awesome Bluetooth speaker.
Jbl extreme 3 is an improvement from the jbl extreme 2. The only issues I have noticed are that, one, the battery life of the JBL extreme 3 doesn't last as much as the extreme 2 and lastly, there is no enough bass at max volume. Overall, the speaker is worth the money you pay for.
Date published: 2021-03-04
Rated

4

out of

5
by
histar
from
Rugged and powerful
This is a super heavy duty bluetooth speaker, born to be taken with wherever you go. It is rugged and robust, can take a few knocks and splashes and still keep going. And going. The battery life is awesome!! Its definitely solid in form, and pumps out some pretty good volume but still retains the clarity of sound you expect at this price point. Its dustproof and waterproof which means its safe for the beach or lake outings. I liked the added bonus of the newer USB charging option so I don't have to mess around with different cables while traveling and I can give my phone a bit of extra juice straight from the speaker if I really need it. I think this might be a bit of overkill for your average home speaker, but it is perfect for summer beach parties, camping and tailgating - although the neighbors might not love it, you will! Highly recommend as a speaker to take with you while you are out there living life.
Date published: 2021-01-11
Rated

4

out of

5
by
Adksherm
from
Good speaker, horrible app
The speaker has the features I needed. I can listen at work at the job site all day and charge my phone as well. However the app will not update the firmware on my device or to access the equalizer; I tried with several devices. The bass could be better for how large the speaker is but is satisfactory . The treble seems to become tinny at the highest two volume settings. The quality of construction is high. Its a bit pricey for what it is, but this is built like a tank!
Date published: 2021-07-11
Rated

5

out of

5
by
brandon687
from
Portable yet powerful
This speaker totally blew me away on how loud and powerful this speaker is. I used the party boost button to link it to my other JBL speakers and was pleasantly surprised by how well the sound was delivered throughout my house covering both the high and low ranges of audio. The features on this speaker do set it above what's currently on the market especially for the price. Last thing I will say about this speaker is that it brings the party wherever you bring it.
Date published: 2020-12-31
Rated

5

out of

5
by
2TonedNative
from
Beautiful Sound
Right out of the box, there was some juice on the battery. I easily paired my phone to the speaker and started blasting crystal clear sound from the speaker. I tried a variety of music that I like to listen to, from Country to Rock to Hip-Hop. The sound quality is amazing! Clean highs, clear bass notes hitting, and a pretty awesome mid-range sound makes this the perfect speaker that I plan to take on the boat next summer! This speaker will go everywhere I plan to have a party, and hopefully I get a chance to pair it up for Party Mode with other JBL speakers via the PartyBoost link. I cannot get over how clear the sound quality is even at loud volumes where other speakers would start to distort. My next house party will be sounded by the JBL Xtreme 3!
Date published: 2021-01-07
Rated

5

out of

5
by
Dodo97
from
Nejasno
Jos uvijek cekam da primjer ovog modela xtreme 3 dođe kod mene što je uskoro. Ali vidim neka nerealna ocekivanja nezadovoljnih kupaca. Puno usporedbe sa prvim modelom kao da ima vise basa. Ja sam slusao pozorno na modelu xtreme 3 je bas mozda slabiji za pola nijanse ali je cisci i precizniji zvuk u odnosu na xtreme 1. Jedina velika mana za mene na tako vrhunskim zvucnicima je to da trajanje baterije nije dobro raspoređeno. Evo primjer. Jedan charge 5 traje puno dulje od veceg xtreme modela. Ili boombox traje 24 sata dok xtreme 15. A flip 5 12 sati. A hvala bogu cijene su ekstremno za svaki model skuplje pa bi volio da xtreme 3 na primjer traje barem 18 sati ako boombox moze 24 sata trajat.
Date published: 2022-06-05
Rated

5

out of

5
by
RussDe
from
What great sound!!
I received a week ago and have only used once but man, what a great speaker. I took it to my gym after hours for a workout with my daughter and it filled the gym with better sound than the built in system. My 18 year old daughter immediately claimed the speaker as her own. I may need to buy another as I'm pretty sure this thing is off to college with her soon. :)
Date published: 2022-03-10
Rated

5

out of

5
by
Hemi Head
from
I checked out some other brands for comparison before making my decision to try the Extreme3. In the end it won out for me. It was close but the waterproof & dustproof features helped sway me. The sound is awesome for it's size & you can take it anywhere. I use it indoors & out. It sounds great everywhere & the battery lasts me for days. I also thought about the boombox2 but decided it was a bit too large. After playing it though I might have to come up with an excuse to get it as well.
Date published: 2021-04-05
Rated

5

out of

5
by
Lee65
from
Love the sound , and very easy to take with me
I have bought six of the Bluetooth speakers, the quality is excellent, the sound is great
Date published: 2020-12-01
Rated

5

out of

5
by
The Awesome One
from
better than anyone could expect!
Had a Charge 3, the battery went bad after 4 years of almost daily us. It performed better than expected for such a little speaker. After talking with a JBL customer service agent and determining the battery was bad, he offered me a 30% off coupon on a purchase of a new JBL product. I decided on the JBL Extreme 3, all I can say is WOW!
Date published: 2021-10-05
Rated

5

out of

5
by
brian163
from
Impressive design and sound
From the moment it came out of the box I as impressed by the design. A few weeks later I remain impressed with the features and sound. I started out a Charge 2 user and I really liked it's portability and sound quality for a smaller form factor. But it could be a bit underwhelming as an outdoor speaker. Not true for the larger Xtreme 3. Sound is well balanced and bass packs an extra punch. It is a little heavier then the charge but size makes might. The carry strap is nice with strong hooks so I would have no concern about slinging this over my shoulder and taking it out to the beach. The only larger offering is the boom box and which is considerably heavier and bulky. If your looking to choose the Charge or Xtreme, it really comes down to the size. Now that I have both, I feel like I will be grabbing the Xtreme far more often when going outside and using the Charge indoors when I'm working in the garage or my kids want to move around with a speaker.
Date published: 2021-01-22
Rated

4

out of

5
by
DLC3
from
I loved this speaker!
All JBL speakers are amazing! I had a Prius with JBL speakers and I was so bummed when I had to part ways. Since then I am loyal to JBL. I currently own the JBL Xtreme 3 and the Go 3. I am sad to say that the battery on the Xtreme has unfortunately died out. It won't keep a charge anymore and I'm not sure why. Anyone else have this issue? I don't want to get rid of it just yet and I just don't have the money right now to replace it.
Date published: 2022-06-27
Rated

5

out of

5
by
trfields76
from
Great Features and Sound!
I have had this speaker for a week now and the sound and bass is amazing! I would definitely recommend this speaker to everyone. I would love to hear four of them linked together in PARTYBOOST.
Date published: 2021-01-04
Rated

5

out of

5
by
MattM49
from
Great Durability and Amazing Audio
The JBL Xtreme 3 has great sound quality, amazing Durability, and is an overall amazing speaker. To get straight to the point of this review, I'd like to say that for those who are accustomed to the JBL lineup, this speaker follows in the footsteps of previously generations. What I mean by that is while it still excels in key categories that previous generations have, it also lacks in key categories like previous generations have! For it's strengths, the Xtreme 3 has loud, detailed, and bassy sound quality as to be expected from JBL. It also features a gorgeous new design, a more user friendly waterproofing seal, and finally a USB-C charging port! Those are all great features but JBL still lacks on some new technological advancements. One of those being the charging output of the speaker is limited to 10w USB charging and 7.5w USB-C charging. For most people, this wouldn't affect their decision but as someone who has a phone capable of being charged at 45w, the 7.5w charging is miniscule. Another downfall of JBL's lineup is the lack of the "previous track" button combo. This feature has been missing on JBL's bluetooth speakers since the very beginning but it becomes evermore frustrating after every generation that goes by. To top this off, JBL comes out with a new pairing mode to connect with other JBL speakers almost every generation that lacks backwards compatibility! I have purchased generations of JBL's lineup and it's frustrating that I can't connect my new Xtreme 3 to my original JBL BoomBox, my Charge 4, my Flip 4, or my original Xtreme. This is the main contributing factor of why I no longer purchase bluetooth speakers and why I've transitioned almost exclusively to smart speakers! Most (if not all) Google Assistant powered smart speakers offer the backwards compatible connecting feature that JBL lacks. In my best advice, if you don't need your speaker to be portable; please look at smart speaker lineups first. They will do you well in the long run!
Date published: 2021-01-09
bvseo_sdk, dw_cartridge, 18.2.0, p_sdk_3.2.0
CLOUD, getReviews, 4ms
reviews, product
Frågor och svar
I'm having trouble linking my Bose Soundlink Bluetooth Model 404600 to my brand new JBL Xtreme 3. The sales person at Best Buy told me this would work.  If it hadn't I wouldn't have bought it in the first place. Not happy. Please help. 
We're sorry to hear about what happened. Unfortunately, our JBL Xtreme 3 can only connect with JBL speakers that have the PartyBoost connect feature.
Date published: 2021-07-30
When will you restock this speaker, I'm tryna cop.
We have no news to share as to when our Xtreme 3 will restock. Please keep following us and subscribe to our newsletter here: https://www.jbl.com/subscribe.html
Date published: 2021-06-06
When will the blue color be back in stock? 
Unfortunately, there are no dates yet when the JBL Xtreme 3 Blue will be in stock. Please subscribe to our newsletter to be updated with our products.
Date published: 2021-06-06
Does JBL Extreme3 (or other JBL outdoor speakers) have Airplay-2 (i.e. are compatible with Apple's Home-Pod)?
Our JBL Xtreme 3 does not support Apple Airplay2. We recommend the JBL Link Portable as this supports Airplay2 and Chromecast. To learn more about the Link Portable, you may visit our website here: https://bit.ly/3IwybsI
Date published: 2022-03-10
Can we charge Xtreme 3 with an external battery charger and type c cable?
Thank you for your question. So long as the power input is to a maximum of 5V/9V/12V/15V/20V, 3A Should you wish to receive further support, you may contact the Harman Customer Support team by telephone, email or chat in order to receive direct assistance. Please see https://uk.harmanaudio.com/support-contact.html#ns for further details.  Thank you.
Date published: 2021-06-06
Can usb with song on be played on the extreme3 .
Our JBL Xtreme 3 can't play a USB stick on the port as it's used for service. This can only be used through Bluetooth or Auxiliary.
Date published: 2021-06-06
Good day! Why is there no app and software update for xtreme 3?
We have no news yet as to whether we will be releasing another update for our JBL Xtreme 3. Just to make sure you have the latest update. There are several conditions that need to be met: 1. The JBL Charge 3 must be updated using the latest firmware available through the JBL Connect App (available through Google Play and the App Store). ***NOTE*** Doing the update would change the feature of the Charge 3 to the JBL Connect+ and will no longer be able to connect to other JBL Connect speakers (eg. Flip 3, Xtreme). The update is irreversible. 2. After the update, the Charge 3 must be connected to another JBL Connect+ speaker (eg.. Xtreme 2, Boombox, another Charge 3 that has been updated) 3. The "stereo mode" is enabled inside the JBL Connect app after the connection.
Date published: 2021-06-14
How long is the battery duration on this speaker from full charge? And, when will this speaker be shipped to stores like, Best Buy, Walmart, target, etc.....
Thank you for your question, the battery last about 15 hours. The Shipment should be done.
Date published: 2021-06-06
When will the xtreme 3 be sold in stores?
Thanks for your interest in our products. Unfortunately, we don't have news as to when our JBL Xtreme 3 will be available in local stores. We suggest that you take advantage of our product's 30-day guarantee return if the unit was purchased from our website. If you don't like the speaker, you can use our self-service options to initiate a refund here: https://www.jbl.com/support-returns-and-warranty.html
Date published: 2021-06-06
What is the regular warrenty that comes with this speaker?
Thanks for your inquiry. Our products comes with a one-year warranty upon purchase.
Date published: 2022-12-23
Can the speaker be also used when plugged in to the charger? I would like to keep it permanently plugged in when using at home and use the battery only when using it away from home.
Thank you for your question. Yes, no problem to have it plugged in while in use. For further support, we welcome you to contact our JBL Customer Support team: JBL https://support.jbl.com/gb/en/ Thank you.
Date published: 2023-04-02
How is the bass?
Our JBL Xtreme 3 has two 70 mm woofer and two 20 mm tweeters that can effortlessly deliver powerful sound even when outdoors. Overall, the rated output power is 2 x 25 watts (woofer) and 2 x 25 watts (tweeter). The bass is great!
Date published: 2021-06-06
How do I reconnect my JBL extreme speaker to my iPhone Bluetooth?
Please follow the steps for pairing our JBL Xtreme 3 to your iPhone via the first link. If you need further assistance, please contact our customer support via the second link. https://bit.ly/3aoJGnU | https://bit.ly/2WocMfi
Date published: 2021-06-06
Hi what kind of charger is the cord?
Thanks for having an interest in our products. Our JBL Xtreme 3 comes with a charger that has a power input: 5V/9V/12V/15V/20V, 3A. To learn more about our products, here's the link: https://bit.ly/3mKiXXn
Date published: 2021-12-30
can we connect multiple jbl speakers to one phone and play same song on all speakers?
Thanks for your question. Our JBL Xtreme 3 can only be connected to one Bluetooth source device at a time. However, it can pair more than two JBL Xtreme 3 speakers using the Partyboost feature. You could also pair it with PartyBoost enabled speakers like JBL Flip 5, Charge 5, and Pulse 4. For more details about the unit, you may click the link here: https://bit.ly/3soZMGZ
Date published: 2023-04-07
Can you find out for me the wattage sensitivity of the Auxiliary Jack? I like to use amplified signal to splitters for aux cords, and need to be sure I can get good volume from the signal but not so much it damages the port or speaker.
Our JBL Xtreme 3 is strictly a line level audio input and will not handle an amplified signal well at all. We suggest using a speaker/line level converter before connecting to the Aux input.
Date published: 2021-06-06
Will the xtreme 3 connect to the çharge 3? Do any of the extreme models connect in chain with the charge 3?
JBL Xtreme 3 has PartyBoost, it is compatible to be connected with other PartyBost enabled speakers like Boombox 2, Flip 5, and Pulse 4. Our JBL Charge 3 on the other hand has JBL Connect. When the firmware is upgraded for the Charge 3, it can have Connect +. You can then connect Charge 3 with Xtreme 2, Pulse 3, Flip 4, Charge 4, and Boombox.
Date published: 2021-06-06
Can you link the  Extreme 2 with the  Extreme 3 
Thank you for your question. It is not possible to link the Xtreme 2 with the Xtreme 3 as both speakers work with different apps, the Xtreme 2 works with JBL Connect + while the Xtreme 3 works with Partyboost. Should you wish to receive further support, you may contact the Harman Customer Support team by telephone, email or chat in order to receive direct assistance. Please see https://uk.harmanaudio.com/support-contact.html#ns for further details. Thank you.
Date published: 2021-06-28
I have a xtreme 2 and charge 4. Can I connect the xtreme 3 with my other JBL speakers that connect together?  I notice this has a party boost to connect. I've been a big fan of jbl, but if tHey no longer connect I'll be disappointed.
Our JBL Xtreme 3 has the JBL PartyBoost which is different from JBL Connect + Our JBL PartyBoost speakers can only connect with other PartyBoost speakers like JBL Flip 5, JBL Boombox 2, and JBL Pulse 4.
Date published: 2021-06-06
Hi! If I keep Xtreme 3 connected to the mains while the battery is already fully charged, and use it via Bluetooth or line-in in this way, will it continously charge and drain the battery in small increments, or will it use the power from the mains?
Thank you for your question. In this case, the battery will be kept charged fully, and the speaker will play on mains power in the meantime, giving double the power in Watts. There is no damage to the battery, since charging current is continually controlled and managed. Should you wish to receive further support, you may contact the Harman Customer Support team by telephone, email or chat in order to receive direct assistance. Please see https://se.harmanaudio.com/support-contact.html for further details. Thank you.
Date published: 2021-06-06
Can a usb with son on it be played when connected to the jbl extreme3
No, our JBL Xtreme 3's USB port is only used as a powerbank function for charging other USB devices.
Date published: 2021-06-06
Is the Jbl xtreme 3 better then the xtreme 2
Of course, our JBL Xtreme 3 is an improved version of our JBL Xtreme 2 with better sound quality.
Date published: 2021-06-06
What does it weigh because it doesn't show it
Our JBL Xtreme 3 weighs: 1.968kg / 4.339 lbs
Date published: 2021-06-06
Can you take this pass TSA?
Please check with the airline to ensure that the item is allowed to be brought for travel. You can also download our Declaration of Conformity form in our website, scroll down to the Manuals and Downloads section for the document. https://bit.ly/3XNKIAq
Date published: 2022-12-01
Can two Xtreme 3 speakers connect in stereo without needing the JBL app, like the Charge 5 can?
You will need to use the JBL APP to switch to stereo mode as the Partyboost setting will set both connected speakers in to mono mode.
Date published: 2022-10-06
When will the update for the Extreme 3 which will enable EQ settings be released? It's now three months since the announcement was made on the JBL site.
Hi there, We have no news on when the firmware update for the Xtreme 3 will be released . Please subscribe to our newsletter to get updates about new product releases and firmware updates.
Date published: 2022-11-27
The new firmware update on the JBL Extreme 3 is failing to install. I am getting an error message that Internet connection is not working. But my Internet connection is fine. Please look into this.
Please follow the steps outlined in our 'Upgrading the software on your PartyBoost or Connect+ Speaker' guide found on the first link, or contact customer support using the second link. https://bit.ly/3A9G8AJ | https://bit.ly/3w3Y6kX
Date published: 2021-06-29
Where can I purchase a charger for my extreme
The part number of our JBL Xtreme 3 is 45400380. To place an order, please reach out to our Customer Support team at: (800) 336-4525 Mon - Fri: 9:00 am - 11:00 pm (EST) Sat - Sun: 9:00 am - 5:00 pm (EST)
Date published: 2022-10-04
When will blue xtreme 3 be available again?
We don't have the exact dates to share as to when JBL Xtreme 3 will be re-stocked. We would suggest signing up for our newsletter to get the latest news and updates. https://www.jbl.com/subscribe.html
Date published: 2021-06-06
Can I charge this via USB in a car?
Our JBL Xtreme 3 will charge in your car if its power supply has 5V/9V/12V/20V input wattage with 3A of current for optimal charging. If the amperage of the power supply in your car is lower, the JBL Xtreme 3 may take some time to get a full charge.
Date published: 2023-04-02
bvseo_sdk, dw_cartridge, 18.2.0, p_sdk_3.2.0
CLOUD, getContent, 19ms
questions, product