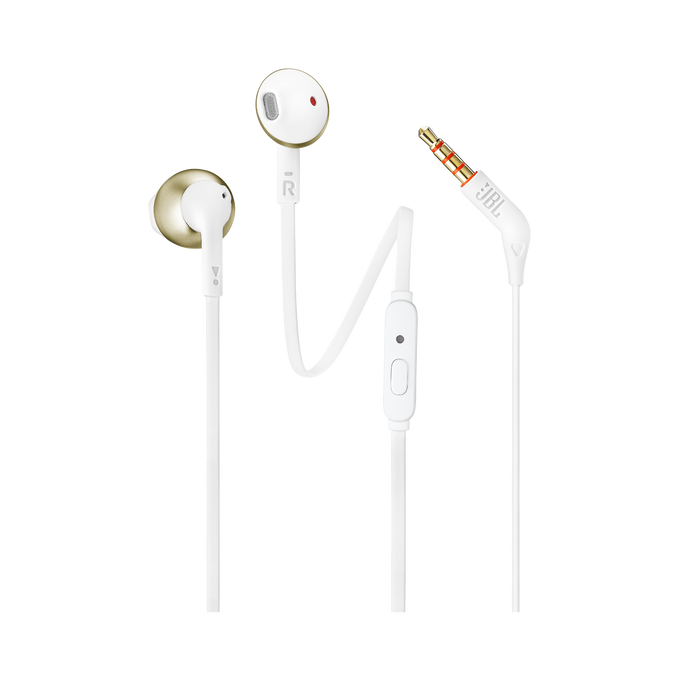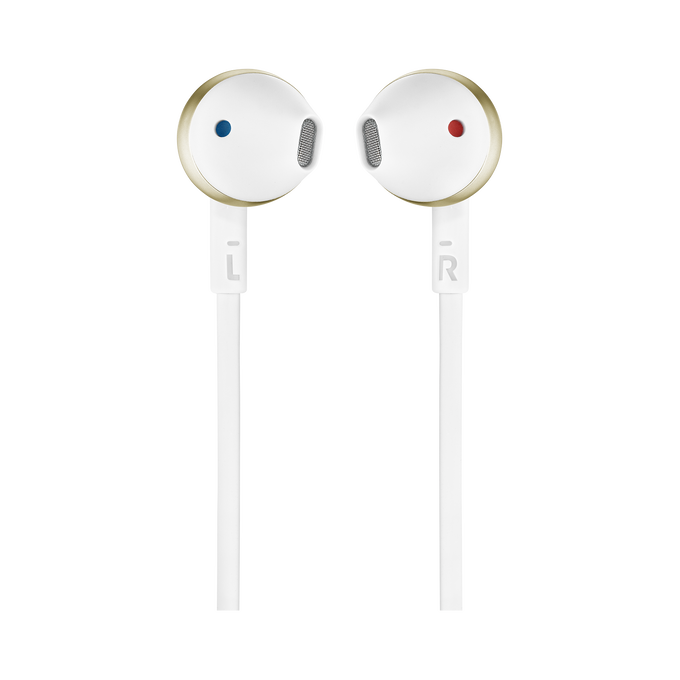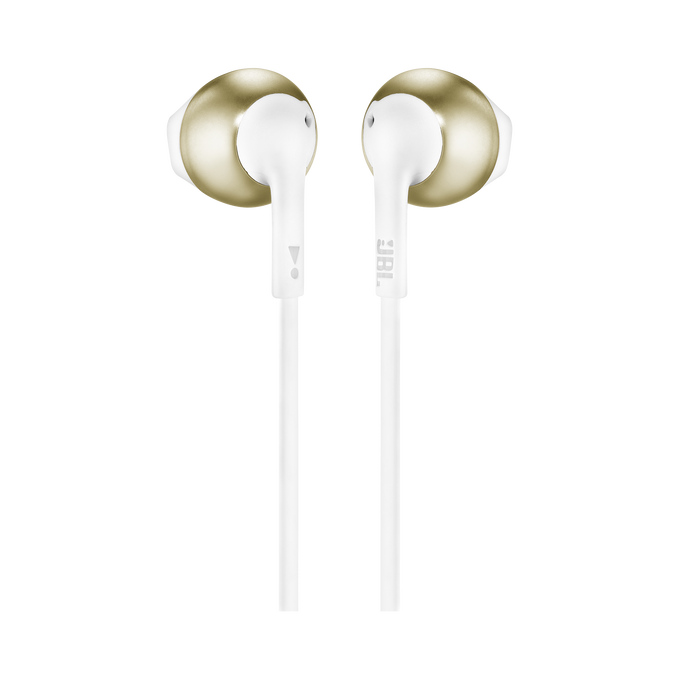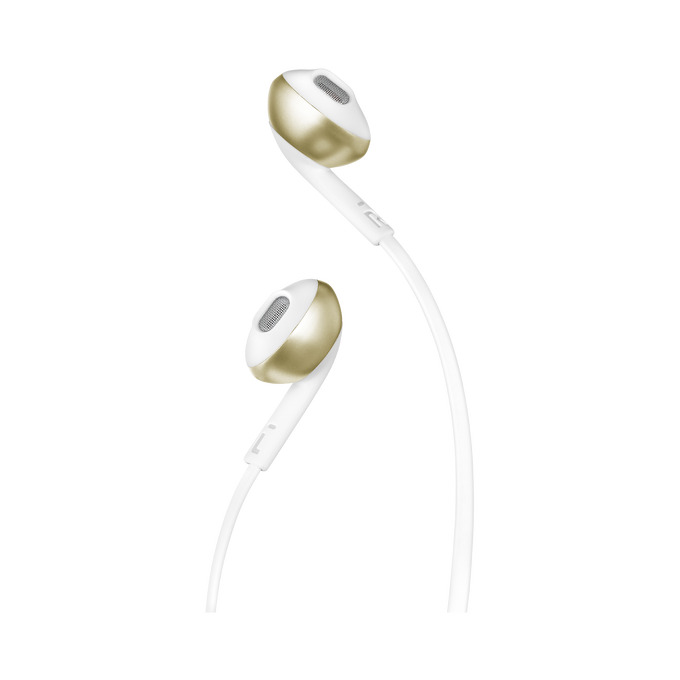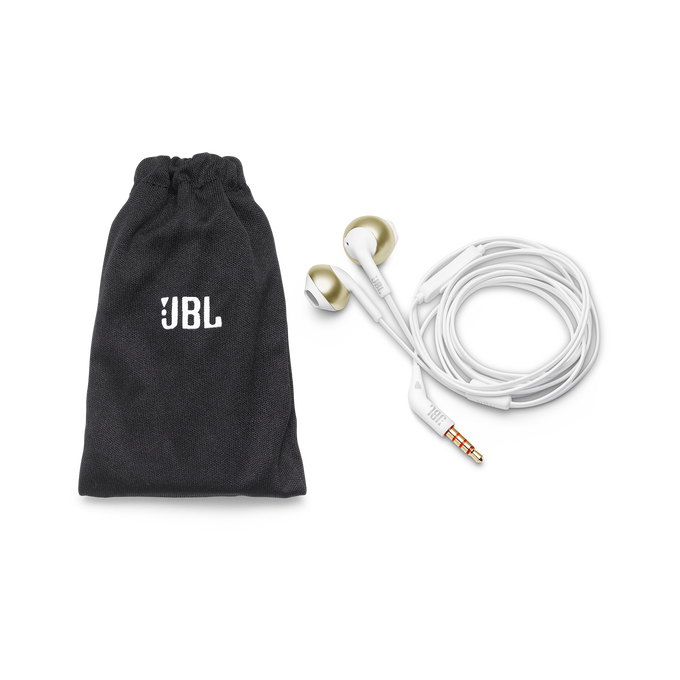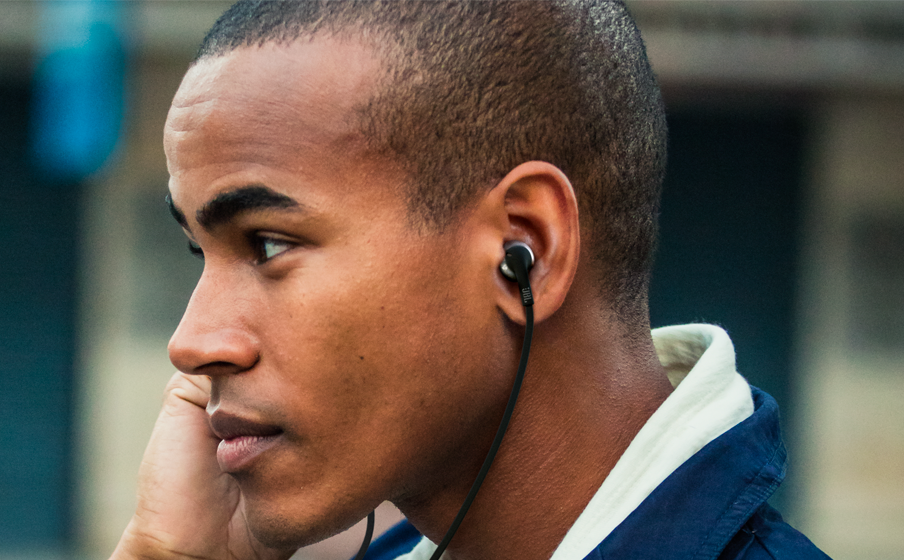 JBL Pure Bass-ljud
I ungefär 70 år har JBL arbetat med att ta fram det exakta, imponerande ljud som återfinns i stora konserthallar runt om i världen. Dessa hörlurar återger samma JBL-ljud, med en bas som är både djup och kraftfull.
Funktioner

Fjärrkontroll med en knapp och mikrofon
Styr uppspelning av musik med en praktisk fjärrkontroll med en knapp. Är det någon som ringer? Svara direkt med den inbyggda mikrofonen.

Platt trasselfri kabel
En platt kabel som är hållbar och inte trasslar ihop sig.

Bekväma ergonomiska öronsnäckor
Tack vare de mjuka, ergonomiskt utformade öronsnäckorna kan du på ett bekvämt sätt njuta av din musik

Metalliserat hölje av premiumkvalitet
Högklassiga utföranden ger dina hörlurar (och dig) ett raffinerat och snyggt utseende.

Mjuk bärväska
TUNE205 kan praktiskt förvaras och transporteras i den mjuka bärväskan.
Detaljer & Nedladdningar
Item# JBLT205CGD
Beskrivning
Rent, kraftfullt basljud. Finns nu som takeaway.

Vi presenterar JBL TUNE205 – snäckhörlurar med JBL Pure Bass-ljud. De är lätta, bekväma och kompakta. Under det lyxiga metalliserade höljet ger ett par 12,5 mm stora element basen det rätta trycket, medan de mjuka, ergonomiskt utformade öronsnäckorna ser till att du får en behaglig ljudupplevelse under många timmar. Dessutom kan du tack vare fjärrkontrollen med en knapp såväl styra uppspelning av musik som besvara samtal med den inbyggda mikrofonen. Allt detta gör JBL TUNE205 till din dagliga följeslagare på arbetet, i hemmet och på resande fot.
Allmänna specifikationer
Ljudspecifikationer
Elementkänslighet vid 1 kHz/1 mW (dB)

100dB SPL/1mw

Dynamiskt frekvensomfång (Hz)

20 Hz - 20 kHz

Impedans (ohm)

32.0

Antal element per öra

1.0
Mått
Hörlurskabel, längd (cm)

118.2

Hörlurskabel, längd (ft)

3.88

Vikt (g)

14.3

Vikt (oz)

0.53
Batteri
Dynamiskt frekvensomfång (Hz)

20 Hz - 20 kHz
Egenskaper
Inbyggd mikrofon

Ja

Transportfodral

Ja

Platt trasselfri kabel

Ja

Handsfree-samtal

Ja

JBL Pure Bass-ljud

Ja

Snabbladdning

Nej
Vad innehåller förpackningen?
1 par TUNE205-hörlurar
Bärväska
Varningskort
Garantikort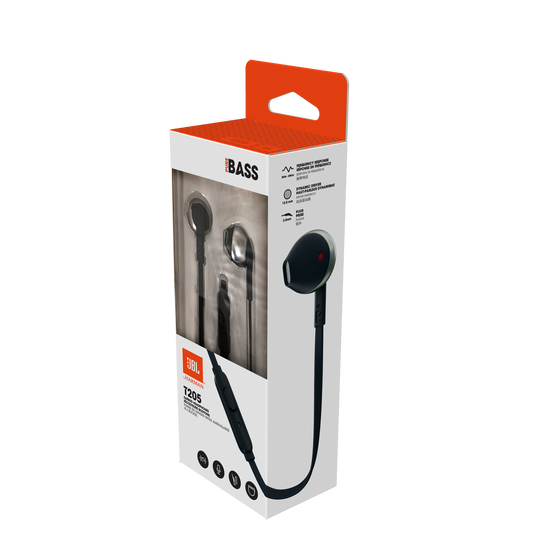 Dokument och hämtningar
Kundrecensioner
Rated

5

out of

5
by
Winsk
from
Fantastic sound
I bought them approximately 2 weeks ago and I love them!The sound is very good and clear
Date published: 2018-03-09
Rated

5

out of

5
by
Luis042
from
Great sound quality
These are AWESOME. I would recommend if anyone is considering buying a pair of these.
Date published: 2017-09-29
Rated

3

out of

5
by
abcd788
from
Was pretty good while it worked for a few months
I was initially quite happy with the sound quality of the headphones, especially for the fair price. About 2 months in, the rubber covers around the headphones(the part that goes into the ear) fell off. This wasn't a big deal, they were still comfortable inside the ears. Unfortunately these headphones do not last at all. At 5 months in, one side of the headphone outputs about 20% of the volume of the other side. It really sucks, I can no longer listen to anything without getting annoyed by it.
Date published: 2021-07-14
Rated

5

out of

5
by
Anonymous
from
The best for the money.
I have had mine for around 2 years. They are the best earbuds I have ever gotten for $20. I have left them in my pocket 2 times when washing clothes. They have been washed and dried both times and still work. The flat wire never gets tangled, where it can't be undone. As you can see the silver has started coming off, but they still work. They also have amazing sound quality for the price. I use mine almost everyday.
Date published: 2020-10-24
Rated

5

out of

5
by
Polarbearking12
from
Great headphones for price
I bought these headphones a week ago I love them bass is great sound is clear best headphones I bought so far
Date published: 2017-11-07
Rated

1

out of

5
by
Rrg887
from
Terrible
I bought on the 24th of December while at the airport, by the 20th of January the left ear had stopped working completely. Absolute waste of money. I bought these thinking they'd last a bit longer than cheaper ones. I'd have been better off spending a fiver on some cheap cheap and just replacing them. Awful product.
Date published: 2018-02-15
Rated

5

out of

5
by
Rudy88
from
The greatest in ear headphones JBL made... EVER!!!
It was worth the money. Doesn't hurt my ear for long hours and sound quality is great for the price and fixs nice. JBL please don't discontinue these headphones there the excellent in ear headphones you guys made to date
Date published: 2017-09-29
Rated

5

out of

5
by
lovejbl
from
Great product
This is a great product, strong bass, comfortable than the average in-ear headphones, the price is reasonable!
Date published: 2017-11-20
Rated

5

out of

5
by
Alex0405
from
Best Headphones
Really good sound and bass Very comfortable The pouch is good for carying around
Date published: 2018-11-22
Rated

5

out of

5
by
AJavsf
from
Jätte bra ljud.
Bra produkt på alla sätt, mycket bättre än iPhone hörlurar då iphone hörlurar blir trasiga direkt.
Date published: 2018-02-15
Rated

2

out of

5
by
Chrannste
from
Lasted a month
I bought three sets of these when they went on sale, which was a moronic thing to do because they're still more costly than most and they've all survived hardly a month. Like clockwork for each set, the left ear bud starts to cut out. They were perfect up till then. So now I have three pair of really new looking, but useless earphones.
Date published: 2019-11-04
Rated

5

out of

5
by
katogepi
from
Buy these. Just do it.
I had always heard good things about JBL, so when my apple earbuds broke, I came here to look for a replacement. The apple style of earbud is the only thing that fits in my ears, and these are so much more comfortable than Apple. They sound SO MUCH BETTER too!! I love these and can't believe it took me this long to buy some.
Date published: 2020-10-29
Rated

3

out of

5
by
KG723
from
Keep Breaking
OK, so this is the 3rd pair of these specific headphones and after about 3+4 months they break. I've had 4 pairs throughout this whole year. Something needs to be done, the "unbreakable" flat wire cord is not as it seems. I realize they are only $20, but they should last abit longer.
Date published: 2020-12-09
Rated

1

out of

5
by
Carolina198
from
The worst!
I bough this exactly one month ago, from an authorized redistributer (Rádio Popular), and yet the left side' had already almost stopped working, despite my best efforts to treat them with care. I can't believe I paid over 10€ for this, hoping to get long-lasting earphones, and what I got was the cheapest thing imaginable, and they don't even show up in the EU version of the website. Never buying from JBL again.
Date published: 2018-04-25
Rated

5

out of

5
by
Fschirs
from
I love these
Please don't stop making these. I love these. the fit nice and sound great. I really dislike the one that go in the ear canal.
Date published: 2019-10-13
Rated

2

out of

5
by
Jord07
from
Discomfort
After a couple weeks of use my right ear is in pain from the material contact, maybe a change of build material would help .
Date published: 2019-10-28
Rated

1

out of

5
by
Anonymous
from
Recieved a defective product
I bought this a week ago.. and the second i opened it out of the box... It's right side was not working.. Complete waste of money and even the left sound didn't sound well.. Tried for the first time... Never gonna buy product of this company again ever
Date published: 2020-08-18
Rated

1

out of

5
by
lizzie25
from
Waste of money
I only bought these ONE month ago and the right earbud has already stopped working. I did not damage them in any way either. I would have probably been better off with earbuds from 5 Below
Date published: 2019-01-31
Rated

5

out of

5
by
Habris
from
Awesome wired earbuds
These uphold the fantastic audio quality JBL creates. They're durable, hard to tangle, ambient when the volume of what's playing is low, and need no charging. The earbuds only get uncomfortable if I've worn them wrong for too long, but if they're seated right this isn't a problem. These are probably the best wired earbuds on the market and I highly recommend!
Date published: 2020-03-31
Rated

4

out of

5
by
Marcelo SS
from
JBL T205
Um ótimo fone de ouvido e qualidade sonora dentro de suas limitações do estilo do fone. O cabo achatado e pesado complica o uso em caminhadas, pois o fone é leve e compacto e o balaço do cabo faz com que constantemente saia da orelha (seria mais interessante um cabo comum redondo e fino), mas quando coloquei aquelas espumas clássicas de fone de ouvido pequeno, o problema de sair da orelha diminuiu bastante e o conforto no uso também melhorou. Esses são os dois pontos negativos que observei, o cabo e a fixação na orelha, de resto esse fone manda muito bem, um excelente substituto para o fone da apple (com cabo p2 para aqueles que n querem um overEar ou inEar). Recomendo a compra e indico também adquirir um par de espumas para revestir ele, o uso realmente fica mais agradável.
Date published: 2022-03-03
Rated

1

out of

5
by
Critic
from
Terrible
I bought the T-205 for their rich sound and deep bass. The only way to achieve that sound is by shoving and holding them in your ear canal; otherwise they just pop out and sound like $1.00 gas station ear buds.
Date published: 2018-06-18
Rated

2

out of

5
by
Madhe
from
Poor quality
I've bought these earphones 3 times and they keep having the same issue. After 2 months of working thd left ear stops working and after a couple of days the right side stops as well. Comparing to the price we pay, its best not to keep buying them.
Date published: 2021-07-13
Rated

5

out of

5
by
fschris
from
Comfortable, work, repeat buyer
I really like this design but not very many quality available anymore in this specific design. JBL makes a good solid set in these. I love these for conference calls on my phone. I am not into wireless headphones at all so I like these.
Date published: 2018-11-21
Rated

4

out of

5
by
Ann20
from
All About that Bass
These headphones are great and the bass is comparable to my beats, however, the buds are a little too big and sometimes fall out of my ear. But this is only a minor problem because the sound is AWESOME!
Date published: 2017-10-08
Rated

1

out of

5
by
Doc R
from
Poor fit. Muffled sound.
I got these at Christmas, and while they look nice in the packet, they were very disappointing. They don't sit in the ear properly, so can fall out very easily. The wire is "flat and tangle free" , but just looks and feels cheap. And the sound, while full of base, is too muffled to enjoy podcasts and voiced content. I don't have a receipt or gift receipt to return, so just really disappointing.
Date published: 2020-01-06
Rated

2

out of

5
by
Jjjj8
from
Besviken
För det låga priset är ljudet helt okej (likvärdigt med iphones egna hörlurar) men kvalitén var mycket dålig. Den ena snäckan gick sönder efter endast 2 månader.
Date published: 2018-06-26
Rated

5

out of

5
by
ughperrrieeele
from
Very comfortable!
I just received these headphones and they are very comfortable. The sound is really good and the rose gold adds a nice touch. Overall, very happy!
Date published: 2020-05-12
Rated

1

out of

5
by
Sadman
from
Not a happy camper
Won't stay in place. Keep falling out. Very dissatisfied. Why even bother making a product like this and ruining a great reputation.
Date published: 2018-02-05
Rated

5

out of

5
by
Veronica Chimbo
from
Just as I expected!
I was expecting a great product and that's exactly what I got. No regrets, no negative points whatsoever.
Date published: 2020-05-23
Rated

5

out of

5
by
Andres B P
from
Great Sound
I bought it a month ago and it has good sound for good price too
Date published: 2018-12-20
bvseo_sdk, dw_cartridge, 18.2.0, p_sdk_3.2.0
CLOUD, getReviews, 6ms
reviews, product
Frågor och svar
Does this model interfere with pacemaker or defibrillator?
As a safety precaution, we recommend that these headphones are not worn or kept in the immediate vicinity (10 cm or closer) of any pacemaker. This is a precaution among all headphones that feature magnets as it can interfere with the pacemakers signals.
Date published: 2021-06-06
will the volume control work when connected to a TV via the the TV optical port and an adapter.
Thank you for your question. For an answer to your query, we invite you to contact the Harman Customer Support team by telephone, email or chat in order to receive direct assistance. Please see https://uk.harmanaudio.com/support-contact.html for further details. Thank you.
Date published: 2021-06-06
Are they compatible with Apple iPhone 5c?
The T205 is compatible with iPhone 5C since the phone have a 3.5 Aux port and the headphone has the 3.5mm Aux pin.
Date published: 2021-06-06
Do these eaphones have noise isolation?
The JBL T205 headphones do not have noise cancellation.
Date published: 2022-05-25
Left is red and blue is right?
Thank you for your question. The JBL T205's Left earbud is marked L or with blue color and the Right earbud is R or red. 
Date published: 2021-06-06
Are these earphones made in OMTP or CTIA standard? I want to use it as my Xbox One headset and as my console uses CTIA standard I wonder if I need an additional adapter.?
Hi! The T205's should have standard CTIA so you should not have any problems using them for your XBOX.
Date published: 2021-06-06
How are you supposed to wear it? It doesn't fit well. Also, I would like to note that after 3 days of buying it the sounds stopped coming from the gray area and started to come from the red and blue spots instead, i don't know how to fix it.
You can wear your JBL Tune 205 by wearing the headphones on the designated side as stated on the Headphones by the L and R on the earbuds. Try changing the position of where you wear the headphones and see if the sound would come from the gray area. Should the issue persist please contact our authorized distributor for your area, HARMAN MIDDLE EAST, through the following options: Tel: +971 4 8873336 and email: servicecentre@harmanme.com
Date published: 2021-06-06
Do these earbuds fit small ears?
These earphones can fit small sized ears plus the soft, ergonomically shaped earbuds allow you to enjoy your music in full comfort.
Date published: 2021-06-06
Just two weeks ago, i bought JBL T 110. I'm looking for extra bass from it. But, unfortunately it is too clear. Every time I used JBL T 110 in different gadget, I have to control the equaliser. I got no bass at all. What about T110 vs T205? Thx before. 
The main difference between the JBL T110 and the JBL T205 is the larger dynamic driver, which would result to louder and clearer sound for the JBL T205. I noticed that you are in Indonesia. We would like to work with you directly with your JBL T110 headphones. Please submit a case at support.apac@harman.com and our Customer Service team will be glad to further assist you.
Date published: 2021-06-06
Is the bass quality actually good, or is it just slightly better than a seven dollar pair of earbuds?
I'm using them as I write this. The bass is decent, at least in my terms.
Date published: 2021-06-06
Does it have a mic to speak ?
Yes, it has a 1 button remote with microphone that can be used for calls.
Date published: 2021-06-06
"This item is currently not available." Is this product being discounted? I really don't want to switch to the BT version as I use them 7 to 10 hours a day while at work. I was even planning on buying an adapter when I get a new phone that doesn't support
Thanks for having an interest in our products. Currently, we have no news yet of when we'll have stocks of our JBL Tune 205. You may subscribe to our newsletter at the bottom page of our website, to receive the latest news and updates regarding our products: https://www.jbl.com/
Date published: 2021-06-06
Are these headphones compatible with the PlaySTATION4 console?
For the PlayStation 4, you can just use a regular set of 3.5mm headphones to hear game audio through the port on the DualShock 4. To do so, from the PS menu, go to Settings > Devices > Audio Devices > output to Headphones > With your headphones plugged in select "All Audio" as opposed to "Chat Audio."
Date published: 2021-06-06
Do they have noise cancelling?
The T205 does not have any noise cancelling features.
Date published: 2021-06-06
I am feeling very uncomfortable due to earbuds?
We would like to work with you directly. Please submit a case request at http://eu.jbl.com and the Customer Service Team will be more than happy to assist you
Date published: 2021-06-06
The left speaker has stopped working completely and I don't know what's wrong with it. Previously it stopped but after a few days it comes back to the way it was but now it's been two whole weeks and it's not working Please let me know what I can do
We'd like to work with you directly to troubleshoot the audio issue you're experiencing with our JBL Tune 205. Please contact our customer service for your region here. HARMAN MIDDLE EAST P.O. Box: 17397, Jebel Ali Freezone Dubai, UAE Tel: +971 4 8873336 Fax: +971 4 8873319 Email: info@harmanme.com / sales@harmanme.com / servicecentre@harmanme.com Contact form: http://www.harmanhouse.com/index.php?route=information/contact
Date published: 2021-07-15
Recently,I noticed that one side has been producing less volume than the other. What could be the problem and also how can I clean them?
We'd like to work with you directly and know more information about your JBL Tune 205 so we could try some troubleshooting. Please reach out to our Customer Support at https://bit.ly/346JHYI
Date published: 2021-06-06
hi, What is this headphone's driver magnet? Is it neodymium?
The 205BT does feature a neodymium magnet.
Date published: 2021-06-06
I have very small ears and normal buds don't fit. Will these fit small ears?
Do yurbud earbuds fit on top of these?
Hur lång livstid har den? Asså hur lång tid ska den hålla som allra minst ifall man inte misshandlar den?
which one is better t205 or t290?
bvseo_sdk, dw_cartridge, 18.2.0, p_sdk_3.2.0
CLOUD, getContent, 6ms
questions, product