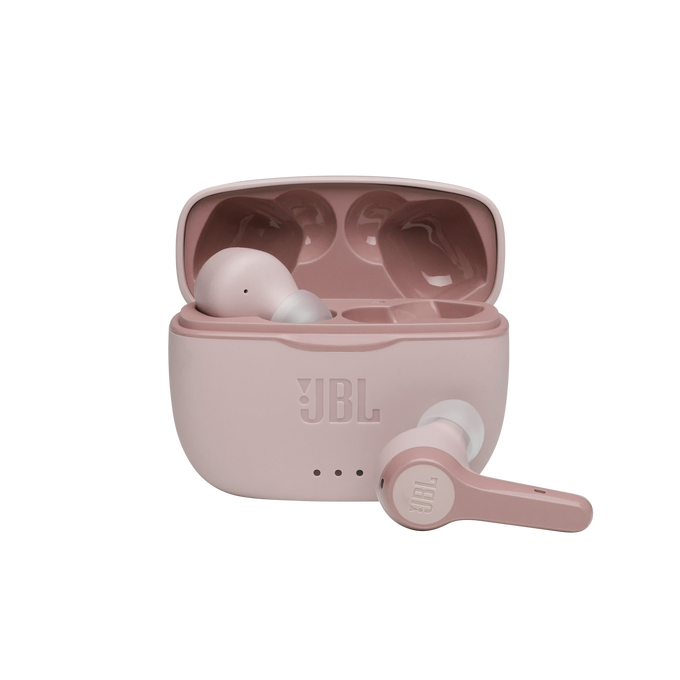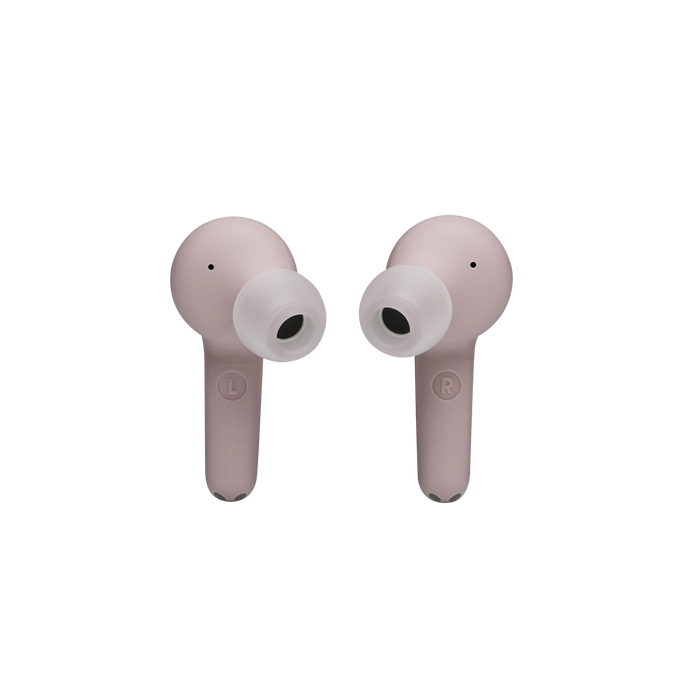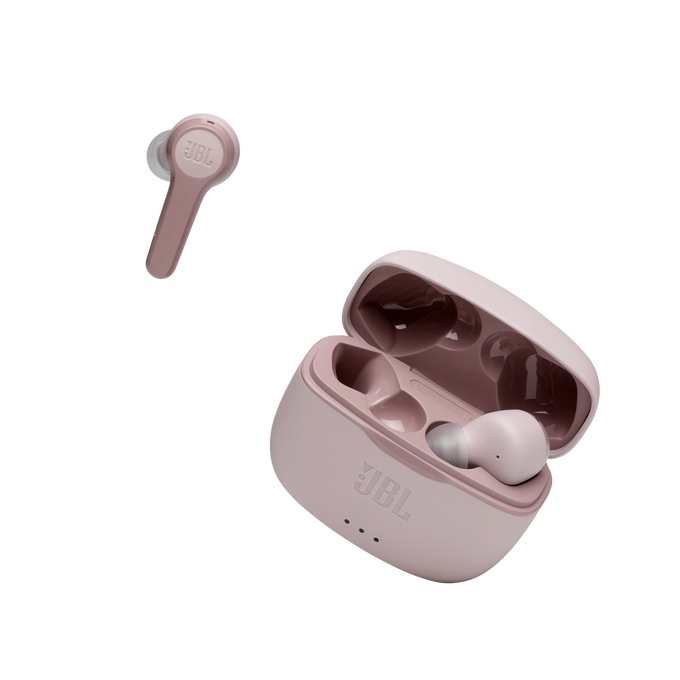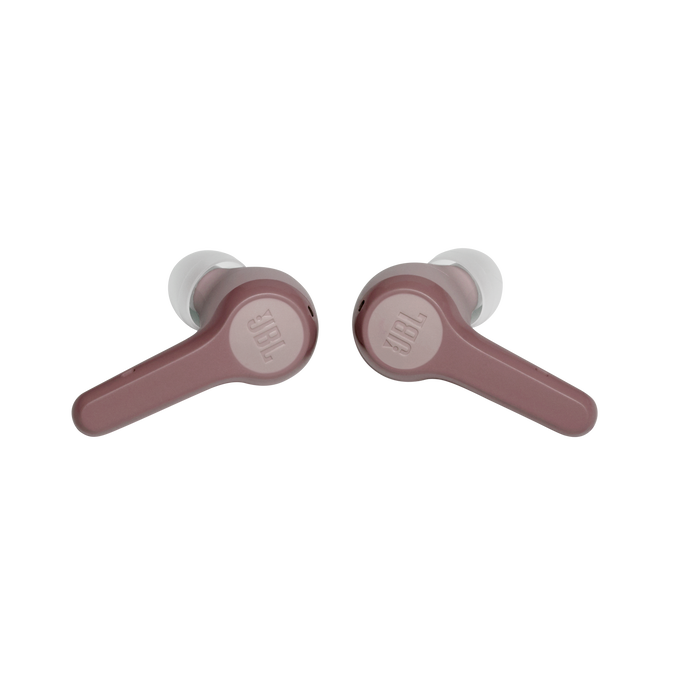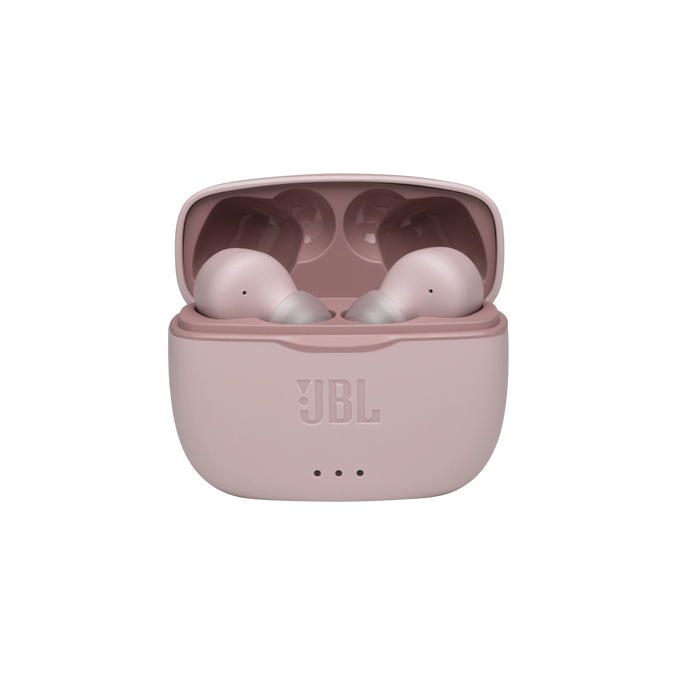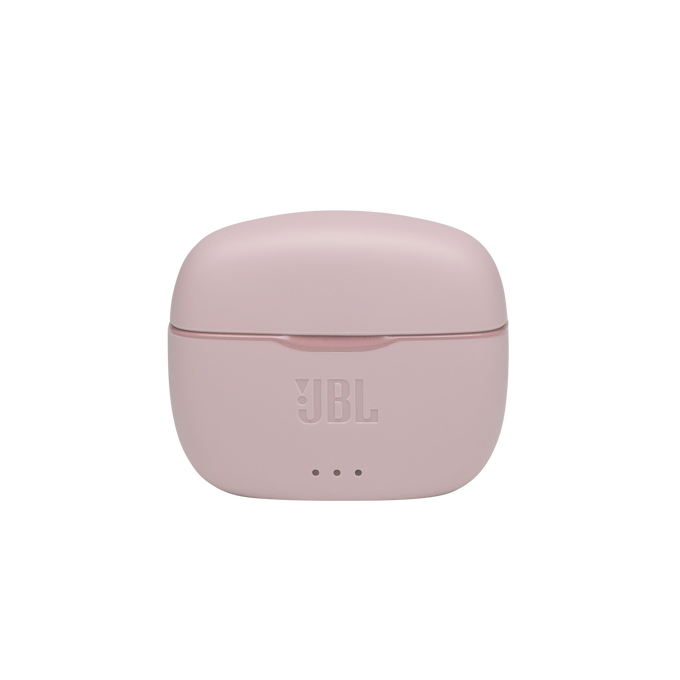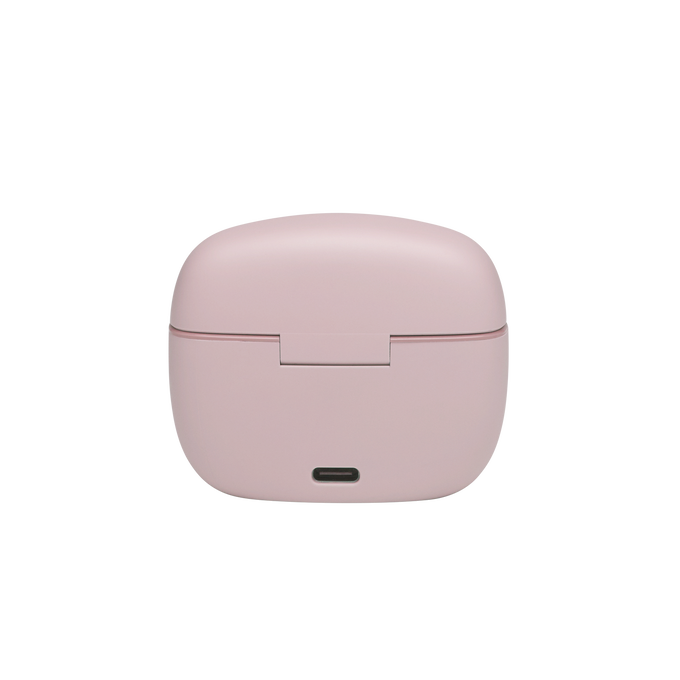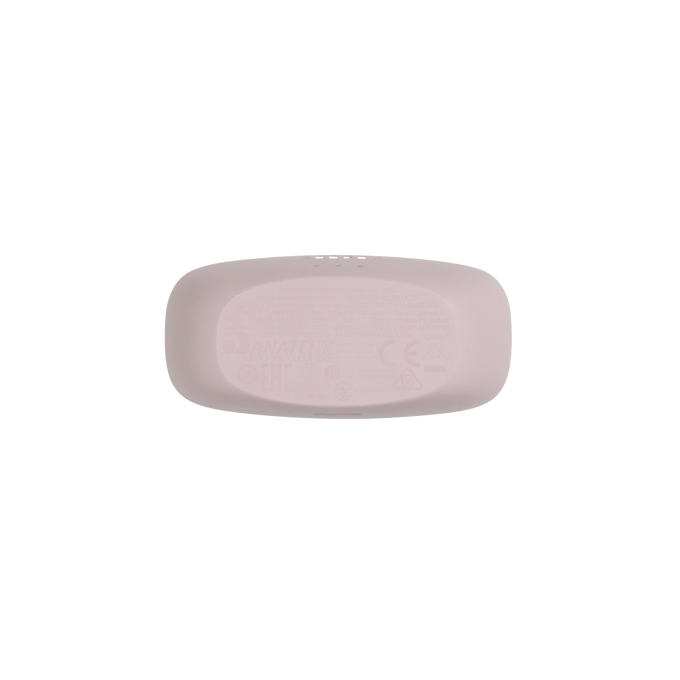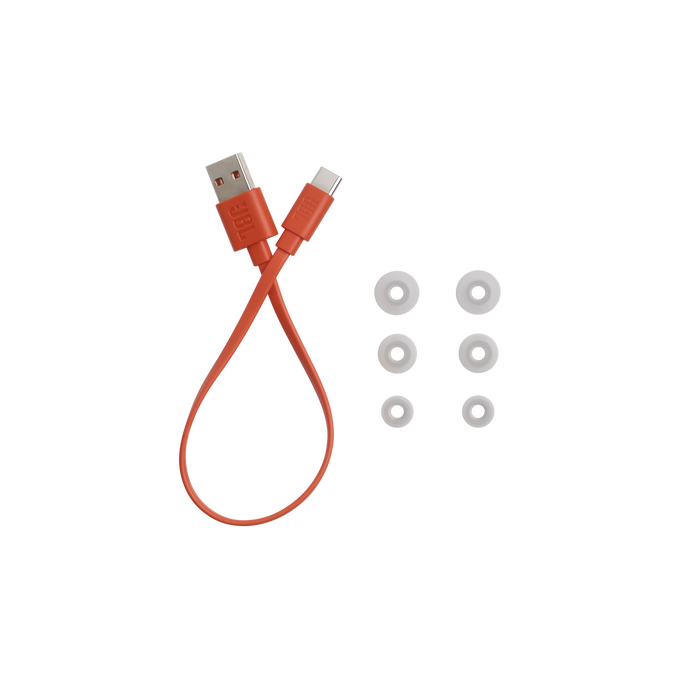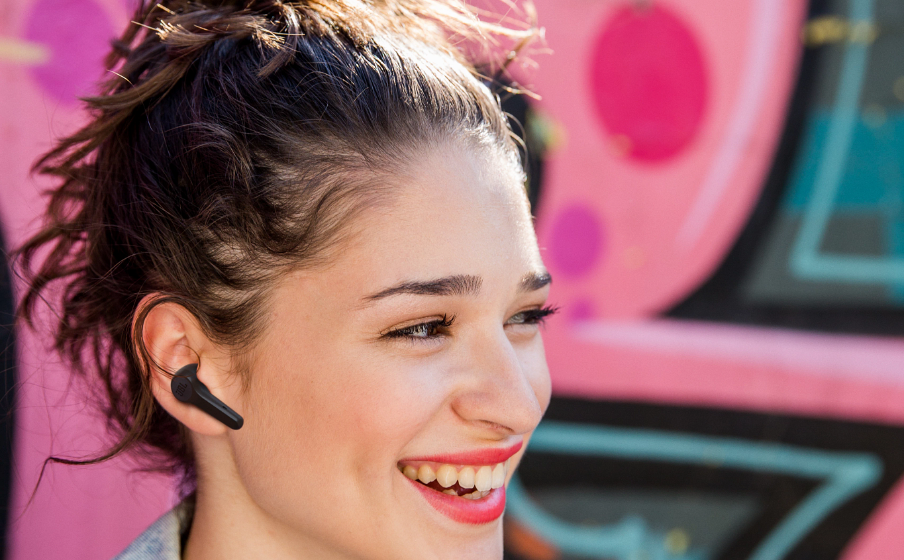 Känn basen
JBL har ansvarat för ljudet på festivaler och konserter i flera årtionden. Nu kan du gå in i din egen värld och omslutas av det otroliga Pure Bass-ljudet.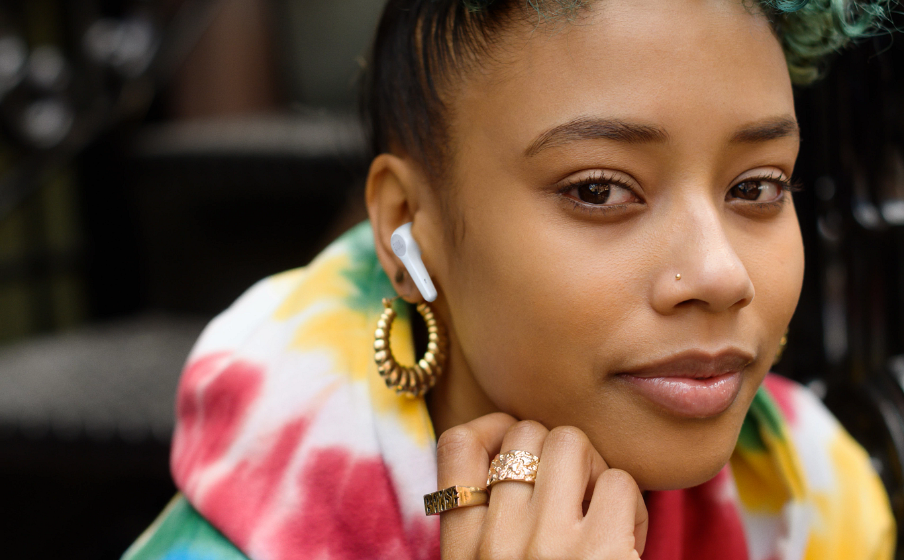 Slipp alla sladdar
Nu slipper du sladdar som trasslar ihop sig i väskan, fastnar i jackan eller i håret. Upplev den fullständiga friheten från sladdar med de trådlösa öronsnäckorna JBL TUNE 215TWS.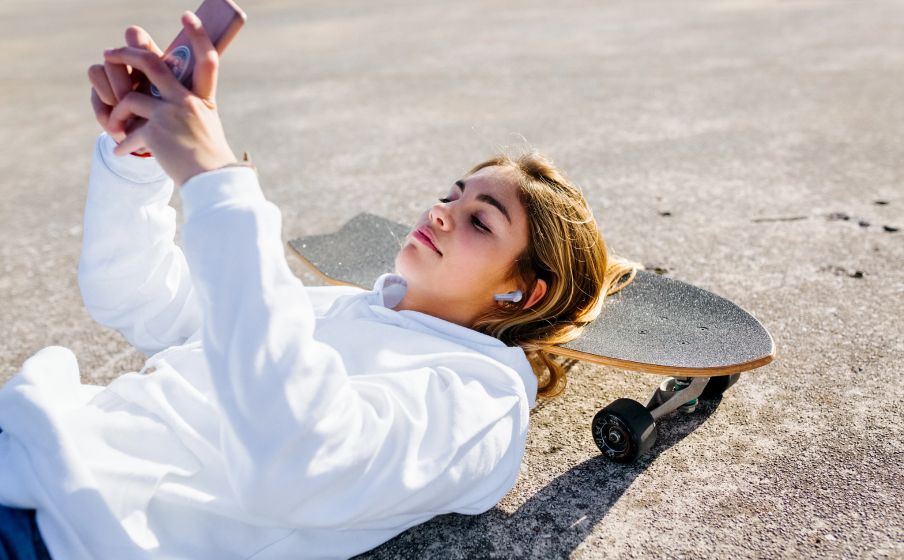 Längre lyssningstid
Med upp till 25 timmars batteritid (5 timmar från öronsnäckorna och 20 timmar från fodralet) kan du lyssna hela dagen och hela natten. Håll igång din privata konsert så länge du orkar.
Funktioner

Något av öronen, eller båda
Höger öra, vänster öra eller båda? Dual Connect ger dig möjligheten att välja om du vill lyssna på musik eller ringa med en eller båda öronsnäckorna. Batteriet varar längre eftersom du kan ladda en öronsnäcka medan du använder den andra.

Hitta din stil
Vad fungerar för dig? Bland de sex olika färgerna hittar du ditt perfekta par hörlurar som stämmer precis med vem du är.

Snyggt och praktiskt laddningsfodral
Inget har lämnats åt slumpen. Laddningsfodralet till JBL TUNE 215TWS har precis som öronsnäckorna en genomtänkt formgivning med inspiration från en flodsten med mjuka former och kupat lock som öppnas enkelt när du vill använda dina öronsnäckor.
Detaljer & Nedladdningar
Item# JBLT215TWSPIKEU
Beskrivning
Håll kontakten, utan sladdar.

Känn dig som hemma med din musik och din värld, utan sladdar som håller dig tillbaka. Din favoritmusik låter bättre med JBL Pure Bass. Hörlurarna JBL TUNE 215TWS är superbekväma och underhåller dig i 25 timmar. Det är enkelt att hantera samtal och röstassistenten från en av öronsnäckorna eller från båda med hjälp av Dual Connect. Du kan även spara batteritid så att du kan lyssna längre eller snabbladda batterierna via en USB typ C-kontakt.
Allmänna specifikationer
Ljudspecifikationer
Elementkänslighet vid 1 kHz/1 mW (dB)

101

Dynamiskt frekvensomfång (Hz)

20 Hz – 20 kHz

Impedans (ohm)

16

Antal element per öra

1
Mått
Charging Case Weight (oz)

1.8

Earpiece Weight (oz)

0.4

Laddfodralets vikt (g)

51.3

Öronsnäckans vikt (g)

10.8
Specifikationer, styrning och anslutning
Bluetooth-profiler

A2DP 1.3, AVRCP 1.6, HFP 1.7

Bluetooth-frekvens

2.4 GHz – 2.4835 GHz

Bluetooth-sändarmodulering

GFSK, π/4DQPSK, 8DPSK

Bluetooth-sändareffekt

0 - 6dbm

Bluetooth-version

5.0
Batteri
Laddtid (timmar, från tomt)

2

Max speltid (timmar)

5
Egenskaper
Bluetooth

Ja

Röstassistent

Ja

Inbyggd mikrofon

Ja

Laddfodral

Ja

Handsfree-samtal

Ja

JBL Pure Bass-ljud

Ja

Uppladdningsbart batteri

Ja

Helt trådlöst

Ja

Trådlös

Ja
Vad innehåller förpackningen?
JBL TUNE 215TWS
1 x USB-laddkabel av typ C
1 x laddfodral
1 x garantisedel/varning
1 x snabbguide/säkerhetsblad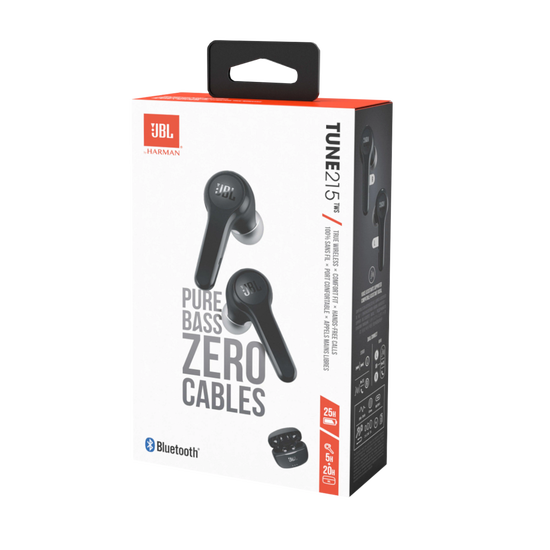 Dokument och hämtningar
Kundrecensioner
Rated

4

out of

5
by
Nattita
from
Great overall, but very noticeable sound delay
Almost everything works well, the sound quality is good, the microphone quality is perfect from what my friend said when I had a call with them. One thing that's bugging me a lot is the sound delay. I tried several things, watching video, playing games, talking with friends, the lag is obvious on all of those. I wish there's a way to fix it because the review I saw on YouTube said there's no lag at all, and no one seems to complain about this issue too. But overall, great product! (+the pink one is cute. like, super duper cute.)
Date published: 2020-11-26
Rated

3

out of

5
by
Kam G
from
JBL Tune 215 TWS Not Made For Small Ears
I received the JBL Tune 215TWS Black. They automatically came with the medium size ear buds attached. They didn't fit my ears properly so I switched to the smallest size. I have been using them everyday at work as I do a lot of meetings through Microsoft Teams. They were easy to set up via Bluetooth. I adjusted the volume on my computer to the highest selection possible. At times I would love to adjust the volume louder, but cannot do so. Volume is one feature that I feel can be improved upon. The other issue I have had with these is that I cannot keep them in my ears as they fall out multiple time after readjustments.
Date published: 2022-04-11
Rated

3

out of

5
by
Jcuevas
from
Lots of good features
I have been using these headphones for some time now. The packaging for these headphones is adequate for this price point. Extra ear tips in different sizes, charging case, instructions, as well as a usb charging cable are all included. No charging block was in the packaging. The headphones paired up easily. Finding the right size ear tips to fit properly was a challenge for me. These headphones don't stay in my ear very easily. I found myself wrestling with them in order to get them to fit well. Without proper figment these headphones don't perform well. You will get allot of missed frequencies. It is evident that these headphones can surely reproduce good sound but it all depends on how well these fit in your ear. I do like the fact that the case utilizes usb type c connection. The headphones go into the case easily and charge once placing them in the case The range on the headphones is also something to mention. I can travel all over my home and almost to my mailbox while leaving my phone in my bedroom. The range is exceptional. You can control the headphones by pressing buttons on either headphone. Left and right do different commands. The issue I have with the buttons is that when you push the button, you push the headphone into your ear canal which can be bothersome. It's not a soft touch button so he have to give some effort. Others may not have a figment issue but I did with these headphones. I am able to get them in and sounding great but don't feel that they are secure in my ears. I wouldn't go jogging or cycling with these. Casual listening while stationary will suit you best when wearing these. Again the sound is great once they are properly installed into your ears.
Date published: 2020-11-22
Rated

4

out of

5
by
Mason Barden
from
Great headphones for a great price.
A solid pair of headphones. They are a great pair of headphones with solid audio quality and good wireless headset capabilities. The charging case is also quite handy and has a battery indicator on it which is nice. Not too sure if they're worth the price but the quality is excellent. I would also highly recommend trying out the included other ear tips as having a good seal in your ears is essential to them sounding the best and making sure that they stay in well. I think that they would be great for working out. Also, the plastic the case is made out of is textured so having it in your pocket wont leave noticeable scratches which is nice.
Date published: 2022-03-29
Rated

5

out of

5
by
Ginger04
from
Awesome Sound
I got this product a few weeks ago and the sound is amazing. It is quick and easy to charge and the charge lasts for hours. I had a little bit of problem keeping them in my ears but that was quickly solved with changing of the ear pieces included in the package. The range of the blue tooth worked no matter where I was in the house. I did try to go to the second floor but lost the signal half way up the stairs. It quickly reconnected when I returned. I would recommend these earphones to anyone who loves music. The sound is awesome.
Date published: 2020-11-18
Rated

5

out of

5
by
Paulanthont874
from
OMG!!! SO GOOD
Bro I was up everyday going to the mail box man and as soon as they came in I turned them on 70% charge loved how I turned them on and it has the JBL tune it's so amazing and then just listening to music bro it's like even though there old there sound proof I can barely hear anything but what's playing In my ears and its just so smooth and a smooth fitting no problems i love the casing i love the earphones a bit big but no complaints there f-in amazing bro anyone who buys JBL should know and expect good quality from them I'm glad I got them from the actual company and not from Amazon thanks JBL pricing wise I think there worth the price
Date published: 2021-04-03
Rated

4

out of

5
by
Ron B
from
Great Earbuds for Relaxation Time!
These are a really nice set of casual buds. They really excel at higher volumes, down low they're a little lacking. The charging case they come in is a great size and feel. Small enough to fit anywhere, but large enough to not lose. I would not recommend these for any high impact activities or anything where you're up and down a lot. I tired using them while detailing a car and both sides fell out twice, but these are not marketed as a sport bud. They hold a charge really well, and recharge fast. The variety of sizes included in the box will always give you a perfect fit. Overall these are fantastic for all around use, whether you use one or both!
Date published: 2022-04-04
Rated

3

out of

5
by
BlkstNight4
from
fula men bra ljud
Jag fick dom här hörlurarna i julklapp men efter en månad gick skalets lock sönder, e spricka igenom. Dom är inte så jättefina heller, dom sticker ut från mina öron mycket, dom gör lite ont efter ett tag också, men dom sitter bra i örat. skalet är lätt att öppna. Men som man kan förvänta sig från JBL så har dom jättebra ljud med mycket bas, jag rekommenderar dom för er som är ute efter mycket bas och bra ljud. det kunde varit lite bättre kvalitet så det får ni på jbl fixa på era nästa hörlurar. Ett tillägg, det låter som att dom kopplas av då och då, sedan stängs dom av, batteriet är högt men jag vet inte varför dom gör så här.
Date published: 2021-02-14
Rated

4

out of

5
by
Cream9577
from
Good headphones
So I have tried these a couple of weeks now. I use them daily in noisy trains and traffic. I think they are comfortable and the sound are good. Have been trying several different headphones but these are very good. It's really easy to connect via Bluetooth and the sound quality is good, good base and the good top tones. Charging is quick and battery time last a good amount of time. I have some problem keeping them in my ears, but after awhile you will get a grip on how too keep them in place. The case for storage are of good quality and are still in good condition. Overall a really good and comfortable headphone.
Date published: 2021-06-16
Rated

5

out of

5
by
StephLR87
from
Superior sound and background noise cancelation
I received these few days ago. I am very impressed with the sound quality. I have used them on phone calls, zoom conference calls, and to play online video games using voice chat. The sound on my end is impeccable; crisp, clear, no distortion. The background noise canceling (when wearing both) is phenomenal. The people on the other end told me my voice was coming through clearly and crisp, with no distortion or rustling sounds. (I did receive feedback that they picked up on some distracting background noise from my end though. I am going to try adjusting settings to see if I can clear that up.) OVERALL: •Sound is superior •Comfort is top notch •Battery life seems to be on par with 25 hour battery life •Charging case is sleek and the ear buds fit snuggling with no rocking around. For the price and quality, these are a must have.
Date published: 2020-11-12
Rated

5

out of

5
by
IagoAndTaja
from
OMG This is what heaven sounds like, lol
Ok, the battery is a big deal when it comes to tiny headphones and the JBL ones are phenomenal! It does last around 24-26 hours of use before I need to charge it again! The bass is also no joke, gets you in the mood as soon as you start playing your jam. I absolutely love how they fit in my ear, it doesn't hurt AT ALL. Charging is super fast in its own case and works suuuper well wearing just one of the two ear buds if you still want to hear what's around you. MY FAV EARBUDS!
Date published: 2020-12-09
Rated

5

out of

5
by
svonavja
from
Comfort, Freedom and Sound
After a week of using these I am very impressed, I have multiple pairs of BT headphones and these are one of the best. Pros: -Extreme distance from source -Grrreat sound -All day comfort -Case fits easily in pocket -Great battery life 6-8 hrs Cons: -Materials don't feel premium compared to competition -No wireless charging for the case -No power brick (common these days however) Overall these are a great value if you are looking for premium sound at an affordable price point.
Date published: 2020-11-18
Rated

5

out of

5
by
Deepkumar
from
This is by far the best wireless ear buds I own
I own multiple ear buds from different brands, This is unlike others. It fits well in your ears, snuggle fit, gives no headache & no migraine. It doesn't even pain in your ears. The sound is just right so we can hear surroundings as well. I am impressed with the battery life, 25+ hrs, amazing isnt it?? Unlike bose, sony, & many other brands This one stay in your ear, even while work out. Thanks to the rubber grip it has. I am happy with the product
Date published: 2020-11-18
Rated

4

out of

5
by
James
from
Pretty impressive
The Tune215 headphones are worth a look. The protruding handles are similar to the ipods and are easier to use than buds. With 3 size attachments, you should find one to easily and comfortably fit your ear canal. The case is well built and includes magnets to hold the earpieces in place. A nice touch. The batteries are rated at 25 hours, giving you a good amount of play time between charges. Call quality is clear and easy to engage. Bluetooth works well, but was a bit clumsy on connecting. Sound quality is very good on high and midrange. Bass is not as impressive. Overall, given the quality build and exceptional fit, these headphones are a good choice for the price.
Date published: 2022-03-24
Rated

3

out of

5
by
Wallacabayka
from
Good quality earpieces overall
First, I really like the charging case and the fact it can hold multiple charges. For in-ear, they are quite comfortable. Being completely wireless is very freeing and convenient. The sound quality is crystal clear and works wonderfully for phone calls, especially while driving (I find it best to use only one earpiece while driving). For music or movies, the sound is quite good and balanced. Deeper bass would be nice. I did notice that if I turned the volume up to higher levels that the highs were "hissy" and piercing. All in all, I really enjoy these headphones!
Date published: 2020-11-18
Rated

5

out of

5
by
eangel380
from
Awesome, Affordable Rich Sounds!!!!!!Kool Looking
I received my item about a week ago. Since then I happened to take it to the bike trails as well as work. Let me tell you how impressed I am. They are very light, comfortable and the sound quality is amazing. Rich , deep clear bass kept me enjoying my ear buds. I kept mines on at work for a while and I was still very comfortable with them on. They also stayed secured and in my ears while biking. Love them and very affordable makes them a very great investment. I highly recommend them. Thank you and keep up the great work. I would love to attach photos but its not allowing me to do so.
Date published: 2022-03-26
Rated

5

out of

5
by
Alex85
from
Great basic wireless earbuds
JBL Tune 215TWS may be simple but they pack serious sound for a small package, as well as a slick design and easy usability. They come in a little charging box that has small LEDs on the outside to show the amount of charge. It's a neat way to charge and protect the earbuds when you're not using them. The actual earpieces themselves appeal to a minimal design aesthetic, with clean angles juxtaposed with smooth lines. The ear fit for me was perfect out of the box, though it comes with two different sizes of interchangeable earpieces. When removed from their box, they turn on automatically. Pairing is simple. The Tune 215 has great stereo sound with both earpieces in, and it's easy to go with only one earpiece instead of both. I dropped one earpiece off of a platform, and it was still fine when I recovered it, no scratches, and it still works great. Comparing to airpods, this is a much better value and sound quality.
Date published: 2020-11-18
Rated

4

out of

5
by
chh1995
from
Solid earbuds for the price!
I bought these as my first pair of bluetooth earbuds to see how I like them (I usually have BT earbuds with a wire that connects them together), and I must say they are pretty decent. Sound quality is decent, definitely not as good as a pair of Beats or Air Pods, but for the price, I wasn't expecting them to be. No issues pairing/connecting to phone (iphone). Mic works very well for calls. They are a little on the bulky side (compared to Air Pods) so wearing after a while could be a little uncomfortable, but I haven't experienced that yet. Overall, for the price, these do the job, and I would recommend them to anyone wanting to try out these style of earbuds first, before purchasing a more expensive option!
Date published: 2021-12-16
Rated

5

out of

5
by
lavidaloppan
from
Supersköna!
var rädd att de skulle trilla ur eller vara för tunga men de sitter i och hänger med i allt jag gör.
Date published: 2020-12-15
Rated

5

out of

5
by
Ratman79
from
These are the BEST!
These wireless earbuds are amazing! They are super light, fit really well and are really sleek and classy. The Bluetooth function paired seamlessly to my phone as well as my watch, which I usually struggle with. The battery seems to last most of the day, but I keep the charging case on me and recharge or top them off regularly, this makes them my favorites! It's so nice just to pop them in the case for a few and they are good to go for hours. I Love my JBLs!
Date published: 2020-11-18
Rated

4

out of

5
by
mip_92
from
Great for the price!
I've had these for about a month and I really like them! They have a great sound quality and they charge quickly. I have a couple of cons though: There's no volume control on the ear buds and, while comfortable, they don't fit very well. They tend to fall out of my ears easily and it would be nice to have a little more weight to them or that there was an external anchor that could be put on the outside of the bud to hold them in a little better (I have heard that this is a common thing among all wireless buds, not just these so this isn't a knock against the brand). It was a little difficult to figure out which size rubber piece to use for these earbuds as well but that also could have just been me making things more difficult for myself lol Overall though, these earbuds are awesome and totally worth the money.
Date published: 2021-01-06
Rated

4

out of

5
by
HB18
from
Simple and good.
After using other JBL era buds, this pair showed 3 advantages: the button on the head bud is much larger and therefore easier to find and operate. Both ear buds can pair independently, unlike other JBL ear buds where only the right ear bud can pair with the phone and the left one pairs with the right ear buds, not with the phone. Placing the ear buds in the charging case and taking them out is much - much easier than other JBL ear buds. UNFORTUNATELY - delivery was late and JBL - online and on the phone - could not provide tracking info until 1 day before delivery.
Date published: 2021-11-26
Rated

4

out of

5
by
Sandy334
from
Sleek
The tune 215tws has a nice sleek design. The case is a neat looking box. The earbuds drown out most sound for sure and the sound quality of music is good but not awesome. These were also a lil hard to get in ear no matter which of the 3 sets it came with i used. Bluetooth works great and easy to use. Also easy to use with phone calls. I wore these close to 6hrs on full charge before they started to go dead so for me that a good thing. They also Charge pretty quick. I used them while at the gym and they stood up to the sweat also but i had to keep readjusting them so they did not fall out. Overall these are not bad and i would recommend them. Still a great product from JBL but it could use a little adjustment in design.
Date published: 2022-03-31
Rated

4

out of

5
by
Handy Andy
from
Good sound
First I will mention the positive qualities. These earbuds connect easily to the bluetooth on my pixel 3 phone. No problems with initial pairing, or with subsequent pairings. The battery life seems on par with the listed specs and the charging case works great as well. I like that they can be used both in stereo, or one at a time as I usually use them at work in case someone comes up and starts a conversation while I'm working at my desk or in the shop. I can leave my phone on the workbench and walk quite a distance away around the workshop or even out into the yard and they stay connected up to I'd say 60 ft even through a wall. The sound quality is quite good for my uses I mostly use for listening to audio books and podcasts, but occasionally for music as well. Here are the downsides in my opinion. I think the bass on these could be better, though that may just be the case with all small earbuds like this. The size of them may be too big for someone with smaller ears, my wife could not use them even with the smallest rubber pieces fitted because the bulk of the earbud wouldn't fit in her earlobe. The button that turns them off or pauses is quite hard to press in my opinion. I almost have to take it out of my ear to push the button and then put back in. All in all I guess I would give them a positive rating, but if you have small ears you may want so check out some of their other options.
Date published: 2020-12-09
Rated

4

out of

5
by
Audiohead87
from
Great pair to use all day - everyday.
I used these headphones in and out of the house for the last 3 weeks. Battery life is great. Runs all day without issue. They really excel in the mid and upper range, lending to clear and crisp audio, great for podcasts, social media and phone conversations. I guess a robust low end is ultimately the trade off you must make for a small and sleek design which makes these really nice and easy to have handy all times (including its case). To conclude, I think these are an excellent pair of daily drivers that I will continue to use. I love mine in black.
Date published: 2022-04-11
Rated

5

out of

5
by
Tgurley34
from
Great headphones!
I bought these a few weeks ago for the gym and there amazing. I was going to go with air pods but I'm so glad I looked at jbl first. The sound is great. They don't fall out of my ears no matter how sweaty I get.
Date published: 2021-03-07
Rated

5

out of

5
by
Meghan Camp
from
Overall great wireless ear buds!
Overall these are really good ear buds! They hold a charge for a really long time which is so handy. I can't wait to use them for travel because of the long battery life. They block out a lot of sound when you have them both in another thing great fro travel or loud environments. I do like that if you're only using one of the ear buds the controls change to play pause on whichever you use. The only negatives is they hurt my ear if not positioned correctly and the buttons to control them took a little getting use to they felt hard to push at first.
Date published: 2022-03-30
Rated

5

out of

5
by
Julesbr
from
Great bass
Brilliant set of earbuds ... music and bass is fantastic.. would highly recommend these for anyone who loves they're music.
Date published: 2021-01-08
Rated

4

out of

5
by
hagaynor
from
Great sound
These definitely have great sound. They are a bit bulky and took a bit of time for me to get used to how they fit but other than that they are great.
Date published: 2020-11-24
Rated

5

out of

5
by
Rocky
from
Loud, Crisp and Clear Sound
I read the product description and reviews before trying them on, and it perfectly matched the description. The sound is loud, clear, no distortion, and very crisp. The only drawback I observed is the buds are bigger than they seem in the picture. They tend to fall down while I was running. I changed them to a small size ear tips and now they stayed perfectly without falling down.
Date published: 2022-03-18
bvseo_sdk, dw_cartridge, 18.2.0, p_sdk_3.2.0
CLOUD, getReviews, 8ms
reviews, product
Frågor och svar
I have noticed that when other wireless earbuds are nearby, the sound on my JBL Tune215TWS earbuds cuts in and out. Is there a way to prevent this from occurring?
We'd like to work with you directly to troubleshoot the issues you're experiencing with our JBL Tune 215TWS. Please contact customer service at https://bit.ly/2WocMfi
Date published: 2022-03-07
Are these compatible for small ears? Airpods are too big for mine, would this be the case w/ these as well?
Our JBL Tune 215TWS has different eartip sizes that you can try and check which size perfectly fits you. If you need more help, please contact us here: https://bit.ly/2zwFkYM
Date published: 2021-06-06
Can I use either earbud?
Our JBL Tune 215 TWS can use either left or right earbud for listening music. You can check out more here: https://bit.ly/3q6jq6k
Date published: 2021-06-06
Does JBL work for iPhones also? 
Thanks for having an interest in our products. Our JBL Tune 215TWS designed to work with Android and iOS devices.
Date published: 2021-11-09
Are these headphones compatible with the JBL headphones app?
Thank you for your question. No, the JBL T215TWS are not compatible with the JBL Headphones app. Should you wish to receive further support, you may contact the Harman Customer Support team by telephone, email or chat in order to receive direct assistance. Please see https://uk.harmanaudio.com/support-contact.html#ns for further details. Thank you.
Date published: 2023-02-09
Will they work 9on my mac?
Yes. Our JBL Tune 215TWS is compatible with Mac and PC devices with Bluetooth capabilities.
Date published: 2021-11-10
I have a sony headset which specifies as ANC. But I have been facing the issue that while speaking the background noises are heard louder for me and also for the person on the other end of the phone. Is that a issue in JBL Tune 215TWS???
Thank you for your question. The JBL Tune 215TWS does not have the ANC feature, but you could consider the LIVE PRO+ TWS which has Adaptive Noise Cancelling with Smart Ambient. Should you wish to receive further support, you may contact the Harman Customer Support team by telephone, email or chat in order to receive direct assistance. Please see https://uk.harmanaudio.com/support-contact.html#ns for further details. Thank you.
Date published: 2021-07-07
Are these earbuds able to work individually??
Our JBL Tune 215TWS has the Dual Connect feature which gives you the choice to seamlessly enjoy music or take calls with either one or both buds. To Learn more about the Tune 215TWS, you may visit our website at: https://www.jbl.com/wireless-headphones/TUNE215TWS-.html
Date published: 2021-06-06
Hur får jag mina Tune 215 att inte stänga av sig? Jag har dom på kontoret och om ingen ringer på ett tag så slår dom av. vill att dom skall vara igång tills jag stoppar ner dom i laddboxen igen.
Tack för din fråga. Våra har produkter är har som främsta uppgift att spela musik och har då ett inbyggt strömsparläge som gör att dem slår av sig om, som du säger, inget ljud spelas upp. Detta för att hindra att batteriet dräneras ifall man glömmer att slå av dem. Detta är även ett krav från EU enligt EuP-förordningarna. För att få den typen av headset-funktioner du menar skulle du behöva köpa ett headset som uttryckligen var framtaget för telefon och IT-användning. De går under särskilda regler och kommer att fortsätta vara påslagna tills batteriet dränerats eller du slår av dem. Om du önskar ytterligare support, vänligen kontakta vår kundtjänst via telefon eller email för personlig hjälp. Vänligen se https://se.harmanaudio.com/support-contact.html för ytterligare information. Tack.
Date published: 2021-06-06
What are these rated for waterproof XIP7 
Our Tune 215TWS does not have any IPX rating and is not waterproof. Overexposure to water or moisture can result in irreversible damage to the headphones.
Date published: 2023-01-05
I had no problem pairing these with my phone but they will not pair up with my IPad Pro what do I need to do
Thank you for taking the time to provide us with your feedback. Please ensure that no other source devices are connected and that it is in pairing mode. Please proceed with the troubleshooting steps outlined in our 'Bluetooth Troubleshooting' guide, which can be found at this link. https://bit.ly/2LXMoHJ
Date published: 2022-01-19
The left earbud won't turn on. I have charged it several times and when I take it out of the case the led doesn't light up. 
We would like to get more information to help you out. Please contact us so we can assist you: https://support.jbl.com/us/en/
Date published: 2021-12-26
where is the button to control the playback at on this device?
The controls are on the JBL Logo button of the left and right earbuds.
Date published: 2021-06-06
I have lost my ear tips. Are there specific ones that I need to replace them with ?
Hello! Lost my charging case. Is there any possibility to purchase it?
bvseo_sdk, dw_cartridge, 18.2.0, p_sdk_3.2.0
CLOUD, getContent, 16ms
questions, product