JBL's L52 Classic Bookshelf Speaker creates an ideal balance between clear neutral sound and iconic styling that never goes out of fashion. Its compact form factor belies sound quality that rivals the best studio monitors and stand-mount speakers.
JBL L52 BOOKSHELF SPEAKERS HIGHLIGHTS
Two-way bookshelf speaker

One 5.25" pure pulp cone woofer and one 0.75" titanium dome tweeter with waveguide

Front-ported cabinet extends bass down to 47Hz

Front mounted knob for high-frequency boost or cut

Can be wall mounted with integrated threaded fittings

Real walnut veneer and choice of black, orange, or blue grilles
JBL's L52 Classic Bookshelf Speaker packs modern technology into a classically styled cabinet that marries a retro look with reference-level sound quality. The Quadrex foam grille recalls analog audio of the past while modern materials like a titanium dome tweeter and a pure pulp 5.25" woofer deliver audio that delivers way above its modest price of $1,000 a pair. A small cabinet covered in real walnut veneer fits on a stand or shelf thanks to a front-mounted port and relatively shallow depth.
Introduction
I have a vivid memory of my first music job and the rehearsal space I played in every day. It doubled as a recording studio and on one side was a large window where the engineer could look out into the room. I could clearly see the mixing board and the two JBL studio monitors that sat on either side of it. They had the same foam grilles and walnut cabinets that come with the L52 Classic Bookshelf Speakers I'm reviewing today.
Of course, the L52 Classic is only a cosmetic recreation of a vintage speaker. It is made with modern materials and engineered from the ground up using contemporary design techniques and tuning. The old speaker's woofer would have been made from paper, but today's L52 Classic uses a much stiffer pulp material. Likewise, the tweeter is titanium with a waveguide. Once the grille goes on though, it's like stepping into a time machine. JBL calls it Quadrex which refers to the grid pattern molded into the foam.
The L52 is retro in appearance but intended to deliver sound befitting modern spaces and to pair with the latest electronics. Since the port is in front, you can put them on a bookshelf without coloring the sound. Or mount them on the wall using the threaded fittings in the back. For the reasonable sum of $1,000 per pair, you get a very flexible speaker system that can deliver clean sound in small to medium-sized rooms with lots of placement options and the ability to tailor the sound to your liking. Let's take a look.
JBL L52 CLASSIC BOOKSHELF SPEAKER SPECIFICATIONS
TYPE:
2-way bookshelf loudspeaker
LOW-FREQUENCY DRIVER:
5.25″ Pure Pulp cone woofer
HIGH-FREQUENCY DRIVER:
0.75" Titanium dome tweeter with waveguide
RECOMMENDED AMPLIFIER POWER:
10-75W RMS
IMPEDANCE:
4 Ohms
SENSITIVITY:
85dB/2.83Vm
FREQUENCY RESPONSE:
47Hz – 24kHz (-6dB)
CROSSOVER FREQUENCY:
2.8kHz
ENCLOSURE:
Front-ported bookshelf in satin walnut furniture-grade wood veneer
GRILLE:
Foam Quadrex grille available in orange, black or blue
DIMENSIONS WITH GRILLE:
13″ H x 7.74″ W x 8.51″ D
CONTROLS:
HF level boost/cut
WEIGHT (EACH):
11lbs
WARRANTY:
5 Years
MSRP:
$1,000 (per pair)
WEBSITE:
COMPANY:
SECRETS TAGS:
jbl, l52 classic, bookshelf speaker, standmount speaker, reviews 2022, speakers reviews 2022
Design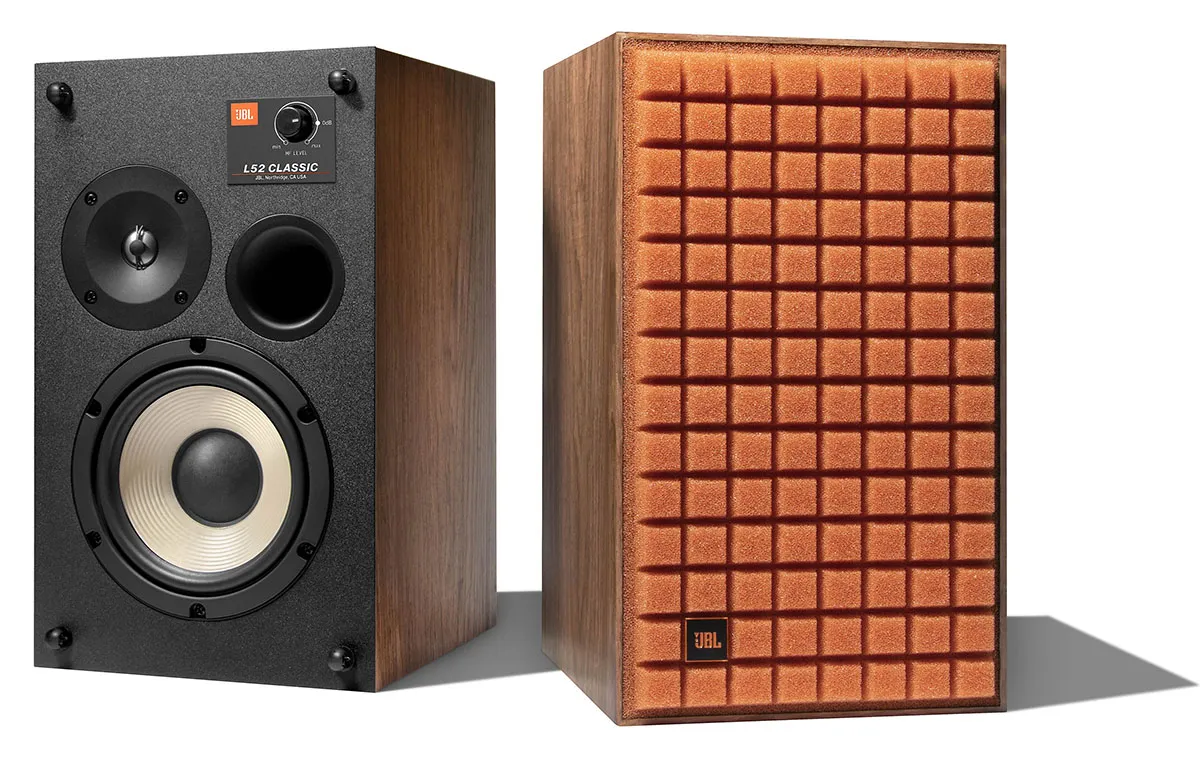 The L52 Classic is a traditional two-way ported cabinet design. It covers frequencies from 47Hz to 24kHz using a 5.25-inch pure pulp woofer and a 0.75-inch titanium dome tweeter. A single crossover operates at 2.8kHz. Bass extension is greater than the small cabinet's size would suggest thanks to the front-firing port. This placement means you can actually put the L52s on a shelf without coloring the sound. If you stand mount them as I did, JBL recommends 24 inches of height to get the tweeters close to ear level.
The cabinets are relatively light but very sturdy. The knuckle rap test reveals a solid piece with little to no chance of sound coloration from chassis vibration. One thing I found unusual is that the L52 does not come with feet. The cabinets don't have threaded fittings for them either. I would not recommend putting any speaker on a shelf where the cabinet was in direct contact. JBL makes stands for them that have a layer of dense foam to isolate the speaker from the stand. Or you can mount them on the wall using an aftermarket bracket. The back of the cabinet has a pair of threaded fittings that accept M6 bolts.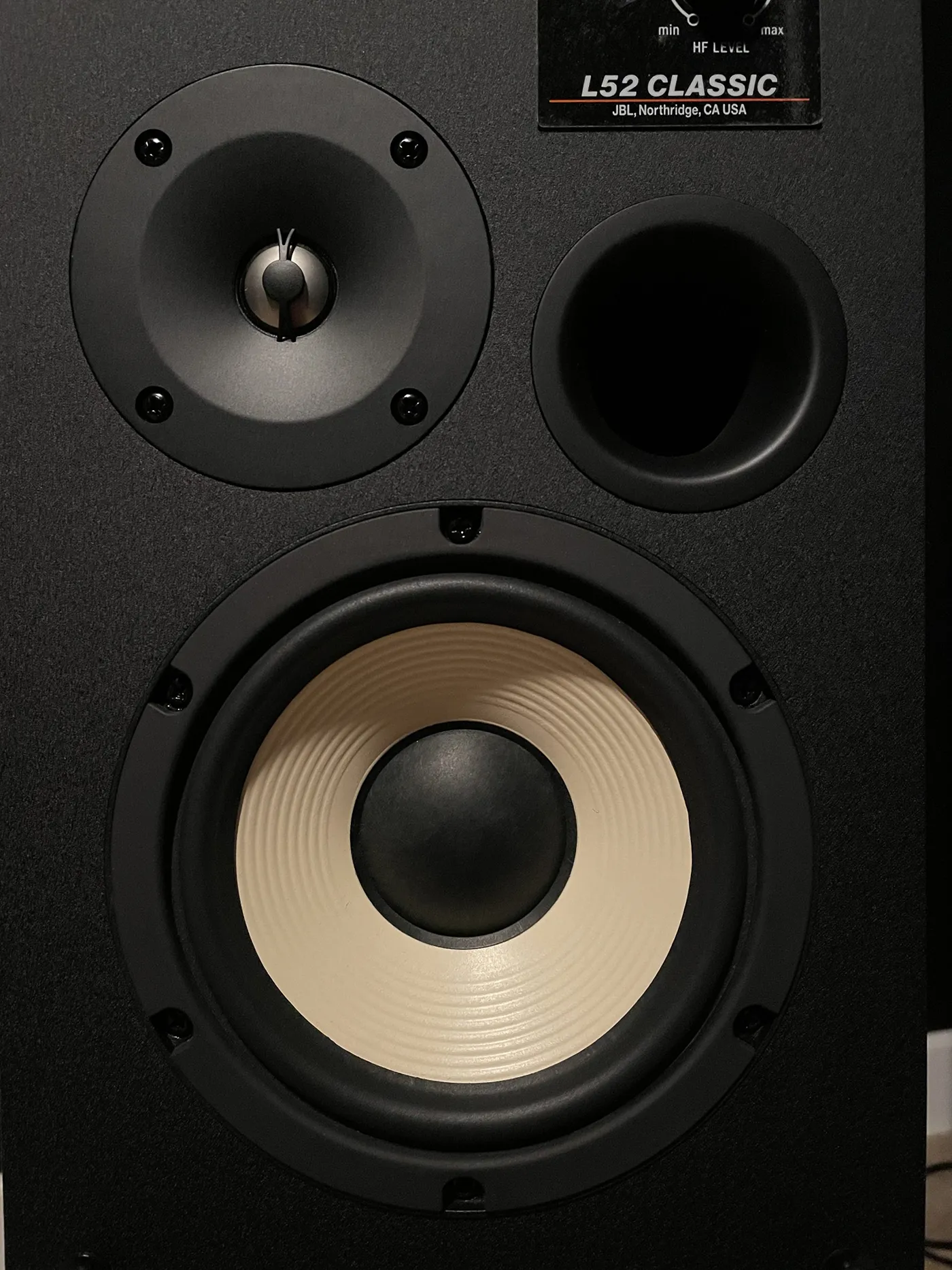 JBL studio monitors of old would have had paper cone woofers but the L52s use pure pulp. This is essentially a super compacted, finely-ground wood pulp that is extremely light and thin. It's supported by a rubber surround that allows for plenty of excursion. The tweeter is a titanium dome with an acoustic lens waveguide that extends up to 24kHz. This provides a lot of high-end detail which you can tune with the high-frequency attenuator on the front baffle. It allows the user to increase or decrease the setting to suit your taste or to compensate for room acoustics.
The grille is the visual standout here. JBL calls it Quadrex which undoubtedly refers to the grid pattern molded into it. It's made from plastic foam and surrounded by a frame that matches the walnut veneer covering the cabinet. It snaps in place using four little knobs that protrude from the baffle's corners. My sample pair of L52s came with orange grilles which were just like the speakers I remembered from 1987. You can also get them in blue or black.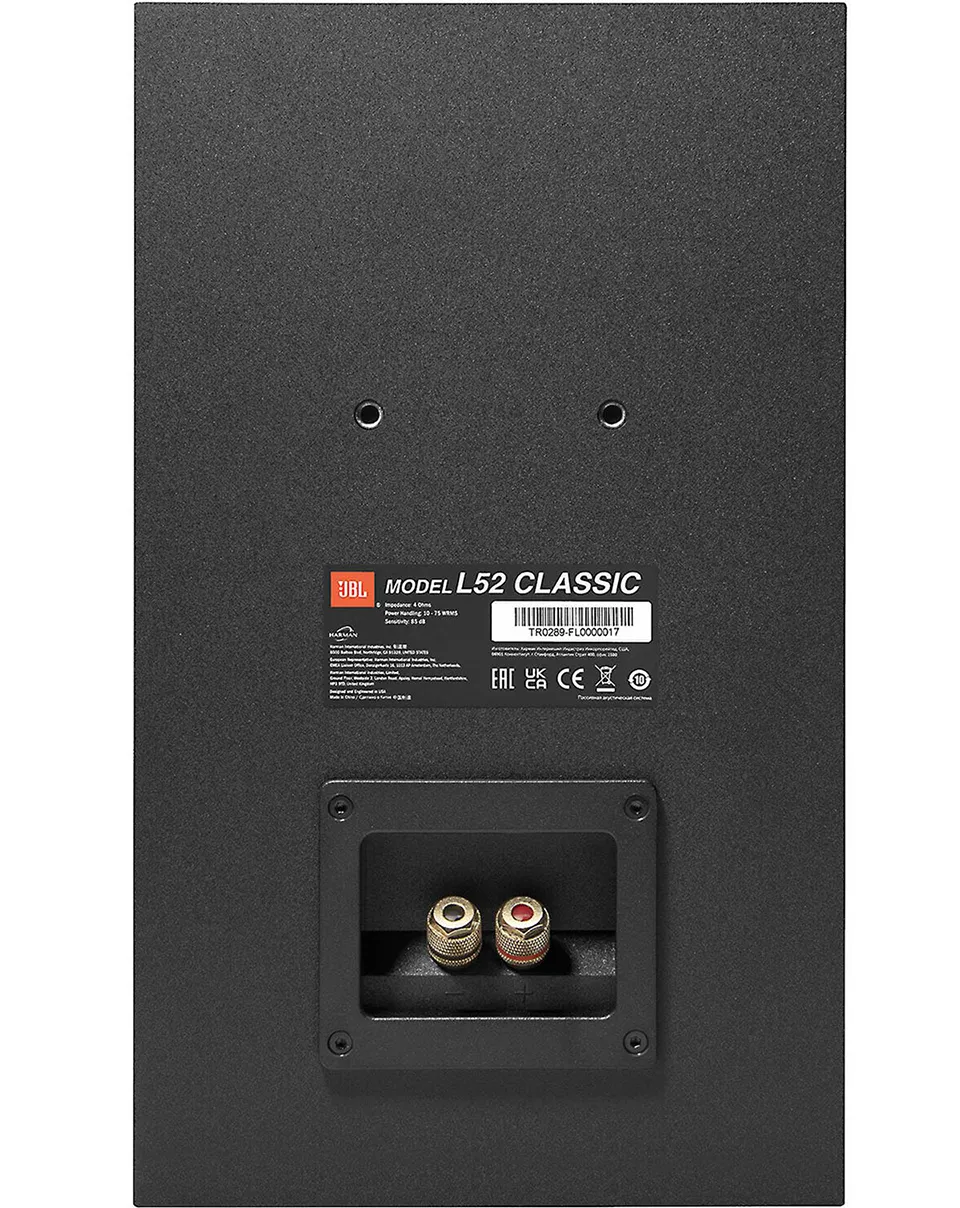 In the back are a pair of beefy five-way gold-plated binding posts that can accept bare wire or any kind of termination. I used banana plugs which required me to pry out the tiny plastic plugs stuck in the posts.
Setup
I used my own speaker stands to set up the L52 Classics. They are the exact height recommended by JBL, 24 inches, but have a plinth at the top. To isolate the cabinets, I used a set of Vibrapods, four under each speaker. The L52s are a mirrored pair in that the tweeter and woofer are not vertically aligned. The shipping carton specifies which is the left and right. Placing them as recommended puts the tweeters to the inside and the ports to the outside. The woofer is on the cabinet's centerline. I see no reason why one could not reverse the speakers if they sound better that way in a particular room.
The L52 Classics are a four-ohm speaker with 85dB sensitivity so you might not get optimal results with an inexpensive receiver. I used an Anthem AVM-70 processor set to two-channel direct mode and an Emotive XPA5 amplifier. All music was played via AirPlay using uncompressed CD rips from my library.
In Use
JBL recommends a break-in period for the L52s, and I can say that from start to finish, I did hear the speakers open up a bit as I listened to them more. About 100 hours should be enough. But I should also say that they impressed me from the very beginning. It was one of those situations where I had to make sure I was only hearing the L52s and not any other speakers or the subwoofer in my theater. What I heard was nothing short of astounding, especially considering their small size and low price.
Classical music can be difficult for any speaker to reproduce accurately and pleasingly, especially orchestra performances. Massed strings are tricky because they can easily sound mushy. In fairness, I've heard string sections in live concerts that sounded like mush so to get a decent presentation from a recording is no small feat.
Chamber Orchestra of Europe "Mendelssohn Symphonies"
I recently purchased a set of Mendelssohn Symphonies on CD that are live performances by the Chamber Orchestra of Europe in a modern hall. The L52s had no problem creating the live experience in my theater. The sound stage is extremely wide, even though I toed the speakers in towards my chair which was about eight feet back. JBL recommends setting them straight forward in a triangle configuration which I also tried. Though the sound became less focused, it was only a subtle difference and that surprised me. Most speakers are more directional than these. I also tried different distances and was amazed by how wide and consistent their dispersion was. The L52s are extremely forgiving of placement. You can put them just about anywhere.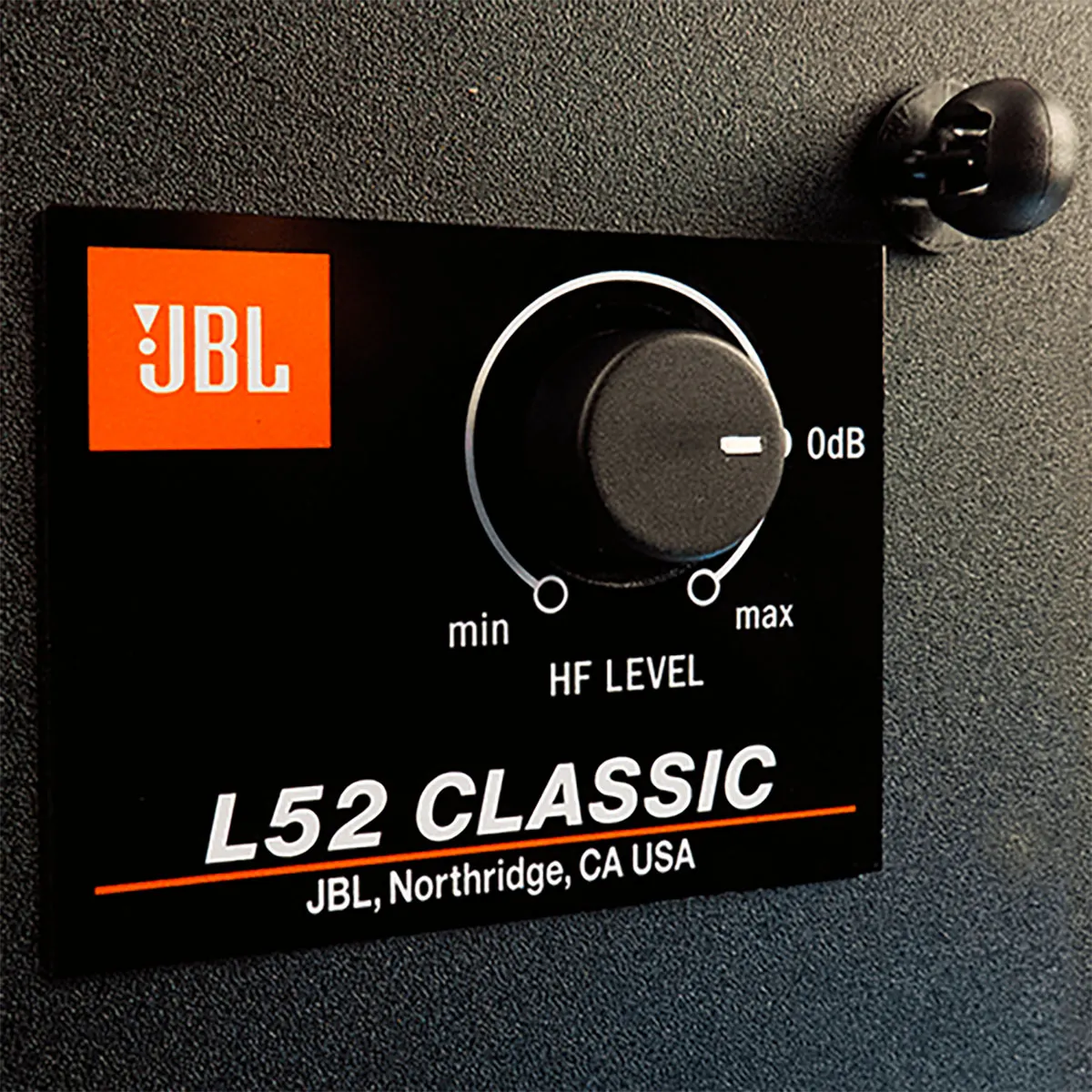 I also experimented with the grilles. They were not acoustically transparent to my ears. Their foam construction takes the edge off high frequencies a bit but in a good way. With the two HF dials centered, the L52s sounded best with the grilles on. Removing them required me to go down about a quarter turn. The dials aren't marked so I don't know how much cut I was applying. After a bit of back and forth, I decided to center the knobs and leave the grilles on.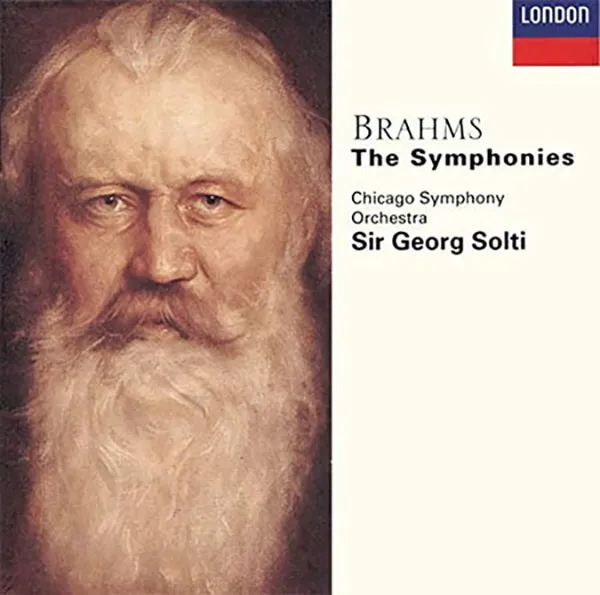 Chicago Symphony and Sir Georg Solti "Brahms: The Symphonies"
With tweaking finished, the L52s became addicting. I listened to the Third and Fourth Symphonies, then moved on to Brahms Symphony No. 1 from the Chicago Symphony and Sir Georg Solti. This is an old-school recording and an early digital product. Its dynamic range isn't huge but the L52s wrung every bit of information from it. The violins had a sparkle and richness that I don't often hear. The cellos, basses, and low brass also had a presence that suggested much larger speakers than the L52's diminutive cabinets and single 5.25" woofer. It's a challenge to wrap my mind around their appearance when I hear them.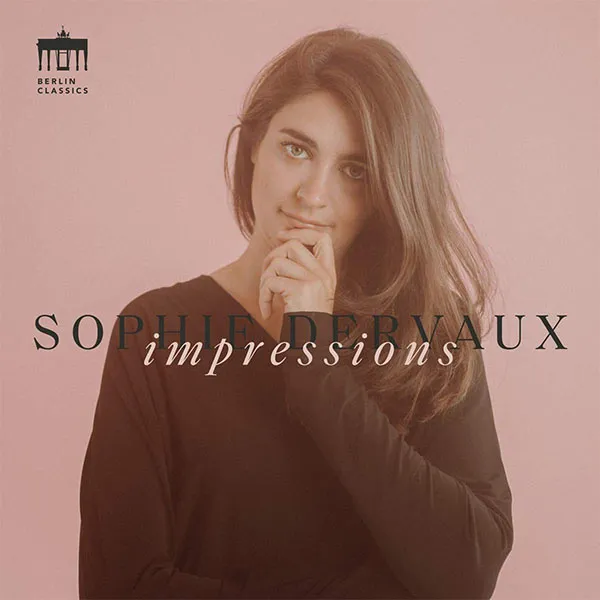 Sophie Dervaux "Impressions"
For a more intimate selection, I chose Impressions from bassoonist Sophie Dervaux. She is the principal bassoon in the Vienna Philharmonic and quite the musical sensation in Europe. Her playing is very smooth and sensitive and the L52s had no problem portraying all her intentions. The Sonate pour Basson by Camille Saint Saens was a particular favorite with its flowing lines and Scherzo movement that Sophie deftly wove into a lovely story. Her warm tone is a stark contrast to most American bassoon sounds and had me completely convinced. The L52s were able to separate the solo from the piano accompaniment with ease.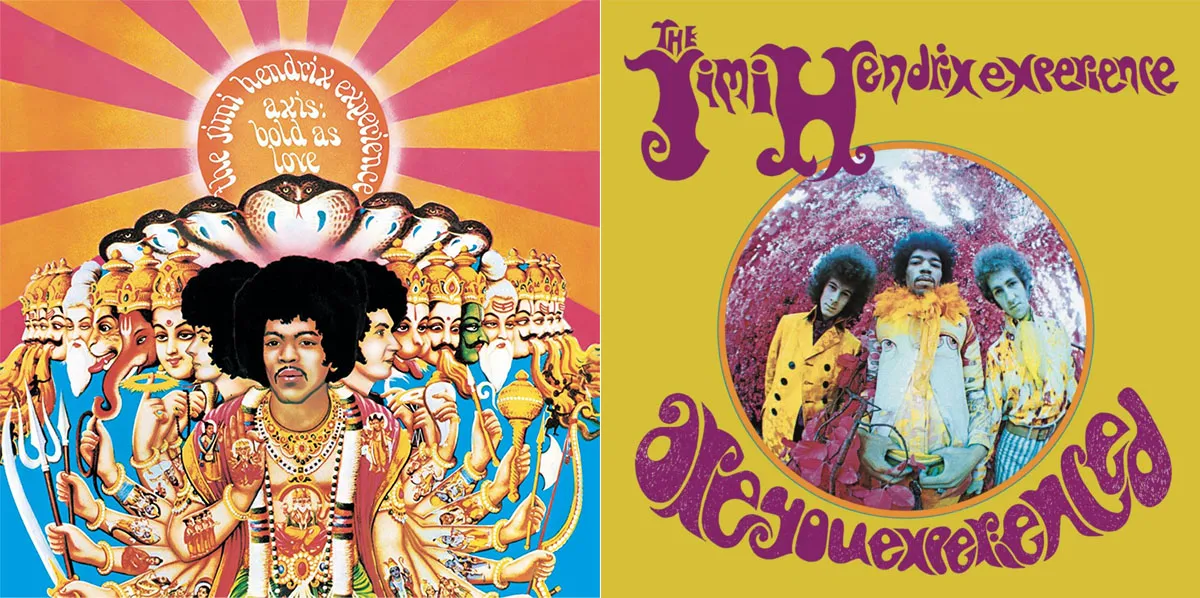 Jimi Hendrix "The Jimi Hendrix Experience"
The L52 Classics inspired me to cue up some vintage rock tracks; I'm talking about analog effects only, no synthesizers or auto-tune. Jimi Hendrix was a natural choice. His signature bell-like guitar sound rang true and deeply while the drum and bass picked up the rhythm. I could clearly hear where each instrument was placed in the virtual space. The phantom center image was as strong as any center channel speaker could produce, even though there was nothing there. I listened to Axis Bold as Love and Are You Experienced and was transported back to the acid rock era when the blues still had a strong foothold.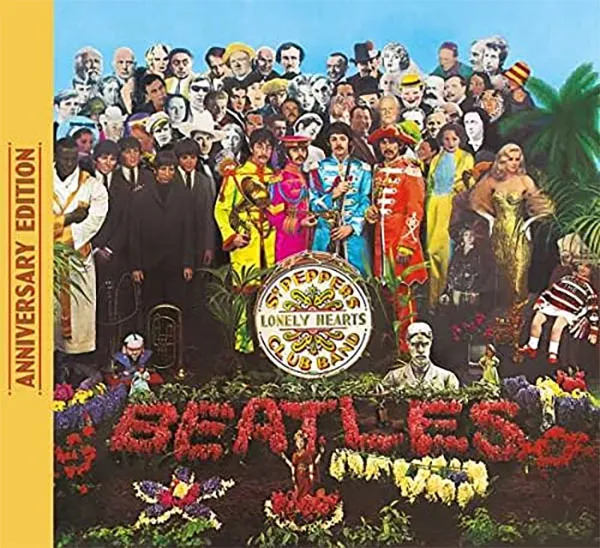 The Beatles "Sgt. Pepper's"
I couldn't resist a spin through The Beatles Sgt. Pepper's Lonely Hearts Club Band, another great example of analog effects. Not only could I easily hear the different voices as Paul, John, George, and Ringo traded solos, I could tell where they were standing in the studio. The L52s truly create a 3D sound stage with every musical selection.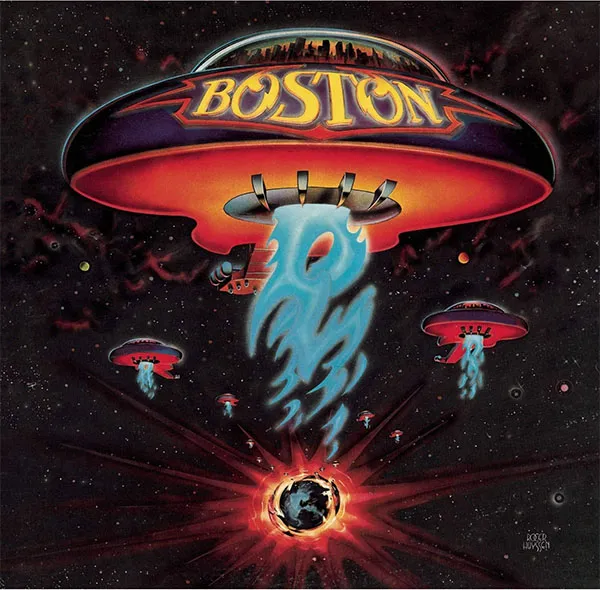 Tom Scholz "Boston"
I finished up with a listen to the king of analog guitar effects, Tom Scholz, and his debut album, Boston. The group's signature sound was perfectly represented by the L52s. Again, it was easy to hear the precise placement of all instruments, lead guitar on the left, rhythm guitar on the right, bass drums, and vocals in the center. The sound stage was truly three-dimensional with the drum kit clearly in the back of the mix. If ever a pair of speakers could be called visual, these are it.
Conclusions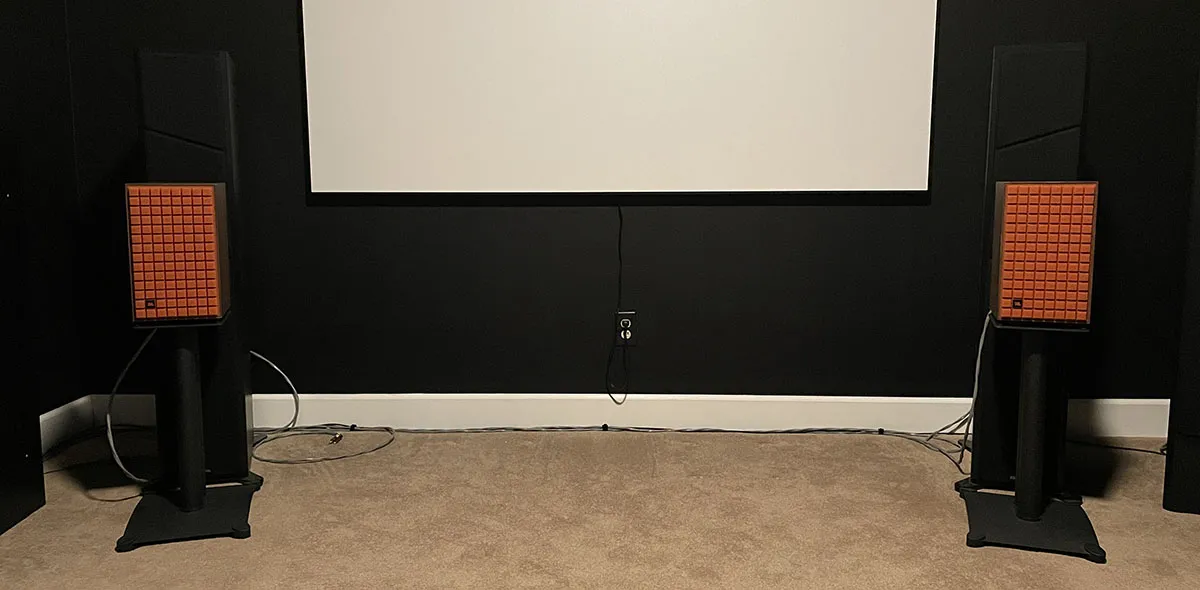 The JBL L52 Classic Bookshelf Speakers create a sound that is far beyond their small size and small price of $1,000. They can truly embarrass many larger and more expensive speakers.
Likes
Neutral, accurate, and balanced sound

Wide and deep sound stage

Very forgiving of placement

Front ports mean you can actually put them on a bookshelf

Solid build quality and classic retro styling

Tremendous value
WOULD LIKE TO SEE
Feet included in the package

Magnetic grilles
Many small and inexpensive speakers claim greatness, but few achieve it. The JBL L52 Classic Bookshelf Speaker is one of the best of those few. It achieves big speaker status to a greater degree than pretty much any bookshelf/stand-mount speaker I've listened to. It produces a clean and clear sound that is balanced across the frequency range. It delivers strong but controlled bass that reaches lower than you'd expect. You can place them straight or toed, wide or narrow, and they'll create a huge sound stage that goes far beyond the confines of your room. And they look amazing. The retro style in this case is simple and to the point. The real walnut veneer adds a touch of high-end and the grille can only be called cool. And if you don't want them to stand out, get the black grille.
The JBL L52 Classic Bookshelf Speaker is one of the very best small speakers I've reviewed. It receives my highest recommendation.