PRICE $8250/pair

AT A GLANCE
Plus
Realistic soundstage
Wide sweet spot
Easily play loud, deep
Adjustable tweeters
Minus
Power hungry for a big speaker
Expensive
Require stands
THE VERDICT
These powerful and precise JBLs made everything I listened to through a pair sound fresh and vital. The 1970s studio monitor styling may not suit everyone'staste, but the mesmerizing sound they produce is sure to captivate any music lover's imagination.
When it comes to speakers, I've learned not to judge a design by its looks. But when you first meet a JBL 4349, it's impossible not to start thinking about the company's professional studio monitors. The prominent horn, with its curved and bulging shape, takes center stage. The woofer is hidden behind a removable cloth grill, while the horn remains exposed. This speaker takes the tried-and-true hardware combination of a 12" paper cone woofer plus a compression driver horn-loaded tweeter, combining them to deliver near-perfect sonic performance with refined precision.
Features and Setup
The JBL 4349 is a passive two-way studio monitor designed and engineered by JBL in its acoustic engineering facility located in Northridge California. High frequencies come from a dual diaphragm 1.5-inch compression driver tweeter mounted to the HDI (High-Definition Imaging) horn.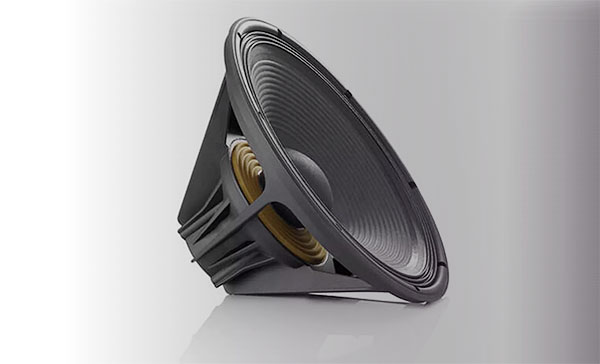 JBL recommends up to 200 Watts RMS amplification for this 8-ohm speaker featuring 91 dB (2.83V/1m) sensitivity. It rates frequency response at 32 Hertz up to 25 kilohertz (-6 dB anechoic). The crossover point is set around 1.5 kilohertz. This is a very substantial speaker, each one weighs 83 pounds And measures 28x17.5x12.5 inches (HxWxD).
Unlike most speakers you'll encounter, the 4349s offer trim controls for high and ultra-high frequencies. You can tune the tweeter to your taste or to conform to a house curve, it's up to you. The amount of change that is allowed is small: +/-1.0 dB for each affected band, in 0.5 dB increments. I heard no good reason to touch these tweeter-tweaker controls, but they are super simple to use, you just need a penny or a dime (or a flat-head screwdriver) to turn the tiny dials and make the adjustment.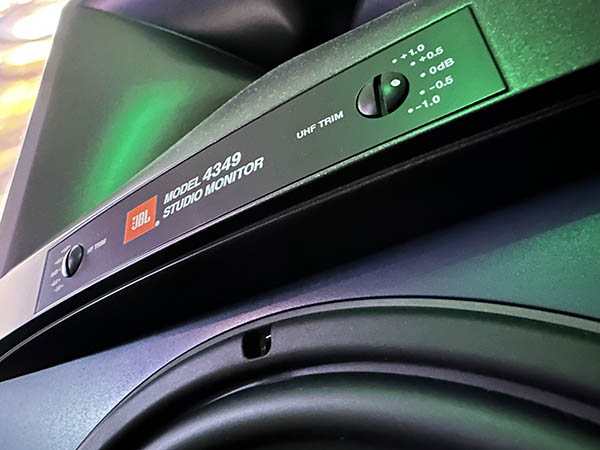 I used the AVR's Audyssey MultEQ XE32 room correction feature on the JBL 4349s. I used the MultEQ-X PC software and the upgraded, calibrated Audyssey measurement mic for this process. The MultEQ-X software allows for extensive measurement and control over the room correction profile, with up to 32 measurements possible. I also conducted some basic measurements with REW (Room EQ Wizard) software and a miniDSP UMIK-2. The results showed that the JBLs deliver their rated frequency response and has balanced, well-controlled off-axis response, indicating that the horn tweeter, woofer and crossover network are functioning in harmony. Although there is a response dip at the crossover frequency. This sort of dip is extremely common and in no way exclusive to these JBLs.