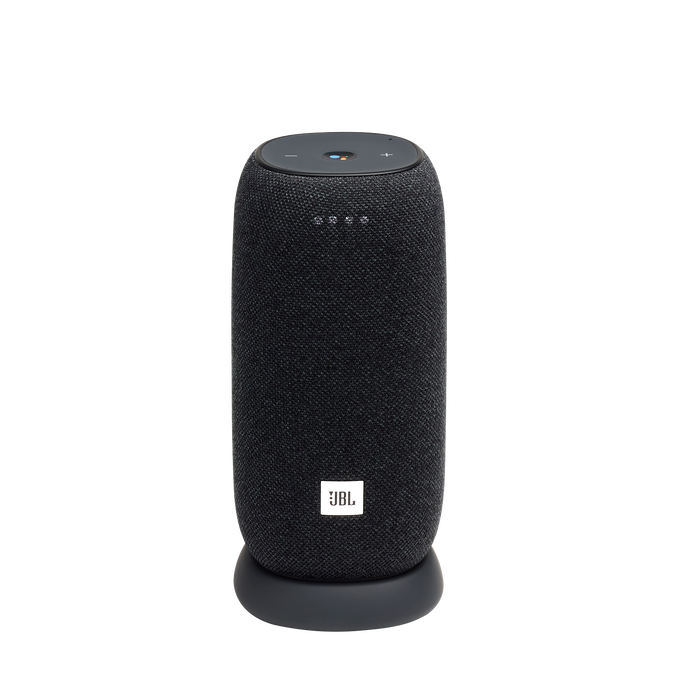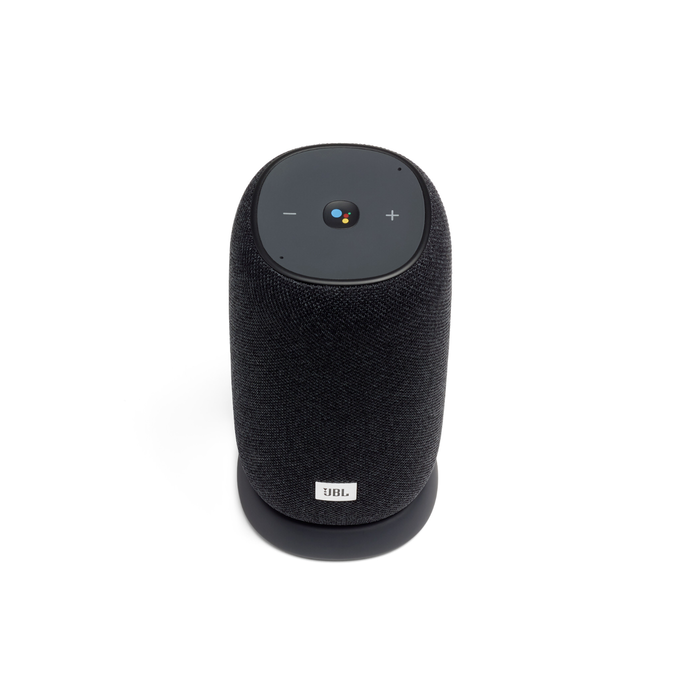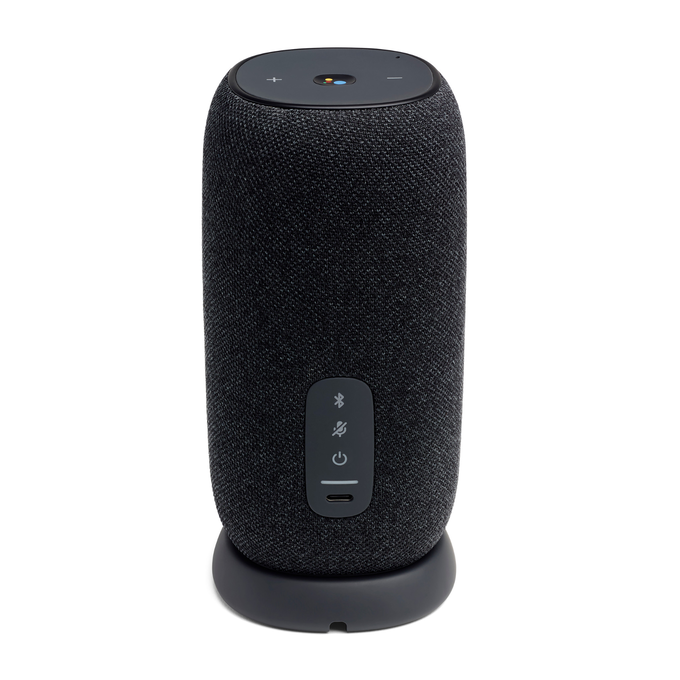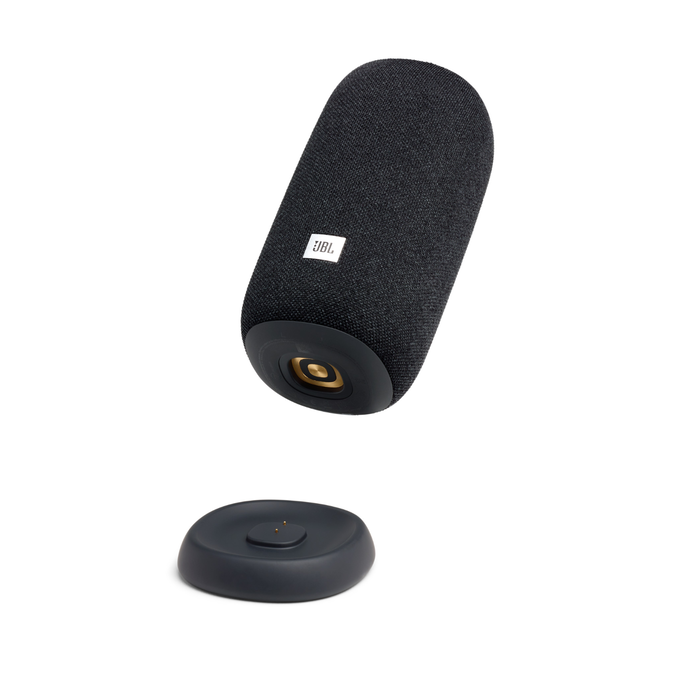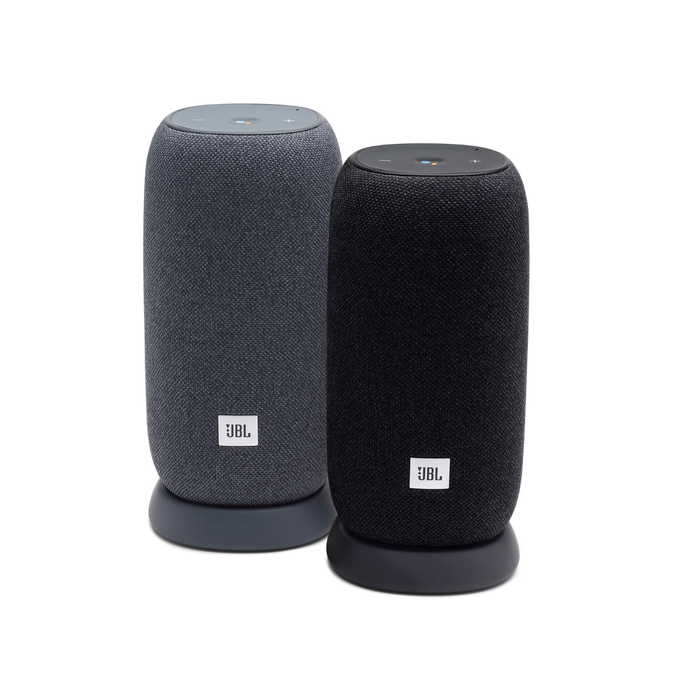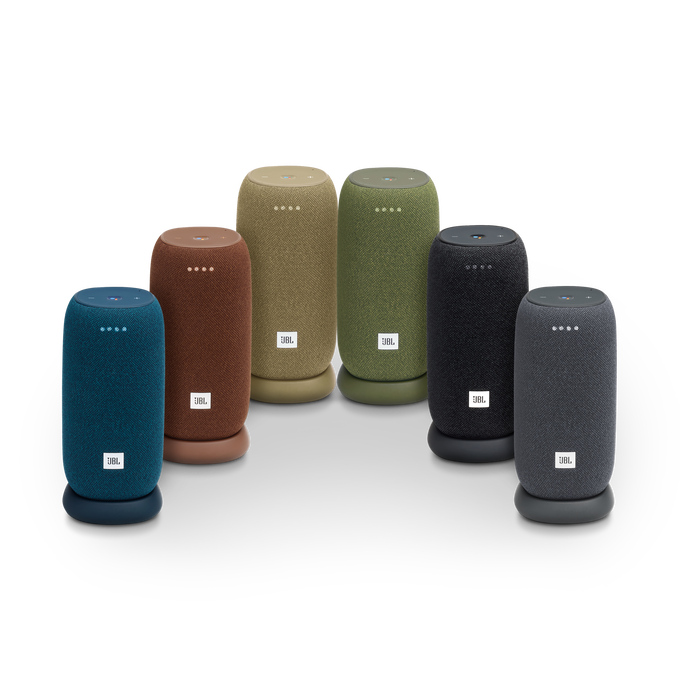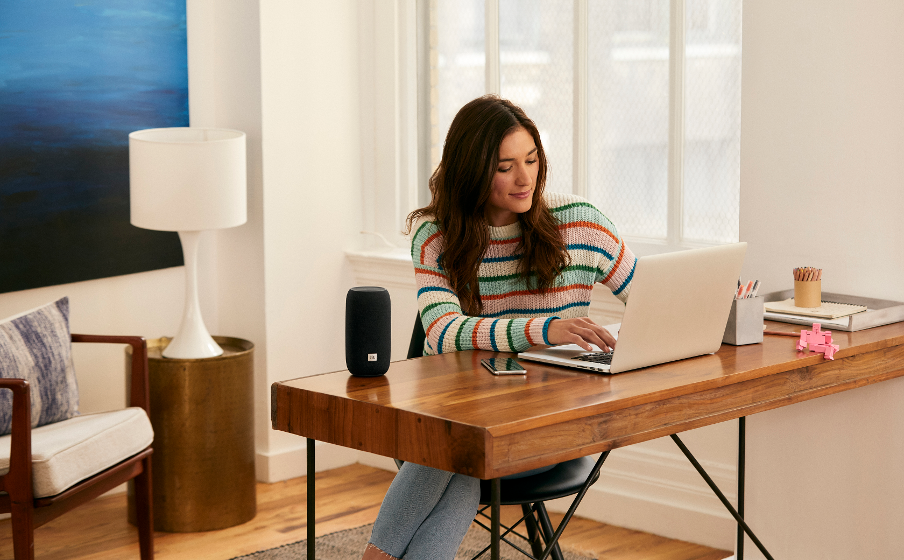 JBL 360-graders professionellt ljud
Omge dig med musik. Njut av en kristallklar diskant, ett detaljerat mellanregister och en djup, kraftfull bas. Med JBL Link Portable pulserar ljudet åt alla håll tack vare ett fullregisterelement med 360-graders egenskaper.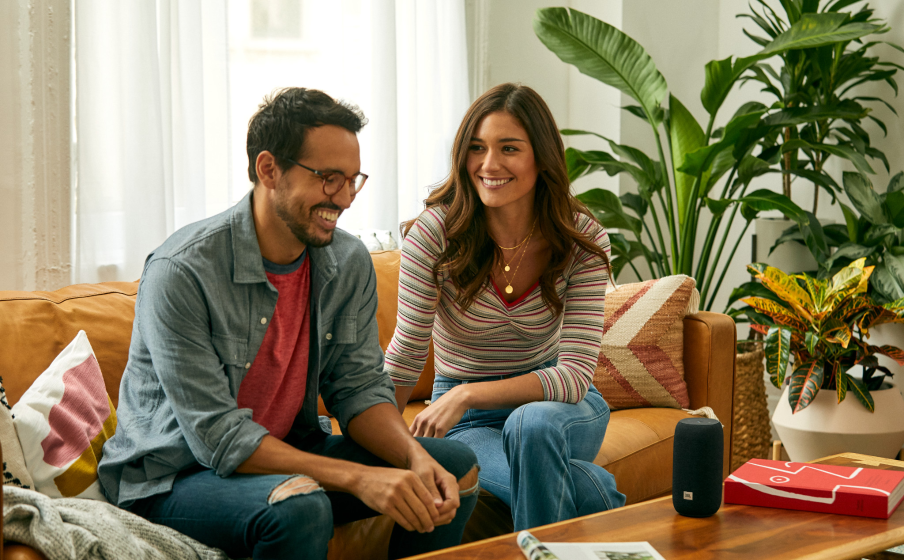 Trådlös strömning med Wi-Fi eller Bluetooth
Strömma enkelt musik till din JBL Link Portable. Låt musiken strömma via Wi-Fi eller Bluetooth och lyssna enkelt på Spotify, YouTube Music eller Apple Music utan några avbrott.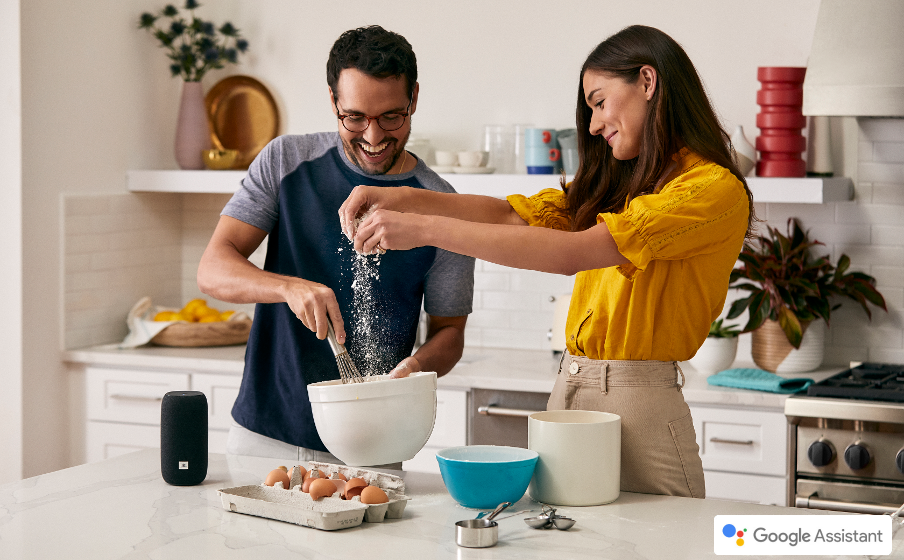 Handsfree-hjälp från Google Assistent
Säg bara "Hej Google" för att be Google Assistant spela dina favoritlåtar och få enkel åtkomst till all din musik.
Funktioner

8 timmars mobil speltid
Lyssna på den senaste podcasten eller ljudboken. Lyssna på alla låtar från ditt favoritalbum. Du kommer fortfarande ha massor av ström kvar med JBL Link Portable.

Helt vattenskyddad
JBL Link Portable är vattenskyddad enligt IPX7 och skyddar mot alla faror i hemmet.
Enkel installation hemma
Med den kostnadsfria Google Home-appen på iOS och Android kan du enkelt installera och hantera din JBL Link. Hämta, installera och spela.

Laddningsstation
Laddning av dina högtalare går på ett ögonblick. Stoppa in laddaren i ett eluttag och placera JBL Link Portable ovanpå, så kommer musiken tillbaka på nolltid.

Utförande och material
JBL Link Portable är lika snygg som den låter. Välj mellan sex snygga färger för att matcha din stil.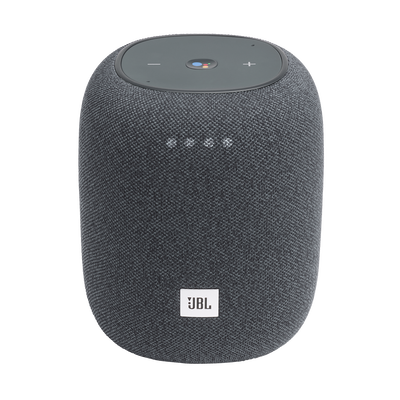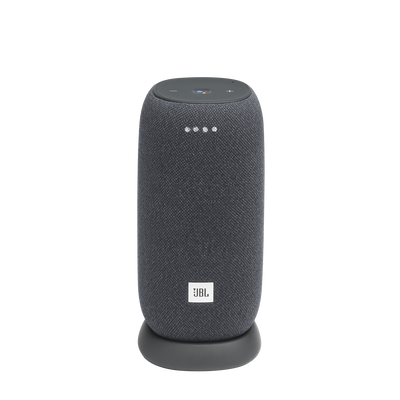 Specifikationer, styrning och anslutning
Ljudspecifikationer
Dynamiskt frekvensomfång (Hz)
60Hz-20kHz
Dynamiskt frekvensomfång (Hz)
65 Hz - 20k Hz
Detaljer & Nedladdningar
Item# JBLLINKPORBLK
Beskrivning
JBL Link Portable

JBL Link Portable ger ett kraftfullt, dynamiskt, 360-graders JBL-proffsljud i upp till åtta timmar. Låt musiken strömma genom varje rum i ditt hem via Wi-Fi eller Bluetooth. Använd Google Assistent och önska musik, lyssna på Spotify, YouTube Music och Apple Music utan avbrott. Säg bara "Hey Google" för att komma igång. Den är helt trådlös, vattenskydda och tålig, och klarar oavsiktlig väta, slag och stötar. Laddningen är en barnlek med en praktisk och lätthanterlig laddningsstation. Matcha din stil med sex iögonfallande färger.
Allmänna specifikationer
Ljudspecifikationer
Dynamiskt frekvensomfång (Hz)

65 Hz - 20k Hz
Mått
Mått (inch)

6.7 x 3.5

Mått (cm)

17 x 8.9

Vikt (kg)

0.74

Vikt (lbs)

1.63
Specifikationer, styrning och anslutning
Bluetooth-frekvens

2402 − 2480MHz

Bluetooth-sändarmodulering

GFSK, π/4 DQPSK, 8DPSK

Bluetooth-sändareffekt

<12.5dBm

Bluetooth-version

4.2
Batteri
Laddningstid (h)

3.5

Speltid (h)

8
Egenskaper
Built-in Wi-Fi

Ja

Charging cable

Ja

Vattentät

Ja

Wireless

Ja

Uppladdningsbart batteri

Ja

Bluetooth

Ja
Notification
Google, YouTube, Google Home och Chromecast built-in är varumärken som tillhör Google LLC.

-
Vad innehåller förpackningen?
1 x Link Portable
1 x USB C-kabel
1 x laddningsvagga
1 x säkerhetsblad
1 x snabbstartsguide
Garantikort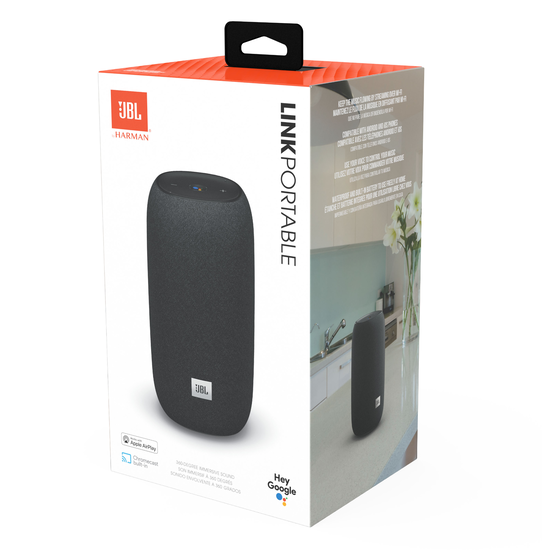 Dokument och hämtningar
Kundrecensioner
Rated

5

out of

5
by
RonBoback
from
This is the portable you need!
I've used a lot of small portable Bluetooth speakers in my day, but this is by far my favorite. Besides the fact it has the fantastic audio quality you would expect from a JBL product, its packed with useful features. Having google assistant built right in makes this worth every cent. Its like having a virtual assistant anywhere you take this speaker. Also, not having to use a cord every time you want to charge is awesome. The charging base makes it so easy, and a low chance of wearing out the port. The only negative is that is does not come with a USB outlet, although you probably have a drawr full of them, its something to keep in mind.
Date published: 2020-03-24
Rated

5

out of

5
by
AngieNHtown
from
Great sound
I had some trouble figuring out how to work this speaker but once I downloaded the Google Play app, everything was resolved. I was surprised that this was not able to just connect to Bluetooth and play right away (maybe it can but I couldn't figure that out) so it seems you have to have the app to get it to work, which I don't see being a problem. The sound is amazing! It's clear, crisp and loud! I like to 'Hey Google' feature and find it to be very helpful and convenient. It has so many features that I am excited to try out and I've only scratched the surface. I think what makes this better than the competition is that it's portable and waterproof! Great product, highly recommend!
Date published: 2020-03-23
Rated

1

out of

5
by
RG11
from
Great idea, poor execution
I'm not sure what JBL was thinking when they decided to make this device require set up via googlehome to even use bluetooth. It is advertised as being able to set up via apple airplay2. What a nightmare that was and even after you couldn't use bluetooth unless you set it up through google home which I do not want to use in any capactity. The speaker is very difficult to set up and use, the "easy start" guide is next to useless with no online resources to help. JBL needs to recall all of these speakers and replace the software with something that is a lot more user friendly and intuitive. Get rid of the google cr*p and allow me to connect to bluetooth without any extra hoops to jump through.
Date published: 2020-11-15
Rated

1

out of

5
by
no directions
from
does not work, no printed directions to help.
I bought this on line and put it right into my suitcase for a trip. After I landed I spent three hours trying to get it to work with a phone tech assistant who barely spoke english and had no clue as to how to handle the situation. The paper directions in the box were terrible and at best very oblique about how to trouble shoot issues. Why wouldn't t you include proper printed directions with your product, esp if its only backed by tech support that can t speak english. A waste of money and time, I still have no directions about how to return it.
Date published: 2021-05-26
Rated

1

out of

5
by
Tizzaster
from
Stops Taking Charge
I have another JBL speaker that I love and I wanted a new one to go with my Google Home Speaker. I bought this and within 3 months the device stopped charging on the cradle it sits on. I contacted JBL customer care who was great and sent me another JBL Link and within 3 months the device stopped taking charge just like the last one. I am now skeptical of JBLs products that they are manufacturing.
Date published: 2020-06-15
bvseo_sdk, dw_cartridge, 18.2.0, p_sdk_3.2.0
CLOUD, getReviews, 4ms
reviews, product
Frågor och svar
Does anyone else find the wireless charger does not seem to connect to the speaker properly and so doesn't charge properly? I can leave the speaker on the stand, and it'll start charging but I'll come back at the end of the day and it's flat
Yes. I just bought one and it does not charge on the base. I tried a different plug adapter and power source, but it still does not work. I watched you tube videos to check the speaker was in the right position on the port (It can charge at any position) The battery light bar was moving, so it appeared to be charging, but it was not. Disappointed and sending back for a refund.
Date published: 2022-12-21
Is Airplay 2 laggy for other users? I can't get the speaker to sync within a second of other speakers. This causes a terrible echo/mime effect. I can't use this speaker with my others in the house. Is there a way to update the firmware and resolve this?
Yes, it is laggy. I have the Link Music and it is not. It works perfectly in Airplay mode. BTW, both speakers work great in Chromecast/ Google home group for playing music in sync. So I'm guessing there is something different in the WiFI hw or sw portion of the Link Portable. I love it, but it would be better if it didn't lag. I wonder if two of them would be in sync using Airplay?
Date published: 2022-05-20
I managed, on third phone, to do initial set up of wifi so now I can use it as a bluetooth speaker but Google Home doesn't "see" the JBL and this I can't complete or return to the set up. Is there a router setting that is causing the problem?
Well I think I sorted it out myself eventually. My home wifi set-up has a primary router and two subsidiary routers set up as access point ("AP mode"). Routers operating in AP mode do not have UPnP (universal Plug and Play, for recognizing new devices) and normally this feature cannot be turned on. So I went to the room with the primary router, which is in normal router mode and does have UPnP enabled, and reset the speaker. I then used an android tablet (a fourth device!) to connect and setup the speaker, enabling wifi and google assistant along the way, and it now seems to be working as it should. Fingers crossed this is a permanent solution.
Date published: 2022-02-26
Can the JBL Link Portable connect to Google Home Minis to create a speaker group?
You can create a "speaker group" with a Google Home Mini in the Google Home app, like other Chromecast capable speakers, and you should also be able to connect it to a Home Mini using Bluetooth where all sound from the Home Mini will be played through the Link Portable, but you can't create a "speaker pair" with a Home Mini for a wider stereo soundstage.
Date published: 2022-07-01
Can you permanently disable Google Assistant on this? Have privacy concerns but needing an Airplay waterproof speaker
Our JBL Link Portable is designed as a voice-activated speaker, and it's not possible to disable the Google Assistant feature. The speaker needs to be connected to a WiFi network before the Bluetooth starts working. We're always looking for ways to improve our current products and future product line. Your feedback is much appreciate. If you need more help, please reach out to our JBL Customer Support team.
Date published: 2022-08-29
how do i reset it 
Press and hold mute button > 10 seconds.
Date published: 2022-10-11
When connected to a phone via Bluetooth, can this be used as a speakerphone on calls?
I was able to make phone calls using Google Assistant ( say "Hey Google? Call ###-###-####), but not directly from my cellular device.
Date published: 2021-06-06
Is there a way to see or hear how much battery life is remaining? I know the thin line light illuminates to show battery charging progress but it isn't illuminated to show the battery's life during use. It would be helpful to know how much life is left.
Pressing one of the volume buttons shows the battery indicator.
Date published: 2022-08-10
bvseo_sdk, dw_cartridge, 18.2.0, p_sdk_3.2.0
CLOUD, getContent, 6ms
questions, product