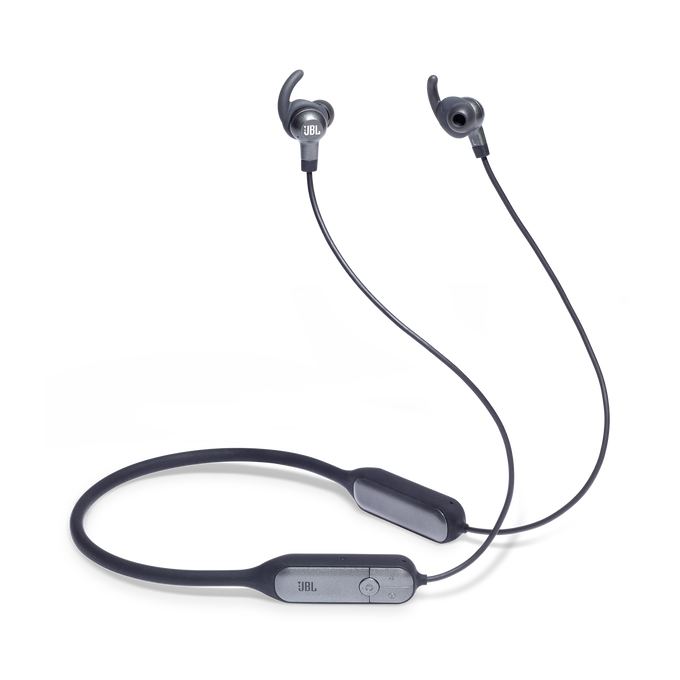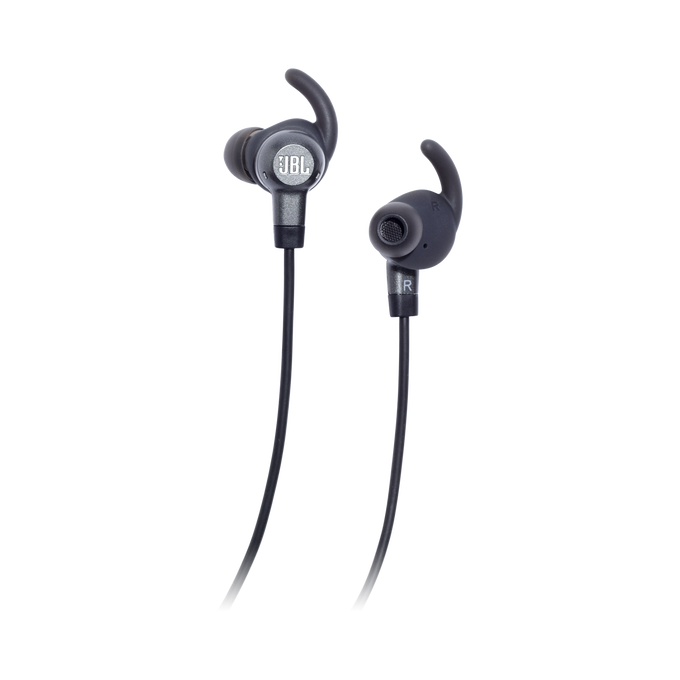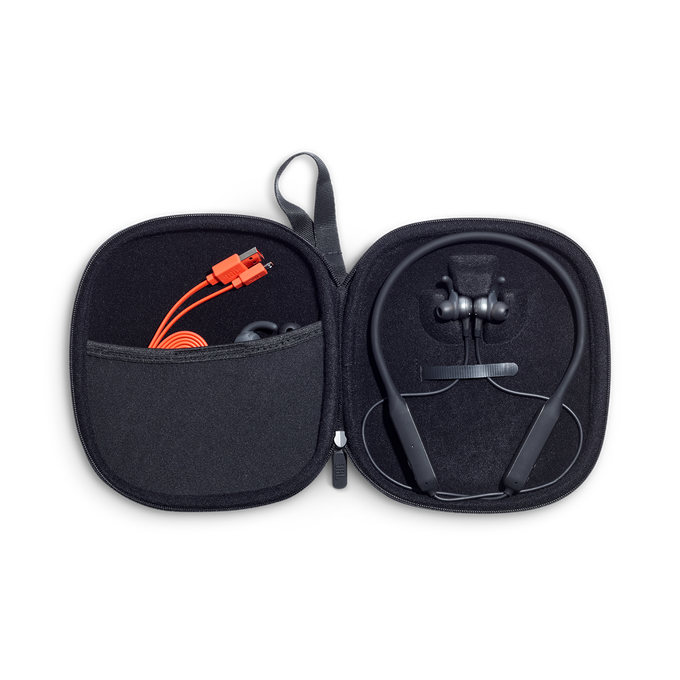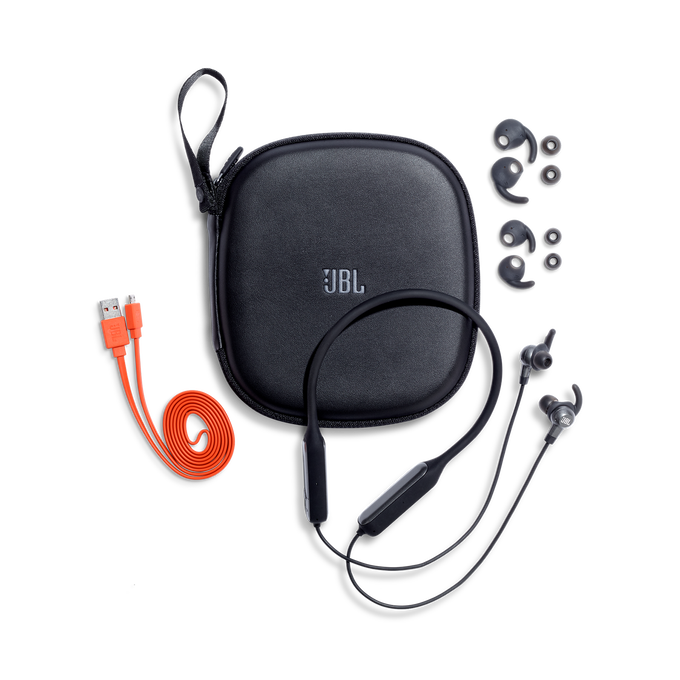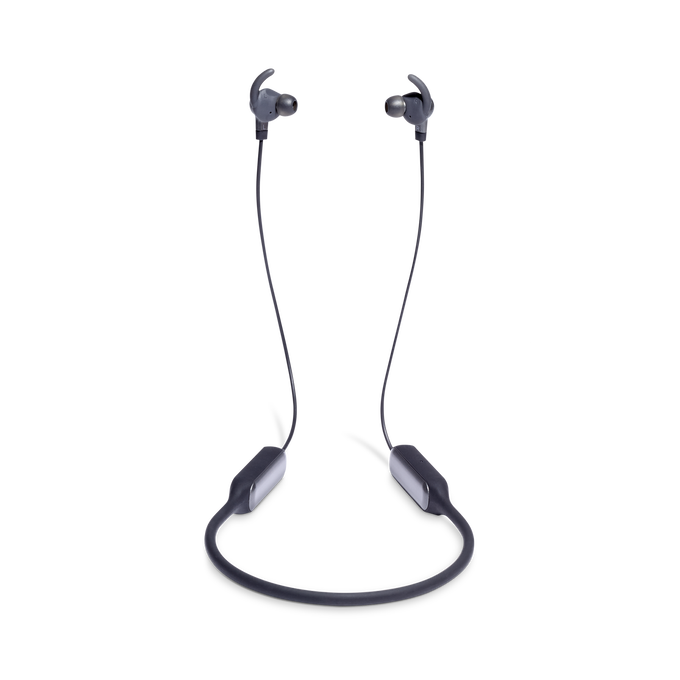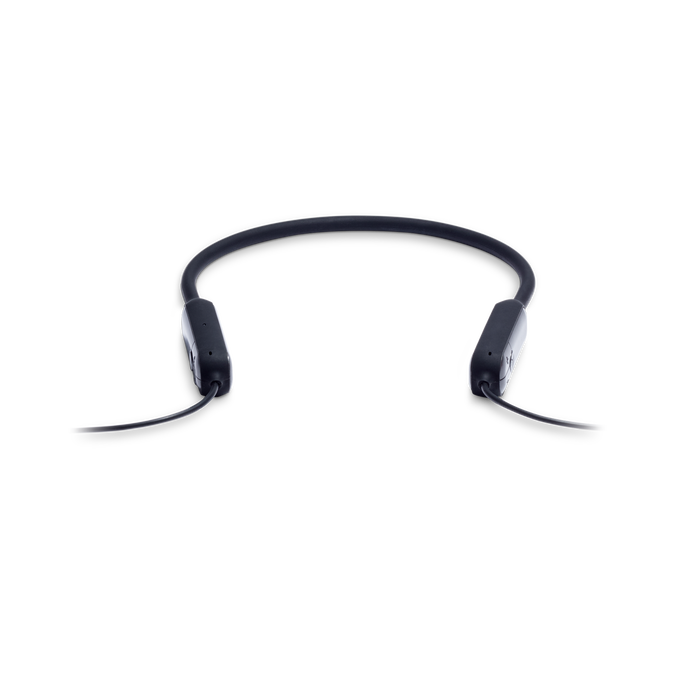 Bluetooth-teknik
Njut av all din musik trådlöst.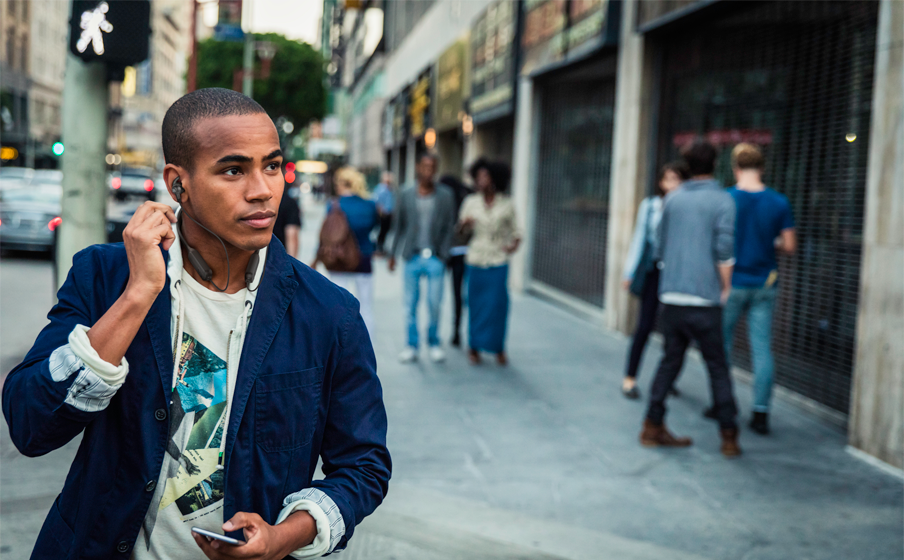 Legendary JBL Pro Audio-ljud
Njut av samma överlägsna upplevelse och otroliga JBL-ljud som JBL har levererat till konserthallar, studior och vardagsrum i 70 år.
Funktioner

Adaptiv bruseliminering
Stäng ute världen med adaptiv bruselimineringsfunktion som gör det möjligt att kontrollera vilka omgivande ljud du vill släppa in eller blockera med hjälp av My JBL Headphones-appen eller Smart-knappen på nackbandet.

14 timmars batteritid, 2 timmars laddningstid
Inbyggt batteri som laddas via micro-USB ger upp till 14 timmars speltid i adaptivt brusreduceringsläge och upp till 16 timmar med avstängd brusreducering. Ladda upp batteriet helt och hållet på 2 timmar.

Dubbla ekoeliminerande mikrofoner
Inbyggda dubbla mikrofoner med ekoeliminering för handsfree-samtal av kristallklar kvalitet.

Anpassad av dig
Utnyttja den fulla potentialen hos Everest Elite 150NC och anpassa hörlursinställningarna efter din smak.
Bekväma lurar
De skulpterade örontopparna ger oöverträffad komfort och möjliggör en längre och angenämare lyssnarupplevelse.

Vik ihop och ta med dig
Det kompakta och snygga nackbandet och den exklusiva hårda bärväskan ger perfekt bärbarhet och skydd.

Magnetisk sladdhantering
Ser till att hörlurarna hålls på plats runt nacken – bekvämt, säkert och trasselfritt – när de inte används.
Detaljer & Nedladdningar
Item# JBLV150NXTGML
Beskrivning
Det smartaste sättet att lyssna på musik.

Ditt liv, din musik, din komfort – helt nya JBL Everest Elite 150NC har verkligen utformats efter dig. Tack vare den smarta utformningen får du uppleva trådlös frihet i upp till 16 timmar på en enda laddning. Med adaptiv brusreducering (ANC-läget) kan du kontrollera vad du vill höra i upp till 14 timmar. JBL Everest Elite 150NC har dubbla ekofria mikrofoner för kristallklara telefonsamtal och handsfree-styrning av samtal och musik. Det legendariska JBL Pro Audio-ljudet, magnetiska öronsnäckor för trasselfri sladdhantering, den kompakta hårda bärväskan och den låga vikten gör dessa hörlurar till det idealiska resesällskapet. Dessa slimmade och eleganta hörlurar är tillverkade i förstklassiga material, formgivna för god passform tack vare örontoppar i flera storlekar. De finns i olika metallic-utföranden och färger. My JBL Headphones-appen stöder trådlösa uppdateringar som framtidssäkrar hörlurarna, och det justerbara omgivningsljudet gör att du dynamiskt kan reglera hur mycket du hör av omgivningen. Våga lyssna.
Allmänna specifikationer
Ljudspecifikationer
Elementkänslighet vid 1 kHz/1 mW (dB)

@1kHz dB v/pa: -20

Dynamiskt frekvensomfång (Hz)

10Hz–22kHz

Impedans (ohm)

16.0

Antal element per öra

1.0
Mått
Vikt (g)

53.0

Vikt (oz)

1.87
Specifikationer, styrning och anslutning
Bluetooth-frekvens

2.402GHz-2.48GHz

Bluetooth-sändarmodulering

GFSK,π/4-DQPSK, 8DPSK

Bluetooth-sändareffekt

4 dbm

Bluetooth-version

4.0
Batteri
Laddtid (timmar, från tomt)

2

Max speltid med ANC av (timmar)

16

Max speltid med ANC påt (timmar)

14

Max speltid (timmar)

10
Egenskaper
Ambient Aware

Ja

Transportfodral

Ja

Handsfree-samtal

Ja

Legendariskt JBL Pro Audio

Ja

Multifunktionell TalkThru-knapp

Ja

Trådlös

Ja

Adaptiv brusreducering

Ja

3-knapps fjärrkontroll med mikrofon

Ja

In-ear-hörlurar med nackbygel

Ja

Snabbladdning

Ja

Uppladdningsbart batteri

Ja
Vad innehåller förpackningen?
EVEREST ELITE 150NC
Laddningskabel
Väska
1 x garantisedel/varning (W/!)
1 x Snabbguide/säkerhetsblad (S/Q)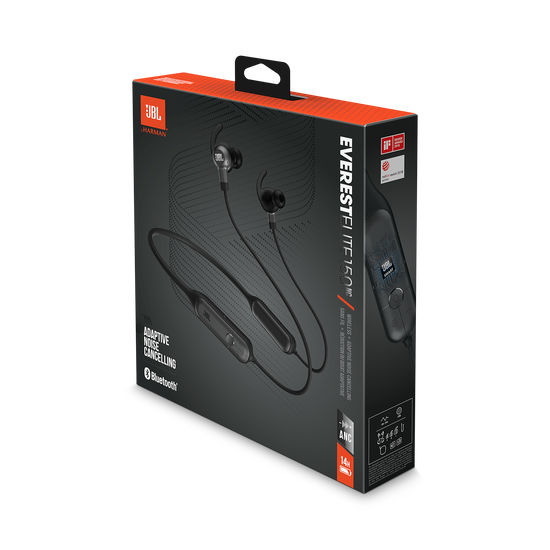 Dokument och hämtningar
Kundrecensioner
Rated

5

out of

5
by
Carlos La
from
ANC is solid, Battery Life is wild
Got this for two reasons: Battery + ANC. I've used earbuds with ANC before -- these ones are better, partially because the ear cups are a really good fit, partially because the ANC is just very good. The ambient aware stuff is dumb, just ignore that. Their app threw me off about the battery life... it seemed to drop quickly and charge in like 20 - 30 mins... I finally realized that the app is wrong and the battery is fine. It gets down to 30% and then lasts forever, so the charge is just topping it off. In reality it lasts a stupid amount of time battery wise. Needed to play with the EQ a little to get the sound right, but then it's great. All in all very happy with it, as it nailed the key things I wanted without looking like trash.
Date published: 2018-07-25
Rated

4

out of

5
by
JuBiLee
from
Weaker bluetooth signal vs better battery life.
Both units, ELITE 100 and ELITE 150NC, provide great sound than most other brands. But for me, ELITE 100 would be a better unit if it's battery was not defective. I can perform more tasks while listening music with ELITE 100: jogging, running, doing crunches, pushing up....hand mopping floor even microwaving/ vacuuming/ mowing. Thanks to the holding support mechanism. ELITE 150NC does not have that support and tend to slide to sides. ELITE 150NC loose connection if it is position lower than the phone or close to a running microwave, mower or or vacuum machine. Some times after loosing connection it can't even auto connect back. ELITE 150NC still is a awesome unit .
Date published: 2018-10-30
Rated

1

out of

5
by
Lara T
from
Save your money and stay away from this garbage
I bought these headphones during Cyber Monday as the deal appeared very good - they were half price. Unfortunately, too good to be true. Let's start with the battery: with the ANC on, it is possible to see how the battery gets drained from 100% to 50% in only 1 hour of listening! It is only slightly better with the ANC off: you can get a "whopping" 3 hours of listening! The sound isn't that great either: flat and underwhelming - I have a pair of wireless earphones paid MUCH less that have a deeper and more nuanced sound than these. Do yourself a favor and DO NOT BUY these!!!
Date published: 2018-12-27
Rated

5

out of

5
by
SPRjr
from
My favorite earbuds
I bought these about 3 months ago and I couldn't be happier with them. The noise canceling works great. The battery life is insane (I consistently get 12 to 14 hours of use per charge). The sound quality is really good between watching videos and listening to different genres of music. I have never had an issue with connecting or staying connected as other reviews have stated (My personal experience, take it for what its worth). Overall these are amazing and I highly recommend them if you are willing to spend a little more, especially if you are looking for a good noise canceling earbud.
Date published: 2019-06-20
Rated

5

out of

5
by
Midwest Guy
from
Better than Everest Elite 100NC
I had the Everest Elite 100NC ear buds and the sound was pretty good when they stayed connected and were not crackling. I upgraded to the EE150NC and what a difference. Sound was equally as good, but no crackling and battery life is great compared to the EE100NC. I use these every day for work to make sales calls with no problems. I do have them set to auto shut down if not used to save battery. They come back up very fast after pushing the power button if a call comes in. I really like these when I am riding my lawn tractor. The NC cuts out pretty much all of the tractor noise and I can hear the music great. The design of the new EE150NC is so much better than the EE100NC. The peice that gooes around the neck is nicely weighted and stays in place. It is way better than the EE100NC that had some crummy plastic pieces that you had to add to keep them around your neck when using them in an active scenerio (working out or yard work). I did have to play with the different size ear pieces to find what works best to keep them stuck in my ears. I also puchased some cheap memory foam ends instead of using the silicone ones that came with the EE150NC because they hurt my ears if I wore them for a long period of time. That solved the problem. I am very satisfied with new version.
Date published: 2018-08-27
bvseo_sdk, dw_cartridge, 18.2.0, p_sdk_3.2.0
CLOUD, getReviews, 4ms
reviews, product
Frågor och svar
Are these heaphones multipoint capable?
The Everest 150NC does not feature a multipoint operation. It only has the capability to connect to one device at a time.
Date published: 2021-06-06
I can't pair my device with my Macbook Air 2018? When i pair the devices with the each other it says ''connected'', but when i try to play music it disconnect How can this be fixed?
i have a same problem with macbook pro , reset the mac and try and works but you got to reset every time u want the connection. not a good noise cancelling , bad on high end .
Date published: 2021-06-06
Quality of Noise Cancellation
Pretty great as far as in ear headphones go... You need to select noise canceling instead of the ambient aware default, then it's pretty good. I've used other cheaper wireless headphones with ANC that didn't have the same kick
Date published: 2021-06-06
What does the auto off feature do?
It turns the unit off at the specified time.
Date published: 2021-06-06
I can't get my headset to power on and when I plug in the charger no light appears. Not sure what to do to get my headset up and going again? Please send me some options to try and resolve the issue. Thanks
not putting the answer here is suspicious. these headphones are frustrating without more verbose instructions when first purchasing. I'm taking them back to BestBuy
Date published: 2021-06-06
Can these be plugged into the audio source directly instead of using Bluetooth? For example, the entertainment system on an airplane? Thanks!
Unfortunately the Everest Elite 150 does not have the ability to get it directly plugged via Aux cable.
Date published: 2021-06-06
this device is just for Apple or I can connected with Samsung
These can be used with both devices.
Date published: 2021-06-06
I have had my Everest Elite 150NC wireless headset less than 8 months. In the past week it suddenly stopped working. I have tried charging but still not working. What else can be done - I love them and have no idea why they stopped working.
Question: I have had my Everest Elite 150NC wireless headset less than 8 months. In the past week it suddenly stopped working. I have tried charging but still not working. What else can be done - I love them and have no idea why they stopped working. Answer: Thanks for sending us this question. You may want to try charging your JBL Everest Elite 150NC headphones with a different charging cable and adapter as it's possible that the charging cable could have gone bad. If this doesn't work, let us know through the link below and we'll be happy to check your other options: https://support.jbl.com/us/en/
Date published: 2021-06-06
bvseo_sdk, dw_cartridge, 18.2.0, p_sdk_3.2.0
CLOUD, getContent, 173ms
questions, product