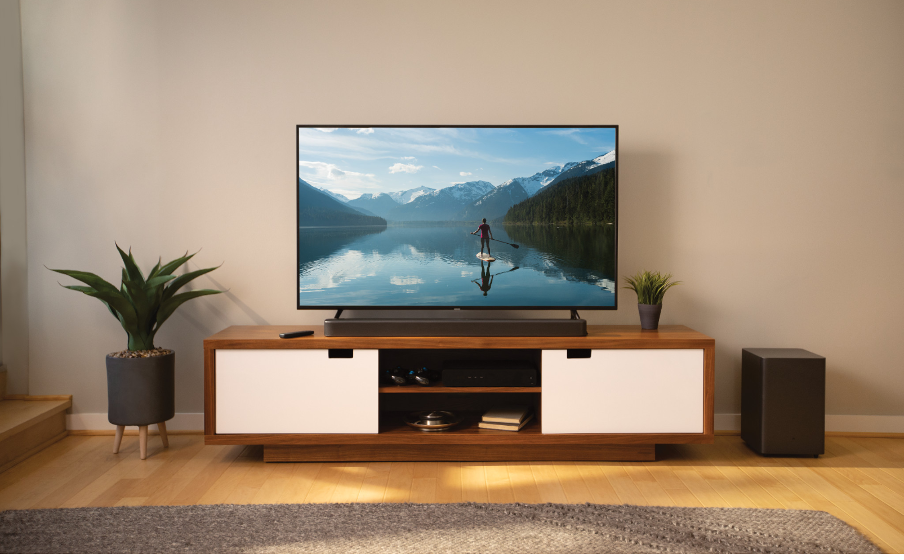 Ta med kraften
Fyll hela ditt rum med ljud. Imponerande 300 W av total systemkraft ger dig kontroll. Dina filmer och musik har aldrig låtit så bra.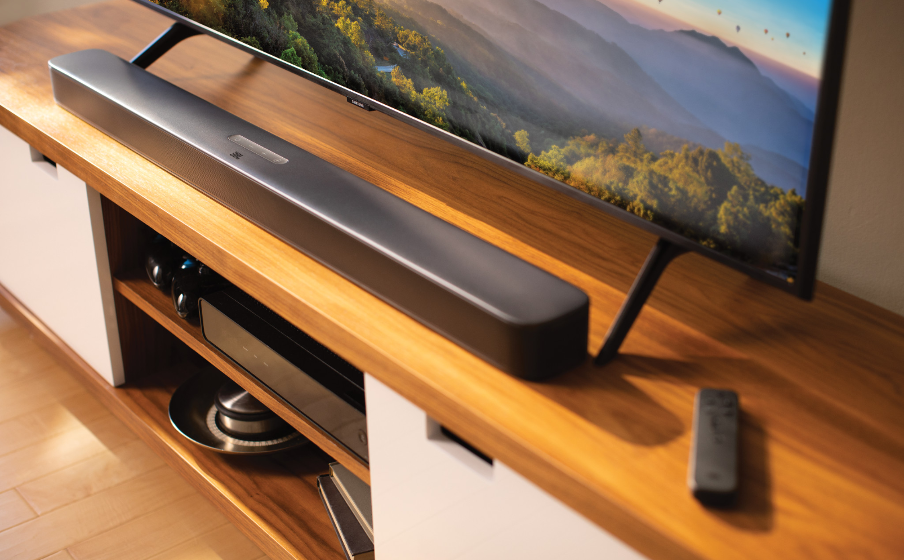 Omgiv dig med ljud
JBL Surround Sound ger omedelbart liv till filmer, sport och musik. Uppgradera till en uppslukande ljudupplevelse för din TV utan extra kablar eller högtalare.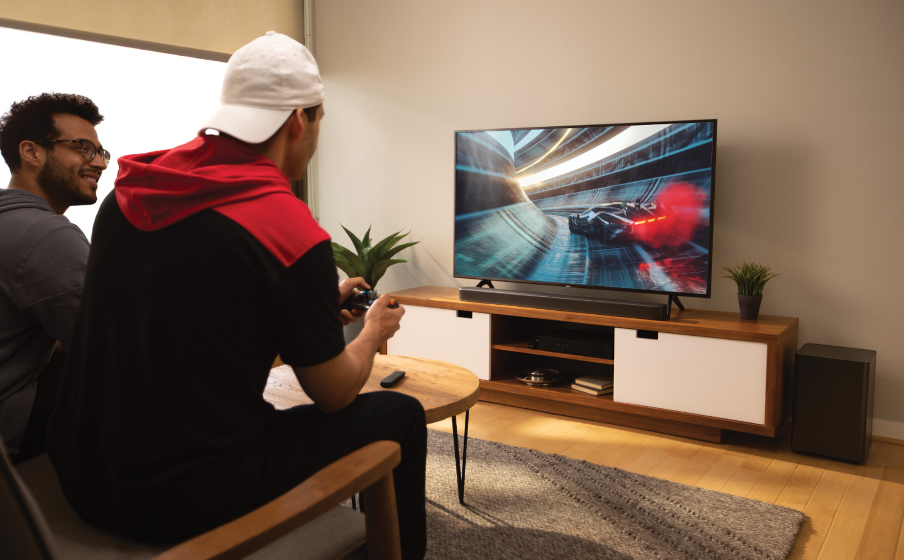 Allt handlar om basen
Varför bara lyssna på basen när du kan uppleva den? Den 6,5 tum trådlösa subwooferen ger djupt exalterande ljud.
Funktioner

Gå på bio, från din soffa
Få popcornen klara. Inbyggd Dolby Digital ger dig en autentisk filmupplevelse i ditt hem.
Strömma allt
Inte på filmhumör? Inga problem. Med JBL Bar 2.1 Deep Bass kan du också njuta av trådlösa musikströmmar via Bluetooth från din mobil eller surfplatta.

Skapa en anslutning
Att ansluta JBL Surround Sound kan inte bli enklare. HDMI- eller optisk kabelanslutning är superenkel att ställa in och använda.
Detaljer & Nedladdningar
Item# JBLBAR21DBBLKEP
Beskrivning
Stor medryckande bas

Omslut ditt vardagsrum i ljud. JBL Bar 2.1 Deep Bass soundbar gör ditt vardagsrum till en biograf eller konsertarena. JBL Bar 2.1 Deep Bass kan vara kompakt, men det levererar 300 watt av otroligt JBL signatur-ljud. Anslut till din TV med bara en optisk eller HDMI-kabel eller strömma musik från telefonen med inbyggd Bluetooth. Dolby Digital och JBL Surround Sound ger en verklig filmupplevelse till ditt hem, gör allt du tittar på eller lyssnar på mer episk, mer spännande och kraftfullare.
Allmänna specifikationer
Modell

Bar 2.1 Djup bas CNTR (Soundbar-enhet), Bar 2.1 Djup bas SUB (Subwoofer-enhet)

Strömförsörjning

100 - 240 V AC, ~ 50/60 Hz

Högtalarens totala utgångsström (Max. @THD 1 %)

300W

Utgångsström

(Max. @THD 1 %):

2 x 50 W (Soundbar); 200 W (Subwoofer)

Transduktor

4 x mellanregisterbasar + 2 x 1" diskanter (Soundbar); 6,5" (Subwoofer)

Soundbarens och Subwooferns strömförbrukning i standby-läge

< 0,5 W

Drifttemperatur

0 °C - 45 °C

HDMI-videoingång (med ljudåtergångskanal)

1

HDMI-version

1.4
Ljudspecifikationer
HDMI-videoingång

1

Ljudspecifikation:

Frekvensåtergivning

40 Hz - 20 KHz

Ljudingångar

1 Optisk, Bluetooth, USB (USB-uppspelning är tillgängligt i USA-versionen. För andra versioner är USB-porten endast för service.)
Mått
Dimensioner (B x H x D):

965 x 58 x 85 (mm) / 38" x 2,28" x 3,35" (Soundbar);

240 x 240 x 379 (mm) / 8,9" x 8,9" x 14,6" (Subwoofer)

Vikt

2,16 kg (Soundbar);

5,67 kg (Subwoofer)

Förpackningsdimensioner (B x H x D)

1045 x 310 x 405 mm

Förpackningsvikt (Bruttovikt)

10,4 kg
Specifikationer, styrning och anslutning
USB-port

Typ A

USB-klass

5 V DC/ 0,5 A

Stöder filformaten

mp3 och wav

MP3-kodek

MPEG 1 Lager 2/3, MPEG 2 Lager 3, MPEG 2.5 Lager 3

MP3-samplingshastighet

16KHz - 48 KHz

MP3-bithastighet

80 kbit/s ~ 320 kbit/s

WAV-samplingshastighet

16KHz - 48 KHz

WAV-bithastighet

Upp till 3 000 kbit/s

Bluetooth-version

4.2

Bluetooth-profil

A2DP V 1.3 /AVRCP V 1.5

Bluetooth frekvensomfång

2402 MHz, -2480 MHz

Maximal sändarström för Bluetooth

10 dBm (EIRP)

Moduleringstyp

GFSK, π/4 DQPSK, 8DPSK

5G:s trådlösa frekvensomfång

5736,35 – 5820,35 MHz

Maximal sändarström för 5G

< 9 dBm (EIRP)

Moduleringstyp:

π/4 DQPSK
Vad innehåller förpackningen?
Soundbar
Trådlös subwoofer
Fjärrkontroll med batterier
Strömkablar (upp till 8 delar beroende på regionala SKU:er/lagerhållningsenheter)
HDMI-kabel
Väggmonteringssats med konsol och skruvar
Snabbstartsguide
Garantikort
Säkerhetsblad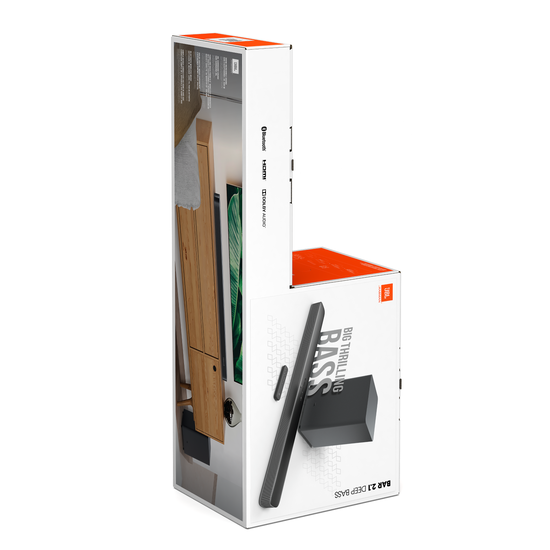 Dokument och hämtningar
Kundrecensioner
Rated

1

out of

5
by
Pete PhD
from
Frustrating! Should've kept my Technics speakers
The sound is good, when the subwoofer works, However, the subwoofer won't stay paired with the soundbar, so it's like listening to sound from a tin can. Shouldn't have to attempt to connect/re-pair the subwoofer every time I watch TV. The re-pairing steps don't work, so I was having to unplug the electric supply and reset the entire system every time. Support wasn't able to fix the problem, so they are shipping me a new soundbar and subwoofer. Until this rectifies the problem, I would not recommend this problem. Wish I had just kept my Onkyo receiver and old Technics stero speakers. Never had any problems with them and the sound was excellent and powerful.
Date published: 2020-03-15
Rated

5

out of

5
by
ScottyG
from
Incredible sound from a little package!!
Fantastic sound out of a little package! This kit is a straight plug-n-play setup and took me about 10 minutes maybe less to install. The sound bar interacts with your TV's volume controls so you don't' have to used 2 remotes plus with the duel HTMI inserts and the Fiber opt input you're golden. Also I love the Bluetooth setup.. my phone auto connects from the car to the house so I don't miss a beat! Hands down the best bang for your buck if you're on a budget or if you just want that Movie theater feel from you couch. Another Great product from JBL!
Date published: 2019-10-31
Rated

4

out of

5
by
MrGadget
from
Amazing sound
Great clarity and bass. My kids use it for Just Dance and other Ps4 games as well as TV and movies. Uses HDMI or optical to connect to TV. I love the readout on the bar itself. I keep having audio sync issues though. The sound is behind the mouth moving. I must enable and disable my TV sound sync to fix it. It's either a software issue or the bar is fighting with my LG 4K TV sync since both the bar and the TV have sync options. Bottom line though is that it sounds really really good and hearing surround from a bar under the TV is really a trip!
Date published: 2018-03-23
Rated

5

out of

5
by
G Unit
from
Best sound bar I've owned
I've owned and used the JBL 2.1 sound bar for almost 3 months now and use it daily. I have various sound bars and home theater systems on all 5 of my tv's. The JBL 2.1 is now on my main tv. Just plugged it in and it worked no complicated setup. Sound is great with adjustable bass levels and highs and mids that deliver clear dialogue. Nice and loud when you want it to be for those action movies. But can also be used for daily tv watching at normal levels. I also like that it turns on and off with the tv and there is no annoying indicator light that other bars have on all the time.
Date published: 2019-12-02
Rated

4

out of

5
by
Seth007
from
Great overall soundbar
Overall good soundbar. On itself, the soundbar is just plain. Sound is high toned and high pitched but when the bass module is turned on, it's like a whole new system. PROS: Great sound, easy plug and play, convenient remote control or on bar controls, cinema quality sound, quick and easy bluetooth pairing. CONS: Short power cords (5 1/2 feet-approximately), only 1 hdmi cord included (considering there's 2 ports hdmi in/hdmi out), no fiber optic cord included (available for purchase anywhere).
Date published: 2019-10-31
bvseo_sdk, dw_cartridge, 18.2.0, p_sdk_3.2.0
CLOUD, getReviews, 3ms
reviews, product
Frågor och svar
The soundbar is great with music! But!! When watching a movie it's very bad, crackling & popping sounds.. very disturbing.. at any volume music works great. 
I also have the same problem. I disable the surround mode and it help a little but every turn off the settings reset. Really hope they will fix it. For now i prefer the audio from the tv. This sound bar is feeling like waste of money for now.... but hope they will fix the problems and our ability to control the system
Date published: 2023-03-04
Will there be an update for an extra sound mode? A movie or tv mode would be nice. Voice and dialogue are too low, and sound effects are too high during movie or tv.
Agree - tough to hear dialogue unless you crank up the volume, but then the effects are too loud. A movie mode would be helpful
Date published: 2022-12-20
JBL remote stops working all together when I use the bar with my TV, I've connected it every way possible in the manual and the problem persists. I know the remote works because it's fine when connected to my projector and iPhone via BT. Why?
We're here to help you with the subwoofer of your JBL Bar 2.1 Deep Bass. Try connecting the soundbar to a different TV to see if the issue persists. There might be a TV setting that prevents the remote to work while the soundbar is connected to the TV. Please try to power cycle the subwoofer by unplugging it for 30 seconds, then plugging it back into a power source. If you need more help, please reach out to our customer support.
Date published: 2023-05-06
How does this soundbar connect to a tv?
Our JBL Bar 2.1 Deep Bass will be compatible as long as the TV has an HDMI input.
Date published: 2022-06-16
Hello, please tell me what is the difference between JBL Bar 2.1 and JBL Bar 2.1 Deep Bass? Not counting the design.
Thanks for your question, our JBL Bar 2.1 Deep Bass has improved the sound quality and adding more Bass to the subwoofer to give you that deep bass experience, it also enables you to use USB as a playback option. If you have more questions, please contact us so we can help you. https://bit.ly/2zwFkYM
Date published: 2022-11-28
Can you add an extra woofer to it 
You can't add extra speakers/subwoofers to this system since it uses a unique frequency to connect the soundbar to the subwoofer.
Date published: 2022-08-21
Why does subwoofer don't connect to the soundbar?
We're here to help with your JBL Bar 2.1 Deep Bass. Please follow the manual pairing for the subwoofer to your soundbar: -Turn on the soundbar and the subwoofer. If the connection is lost, the LED indicator on the subwoofer blinks slowly. -Press the CONNECT button on the subwoofer to enter pairing mode. The LED indicator on the subwoofer blinks quickly. -Press and hold the DIM DISPLAY (18) button on the remote control for 5 seconds, followed by a short press on BASS+ (11) and BASS- (12) on the remote control in sequence. Panel display will show "PAIRING" -If the painting succeeds, the LED indicator on the subwoofer lights up and the soundbar display will show "DONE." -If pairing fails, the LED indicator on the subwoofer blinks slowly. If pairing fails, repeat the steps above. If you need more help, please contact our customer support for assistance.
Date published: 2023-03-04
I just recieved my 2.1 deep bass. I hooked it up with an optical cable and with hdmi cable. The sound bar does turn on but no sound. The base module does not make a sound either. The system is dead except for the tv led or standby when you turn on or off.
We would like to get more information to help you out, please contact us so we can assist you:https://bit.ly/2zwFkYM
Date published: 2021-06-06
bvseo_sdk, dw_cartridge, 18.2.0, p_sdk_3.2.0
CLOUD, getContent, 10ms
questions, product