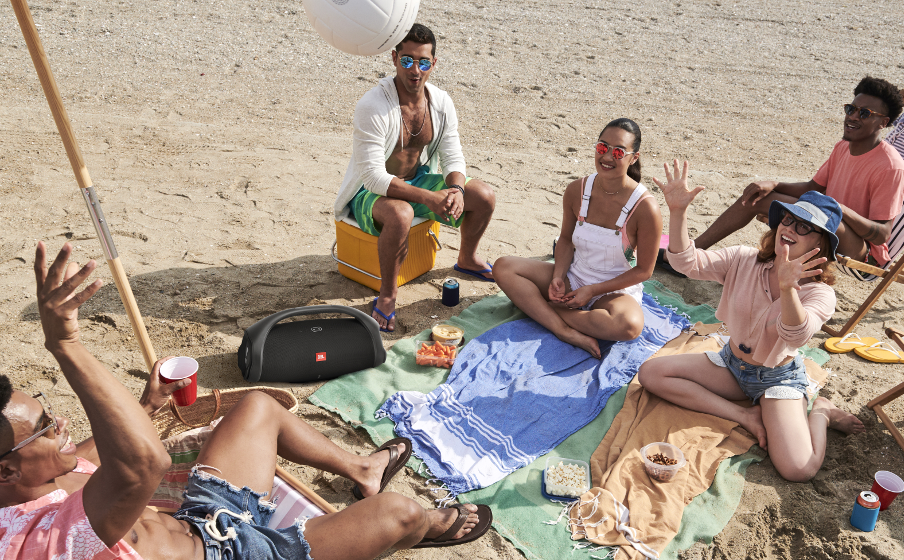 Den mest högljudda JBL-boomboxen någonsin
Skruva upp volymen. Högt. Få det högsta, mest massiva JBL Signature Pro Sound-ljudet med vår mest kraftfulla bärbara högtalare, JBL Boombox 2.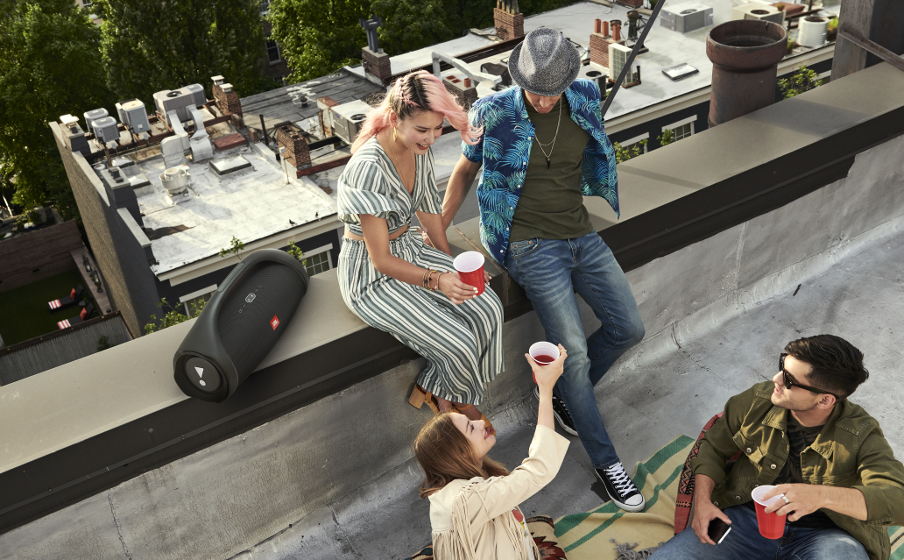 Monstruös bas som känns
Bas är nyckeln till alla fester, så låt dina vänner känna den. JBL Boombox 2 pumpar ut kraftfull, djup bas – precis som på din favoritklubb.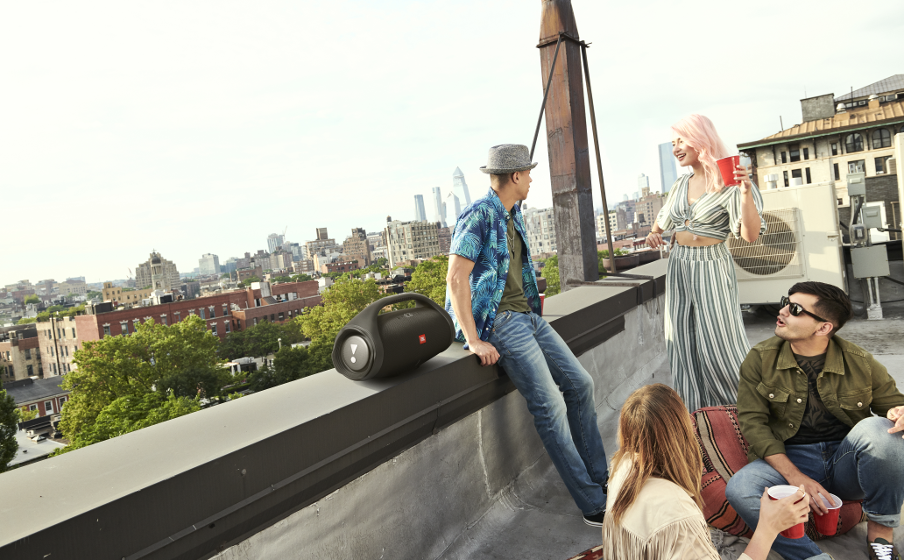 Håll igång festen med 24 timmars speltid
Det roliga behöver inte ta slut. JBL Boombox 2 håller igång festen både dag och natt med otroliga 24 timmars batteritid.
Funktioner

Den är vattentålig enligt IPX7 – du kan njuta av musiken vid vattnet
Ta med dig dina högtalare vart som helst. Poolparty? Perfekt. Plötsligt skyfall? Inga problem. Strandfest? JBL Boombox 2 är vattentålig enligt IPX7 ner till en meters djup för häftig utomhusunderhållning.

Mäktig design
Elegant. Djärv. Kraftfull. Med sitt ikoniska handtag och sina stilrena sidodetaljer får JBL Boombox 2 folk att haja till, vart du än tar den med dig.

Låt festligheterna börja med PartyBoost
PartyBoost låter dig parkoppla flera JBL PartyBoost-kompatibla högtalare och pumpa upp festen.
Ladda med den inbyggda powerbanken
Pausa inte festen. En inbyggd powerbank låter dig ladda dina enheter utan att pausa musiken.
Produktjämförelse
Hitta den bärbara Bluetooth-högtalaren som passar dig bäst
JBL BOOMBOX 2-
BOOMBOX-3-
XTREME-3-
CHARGE5-
FLIP-6-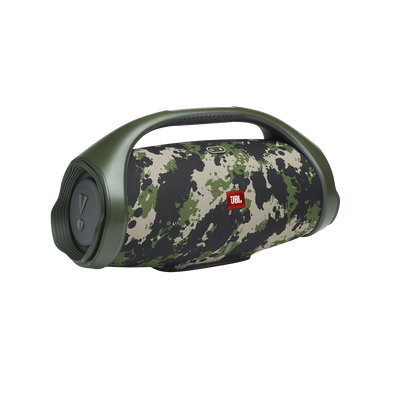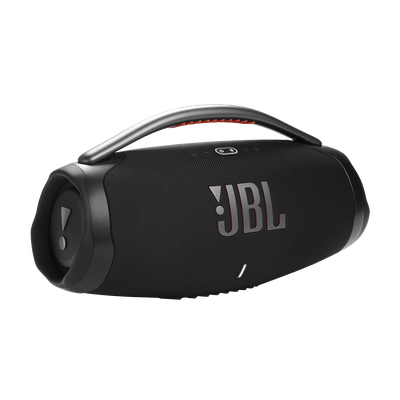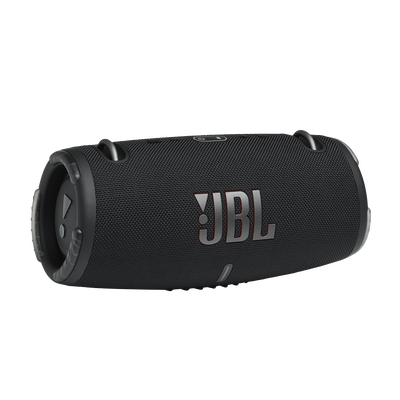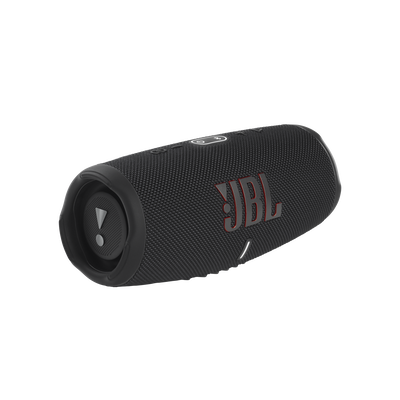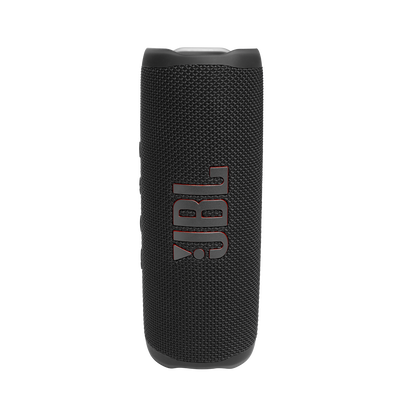 Allmänna Specifikationer
Uteffekt (W)
2 x 40 W RMS-woofer + 2 x 40 W RMS-tweeter
Uteffekt (W)
1x80W RMS-subwoofer + 2x40W RMS-midrange + 2x10W RMS-tweeter (AC mode) 1x60W RMS-subwoofer + 2x30W RMS-midrange + 2x8W RMS-tweeter (Battery mode)
Uteffekt (W)
2 x 25W RMS woofer + 2 x 25W RMS tweeter
Mått
Mått (cm)
48.5 x 20.1 x 25.7
Mått (cm)
48.2 x 25.7 x 20.0
Mått (cm)
29.8 x 13.6 x 13.4
Mått (cm)
17.8 x 6.8 x 7.2
Detaljer & Nedladdningar
Item# JBLBOOMBOX2SQUADEU
Beskrivning
Massive Sound. All Day Long.

["Äg festen. På allt från grillfester till roadtrips levererar JBL Boombox 2 monstruös bas, djärv design och otroliga 24 timmars speltid. Bärbar och vattentålig enligt IPX7 – den kraftfulla Bluetooth-högtalaren pumpar ut massivt ljud både dag och natt.", "Äg festen. På allt från grillfester till roadtrips levererar JBL Boombox 2 monstruös bas, djärv design och otroliga 24 timmars speltid. Bärbar och vattentålig enligt IPX7 – den kraftfulla Bluetoothhögtalaren pumpar ut massivt ljud både dag och natt. Du kan höja stämningen på festen genom att parkoppla med fler JBL PartyBoost-kompatibla högtalare. JBL Boombox 2 håller dina vänner dansandes, och dess inbyggda powerbank håller dina enheter laddade. Så nu kan du garanterat festa hela natten!"]
Allmänna specifikationer
Uteffekt (W)

2 x 40 W RMS-woofer + 2 x 40 W RMS-tweeter
Ljudspecifikationer
Dynamiskt frekvensomfång (Hz)

50 Hz - 20 kHz
Mått
Mått (inch)

19.1 x 7.9 x 10.1

Mått (cm)

48.5 x 20.1 x 25.7

Vikt (kg)

5.9

Vikt (lbs)

13
Specifikationer, styrning och anslutning
Bluetooth-profiler

A2DP 1.3, AVRCP 1.6

Bluetooth-frekvens

2.402 GHz – 2.480 GHz

Bluetooth-sändarmodulering

GFSK, π/4 DQPSK, 8DPSK

Bluetooth-sändareffekt

≤ 10 dBm (EIRP)

Bluetooth-version

5.1
Batteri
Laddningstid (h)

6.5

Speltid (h)

24
Egenskaper
JBL PartyBoost

Ja

Charging cable

Ja

3,5 mm ljudingång

Ja

Powerbank

Ja

Vattentät

Ja

Wireless

Ja

Uppladdningsbart batteri

Ja

Bluetooth

Ja
Vad innehåller förpackningen?
1 JBL Boombox 2
1 JBL strömadapter
1 x Snabbguide
1 x Garantikort
1 x Säkerhetsblad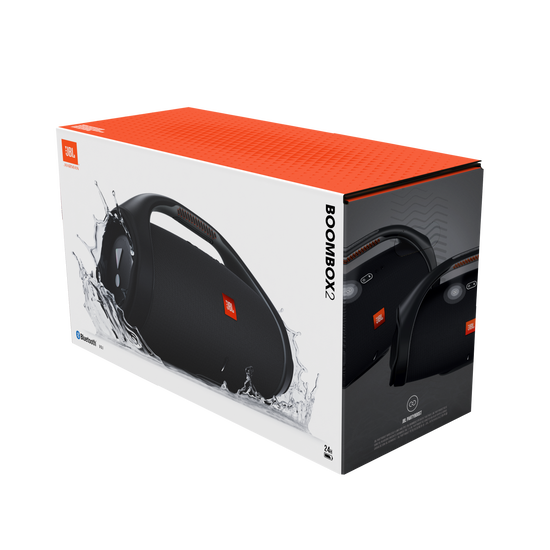 Dokument och hämtningar
Kundrecensioner
Rated

5

out of

5
by
Parker M
from
Great overall speaker with great styling!!!
Great speaker, extremely loud even at low volume. Super clear and loud at high volume as well. Amazing style and looks like something that's very rugged. I know how dependable, durable, and loud JBL's are because I have an extreme 2 and it's insanely loud and this one is bigger, and louder than the extreme 2. I also have a clip 3 and I like how portable it is via the carabiner that's on it. They're all good and still look good to this day and many more days in the future. So all in all, if you're looking for a speaker that'll rock a party or start a good outdoor party (or both because of its all day battery) this is the speaker for you. Rock on!!!
Date published: 2021-03-12
Rated

5

out of

5
by
danielmbirnbaum
from
Greatest boombox EVER
I am so happy to have added the Boombox 2 to my JBL collection. It's perfect for outdoor recreation and anything short of primitive camping/hiking. Not only is it waterproof, but I discovered that it also floats so you never have to worry about losing it while out on the lake. It delivers impressive bass and mid tones rivaling even the Partybox at lower decibals but at a fraction of the weight and size. It has a USB and mini USB port for charging external devices. It lasted a whole weekend of camping and kayaking with frequent use at 50%-75% of volume and while charging an iPhone. This Boombox will be tagging along with me all summer long.
Date published: 2020-07-10
Rated

3

out of

5
by
adam679
from
Not worth the upgrade
After having owned both the Boombox and the boombox 2, there is no real (noticable) difference between the two speakers in terms of sound quality. The new one may look slightly better and the battery level light is cooler. Massively dissapointed that I can't connect them together and with paying £399 for both you would kind of expect it. No real upgrade in battery life and there is one less charging port on the new one. Considering the JBL boombox 1 has dropped in price to £279 the 2nd generation is definitely not worth the upgrade. Having said all this, it is still an absolutely amazing speaker, just disappointed it's no real upgrade.
Date published: 2020-04-21
Rated

5

out of

5
by
AZmille
from
Incredible Sound
I recently took this on a week long family vacation and all I can say is WOW! This speaker is incredible. We used this speaker daily from pumping music outside playing bags to listening to 80's music playing card games while the grandparents sleep. I am notorious for allowing the battery on my phone to get into the RED zone, so having the ability to charge my phone off of the Boombox was a lifesaver. The trip was 7 days long and we only charged the Boombox 2 one time. I had to stop my brother in-law from packing this speaker in his car, because he was so impressed with the unit.
Date published: 2020-06-29
Rated

5

out of

5
by
Dasagu23
from
The Holy Grail of Bluetooth Speakers
If I had to use a word to describe the JBL Boombox 2 it would definitely be "BEAST"! The sound that comes out of the Boombox 2 is unreal! This speaker gets LOUD and I happily say that without distortion. The highs and mids are clear and crisp, but definitely the best and most impressive feature of the JBL Boombox 2 is the bass. This speaker fills large rooms with powerful clean bass and also outdoor areas (something that IMO no other portable speaker can do). Also, the bass radiators look amazing while playing music! Battery life is also great with a little over 20 hours of playtime, and I love I can literally take it anywhere since it's waterproof (IPX7) In conclusion, if you are looking for a big portable speaker with great battery life, amazing sound, monstrous bass, waterproof you really can't go wrong with the JBL Boombox 2.
Date published: 2020-06-29
bvseo_sdk, dw_cartridge, 18.2.0, p_sdk_3.2.0
CLOUD, getReviews, 4ms
reviews, product
Frågor och svar
Does this Speaker float in water? And if so does it stay upright so the JBL logo faces up?
No, the IPX waterproof specification means that these speakers can be immersed in water 1 m deep for 30 minutes. It does not mean that they can float, so please be careful. If dropped, they will sink to the bottom.
Date published: 2022-12-19
can you sync (connect) 2 boomboxes together?
Yes, you can sync two or more JBL Boomboxes via the Connect+ feature. Simply press the Connect+ button on your first boombox then press the Connect+ button on the nearby Boombox to connect. The Connect+ button light indicator will turn solid blue. As soon as this is done, the music will be played through both speakers.
Date published: 2021-08-21
I just got my boombox 2 this morning I was wondering if anyone knows where I can buy a protective case for it. If I buy a boombox 1 case will it fit the boombox 2? 
Yes it fits perfectly well cos the Boombox case is slightly bigger but it really fits well ,I will suggest you go for it .
Date published: 2022-10-01
Will different colors eventually be produced? I looove my green Xtreme 2 and would like to buy a matching colored Boombox 2
While I agree with your sentiment about the green extreme 2, unfortunately it sounds like the two devices will not be compatible as per their FAQ's: "PartyBoost support on the JBL Connect and JBL Connect+ The new PartyBoost does not support the previous Connect and Connect+ features. For example: You will not be able to successfully connect the new PartyBoost enabled Flip 5 with a Connect+ enabled speaker like the Pulse 3 or Flip 4. You will not be able to connect the Boombox 2 to the original Boombox speaker. I find this disappointing along with yourself. Thought you should know this before you buy one and get frustrated.
Date published: 2022-10-07
When will the Boombox 2 be released in stores? 
Thanks for your interest. Our JBL Boombox 2 will be released this later this year in the US. Keep posted on our social media channels or sign up for our newsletter for updates. https://www.jbl.com/subscribe.html
Date published: 2021-06-06
Which is louder boombox 1 or boombox 2?
this is actually not true a lot of youtubers shows that they both the same loundness the new on have mor output power but in the reallty thay are the same which is a bit disappointment..
Date published: 2023-03-21
ac / dc adapter 110-240V ?
Yes, the input of our JBL Boombox 2's power adapter is 110-240V.
Date published: 2023-01-20
Are there are actually any super major differences between the JBL boombox & the JBL boombox 2. Is it really that much of a difference in sound loudness between the two. I know the differences and what you changed, but what are the major differences?
JBL Boombox 2 is an improved version of our Boombox. It has our latest PartyBoost feature, which allows you to connect the speaker wirelessly with up to 100+ PartyBoost enabled speakers. (Boombox 2, Pulse 4, Flip 5). It also has an increased rated power of 2 x 40W RMS and a single USB port for charging your device since the speaker has a built-in power bank. For more information, here's the spec sheet: https://bit.ly/2ynK45s
Date published: 2021-07-30
bvseo_sdk, dw_cartridge, 18.2.0, p_sdk_3.2.0
CLOUD, getContent, 4ms
questions, product