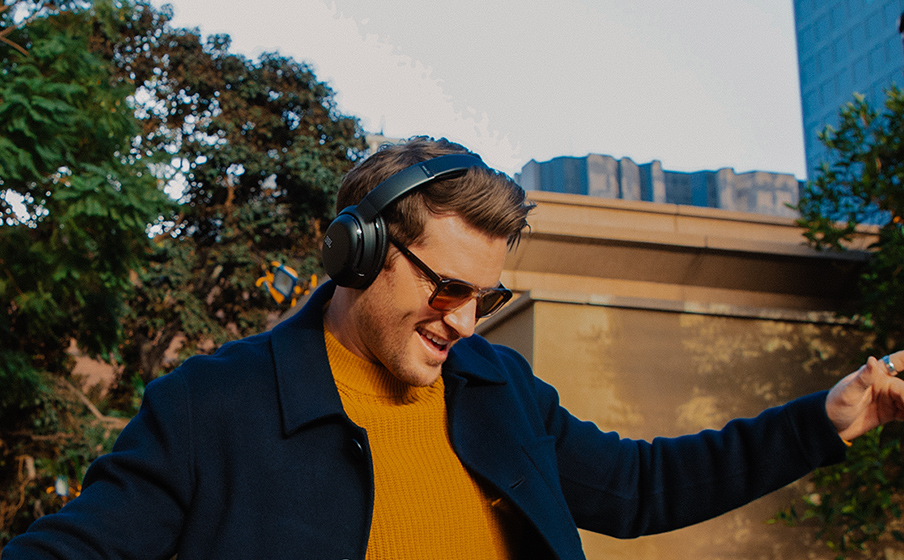 JBL Pro-ljud, hi-res-certifierad
Från fyllig, kraftfull bas till spännande detaljer – din musik kommer alltid att låta fantastisk tack vare de dynamiska 40 mm-elementen. Hörlurarna JBL Tour One är certifierade för högupplöst ljud, med stöd för frekvenser på upp till 40 kHz, så att din musik alltid låter så bra som möjligt.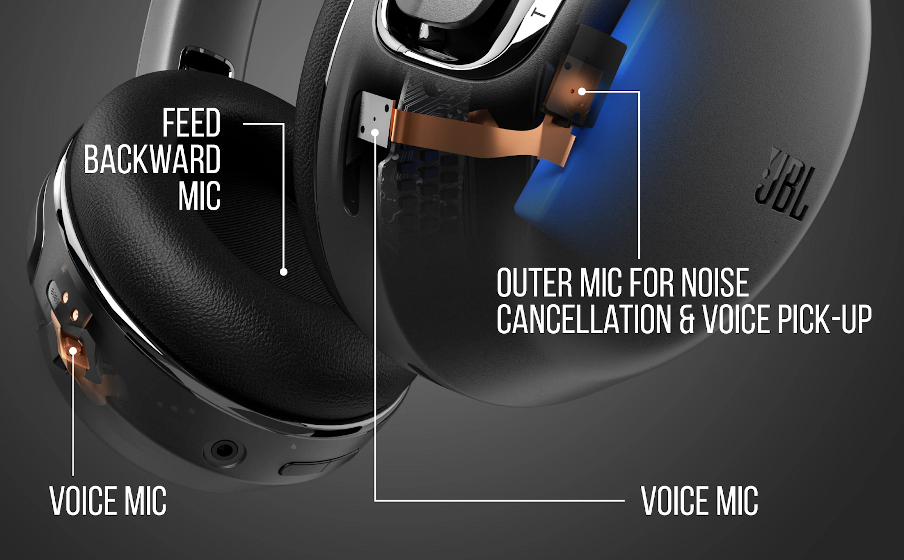 Fyra mikrofoner för exakta och tydliga röstsamtal
Förbättra din röst, eliminera bruset. JBL Tour One är utrustad med fyra mikrofoner på öronkåporna för att erbjuda överlägsen samtalskvalitet. Två anpassningsbara beamforming-mikrofoner ser till att röståtergivningen är tydlig och exakt medan akustisk ekoelimineringsteknik dämpar ekon och brus. Känn samma glädje som vid ett samtal ansikte mot ansikte, i varje möte eller samtal. Med VoiceAware kan du styra hur mycket av mikrofonljudet som hörs i öronsnäckorna och hur mycket du hör av din egen röst.
Funktioner

True Adaptive-brusreducering
Har du svårt att hitta "ditt" utrymme? Skapa din perfekta miljö med JBL Tour One True Adaptive-brusreducering. Gå in i din musikaliska värld, stäng ute oönskade ljud och fokusera på dina mål. Brusreduceringsnivån anpassas till miljöförändringar i realtid, om du bestämmer dig för att gå en promenad.

Ambient Aware och TalkThru
Var uppmärksam på ljuden från omvärlden medan du njuter av din musik med Smart Ambient-teknik. Eller prata kort med en vän eller kollega utan att behöva stänga av dina låtar med TalkThru. Kontrollera dessa funktioner med en enkel knapptryckning och finjustera dem via appen.

Öka din produktivitet
JBL Tour One hjälper dig att skapa en perfekt ljudvärld där du kan fokusera helt på dina uppgifter. Behöver du en tyst plats? Skapa en tyst bubbla med SilentNow där aktiv brusreducering är aktiverad men musiken är avstängd. Detta hjälper dig också att spara batteritid, precis som Auto Off (automatisk avstängning), som stänger av dina hörlurar efter en tidsperiod som ställts in av dig. Eller få hjälp att vakna med My Alarm, finjustera ljudet med Smart Audio & Video och pausa dina hörlurar automatiskt när du tar av dem med Auto-Pause. Alla dessa funktioner styrs från appen My JBL Headphones.

Upp till 50 timmars musikuppspelning
Dina JBL Tour One-hörlurar håller dig uppkopplad hela dagen. Du får 25 timmars uppspelning med brusreduceringstekniken aktiverad och 50 timmar med enbart Bluetooth.

Handsfree med röstkommando
Aktivera din röstassistent med en enkel tryckning eller ett specialkommando så kommer du enkelt åt din digitala värld, tack vare exakt röstsamtalsteknik som gör att dina kommandon är kristallklara. Röstmeddelanden finns på flera språk. (*) Stöds endast på Android. (**) Android 6.0 eller senare krävs för fullständig åtkomst till Alexa-funktioner när du använder denna enhet.

Få ut så mycket som möjligt av dina hörlurar med den kostnadsfria JBL-appen
Med My JBL Headphones-appen kan du anpassa ljudet i ditt liv. Konfigurera anpassad EQ, slå på din aktiva brusreducering eller justera inställningarna för Ambient Sound Control. Ladda ner appen gratis från App Store.
Detaljer & Nedladdningar
Item# JBLTOURONEBLK
Beskrivning
Styr din omgivning, öka produktiviteten.

Ta kontroll över din miljö och öka din produktivitet med ett otroligt JBL Pro-ljud. Med ett smart, intuitivt gränssnitt, överlägsen prestanda och elegant design eliminerar JBL Tour One enkelt distraktioner i realtid med True Adaptive-brusreducering, så att du kan fokusera på ditt arbete eller njuta av din musik. Ställ in eller finjustera omgivande ljud och röster med Smart Ambient, och ring kristallklara samtal, även i bullriga och blåsiga miljöer – allt med en knapptryckning. Högupplöst ljudcertifiering med stöd för frekvenser på upp till 40 kHz garanterar en perfekt ljudupplevelse hela dagen med 50 timmars maximal uppspelning. Få ut mesta möjliga av JBL Tour One-funktionerna med den kostnadsfria appen.
Allmänna specifikationer
Ljudspecifikationer
Elementkänslighet vid 1 kHz/1 mW (dB)

95 dBSPL @1kHz

Dynamiskt frekvensomfång (Hz)

["10 Hz - 40 kHz (Passive)", "10 Hz ~ 22 kHz (Active)"]

Impedans (ohm)

32
Mått
Öronkåpans djup (cm)

2.1

Ear Cup Depth (in)

0.8

Öronkåpans yttre höjd (cm)

9.7

Ear Cup External Height (in)

3.8

Öronkåpans yttre bredd (cm)

7.8

Ear Cup External Width (in)

3.1

Öronkåpans inre höjd (cm)

6.2

Ear Cup Internal Height (in)

2.4

Öronkåpans inre bredd (cm)

4.2

Ear Cup Internal Width (in)

1.7

Hörlurskabelns längd (m)

1.2

Headphone Cable Length (ft)

3.9
Specifikationer, styrning och anslutning
Bluetooth-profiler

HFP V1.7, A2DP V1.3, AVRCP V1.6

Bluetooth-frekvens

2.4 - 2.4835 GHz

Bluetooth-sändarmodulering

GFSK, π/4DQPSK, 8DPSK

Bluetooth-sändareffekt

<8 dBm EIRP

Bluetooth-version

5.0
Batteri
Laddtid (timmar, från tomt)

2

Max speltid med ANC av (timmar)

50

Max speltid med ANC påt (timmar)

25

Max speltid (timmar)

50
Egenskaper
Bluetooth

Ja

Charging cable

Ja

Flight adapter

Ja

Remote control on ear cups

Ja

Röstassistent

Ja

Adaptiv brusreducering

Ja

Ambient Aware

Ja

Inbyggd mikrofon

Ja

Transportfodral

Ja

Handsfree-samtal

Ja

Uppladdningsbart batteri

Ja

Multifunktionell TalkThru-knapp

Ja

Trådlös

Ja
Vad innehåller förpackningen?
1 par JBL Tour One-hörlurar
1 USB typ C-laddkabel
1 fodral
1 ljudkabel
1 flygadapter
1 garantisedel, varningsmeddelande
1 produktsnabbguide, 1 Google Assistent-installationsguide, 1 Amazon Alexa-installationsguide, säkerhetsblad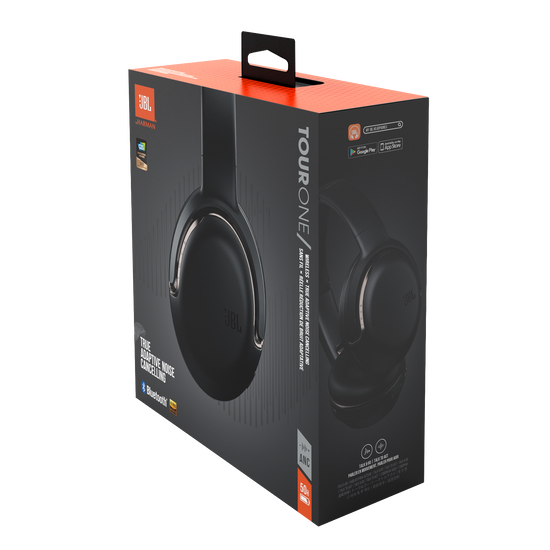 Dokument och hämtningar
Kundrecensioner
Rated

4

out of

5
by
Anonymous
from
Good but bass is missing
first of all, the design really appealed to me. the extra packaging looks super classy and protects the headphones well. the auricles are nice and big. the jbl app allows you to make even more settings. however i miss the bass in some of the songs. this cannot be reinforced in the app either. I am very disappointed with this. the headphones are great for podcasts. especially with the noise suppression. especially when you are in a noisy environment, this is very pleasant. I also think the function is great, being able to pause and play again simply by pressing lightly. also that the battery is announced to me is very good. the battery lasts a long time
Date published: 2021-06-23
Rated

4

out of

5
by
Lugi1988
from
Great sound, mediocre ANC
I've been using the JBL Tour One for around a week now and I'm mostly satisfied. Let's start with the parts I like. The heandphones have a great an comfortable fit and I can wear them for hours. The built quality is pretty much what I expected. I've used around 10 different pairs of bluetooth headphones, and the JBL are solid an I like their look. Another great advantage ist the JBL app, which offers great customisation and quite a few useful features like switching the commands of buttons or the EQ which can be set as one prefers. That leads to the sound. I didn't like the "out-of-the-box" sound that much, but after playing with the EQ a little while, I found the perfect sttings for my personal preferences. I love the sound of the Tour One especially for music, but listening to podcast or watching Netflix is great as well. I also had no noitceable audio delay when watching Youtube or Netflix. The touch controls as well as the buttons are great, as soon as you get used to their positioning. Call quality is fine, also I've used better ones. Let's talk about the only two things I don't like that much, first of all the price. In my opinion it's too expensive. Since I am from Germany, 300 € (as well as 280 pounds) is just to much, when comparing to other headphones. I think 200-250 € (190-220 pounds) would be a better choices, but the prices will start to drop soon enough. Last but not least the ANC feature. It's ok, but not great. I've used them in the office, outside and on the subway, the low frequencies are cancelled out pretty fine, but everything else isn't. Bose or Sony are far ahead. My conclusion is, tat the Tour One is a great pair, but not free of some minor weaknesses.
Date published: 2021-06-17
Rated

3

out of

5
by
Dzn18
from
Great built quality but the sound is mediocre
First off all the built quality is modern and up there with other brands. The case is solid and the battery life is totally fine, but I would say the numbers are too optimistic (-20%). The fit is not too tight, you can wear them hours easily. The app has a lot of features and is very customizable, especially the EQ settings. There is no sync delay (latency) and there are no connecting issues. The ANC is good and usuable but compared to the top 3 (Sony, Bose, AirPods Max), there is no chance to compete yet. The sound quality is unfortunately a bit disappointing, the highs are fine but I'm missing some details, the mids sound a bit muffled and there is also a weird ringing effect, the bass is pleasant but lacks a bit of depth. With the EQ you can improve that a little but the sound characteristics won't change. The price is too high in my opinion, so I can't recommend them at the moment. I would at least try them out in a local store to get an own perspective. But I expected a lot more.
Date published: 2021-06-20
Rated

5

out of

5
by
Robert85
from
Wow. Just wow.
I'm more of a "around the neck" headphones guy but the JBL tour one is changing my mind. First of all the sound quality is stunning. Even with the noise canceling off it's awesome! I love just being able to tap the side and answering a call or pausing a song. The small things make a big impression on me too. Nice case, I love that you can make it a wired headset, nicely built. But the battery life really nails it. I mean 50hrs of battery is crazy! I love wearing it on the treadmill and watching a show while I run. It completely blocks the noise from everything around me and let's me sink into my show. Great job JBL! Another home run!
Date published: 2021-04-23
Rated

4

out of

5
by
I love music
from
Great features
I really like there's headphones ,they have some great features , if you take them off they will pause the music also the touch gestures are nice too ,for example if you tap the right ear up twice it will fast forward your music and if you tap three times it will rewind it and if you tap once it will pause the noise canceling are ok but not a game changer ,the sound quality is always good with JBL but I wish they could go a little louder ,but then again I don't thimble it's healthy to listen to music too loud. The call quality is decent . You must download the JBL music app to get the full experience .
Date published: 2021-04-24
bvseo_sdk, dw_cartridge, 18.2.0, p_sdk_3.2.0
CLOUD, getReviews, 4ms
reviews, product
Frågor och svar
Can I pair with 2 devices at the same time, My Phone and My laptop at the same time? like a Jabra headset
Thanks for your inquiries. Our JBL Tour One supports mulit-point where you could connect to 2 devices at the same time.
Date published: 2022-07-30
Are the ear pads replaceable?
Our JBL Tour One earpads a replaceable. The pads can be purchased as spare parts. Please reach out to our Customer Support for pricing and availability. https://support.jbl.com/us/en/
Date published: 2022-07-30
How do I connect my tour one JBL headphones to my laptop?
Thanks for reaching out. There are two ways to connect our JBL Tour One to your laptop. You can either do a wired connection using the included audio cable by simply plugging the cable into your laptop's aux port or wirelessly via Bluetooth. For a Bluetooth connection, turn on the headphones to go into pairing mode and connect your device. If you need more help, please contact our customer support.
Date published: 2023-03-13
What is the port type in this headphone? 2.5mm or 3.5mm port? Can this headphone be used in passive mode(switched off) with wired cable for voice calls or audio?
The Tour One device would connect with a cable via the 2.5mm jack on the headphone to any 3.5mm device port. It provides one button control and houses a microphone. It can be used with the cable only yes, this will not need battery power.
Date published: 2022-10-22
Can we mute the microphone while on an audio call on the device?
Thanks for your inquiries. There is a mute button on our JBL Tour One. Simply press and hold the JBL logo on the right ear cup for 2 seconds to mute and unmute the headphones.
Date published: 2022-07-30
Do these headphone automatically pause music when taken off the head?
Our JBL Tour One does not have an auto-pause function once the headphones are taken off the head.
Date published: 2023-05-04
Does the headphone play while charging or does it turn off when charging?
Our JBL Tour One can't be used while charging.
Date published: 2022-04-27
Are JBL Tour One IPX 4 or higher rated?
Hi there, thank you for your question. Our JBL Tour One has no IPX rating, it's not sweatproof and waterproof.
Date published: 2021-06-06
bvseo_sdk, dw_cartridge, 18.2.0, p_sdk_3.2.0
CLOUD, getContent, 172ms
questions, product