JBL:s signaturljud
Hitta takten med 100 watt kraftfullt, dånande JBL-signaturljud. JBL PartyBox On-The-Go levererar krispigt toppregister, rent mellanregister och tung bas, både inomhus och utomhus – med Bass Boost för att hålla igång festen hela natten.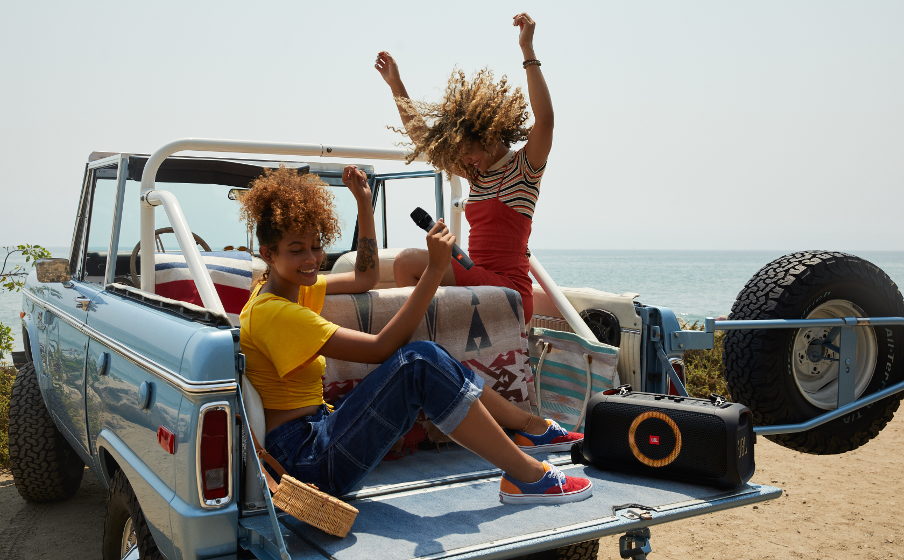 Synkroniserad ljusshow
Lys upp partyt med en dynamisk ljusshow som synkroniserar med musiken och imponerar dina gäster. Välj mellan olika förinställda mönster och låt färgerna följa musiken medan du fokuserar på låtarna.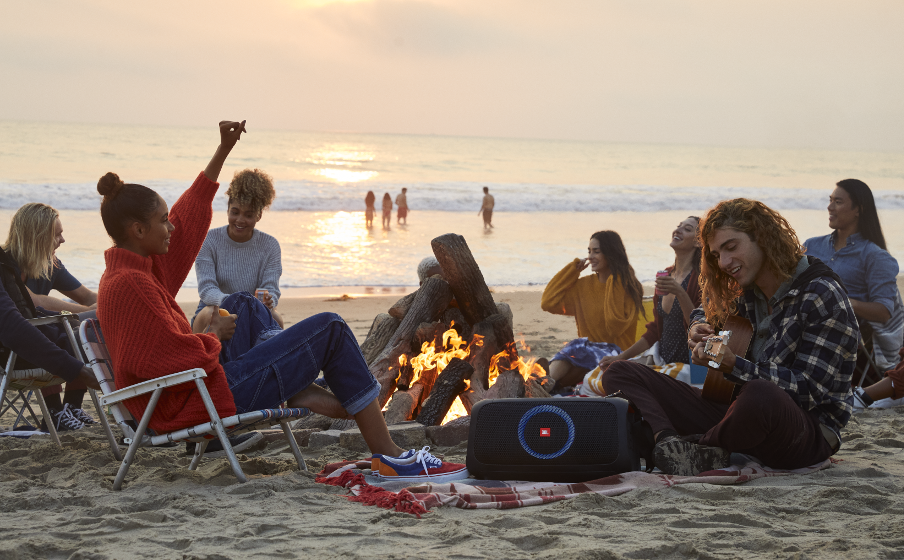 Trådlös JBL-mikrofon ingår
Sjung utan begränsningar eller sladdar. JBL PartyBox On-The-Go kommer med en trådlös JBL-mikrofon med en räckvidd på upp till 10 meter.
Funktioner

Avancerade inställningar för att finjustera din sång
Strömma dina favoritlåtar via Bluetooth, fånga upp mikrofonen och justera bas, diskant och eko för att skapa rätt sångeffekt. Dubbla mikrofoningångar ger dig möjlighet att sjunga eller rappa med en vän.

IPX4-stänkskydd
Strandfester, poolpartyn eller dans i regnet. IPX4-stänkskydd håller din JBL PartyBox On-The-Go säker när partyt blir lite blött.

Praktisk axelrem för att ta partyt med dig
JBL PartyBox On-The-Go har allt du behöver för en kul kväll, inklusive en flasköppnare på axelremmen så att du kan njuta av dina favoritdrycker medan du dansar hela natten lång.

6 timmars speltid
Inbyggt uppladdningsbart batteri för upp till 6 timmars speltid

Få starkare ljud med två
100 watt är högt, men du kan få ännu starkare ljud. Länka upp till två kompatibla partyhögtalare med anslutning för True Wireless Stereo (TWS) och Bluetooth.

Plug-and-play för mikrofon- och instrumentingångar
Hör inte bara musiken – känn den. Inbyggda mikrofon- och gitarringångar ger dig möjlighet att koppla in direkt i högtalaren för att sjunga eller spela med till dina favoritlåtar eller skapa din egen.

Sömlös Bluetooth-strömning
Spela mer av låtarna du älskar, vart än natten tar dig, från spellistor till DJ-mixar. JBL PartyBox On-The-Go fungerar med alla Bluetooth-enheter, vilket gör det enkelt att komma åt både dina musikbibliotek och strömningstjänster.

Anslut din spellista
Ingen Bluetooth-musik? Inga problem. Lägg in dina bästa spellistor på en USB-sticka och stoppa in den i den inbyggda USB-porten för att spela musik var som helst, utan att missa en sekund.
Detaljer & Nedladdningar
Item# JBLPARTYBOXOTGEU
Beskrivning
Ta ditt party vart som helst och sjung överallt

Från strandkvällar till festivaler – JBL PartyBox On-The-Go låter dig se, höra och känna takten. Skruva upp volymen med kraftfullt JBL-signaturljud på 100 watt, synkroniserat med en bländande ljusshow. Spela dina favoritlåtar med anslutning via Bluetooth, USB, AUX och TWS (True Wireless Stereo). Ta tag i en vän och sjung så högt ni kan med JBL:s trådlösa mikrofoner eller använd instrumentingången för att spela med. Med en flasköppnare, vadderad axelrem, uppladdningsbart batteri och IPX4-stänkskydd har JBL PartyBox On-The-Go allt du behöver för att dra igång partyt – och för att ta det med dig.
Allmänna specifikationer
Speltid (h)

6

Uteffekt (W)

100
Ljudspecifikationer
Dynamiskt frekvensomfång (Hz)

50 Hz - 20 KHz (-6 dB)
Mått
Mått (cm)

60 x 36.7 x 31.2

Mått (inch)

23.62 x 14.45x 12.36

Vikt (kg)

7.5

Vikt (lbs)

16.5
Specifikationer, styrning och anslutning
Bluetooth-profiler

A2DP 1.3, AVRCP 1.6

Bluetooth-frekvens

2.4 – 2.48GHz

Bluetooth-sändarmodulering

GFSK, π/4 DQPSK, 8DPSK

Bluetooth-sändareffekt

10 dBm (EIRP)

Bluetooth-version

4.2
Batteri
Egenskaper
3,5 mm ljudingång

Ja

Bluetooth

Ja

Charging cable

Ja

Karaoke-funktion

Ja

Ljusshow

Ja

Stänksäker

Ja

Wireless

Ja

Inbyggd mikrofon

Ja

Uppladdningsbart batteri

Ja
Vad innehåller förpackningen?
1 x JBL PartyBox On-The-Go
1 x Trådlös mikrofon
1 x Snabbstartguide
1 x Garantisida
1 x Säkerhetsblad
Nätkabel – relevant för SKU matrix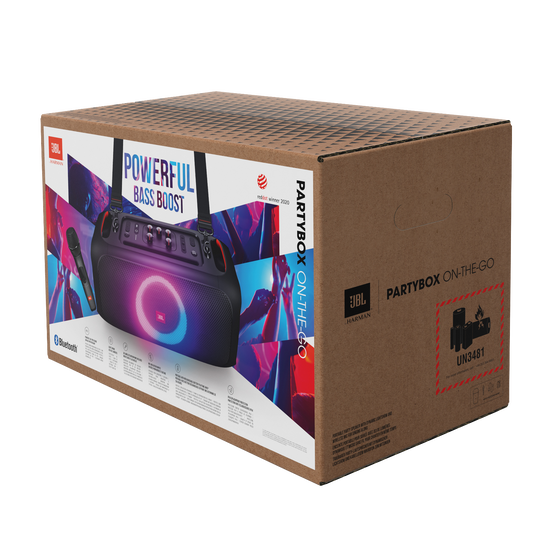 Dokument och hämtningar
Kundrecensioner
Rated

5

out of

5
by
Doopsi
from
Great For Parties
The intended purpose of this speaker is for parties as its name suggest, and they did a great job at making it for that purpose. The sound can reach a very loud level and the quality is good. It has a plug for a guitar and as shown in the pictures has knobs on top to adjust the sound whether its the bass, echo, or treble and this doesn't just just apply to the guitar output as it also can be used to adjust the output of the microphone if you are using that. All of those features are very easy to use also and I had no problem figuring it out. When you use the microphone you can also play music from your phone while still being able to sing or talk with the microphone. So it functions pretty well as a karaoke system. Another small feature is that it comes with a bottle opener on the strap, not that many parties would be without a bottle opener but who knows its nice that its there.
Date published: 2020-11-23
Rated

5

out of

5
by
littlebethie25
from
Perfect addition for family -and party- fun!
The PartyBox on the Go had the amazing sound quality we're used to from JBL in a lighter-weight, portable size. The battery lasts up to six hours and is easily recharged with the provided cord. I adore the carry-strap and built in handles for moving it to the car or backyard! It has the fun lights that add the fun to the functional! Our absolute favorite is that we can connect via bluetooth or USB, so we always have options for music, and sound that is crystal clear every time! My kids particularly enjoy the microphone that comes with it, so they can sing along with or without music in the background. Double bonus that a little rain or moisture won't ruin the party! I look forward to many, many more hours, months and years of fun with the PartyBox on the go!!! It's a must have for every family!
Date published: 2020-11-11
Rated

5

out of

5
by
MNnice
from
Great sound, portability, fun features
Great sound and fun features for your next outing on the go. The boom box is sturdy and well made. The buttons and dials are easy to turn and nice, quality rubber. A rubber gasket covers the output/input sites on the back. Easy to charge with 120v wall plug included. Easy to connect to Bluetooth by the push of a button to turn the speaker in search mode with your device. The included one microphone is wireless and fun to sing along or use the speaker as a PA system. Adjustable microphone volumes in comparison to music volume in addition to echo effect is adjustable. Overall, this is a fun and quality sound boom box for a house party, deck, lakeside, or your on the go adventures.
Date published: 2020-11-22
Rated

5

out of

5
by
Khuth
from
AWESOME PRODUCT!
I've had this product for a month and I can't express how much fun my whole family has had with it! The sound is awesome and it is so fun to use the mic with it. My son even plugged his electric guitar into it and played through the speaker. The lighted speaker that pulses different colors along with the music is cool - it's a definite party starter. GET IT NOW. You won't regret it!
Date published: 2020-12-02
Rated

5

out of

5
by
Arky
from
It's just perfect for what we need. Sound cranks. The microphone makes it an instant karaoke machine. Just great device.
Date published: 2020-11-30
Rated

5

out of

5
by
Whiskerswoman
from
Karoke On The Go !!
We love to sing karoke. JBL PARTY BOX ON THE GO, delivers !! The sound is awesome. The microphone has better quality sound than our local bar's mic. We have used this camping and alot of other campers joined in. Several plan to purchase one for their campers As usual JBL exceeded our experience to another level !!
Date published: 2020-11-23
Rated

2

out of

5
by
Trevor Skeff
from
JBL party box on the go
I am a fan of other JBL products but the party box on the go is not one of them. I feel like it should be louder due to its size and weight. I also think that the battery life is a lot less than advertised.
Date published: 2021-03-28
Rated

2

out of

5
by
hernandez
from
microphone stopped working and low battery life
I bought this product to have fun from time to time and after the second use the microphone stopped working and completely ruined the night and my satisfaction for this product I summited a claim but not sure if I will get a replacement or not.
Date published: 2021-09-07
Rated

5

out of

5
by
Mischman
from
Absolutely thick, full JBL sound! Amazing!
I am a music lover in constant search of the best wireless speakers. I have owned the JBL Clip, Charge, Xtreme, Xtreme 2 and more. This new speaker is the "The Rock" of JBL's lineup. Purely amazing. Full, clear sound and thick, rumbling bass, while the two tweeters put out clean highs. The microphone actually came in handy at a cookoff we just held and everyone was asking about my amazing new speaker! For those of you who know and love JBL, this won't disappoint. The party light is a cool touch, as well. Excellent construction, as expected from JBL.
Date published: 2020-11-12
Rated

5

out of

5
by
Deric138
from
Awesome!
I received the speaker and was amazed how light it is but feels durable. The wireless microphone that comes with the speaker sounds great and feels to be durable as well (not cheap material). I like that you have a port for a guitar and extra mic. Also the knob adjustments for the effects are great to. Bluetooth is an easy setup. I played the speaker at full volume for about 3 hours with no interruption or power loss. Kids love the light show on the front of the speaker making karaoke in the living room more entertaining. I recommend the speaker especially for inspiring musicians who want to play and entertain afew guest without setting up a bunch of sound gear. The speaker puts off great bass to keep the party going. Also the portability of the speaker is a plus. Again I recommend JBL partybox on the go to anyone who likes music or loves to make music, this is a must have
Date published: 2020-11-13
Rated

3

out of

5
by
Edgardo
from
Battery
Overall a great speaker, however the battery doesn't hold for long. Have to have a power source for long playing times.
Date published: 2021-06-25
Rated

5

out of

5
by
eduardop
from
A lot of features for the price
This speaker is actually pretty good for out door usage since it is dust and water resistant, I love everything about this speaker but the only thing that I found a problem with is that it doesn't seem to last 6 hours that it says it does but I can overlook that considering that its a huge unit so it might go through the battery faster then normal at full blast.
Date published: 2020-11-11
Rated

5

out of

5
by
EricGCWI
from
Absolute Unit!
This guy is loud! This is one of those where you're glad you're outside because this thing can crank. It's super intuitive to set up and use as well. Connected easily to my phone on Bluetooth, the included microphone connects easy as well. Super loud, turn on the bass boost and it's really deep. There's several color schemes for the ring. The light goes around as you turn the volume up, then goes along with the music when you're playing. It has a microphone and guitar port, as well as controls for both to increase/decrease volume/bass/treble etc. I play ukulele, but now I want to get an electric version so I can hammer this speaker with it. It has a nice little slot to set your phone in. The strap has a bottle opener on it. I don't have two, but the directions talk about that you can set this up with another one for left and right speakers, which, dang, that would be a beast. There's a USB port for input and/or charging your devices. The box it shipped in weighed 25 lbs which includes packaging so it's a sturdy item. It has two handles on it to carry or the strap to throw over your shoulder. This is definitely an outdoor/big area speaker!
Date published: 2020-11-11
Rated

5

out of

5
by
JesseJ4
from
Such a cool product! I would highly recommend!
I've been using the PartyBox for about a month and I am loving it so far! The sound quality is excellent and is loud enough that you can hear it clearly from a good distance away. The Bluetooth works from a long distance away, so I can move around with my phone and not worry about it disconnecting. My kids love using the microphone to sing along to the music and make their own songs. It has been a huge unexpected benefit of this product. They also love the light show and the fact that the light responds to their voice. I haven't used the PartyBox for more than about two hours on once occasion, so I can't vouch for the battery life. But another nice feature, that I didn't initially realize, was that you can use the USB port to charge your cell phone. So I have already taken advantage of that feature on several occasions. Some other nice features that I've noticed are the pad on the back and shoulder strap that make it more comfortable to carry, the lift handles on both sides make it easy to lift even though it does have some weight to it.
Date published: 2020-11-19
Rated

5

out of

5
by
danngarsvt46
from
Great sounding portable all in one package!
The JBL Partybox on-the-go is a great portable speaker that offers incredible options that eliminate the need to take large amounts of gear to a party. This speaker is perfect for karaoke using the included wireless microphone. The microphone sounds great and you can adjust the sound to your liking using the bass and treble adjustments. You can even add some echo to the microphone to help enhance the sound of the person singing. Bluetooth connection is easy and fast. I had no issues connecting several different devices. The slot on top of the speaker is perfect for holding a device such as an Ipad. I placed my Ipad on top facing forward and played karaoke videos so the lyrics could be seen. Another nice feature is the ability to connect a wired microphone along with a wired instrument such as a guitar or keyboard and control their inputs independently. This feature would be perfect for a solo performer on the go. The Partybox on-the-go delivers the JBL sound I have always enjoyed. The sound output when running on battery is more than adequate for any space and gets even louder when plugged into power. I rarely had to turn the volume up past half way in my living room. This speaker was even able to fill a small ballroom space with rich full sound and the wireless microphone could be heard clearly and never lost connection even in the back of the room about 70 feet away. The sound quality is very surprising for its size. The sound is well balanced with crisp highs and a surprising amount of low bass for its size. The light show on the front is a nice touch and useful when adjusting the volume since it visually displays the volume level. The speaker is easy to transport with its included carrying strap. The rear of the speaker is padded to make carrying it a bit more comfortable. The speaker is heavy but this isn't a problem as you can feel the quality of the product. The speaker is solid and extremely well built. The attention to detail is evident with JBL logos branding on all sides even the bottom. The strap is branded all over and has a built-in bottle opener. Overall, this is an extremely impressive speaker and will now be the one I take with me to all parties and get togethers.
Date published: 2020-11-19
Rated

5

out of

5
by
Mineya
from
Great !! Love the sound
I bought it this month and we love it! It's great to do karaoke and the sound it is great
Date published: 2021-03-12
Rated

5

out of

5
by
Mdoh
from
Very fun
Great sound. The family enjoys it. Everyone wanted it when they heard it.
Date published: 2020-11-19
Rated

5

out of

5
by
Katita
from
Great
I just bought great delivery faster and I will enjoy my new toy.
Date published: 2021-08-14
Rated

5

out of

5
by
Teleblues
from
A music party in a box!
I have wished for something with these exact features for years. First off, as a stereo, it's incredible! I really don't know how they get so much bass out of a very compact package. Connection to Bluetooth was extremely fast and easy, very solid connection up to a reasonable distance. Simple controls and a convenient slot for a tablet or phone makes it easy to queue up tunes. The light show is fun too (but can be easily turned off) Now the real fun begins! On top with all the controls are 2 microphone jacks, yep it's a P.A. with built in echo, EQ and gain (for wired mics) but the icing on that cake is the INCLUDED wireless microphone, and the quality is very solid! Now for what really made this the machine I've wanted forever. There are 2 mic jacks, but one is set up for Guitar! Yep, a portable guitar amp - Huzzah! Echo and EQ function at this input AND there is an independent gain for guitar. I tried it with an SG and got a nice clean sound, a little grit can be had if you bring the gain up slightly. With a little bump to the echo it sounds beautiful with my 6 and 12 string acoustics, a nice compact rig for a porch jam, especially with the included microphone. Clearly some musicians made notes for the JBL engineers! All in all, just a great product with an enormous feature set, great sound and a terrific little portable P.A.
Date published: 2020-11-07
Rated

5

out of

5
by
FATBOY420
from
Big and loud
I came home to find a big box at my doorstep. I took it inside, opened it up and realized how big it was. It took about 2 hours to charge. Linked with my galaxy 7 very quick. This speaker is super loud. Nice hard hitting bass and good highs. The mic synced up nicely and sounded great with no delays. I definitely recommend this if you're looking for a nice loud party speaker. I can't wait to show it off at the next family gathering. Thanks JBL!
Date published: 2020-11-11
Rated

5

out of

5
by
Regman
from
Amazing sound
The first thing I noticed is the great build quality. I use it a lot outside in our backyard. It plays so loud I can hear in the front and backyard. The sound is amazing. The highs are clear and the bass is great without even using the bass boost. The kids love using the mic and singing along with there favorite songs. I also hook it up to our projector to make outdoor movies sound great. This is a great product and I would highly recommend.
Date published: 2020-11-11
Rated

5

out of

5
by
Dj Clubber
from
Excellent quality and great Bluetooth microphone
I like JBL products , excellent speakers quality , before I decide to buy a JBL party on the go , I try it two cheaper brands fiesta go from Walmart and Gemini party caster , cheap plastic and the microphone Bluetooth losing signal . $100 dollars more you can buy some thing you can enjoy with your friends and family I recommend JBL party on the go
Date published: 2021-07-30
Rated

5

out of

5
by
Prasad Reddy
from
Great sound system for parties!
The best and a must have party box. Played different kinds of music Pop, Wrap, Indian for a party in our home. What an extraordinarily sound and BASS to enjoy every bit of music! Beautiful design and a perfect one for any kind of indoor and outdoor parties. I would highly recommend this system, go for it! You'll NjoY!!
Date published: 2020-11-11
Rated

1

out of

5
by
I am not happy
from
Doesn't last an hour
I bought this brand new from target in delafield wisconsin. Says it last 6 hours, well mine barely last an hour, after it's been charging and says shows a full charge. I lost my receipt and they won't take it back, and they didn't even price match so I wasted 350 vs the 299. Would not recommend
Date published: 2022-09-10
Rated

5

out of

5
by
Lionscott
from
Quick and easy setup, with great performance.
I got this for doing public speaking. The sound and bluetooth microphone range are excellent. The sound is phenomenal with mp3 player. Wired microphone I already had was a plug and talk. I am looking forward to my first meeting, where I will show off my JBL Partybox On-the-Go.
Date published: 2020-11-11
Rated

5

out of

5
by
Kalismom0615
from
So awesome!
I Receive this product free to try in exchange for my honest opinion. The whole family loves the speaker. It connects easily it's very loud has a lot of base And the kids really love the microphone. Great investment soundly made. Would definitely recommend.
Date published: 2020-11-14
Rated

5

out of

5
by
FnFrankie
from
AMAZING !! I have many JBL products
When I got this my roommate mentioned was looking at this and we all cannot believe how amazing this is and even has the spot to set your tablet for the songs. This is one of the BEST devices I have seen in years ... KEEP ON ROCK'N JBL !!!! LOVE YOUR STUFF
Date published: 2020-11-11
Rated

5

out of

5
by
Films
from
The Greatest Speakers for the price
you get great sound, great clarity, some pounding bass, long lasting battery, ability to charge your phone or iPad. It comes with a really nice bluetooth microphone for some nice karaoke. This is an amazing product. JBL always gets it right
Date published: 2020-11-16
Rated

5

out of

5
by
Hotdog
from
Amazing product
Great speaker, sounds good, looks good, seems to be quality and durable. Lights are a good touch, they can be turned off. The 6hr battery is nice but dang, needs to be more. Easy to purchase with extended plan.
Date published: 2021-08-09
Rated

5

out of

5
by
Chucklez
from
Get ready for big sound!
This is a fantastic booming speaker! Loud sound and bass! Great feature to have a mic included to drop your own voice in. Would recommend for any outdoor or indoor sound
Date published: 2020-11-09
bvseo_sdk, dw_cartridge, 18.2.0, p_sdk_3.2.0
CLOUD, getReviews, 6ms
reviews, product
Frågor och svar
Kan man köpa micken löst? Fungerar den till Partybox 1000
Tack för din fråga. Mikrofonen från PartyBox On-The-Go kan du endast använda med just den högtalaren. Däremot så har vi släppt en mikrofon som man kan köpa löst, som kommer att fungera med en PartyBox 1000. Se länken: https://www.jbl.se/partyh%C3%B6gtalare/JBLPBM100BLK.html En trådlös version av mikrofonen är också på väg men vi kan dessvärre inte säga när den kommer att bli tillgänglig. Om du önskar ytterligare support, vänligen kontakta vår kundtjänst via telefon eller email för personlig hjälp. Vänligen se https://se.harmanaudio.com/support-contact.html för ytterligare information. Tack.
Date published: 2021-06-06
Will this connect with the partybox 100?
Our JBL Partybox-On-The-Go is not compatible with the Partybox 100. . You may only connect the PartyBox On-The-Go with the same model via TWS.
Date published: 2022-10-31
can you connect any mics to the speaker?
Thanks for your inquiry. Our JBL PartyBox On-The-Go can be used with any wired microphone that plugs into the mic gain port. You can also connect another wireless microphone (sold separately). A maximum of two wireless microphones, or one wireless and one wired, are supported. So you can sing a duet with someone else.
Date published: 2022-10-13
Can I connect this to my PC laptop?
Our JBL PartyBox On-The-Go is compatible with your PC Laptop via a 3.5 mm audio cable.
Date published: 2022-11-24
Can i connect with a microphone headset for yoga classes ?
The JBL Partybox On-The-Go does not have the ability to connect to headsets. The speaker will act like a audio target device (just like your headphones), rather than a source (like your phone which is playing music), meaning both your headset and speaker will be expecting an audio source to connect to them.
Date published: 2022-09-13
I need a replacement power cord, but cannot find the specs/part number. Can you share what the specs are for finding a replacement?
The part number for the power cord of our JBL PartyBox On-The-Go is 51-B80150-0LR01-M. It is a regular figure 8 AC power cord.
Date published: 2022-01-06
Can you play music from it while it is charging/plugged in?
Our JBL PartyBox Series can be used while plugged in. There's no harm in using the unit while it is connected to a power source. Our products have PCM circuits that manage the charging of the battery. However, if you'd like to save energy, unplug the speaker.
Date published: 2021-06-06
Where can I purchase the shoulder strap for the party box on the go?
Thanks for your interest. We sell shoulder straps for our JBL Partybox On-The-Go here's the part number: IOT103006-0001. Please contact us so we can assist you: https://support.jbl.com/us/en/customer-service/contact.html
Date published: 2022-01-24
How do i get the second wireless mic. Mine only came with 1? I would like yhem to match.
Please call us for checking the availability and placing an order for the JBL PartyBox On The Go wireless mic. (800) 336-4525 Mon - Fri: 9:00 a.m. - 11:00 p.m. (ET) Sat - Sun: 9:00 a.m. - 5:00 p.m. (ET)
Date published: 2022-08-05
Where can I buy an other wireless JBL mic.
Thanks for your interest in our JBL wireless microphone set. Since this product is currently out of stock on our website, we highly suggest checking with any third-party sellers online for availability.
Date published: 2022-11-15
can you connect a different bluetooth microphone to this speaker? I am a PE teacher and I need my hands free but would love to use the microphone feature from anywhere on the field
Our JBL Partybox On the Go can be used with a wireless microphone. You can contact us if you need assistance with purchasing an additional wireless microphone. http://bit.ly/2WocMfi
Date published: 2021-06-06
hello, how ca I get the last firmware for JBL Party box on the the go?
For the latest firmware, please visit the Specs & Downloads section of the JBL PartyBox On-The-Go webpage to download the zip file.
Date published: 2022-08-24
How many microphones can be used with the speaker at one time? 
Our JBL PartyBox On the Go comes with a single microphone when purchased. The PartyBox on the Go can support connection with 2 microphones at the same time. Visit our website to get more information about this product. https://bit.ly/39bRCYf
Date published: 2022-09-27
Kommer denna med en AUX 3,5 ingång/utgång? Tänkte koppla denna med JBL Partybox 100
Tack för din fråga. Både PartyBox On-The-Go och PartyBox 100 har 3,5 mm analog jackingångar, men endast 100 har likvärdig en utgång. Så du kan ansluta en källa till 100 och sedan från 100 till On-The-Go. Du kan också ansluta båda högtalarna till en liten mixer med kablar direkt till båda högtalarna. Om du behöver ytterligare support, vänligen kontakta vår kundtjänst via telefon eller email för personlig hjälp. Vänligen se https://se.harmanaudio.com/support-contact.html för ytterligare information. Tack.
Date published: 2021-06-06
Can you hook up either a wired microphone or another wireless microphone and use it at the same time as the wireless that comes with it so two people can sing at the same time?
Our JBL Partybox on the Go comes with a wireless microphone already linked with the speaker as a factory default setting. You can add a wired microphone to be plugged into the mic gain port located at the top of the speaker. You can also connect another wireless microphone (sold separately), A maximum of 2 wireless microphones are supported or 1 wireless and 1 wired. So, the answer to your question is yes, you can sing in a duet with another person. If you have other questions or concerns, contact customer service at. https://bit.ly/3x5m7d1
Date published: 2021-10-06
Can you place the party box on a tripod stand
Thanks for your question. Our JBL PartyBox On the Go doesn't have a mount to connect a tripod stand.
Date published: 2021-06-06
Can i buy another one jbl microphone? I want 2 wireless jbl microphone
bvseo_sdk, dw_cartridge, 18.2.0, p_sdk_3.2.0
CLOUD, getContent, 5ms
questions, product