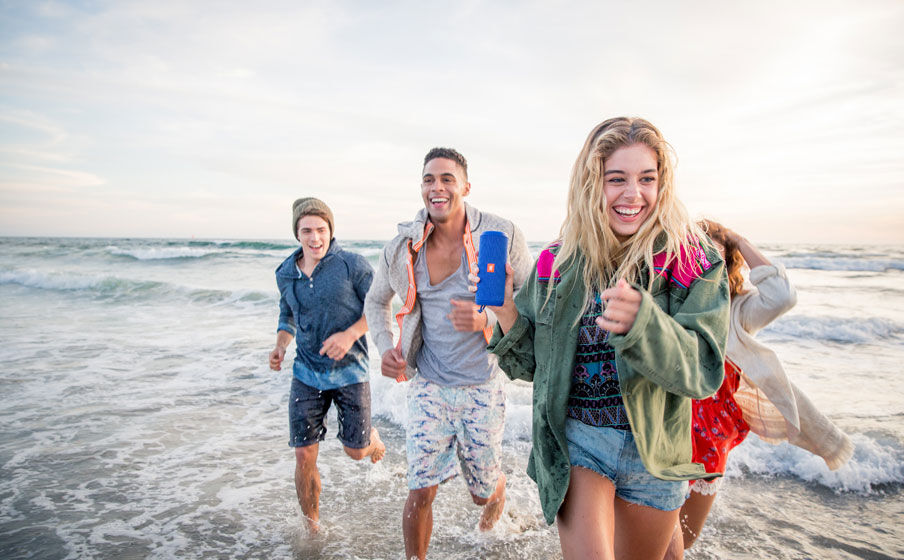 Trådlös Bluetooth-strömning
Anslut upp till 3 smartphones eller surfplattor trådlöst till högtalaren och turas om att spela ett förvånansvärt kraftigt och fylligt ljud.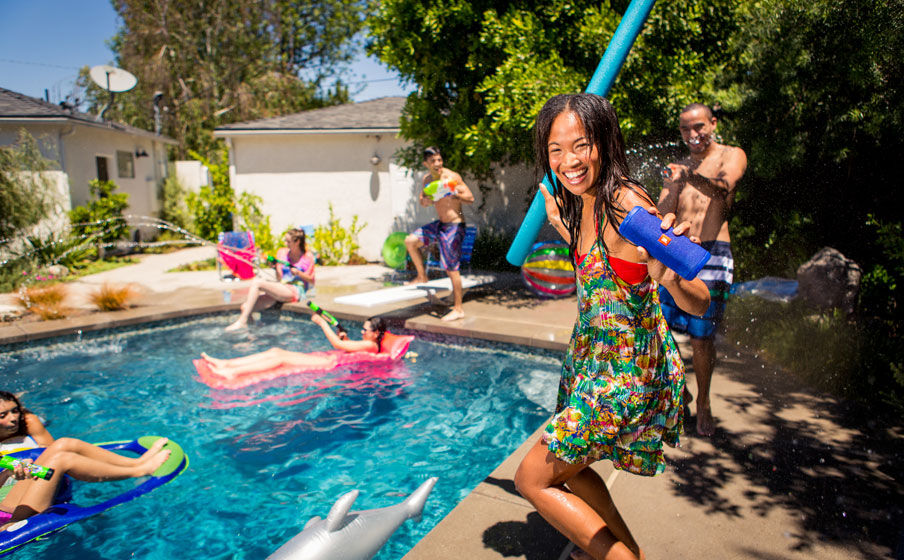 3000 mAh laddningsbart batteri
Inbyggt uppladdningsbart litiumjonbatteri för upp till 10 timmars speltid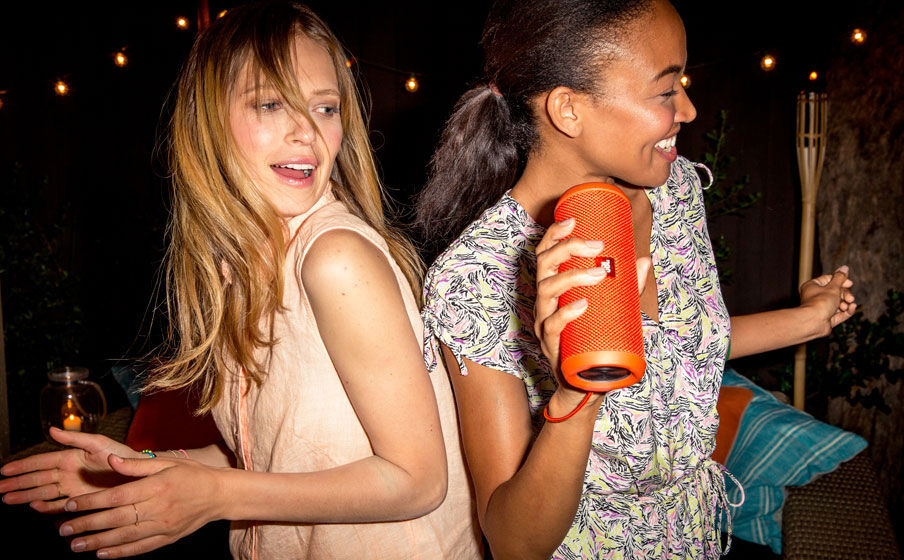 Högtalartelefon
Ta emot kristallklara samtal med en enkel knapptryckning tack vare den brus- och ekofria högtalartelefonen.
Funktioner

Stänksäker
Stänksäker innebär att du inte behöver oroa dig för regn eller att spilla, den går till och med att rengöra under rinnande vatten. Se bara till att den inte sänks ner i vätska.

JBL Connect
Bygg upp ditt eget system genom att ansluta flera JBL Connect-förberedda högtalare och förbättra lyssnarupplevelsen.

Coola material
Hållbara textilmaterial och grovt gummi ser till att din högtalare håller för alla äventyr.

Integrera din röstassistent
Få tillgång till Siri eller Google Now från din JBL-högtalare med en enda knapptryckning.
Detaljer & Nedladdningar
Item# JBLFLIP3BLK
Beskrivning
All purpose, all weather companion

JBL Flip 3 är nästa generation i den prisvinnande Flip-serien – en komplett superkompakt portabel Bluetooth-högtalare som ger förvånansvärt kraftfullt och fylligt ljud var du vill. Denna superkompakta högtalare drivs av ett uppladdningsbart litiumjonbatteri på 3 000 mAh som ger upp till 10 timmars stereoljud i hög kvalitet. Flip 3 har hållbara och stänksäkra textilmaterial i åtta färger och är kompisen du vill ha med i alla lägen och i alla väder – från matbordet till poolen, från soliga morgnar till regniga kvällar. Flip 3 har även inbyggd brus- och ekoeliminerande högtalartelefon för kristallklara gruppsamtal och JBL Connect-teknik som trådlöst kopplar samman flera JBL Connect-förberedda högtalare och förbättrar lyssningsupplevelsen.
Allmänna specifikationer
Ljudspecifikationer
Frekvensomfång

85 Hz – 20 kHz

Signal/brus-förhållande

>80 dB
Mått
Mått (inch)

2.5 x 6.7 x 2.5

Mått (cm)

6.4 x 16.9 x 6.4

Vikt (kg)

0.45

Vikt (lbs)

0.99
Specifikationer, styrning och anslutning
Batteri
Laddningstid (h)

3.5

Speltid (h)

10

Batterikapacitet (mAh)

3,000
Egenskaper
JBL Connect

Ja

Högtalartelefon

Ja

Stänksäker

Ja

Auto-avstängning

Ja

3,5 mm ljudingång

Ja

Wireless

Ja

Bluetooth

Ja
Vad innehåller förpackningen?
1 JBL Flip 3
1 Micro USB-kabel
1 Snabbguide
1 Säkerhetsblad
Garantikort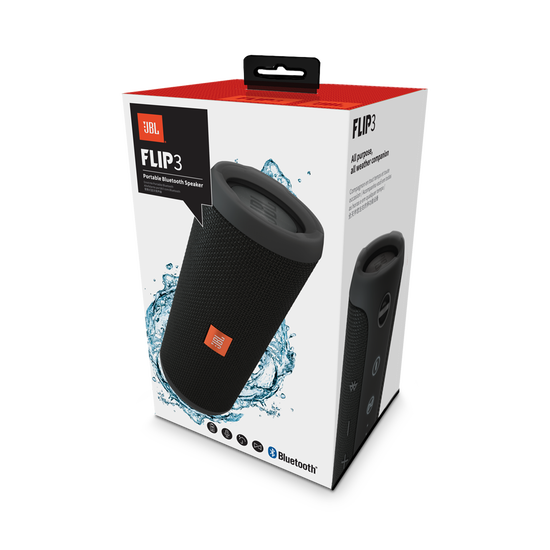 Dokument och hämtningar
Kundrecensioner
Frågor och svar
Can I use in iPhone apple 6
Yes. The FLIP 3 is compatible with all Bluetooth-enabled devices, including the Apple iPhone 6.
Date published: 2021-06-06
If I connect two Flip 3 speakers, and I want to be on a conference call, which speaker becomes the microphone?
Neither.... Your phone is the mirophone
Date published: 2021-06-06
Good Morning. This speak has been great, but all of a sudden, the buttons have stopped working. I can turn it on, but then I can't control any volume, or even turn it back off again. I found a link with some others with the same problem.
I am sorry to hear that your having an issue with the FLIP 3. Since the buttons are unresponsive, we won't be able to do a reset by pressing the "Volume +" and "Phone" button. I noticed that you are in Canada, please submit a case at info@eriksonconsumer.com and our Customer Service team will be more than glad to further assist you.
Date published: 2021-06-06
Where's the BASS sound? And why are my speakers disconnecting? I'm going to answer my own questions here.
I'm answering my own question here. I posted these questions because I keep seeing user comments about the Flip 3s not putting out much bass sound or having a hissing sound or losing the bluetooth signal or briefly losing sound. I have two Flip 3s that I use in stereo mode and my experience is that the Flip 3 speakers have outstanding sound whether using one or two cabinets, but there have been times when I had some problems with the bluetooth connection dropping or having one speaker putting out more volume than the other or having very low volume or an unusual lack of bass response or a strangely uneven frequency response overall. All of these problems have been solved. I never experienced the "hissing or humming" sound that others have reported, but I may have an idea where that is coming from. My issues with the bluetooth connection sometimes dropping and uneven volume between two Flip 3s in stereo mode have been solved with a firmware update. After doing a firmware update, be sure to turn off your speaker(s) and unpair or uninstall them from any device that will be using the speaker(s). You will want to re-pair the speaker(s) after a firmware update because the pairing process is how your phone or laptop, etc. gets the information from your speaker(s) about the capabilities they have and any special parameters or protocols that should be used to communicate with the speaker(s). When I say to un-pair and re-pair, I'm not talking about just disconnecting and re-connecting. That's different. You have to make sure to un-pair after doing a firmware update so that your phone or laptop, etc. knows NOTHING about your speaker(s) anymore. Then re-pair the speakers and at that point you will actually get the full benefit of the firmware update. The problem I had with the bluetooth connection dropping may have been related to how microsoft windows 10 (my laptop) inappropriately handles bluetooth in general. Whenever bluetooth is enabled in win8.1 and win10 (and maybe other versions of windows), windows CONTINUOUSLY scans for bluetooth devices to pair with, so it is constantly sending transmissions to bluetooth devices it sees asking them if they want to pair. Even with just a single speaker that was already paired and connected, windows still kept seeing this speaker as a different type of device and kept "bashing" it asking it if it wanted to pair as a different type of device. Eventually this would cause my speaker to disconnect. A firmware update to the speaker solved the disconnect problem, but maybe microsoft is as fault here -- not sure. Before the speaker firmware update, I would have to stop a windows service called Device Association Service in task manager after connecting to my speaker in order to keep windows from "bashing" my speaker and disconnecting. I don't have to do that anymore. Regarding lack of bass response when using a windows laptop you need to CONFIGURE your speaker while it is connected. If you go to Sounds in Control Panel, or right click the speaker icon in the system tray, choose Show Playback Devices. Right click on your bluetooth speakers and choose Configure. Set the speakers as Stereo and make sure you select the checkbox that says "Fullrange Speakers" and hit OK to be done with that. If windows thinks your speakers are NOT fullrange speakers, then windows might not send the low frequency sound to them and they will be denied the bass frequencies. Also, while looking at Playback devices, right click your bluetooth speakers and choose Properties and choose Enhancements. Make sure there are NO enhancements checked or just check the box that says Disable All Enhancements and click apply. Click OK or whatever to be done with all that and your speakers should be getting the full original sound signal. You might want to reboot after this just to be sure the settings take hold. If there are any other equalizer or sound enhancement or sound effects programs or driver settings you find like this, please try to turn them off or disable them if your speakers still seem to lack a full range sound that has a nice flat frequency response (all frequencies play at the same volume). Obvously some songs just don't have much bass and others do - not just bass but the whole frequency range changes from song to song depending on what was done in the recording studio and what was done to the original song during the encoding process to mp3 or streaming audio, etc. This whole "equalizer, sound enhancement" stuff applies to your smart phone just as much. If your phone has any of this stuff installed, uninstall it if possible or go to the settings of the audio player app and see if it has any of this "equalizer, sound enhancement" stuff and turn it OFF or disable it or whatever. These things just mess up the natural sound. OK - one more very IMPORTANT thing to be aware of is that USB 3.0 devices operate at a frequency that can easily interfere with the bluetooth signal. Check out "Bluetooth" on wikipedia and look at the bottom of the page. You'll see a small section about USB 3.0 interfering with bluetooth. Manufacturers of USB 3.x devices and cables often times do not properly shield their cables or devices or ports. This can definitely cause the bluetooth signal to be lost or break up between your phone, laptop, etc. and your speakers. Even a USB 3.0 port on the laptop you are using your bluetooth speaker(s) can cause this problem (poorly designed laptop). I don't know, but MAYBE unshielded USB 3.x ports, cables, or devices can cause the hissing or hum sound some people are experiencing with their Flip 3s. Google search this subject for more info. By the way, the bluetooth range I'm getting between my two flip 3s is more than twice the range specified for these class 2 bluetooth devices. 33 feet (10 meters) is supposed to be the maximum for class 2 bluetooth devices, but I get a loss-free connection at over 68 feet between two speakers AND between my phone or laptop and my speakers. If you are losing connection, then there must be interference causing it. Make sure you have the most recent firmware update on your speakers and laptops and phones. I almost sent my speakers back to JBL in the beginning, but I'm VERY glad I kept them. They are awesome. My only wish is that they had twice the battery power. Maybe someday when the battery goes bad and they are no longer under warranty, then I'll replace the 3AH battery with two of them in parallel for twice the capacity. I hope this helps other's who have had problems with their Flip 3s.
Date published: 2021-06-06
How many Flip 3s can I connect to each other? The salesman at the Verizon store said it was almost endless but I can't find a way to connect more than 2. 
only jbl connect+ can connect more than 2 speakers
Date published: 2022-09-23
how far apart can 2 speakers be before they cut out?
Hello, Thank you for the inquiry. Approximately 50 feet in line of sight. Best Regards
Date published: 2021-06-06
Can you pair 4 speakers ????
You can not. Max is 2 speakers. You don't need the phone app to connect the 2 speakers, but it will give you additional functionality such as SW updates, and switching between "daisy chain" and "stereo" modes. 
Date published: 2021-06-06
Just got the Flip 3. How can you tell if its charging ? How much it is charged and how long does it have to charge for ? Also, there is no meter for the sound indicating how loud you can go. I don't want to blow the speaker up.
When it is charging you will see the lights on and when its done charging you shouldnt be seeing any lights (volume lights).
Date published: 2021-06-06
Does it work with both 110v and 220v ? 
It charges via USB, so as long as you have a USB charger that works at  what ever voltage you need then you should be good.
Date published: 2021-06-06
When it is fully charged are all the lights on?? or change colors?? They came all on out of the box the quick guide is useless.  
Hello, Thank you for your inquiry. The power indicator is the row of five tiny led's. When at full charge all would be illuminated. While in use the led's would go out one by one indicating the unit battery level is discharging. Best Regards.
Date published: 2021-06-06
When I plug it into charge only one battery level flashes after an hour, how do I know it's charging properly?
If it is still charging and only one light is flashing after an hour, you are likely charging with a charger that is not powerful enough. Make sure you are using a USB charger that has an amp rating of at least 1 amp. The higher the amp rating, the faster it will charge.
Date published: 2021-06-06
Can I use this as a microphone/speaker when giving a presentation to a crowd or do I need to connect a microphone to it?
Even if it is possible to connect a microphone to it, we would not recommend this. The XTREME is not designed for live sound reproduction like those of presentations.
Date published: 2021-06-06
when I go to pair my speaker with my laptop it recognizes it but then keeps asking for a code? I tried all the labels on the box, searched the quick setup (of which is in every language except I think English :) ) and cannot locate one. ipone works
Our portable units, including the FLIP 3, do not have any pass keys embedded into them. If your computer asks for a pass key you can input "0000" which is the default pass key for Bluetooth devices.
Date published: 2021-06-06
I filled over 6 hours battery with charger 5V 1A again not filled. The fifth indicator is still flashing after 6 hours of charging. With other charger the same happens. This is happening for the second time. What to do?
The speaker is turned off while it is charging. Thank You.
Date published: 2022-06-16
I just got me a JBL Flip3 bluetooth speaker and would like to know how can I charge it if I don't have a computer with me. I am a touring musician and I like the way this little speaker sounds. Any and all input would be helpful.  gpjr
You can actually use a mobile power bank to charge the unit, as most mobile power banks output 5V @ 1A which is the charging intake of the FLIP 3.
Date published: 2021-06-06
I own this speaker and I love it however my friend took it and connected. How do I kick him off or reset it??
Thanks Zoltan but does that reset all bluetooth or just if he is connected?
Date published: 2021-06-06
I am not able to connetec the speakers with my Lenovo T430 laptop with windows 7. It gets added in the device list but doesn't show up in the playback devices, i have tries to restat the bluetooth service, and everything on internet that is given.No luck.
I did the following on my Thinkpad T410 with Windows 7 and now it works: click windows button and search for Devices and Printers. Right-Click the JBL Flip and go to properties and then click on Services. Wait about 1 minute until the list is fully loaded and uncheck the "unknown device" checkbox and check the audiosink option. Click Ok and let Windows install the drivers. Then right click your device and click control. There Windows will tell you if your device and your Thinkpad are paired. When they are paired, you should be fine and you can hear the sound from the box :) if not, right click the volume control icon and go to something similar like playback control and choose the bluetooth device there.
Date published: 2021-06-06
I understand the speaker has an auto turn-off time. If I connect to my phone, and the speaker does the auto turn off, if I later on start playing music on the phone will it "wake" the speaker and play sound from there?
The FLIP 3 is not possible to wake it up with a Bluetooth pairing signal. It must be awakened with the ON/OFF button.
Date published: 2021-06-06
I have three Flip3 speakers... all of which have failed because of the inferior design of the USB port. None can be recharged. They sounded and worked great... for about 4-6 months. Redesign the USB connection to be more durable to be a winner.
Same problem and still no results with the warranty period! I took the speaker to a electronics expert like I am and he told me that whoever passed these speakers in QC actually knew that they wouldn't last long! Case has been processed, but no results as of today! Case #: - Flip 3 - Case Number: 01395691 [ ref:_00Di0fiJD._500i0ru79t:ref ]
Date published: 2021-06-06
Just got my new flip 3 and it is fully charged.. it won't turn on. How do I turn it on?
To turn on the FLIP 3, you simply need to press the power button. The light indicators will turn on as well as an audible tone would be heard. If this does not happen, please submit a case at jbl.com/contactus and our Customer Service Team will be glad to assist you.
Date published: 2021-06-06
I recently bought two flip 3 with the intention to pair both of them to hear music, but when I pair them both one of them makes weird sounds, not smooth, and sometimes one of them shortly stops playing the sound. I would like to know what the problem is?
The same thing happened to me and I also thought it was a bad unit. Only started happening when I upgraded my phone from an iPhone 6 Plus to an iPhone 6S Plus. Played around until I figured it out: 1. Do not pair both your speakers via bluetooth to your audio device/phone. 2. Only connect one. 3. Then use the JBL connect feature to connect to the second speaker to the first. So, the second speaker is NOT paired via bluetooth to your audio device, only the first one is. I suspect that if both speakers are paired to your audio device, there is interference causing the breakup of sound to one speaker.
Date published: 2021-06-06
Will battery inside my Flip 3 got damaged if i let it auto shut down ?
You have nothing to worry about in terms of messing up the FLIP 3's battery. It's completely safe to use it while charging. Of course we recommend not to let the battery always die completely. The FLIP 3 also has a power saving feature, this allows the speaker to power OFF if an audio signal is not detected for approximately 10 minutes. I noticed that you are in Malaysia. If you have any further questions, please submit a case at support.apac@harman.com and our Customer Service team will be glad to assist you.
Date published: 2021-06-06
Hi, I bought Flip 3, connected it to my laptop. The speakers work just fine, so I can play audio files and hear them through the Flip3 device. However the microphone doesn't work (it does work when connected to my iphone). Any suggestion?
Same issue here. I also bought it only to use hands-free mode. I tried to make JBL Flip 3 works in hands-free (speaker+mic) mode, with no success. I tried on different laptopS and workstationS with Windows 10, Windows 8.1, Windows 7, Linux (Ubuntu 16.04) - only works on Ubuntu, but I need that works on Windows to use Hangouts (also tried to change Hangouts settings, no success). I also did every step Joe G. says, nothing changed. I tried to make a factory reset and upgrade the JBL firmware too, both of them failed. JBL Flip 3 works very well with cellphones. why this problem happens on Windows?! Can someone help us? Thanks!
Date published: 2021-06-06
So far I like them, good sound. I have 2 units and when I connect them it sounds much better. Does anyone know if they pair in "Party" mode or "Stereo" mode when you don't use the app? How do you tell which one is R and L ?
Hi Mike. Zoltan is NOT correct when he says "These speakers are not designed to play audio in stereo". I have two Flip 3 speakers and I use them in stereo mode all the time. They are DEFINITELY playing in true stereo when using two speakers and the speakers are set to stereo mode by using the JBL Connect app. If you do not use the JBL Connect app to configure the speakers, then I'm pretty sure they are in "party" mode by default from the factory, which means that each speaker is playing both the left and right audio channels. If you do not have an android or iphone to use the JBL Connect app, then just borrow one from a friend and install the JBL Connect app and pair your speakers to the phone, then run JBL Connect. The app will see both of your speakers and allow you to give each of them names and to set them to stereo mode and choose which speaker is to play the left audio channel and which speaker is to play the right audio channel and the app also indicates (with an exclamation mark) that a firmware update is available for the speakers. Once the speakers are named and set to stereo mode, the speakers will retain the settings and you will not need the JBL Connect app again unless you want to change the settings. When the speakers are set to stereo mode, but only one speaker is being used, then that speaker will be in party mode (plays both left and right audio channels). If you do a firmware update, you should probably only do it with one speaker at a time (the other speaker should be disconnected and turned off). I hope this helps.
Date published: 2021-06-06
How many flip 3 can i link together to get aloud of sound in a big yard
Only two FLIP 3's can be connected via the Connect feature.
Date published: 2021-06-06
Is the JBL Flip 3 a "low latency" speaker; what is the distance range between multiple speakers?
No. The FLIP 3 is not a "Low Latency" device. "Low Latency" is a variant of aptX Bluetooth devices wherein it ensures that a device can deliver sound in sync with visual media. Though the FLIP 3 is not an aptX device, you can expect little to no delay with the device when playing video as long as there are no interferences and that the unit is close enough to each other. On an ideal set-up, the speakers can be placed 10ft away from each other, but to avoid delay, closer, is always better.
Date published: 2021-06-06
Purchased a JBL Flip 3 aproximately 3 months ago and it's been amazing. Now all of a sudden it sounds like the speaker has blown. It distorts badly. Even at low volume. The speaker has only ever been charged via USB on a desktop pc.
if you have the black flip 3 thats the problem then, the black one get really hot in the sun, that can melt the glue in the speaker, JBL will say thats not it but it is!! many have this problem, go to th store and get a new one :) Meny have youtub vidoes about it :)
Date published: 2021-06-06
How do I power off? Light just keeps flashing!
I have the same problem, solve your problem? following these steps??
Date published: 2021-06-06
My computer does "see" the Flip 3 as a Bluetooth device, but does not allow connecting to it. It used to work OK, but all of sudden it stopped.
Hello, I have the same issue, the speaker was connecting well when turned on, for about 1 month, and suddenly it is impossible to connect it, it appears as "connected" in windows 10 bluetooth settings, but no sound. I have exactly the same issue in Linu Mint 18.1. I tried to reset the speaker as Joe G said (long press on vol +) but nothing, the speaker didn't even turned off. Is there any driver to install ? Thanks for your help. Cédric from Marseille, France
Date published: 2021-06-06
When I pair the JBL Flip 3 with my iPhone 6 the minimum volume is too loud. Is there any way to adjust this?
What you are experiencing has been known to affect some phone models. To get around this, you might want to check your phone's settings and see if there is an equalizer available. With this, you can adjust all frequencies down to the same level, which might help with the volume issue. If you are using a streaming application different from your phone's native music player, check this application's settings which should normally have this option too.
Date published: 2021-06-06
bvseo_sdk, dw_cartridge, 18.2.0, p_sdk_3.2.0
CLOUD, getContent, 15ms
questions, product