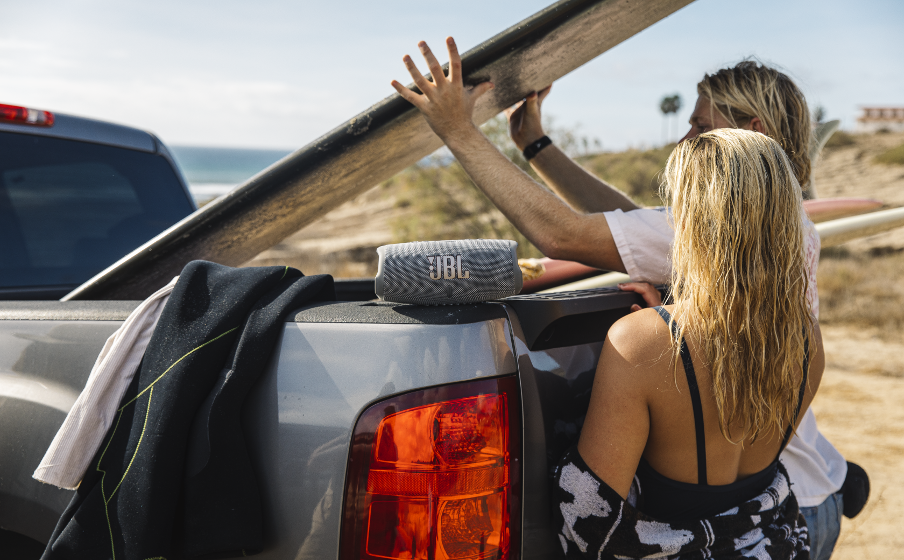 JBL Pros kraftfulla originalljud
Ta JBL Pro-ljudet med dig. JBL Charge 5 har ett optimerat element med lång slaglängd, ett separat diskantelement och dubbla JBL-baselement, och alla levererar ett imponerande fylligt och klart ljud. Få det där ljudet som fyller upp rummet, även utomhus.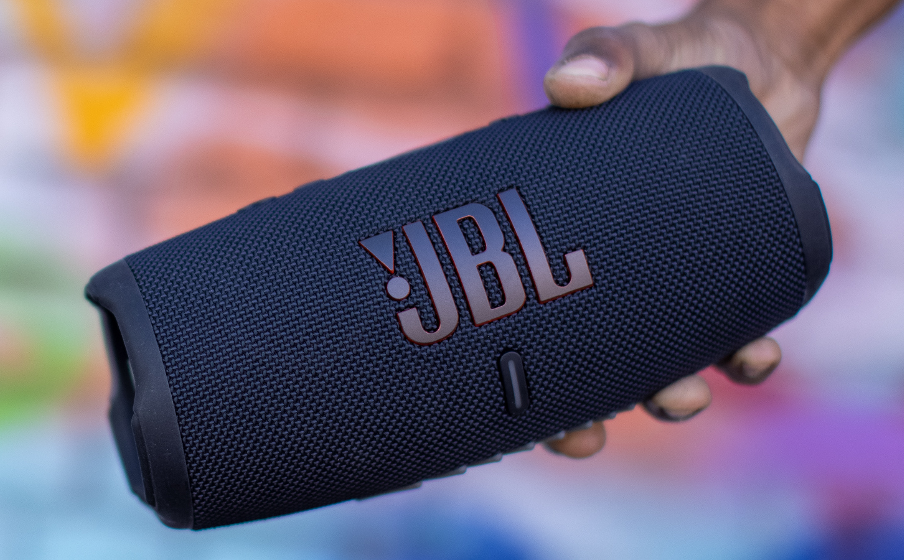 20 timmars speltid
Det roliga behöver inte ta slut. JBL Charge 5 håller igång festen både dag och natt med otroliga 20 timmars batteritid.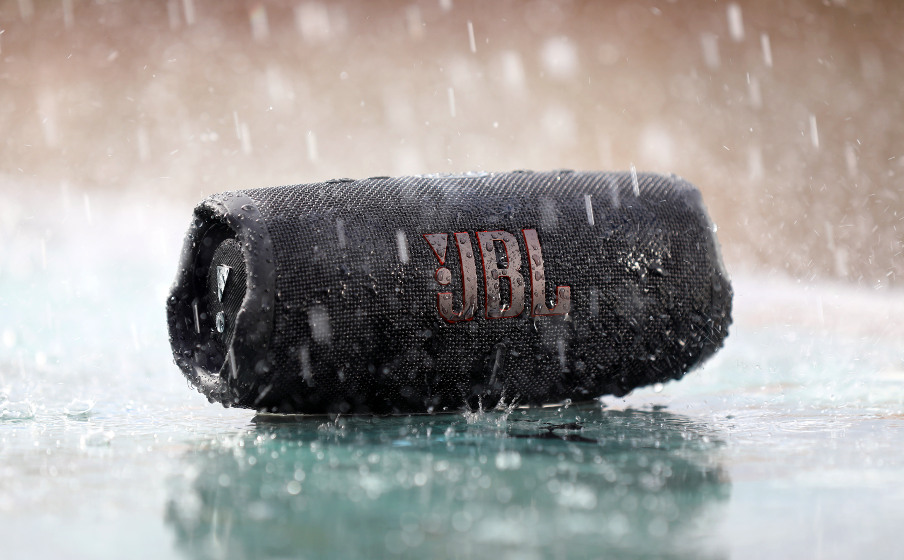 Vatten- och dammtät enligt IP67
Till poolen. Till parken. JBL Charge 5 är vatten- och dammtät enligt IP67, så du kan ta med din högtalare överallt.
Funktioner

Trådlös Bluetooth-strömning
Anslut upp till två mobiltelefoner eller surfplattor trådlöst till högtalaren och turas om att spela låtar med JBL Pro-ljud.

Ännu roligare med PartyBoost
Med Partyboost kan du parkoppla två PartyBoost-kompatibla högtalare och få ett kraftfullt stereoljud eller koppla ihop flera PartyBoost-enheter för att verkligen höja stämningen.

Ladda med den inbyggda powerbanken
Pausa inte festen. En inbyggd powerbank låter dig ladda dina enheter utan att pausa musiken.
Produktjämförelse
Hitta den bärbara Bluetooth-högtalaren som passar dig bäst
CHARGE5-
XTREME-3-
BOOMBOX-3-
FLIP-6-
JBL CHARGE 4
CHARGE-ESSENTIAL-2-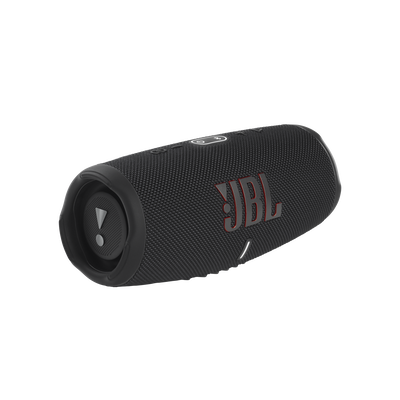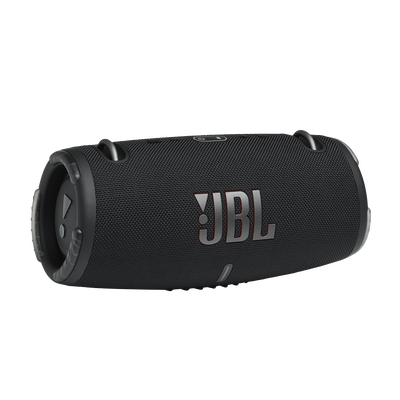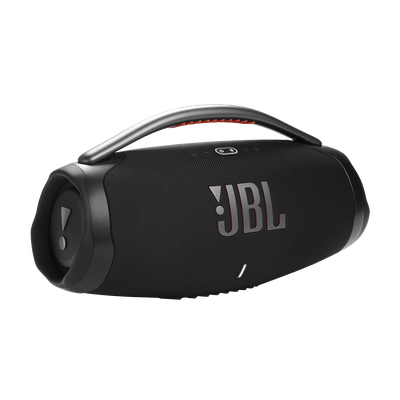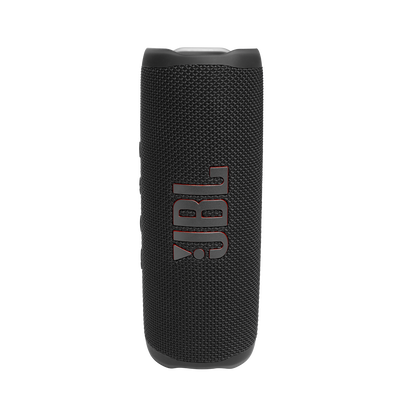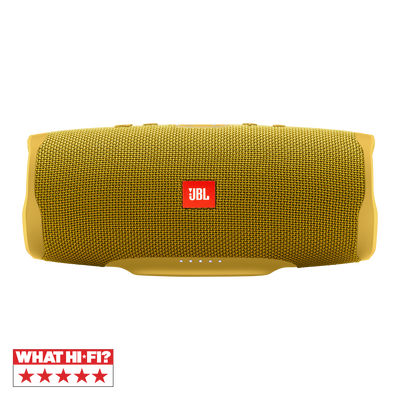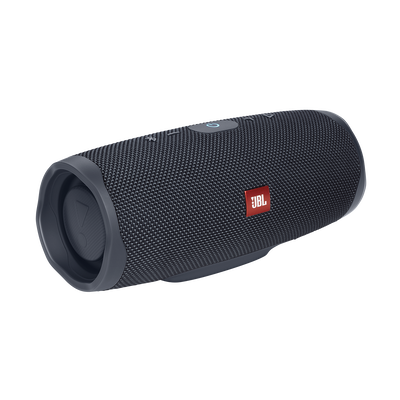 Allmänna Specifikationer
Uteffekt (W)
2 x 25W RMS woofer + 2 x 25W RMS tweeter
Uteffekt (W)
1x80W RMS-subwoofer + 2x40W RMS-midrange + 2x10W RMS-tweeter (AC mode) 1x60W RMS-subwoofer + 2x30W RMS-midrange + 2x8W RMS-tweeter (Battery mode)
Mått
Mått (cm)
29.8 x 13.6 x 13.4
Mått (cm)
48.2 x 25.7 x 20.0
Mått (cm)
17.8 x 6.8 x 7.2
Mått (cm)
22.1 x 9.4 x 9.4
Mått (cm)
22.0 x 9.60 x 9.34
Detaljer & Nedladdningar
Item# JBLCHARGE5PINK
Beskrivning
Spela och ladda hur mycket du vill

Ta festen med dig oavsett väder. Högtalaren JBL Charge 5 levererar JBL Pros kraftfulla originalljud med optimerad lång slaglängd, separat diskantelement och dubbla pulserande JBL-baselement. Upp till 20 timmars speltid och en praktisk powerbank för att hålla dina enheter laddade hela natten. Regn? Spillda drycker? Sand? Ingen fara! Charge 5 är vatten- och dammtät enligt IP67 och överlever allt. Tack vare PartyBoost kan du ansluta flera JBL PartyBoost-högtalare och få ett ljud som är tillräckligt stort för alla. Med helt nya färger inspirerade av de senaste gatutrenderna är den lika snygg som den låter.
Allmänna specifikationer
Ljudspecifikationer
Dynamiskt frekvensomfång (Hz)

60 Hz - 20k Hz
Mått
Mått (inch)

8.7 x 3.76 x 3.67

Mått (cm)

22 x 9.6 x 9.3

Vikt (kg)

0.96

Vikt (lbs)

2.11
Specifikationer, styrning och anslutning
Bluetooth-profiler

A2DP 1.3, AVRCP 1.6

Bluetooth-frekvens

2400 MHz - 2483.5 MHz

Bluetooth-sändarmodulering

GFSK, π/4 DQPSK, 8DPSK

Bluetooth-sändareffekt

≤ 20 dBm (EIRP)

Bluetooth-version

5.1
Batteri
Laddningstid (h)

4

Speltid (h)

20
Egenskaper
JBL PartyBoost

Ja

IPX-klassificering

IP67

Charging cable

Ja

Powerbank

Ja

Vattentät

Ja

Wireless

Ja

Uppladdningsbart batteri

Ja

Bluetooth

Ja
Vad innehåller förpackningen?
1 x JBL Charge 5
1 x USB-kabel typ C
1 x Säkerhetsblad
1 x Snabbguide
1 x Garantikort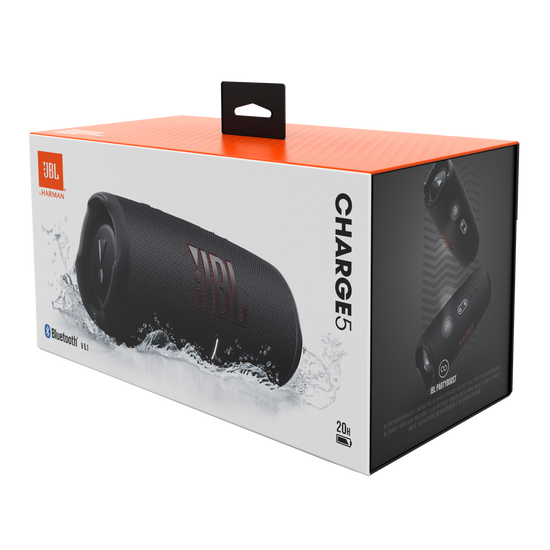 Dokument och hämtningar
Kundrecensioner
Rated

1

out of

5
by
LouiseR
from
Disappointing newer model
I had a JBL charge 3 for many years until it was stolen. I bought this as a replacement and it's not a patch on the old version. Whilst bigger and in more range of colours, the battery life is shocking and nowhere near the advertised hours. I work 15 hour days and the Charge 3 could be played at full volume on a single charge for the duration. This one lasts about 50% of that before running out of battery and requiring a full charge again. Extremely disappointing to have made a speaker that is less of an improvement on previous models.
Date published: 2021-12-29
Rated

4

out of

5
by
Studmuffin
from
Its Perfect....For what it is
This is my 3rd charge. I had the series 1 and 3. Series 1 unfortunately was lost to water damage. That hasn't been an issue since the element proofing. Series 3 to my ex-wife. I am a electronic music producer and DJ and somewhat of an audiophile. And as far as range goes: I've tested the Charge 5 with multiple genres of music from classical to wub. And it has the range to deliver a near full sound. Don't get me wrong it is loud. Ultimately though being the size it is, it is lacking a bit in the low range and mid-low areas. What are we reviewing here though? A portable speaker that charges devices and has a battery that doesn't quit. Overall, JBL does it again with this gorgeous looking little beast and the only reason I did not give the charge 5 a perfect 5 of 5 rating is because I ask the impossible. Keep up the great work JBL
Date published: 2021-04-27
Rated

3

out of

5
by
TC88
from
Maybe not so great
Was looking for a portable speaker to use while at work. Currently not impressed with the battery life. They state it can last up to 20 hours, but while at work I can only get 4 maybe 5. And that's with putting the phone near the speaker so that it's not trying to bounce a signal halfway across the room and around 3 corners. I'm going to fully charge it this weekend and see what battery life I get while at home. I'm hoping it's just the work environment and not the actual speaker battery. It is fully charged when I take it to work.
Date published: 2021-05-20
Rated

5

out of

5
by
JJ 123
from
I love my JBL!
First of all, major design points! This speaker is aesthetically pleasing, which is very important to me. Sound wise, you can't beat the quality for it's size. Not only is it easily portable, but it's range of sound is pretty impressive for how compact it is. Also, the battery lasts forever!!! It's loud enough to hear, while I'm in the shower and the fact that it's waterproof, allows me to feel confident that it won't be damaged by all the steam in my bathroom. Seriously, the construction on this thing is great! It's expensive for sure, but if you can afford it, I'd say go for it! I'm glad I did.
Date published: 2021-09-19
Rated

5

out of

5
by
Mikey Mike
from
Simply awesome!
The Charge 5 is simply amazing! Great full sound that will fill a backyard or room easily. Water and dust proof for the beach, and it charges anything with a usb hookup. This is hands down better than the Flip, and not too big like the Extreme to pack into a small bag for the beach or pool. The highs are just a tad bright from a neutral sound, but with an added tweeter this was expected. This is basically a baby Extreme 3. I'm very pleased with JBL once again for bringing amazing portable sound to a package that can't be beat.
Date published: 2021-04-22
Rated

5

out of

5
by
Dave_in_Manc
from
Best thing I've bought myself in years !
Absolutely blown away by the sound, build quality, look and feel of this. I had wanted a decent speaker for time in the back garden for ages, I've always had JBL car speakers so I was naturally drawn back to the brand. It does not disappoint on any level, bass, m, nid notes and treble are powerful and crisp, the sound carries fantastically outside, and it's hard not to want to crank it up outside, but I do have to think of the neighbours ;) It's brilliant and I love it, and the thought of getting a second to link together's already crossed my mind, you could run your own spontaneous outdoor raves with these things lol !
Date published: 2021-07-13
Rated

5

out of

5
by
Van Goghs Ear
from
Very Nice Piece of Audio
I anxiously awaited the delivery of this JBL product owing to the quality I've come to expect from this audio company. Upon arrival, and subsequent use of this speaker, it certainly did not disappoint. Generally with these portable type speakers your first concern is with the bass response. To be fair, you shouldn't expect too much from these type "portables" in the way of bottom end. You expect to give up a little in the sound department for the convenience of it's size. However, with the JBL Charge 5, you are having to sacrifice very little. The overall sound quality is second to none and the balance between highs and lows is spot on. This latest contribution from JBL is a definite 5 star winner!
Date published: 2021-05-03
Rated

5

out of

5
by
BobF18
from
Excellent Sound
Liked it so much I bought a second to use in the party/stereo mode in my 40 x 40 workshop. Great tonal quality with the addition of the tweeter for classic rock and sixties/seventies music. Would highly recommend the JBL Portable app for firmware updates and entering the party or stereo mode.
Date published: 2021-09-22
Rated

5

out of

5
by
golfcat
from
Absolutely Incredible for the Size
I am typically not a speaker consumer, but after using the Charge 5, I am finding so many ways to use it. For years I have enjoyed JBL products - primarily headphones and earbuds. However, this device, along with its amazing quality, price point, and set of features, will make me a fan and purchaser of their small(er) speaker line of products. The dimensions (8.5" wide x 3.5" high) were such that I figured it would be a fun speaker to have on the golf course with buddies. The sound was so deep, rich and loud that it didn't take long for the buddies to ask what this was. We listened to a variety of our catalogs - below were the big takeaways: -Notorious B.I.G. - While the bass was powerful, the treble of the lyrics was not lost -John Denver - Instrumentals came in clear, loud and crisp. Even at this price, I would have expected some "tinny" sound, but the music sounded like it was live at a concert. Another added plus was the USB-C plug. Faster charging, and as more and more devices (at least from a Pixel phone user), tend to support it, it never hurts to have compatibility between devices for charging. As I said, I'm usually not a big fan of these devices as I like to have music restricted to just my ears, but this has so many applications: shower/bathroom, sound bar, backyard bar-b-que, garage, etc. I would highly recommend this speaker, especially given the price point and the amazing sound.
Date published: 2021-04-22
Rated

5

out of

5
by
Genie7035
from
Bold sound with good build quality
This is a superb speaker with a big, long lasting battery*. It is very much worth the money, especially with sound and build quality. This speaker has no sound spikes in specific frequencies, and has well balanced factory E.Q., but if the firmware is updated, the custom one can be adjusted for mostly top, balanced, or most bass, which mine is set to and still provides good vocals with the kids and highs turned down all the way, the dedicated tweeter really helps with this clarity of sound from this unit. *The battery drains in about 1hr at max volume and charging a device at 1.2 amps with the E.Q. Having the bass at max, mids normal, highs lowest.
Date published: 2022-08-11
Rated

5

out of

5
by
August West
from
You're kidding me!!
I just bought one of the JBL Charge 5 portable speakers. I had never seen one or heard one before now. I read a bunch of reviews of several different makes & models. To be honest, I went with JBL because a friend of mine in California has one and likes his. OMG! I took it out to the lake and I was freaking amazed at how good it sounds!! No kidding. I'm not easily impressed. I figured it would just be a step up from tinny iPhone speakers. Wrong! It thumped! **doing my happy happy joy joy dance** I like it when I feel like I've made a good decision when I buy stuff.
Date published: 2021-08-13
Rated

3

out of

5
by
Ryan B
from
Needs Major Function Improvement For Stereo Mode!!
I got two Charge 5's to work in stereo mode. However, they provide no way to set stereo mode from the units unless you use the JBL Portable app. Whats more, the units do not save this mode once you power them off like the app says. So you have to go into the app everytime you power them on to put them in stereo mode. Not to mention some phones will simply time out their connections because it takes so long to connect to the device to set them up. So stereo isn't possible if your phone cant handle it (tried on phones with android 8 to 11). I've had the Sony XB30s for 4 years, and they remember their stereo state once connected, unfortunately they have tons of connectivity reset issues and were terrible to work with. The only deal breaker for me on these units is lack of access to stereo mode. I am hoping a firmware update can resolve the issue of it remembering to stay in stereo mode once it powers off. Otherwise, they are great portible speakers and the addition of the tweeters give them extra clarity in the stereo field mode, in single speaker mode, I dont really find the tweeter frequencies as useful. The bass is more on the balanced side as opposed to just excessively boosting 100hz to give the illusion of more sub tone and sounding muddy. 3 Stars for the other qualities, but please, if you are going to state something works, it better work. Please fix the stereo memory issues!
Date published: 2021-04-23
Rated

5

out of

5
by
smartestelf
from
I really do love this speaker!
I bought this about 2 weeks ago, and so far it has been quite impressive. It feels heavy duty, while still being small enough to shove into a bag. The mesh casing gives it an excellent grip for your hands, while still looking sleek and cool. The sound quality is unmatched, which holds true for most JBL products. The ability to charge your other devices using this speaker is an AWESOME plus! The only issue I have had, that was honestly a little annoying, is that only two weeks into owning this product, the tiny strips of rubber on the bottom that stabilize the speaker have started to peel off. I wouldn't consider myself too rough with my things, however, I have carried it with me almost everywhere I go. Still a great speaker overall, aside from that one minor annoyance.
Date published: 2021-07-14
Rated

1

out of

5
by
J28lee
from
Battery life sucks!!
I bought the Charge 5 few days ago, fully charge it and use at work... battery only last 5 hours at 60% volume. Not 20 hours as advertise.
Date published: 2022-03-03
Rated

1

out of

5
by
Robrisk387
from
Battery life isnt what they say
I just bought my JBL charge 5 yesterday to use at work. I fully charged at home. Brought to work today. Didnt even make it 6 hours. Box said its supposed to last around 20 hours but i only got 5 1/2. Brand new.
Date published: 2021-06-25
Rated

5

out of

5
by
SvartaOliver
from
Den har allt!!
Jag har fått möjligheten att just nu testa denna produkt och jag måste säga att jag verkligen är helt sjukt imponerad. Den har allt man kan behöva och mer därtill. För det första och det viktigaste, ljudet... maaagiskt bra ljud och sjukt bra bas vilket är viktigt för mig. Älskar att den är så tålig så att man även kan ha med den i parken, på stranden osv. Den har även en inbyggd powerbank!! Så du kan även ladda mobilen i den. Sjukt bra! Den är även riktigt tydlig med hur mycket batteri som är kvar, väldigt lätt att koppla upp sig mot och jag har verkligen inget att klaga på! Älskar att den också finns i så många olika färger!
Date published: 2021-04-09
Rated

5

out of

5
by
Anonymous
from
Clear sound, great battery
I got this a week ago today and man. This this is great! Awesome sounds that's clear, precise, with bass, mids, and treble sounding independent on their own. Amazing battery too! With this price and size, nothing compares. Looks great too, I'm very happy with JBL's recent design language change across the board. Got mine in Blue and it really pops! The power bank function is not something I thought I wanted, but I'm glad it's there. Only complaint is the lack of an audio jack, Bluetooth only. Its also a a bit overly obtuse to be considered truly portable, so consider the Flip 6 or even the Clip 4 if that's a major concern to you. It's tough too, I'm confident this will last years. Thank you, JBL!
Date published: 2023-01-26
Rated

1

out of

5
by
Nolie
from
Good speaker bad company
This review is less about the speaker, which so far for has worked quite well and does have some improvements from the charge 3 which is the only other jbl speaker I've owned. This review is about jbl deciding to adopt an apple business model without providing a good as unique or irreplaceable as an iphone. I put up with apple continually nickel and diming us as the iphone has changed many aspects of my life. My jbl speaker has not. The notes you're pulling out of apples playbook; e.g. not providing a charging block, having severely diminished battery life after several years and the most recent which erodes the one true unique edge you once had over other speakers, not providing backwards compatibility in your switch from connect+ to partyboost. Truly a horrendous business move in my humble opinion as many other speaker brands now provide the ability to connect multiple speakers to play simultaneously, however they allow the user to do so across all older models. Making your own technology obsolete and thus competing with yourselves might provide some economic gain in the short term, but it crumbles the brand value you once had built in the minds of many. It's a truly horrid trend that companies have picked up on, trying to make products that work just well enough to be relevant for several years before needing to be replaced. I enjoyed my first jbl speaker for several years and will enjoy the one I just purchased for the next several. After that, I'll switch to a company who's vision I can at least pretend to align with.
Date published: 2023-03-02
Rated

5

out of

5
by
Kellyizthebest
from
Beyond amazing sound quality
The jbl charge 5 is the best speaker I have ever heard! The sound is crystal clear, you can actually hear every instruments or small noice in the background. I have never heard sound more clear on any device. I was listening to sports radio on my phone and the interview was muffled and I didn't know what they were saying, I turned on my speaker I could understand every word it is completely incredible!! The volume is amazing I can hear my speaker in the basement and throughout the house even with it on the 2nd floor. You don't even have to turn the volume all the way up and it is the loudest speaker ever. The battery life is amazing I love that I can listen to the speaker for days and never have to charge it. My daughters favorite feature is that she can charge her phone through the speaker. It's so convenient I am always having to bring a portable charger everywhere I go but with this speaker it is built in and the portable charger stays home it's outstanding. This speaker is water proof and dust proof which is a feature I greatly appreciate. I am in love with this speaker and everyone who has seen and heard my jbl charge 5 is impressed. I can't say enough about how amazing the sound is, I have never heard music the way it sounds through this speaker. It feels like the artist and all the instruments are in the same room, if you close your eyes you wouldn't know it was a speaker and not live in front of you, my sports radio broadcasters feel like they are sitting right in front of me talking to me that is how crystal clear the sound is. I was especially surprised how well older songs with less quality sound, I have never heard oldies sound so good! I always love jbl products and expect good quality but they even blew me away with this speaker it is above and beyond!
Date published: 2021-05-03
Rated

3

out of

5
by
Ang7
from
Great speaker, BUT ONE PROBLEM
Music quality is great on this speaker, better than my Charge 3, and 100x better than the Extreme 2. BUT, I cannot get phone call ring sounds, text message notification sounds, or other notification sounds to come thru the speaker. Therefore, when connected to the speaker and listening to music, I have no idea if my phone rings or if I get a text message or other notification. I have tried with an iPad Pro, an iPhone 8 and with an iPhone 11, all having the newest iOS software. And I have updated the Charge 5 too, BUT, I have no problem with this on my Charge 3, as all phone call ring sounds, text sounds and other notification sounds, from all 3 Apple devices, come thru just fine on the Charge 3.
Date published: 2021-08-12
Rated

5

out of

5
by
SoundSeth
from
Great Upgrade!
I have always been a huge fan of JBL's speaker lineup, from the Flips to the Xtremes. I previously owned the Charge 4 and have to say the bump in sound quality and clarity with this unit is amazing! I fully attribute this to the added tweeter, which eases the burden of the main driver from producing all frequencies. This also allows the main driver to better produce the lower end and better round out the speaker. I am extremely happy with the Charge 5 and will be using it daily as I have with my other JBL's!
Date published: 2021-04-30
Rated

5

out of

5
by
Gimma78
from
Mångsidig
Jag har provat denna genom reviewclub. Måste säga att jag är mycket nöjd. Här ett bra ljud och är otroligt smidig och lätt att ta med sig överallt. Det är ju även ett pluss att den tål vatten, så man kan ta med den i sommar till stranden så man kan njuta av musik även där. Har i påsk haft den med mig när vi varit ut med skotern till olika sjöar. Och den klarar både kylan och att stå i snön. Måste helt klart rekommendera denna högtalare, den passar mig perfekt framförallt är jag mest nöjd med storleken att den rymms i packningen. Min son är otroligt nöjd med att man kan ta med den i duschen utan problem. Här tidigare haft en annan variant och den tålde inte alls lika mycket.
Date published: 2021-04-02
Rated

1

out of

5
by
Speakerfanatic
from
Dies in 4.5 hours not 20!
I bought it brand new a couple days ago and work in a warehouse so I blast it to the max. I work 10 hour shifts and ik i read blasting it full volume it'll die 50% faster so its supposed to last at least 10 hours. Well shortly after my lunch it died. Pathetic. Don't say it lasts 20 hours and it only lasted 4.5 hours. Pretty ticked off and returning it. Waste of money
Date published: 2022-02-28
Rated

1

out of

5
by
alleopp
from
Grainy, staticky, blown out sound out of the box
Not sure if I just got unlucky with mine considering the rest of the reviews I read on this product but I was very excited for some insane sound quality considering the price... Well, it sounds like there is a pound of sand rattling against the speaker every time it plays mids-highs. The bass is very nice but experience totally ruined.
Date published: 2021-04-29
Rated

3

out of

5
by
zacchaeus
from
Great sound & design but lack of mic disappointing
I have had a Charge 2+ for several years and found it great. It's still going strong but I had a need for another one so the latest version, #5, was the obvious choice. The sound quality is much improved it's still bomb-proof, and the PartyLink is ... quite good fun I suppose (I've tried it out with a relative who also has one). However, when I tried to use it with my phone for speakerphone I was perplexed that I couldn't get it to work. Later I looked it up and realised that it doesn't have a microphone. It's really disappointing that such a great feature from an earlier version has been dropped. My bad for not researching the product properly, I suppose, but a real shame.
Date published: 2022-12-16
Rated

5

out of

5
by
AZROUGHRIDER
from
My Charge 5 ROCKS!!
I bought my JBL Charge 5 through Fingerhut (yeah, I paid a bit more) but I use this for sound on my work computer (I show my customers RV videos - I sell RV's) and the sound quality is amazing! It totally changes the experience of watching a video. Then, when I explain that their new Winnebago comes with JBL speakers, they are usually pretty excited! My next purchase will be the JBL Ear Buds.
Date published: 2022-08-22
Rated

3

out of

5
by
Mikeel
from
Battery
Battery only lasts 5 hours 9 hours on low don't understand why they they say up to 20 hours definitely not happening if it actually lasted 20 up to hours it would be nice especially for the amount $180.00 not worth it more like a $100.00 speaker paying more for the name
Date published: 2021-05-04
Rated

1

out of

5
by
Calleen
from
Horrible battery
I will not recommend the charge 5 to anybody. If you work in a factory and you have it loud to hear it it doesn't last but maybe an hr if your lucky. Will never buy the charge 5 again. I'm so mad. Waste of money. You always have to have it plugged in at work.
Date published: 2022-10-21
Rated

4

out of

5
by
SandraJasker
from
Super sound
like the box, it is easy to use and the battery is unbeatable. During outdoor training, it delivers the right sound and provides me and my participants with motivation. I used the box when training on the tennis court, in the garden, in the house and I am also convinced that it is an indispensable companion when camping, especially when used as a power bar. The JBL CHARGE5 also offers listening pleasure everywhere for radio plays and audio books. The connection is established quickly via Bluetooth,but unfortunately only to one device.
Date published: 2021-04-20
Rated

5

out of

5
by
Csmith422
from
Good bass, sound quality, and durability
I've had this speaker for nearly two years now and it still performs just as well as the day I bought it. The bass is very good for the size of speaker that it is and is very punchy. This speaker was constantly being carried around on a bike, dropped, used in the shower once a week, caught in the rain, and still works perfectly. The sound quality is extremely impressive and even from 100 feet away the speaker still sounds very clear. Definitely one of my best purchases.
Date published: 2022-12-24
bvseo_sdk, dw_cartridge, 18.2.0, p_sdk_3.2.0
CLOUD, getReviews, 14ms
reviews, product
Frågor och svar
I recently upgraded the firmware of my Charge 3 to JBL Connect+. Since the Charge 5 only seems to be compatible with other JBL devices that use PartyBoost, I would not be able to pair my Charge 3 with a Charge 5, correct?
Yes, that is correct. Our JBL Charge 3 and Charge 5 can't be paired. Charge 3 has Connect + feature, while Charge 5 has the PartyBoost feature.
Date published: 2022-12-21
Why does it seem like music is only playing out of the left side of the logo? Is something wrong?
Thanks for your question. This is normal. The tweeter in our JBL Charge 5 is located on the left side of the logo while the woofer is on the right. High frequencies are more directional than low frequencies.
Date published: 2022-09-14
Can I use the Charge 5 plugged into a wall outlet if I have it available instead of wireless?
Our JBL Charge 5 can be used while plugged in. There's no harm in using the unit while it is connected to a power source. Our products have PCM circuits that manage the charging of the battery. However, if you'd like to save energy, you may unplug the speaker.
Date published: 2022-12-21
Will the Charge 5 charge from a car USB charging port?
Yes. Our JBL Charge 5 can be charged in your car's USB port as long as you use a Type-C cable.
Date published: 2023-03-01
I am wondering is all the speakers in JBL Lifestyle are made specically for personal use or close-listening? I need the speaker that could project the sound outdoors and in large indoors. is there a need to buy JBL Professional speakers instead?
We have PartyBox series speakers that can be used for large spaces. The most powerful we have is the PartyBox 1000 with 1000 watts followed by the PartyBox 710 with 800 watts. If you need more help, please reach out to our JBL Customer Support.
Date published: 2022-09-07
Why does the sound always first BLAST such that I must turn it down lest I go deaf?
We appreciate your time in providing your feedback on our JBL Charge 5. You may try adjusting the volume on the speaker itself. We're always looking for ways to improve, so we'll make sure to submit your feedback to the right department. Please contact our customer support service via our official website or toll-free hotline.
Date published: 2023-03-08
Can i connect this to play music with my charge 3 at the same time?
Our JBL Charge 5 has the PartyBoost feature, it is compatible with other PartyBost enabled speakers like the Boombox 2, Flip 5, and Pulse 4. Our JBL Charge 3 on the other hand has the JBL Connect feature. When the firmware is upgraded for the Charge 3, it can be connected with Connect+ enabled speakers like the Xtreme 2, Pulse 3, Flip 4, Charge 4, and Boombox. If you have other questions or concerns, you may contact customer service at https://bit.ly/3r5oWYM
Date published: 2021-06-06
Is it possible to connect a microphone? If so, how?
Hello, Thank you for your question. It is unfortunately not possible to connect a microphone to a Charge 5 speaker, as the AUX-port does not support this function and the Bluetooth is to be connected to source devices, such as a mobile or tablet. Should you wish to receive further support, you may contact the Harman Customer Support team by telephone, email or chat in order to receive direct assistance. Please see https://se.harmanaudio.com/support-contact.html#ns for further details. Thank you.
Date published: 2021-12-20
How can I turn off party mode on my jbl charge 5
You have an option to switch from partymode to stereo or disable Partyboost mode using the JBL Portable App.
Date published: 2022-10-24
Will we be able to make a design your own speaker on the charge 5 
Unfortunately, we have no news to share when our Charge 5 will have a personalized option. For news about our Charge 5, please sign up to our news letter here: https://www.JBL.com/
Date published: 2021-07-23
Will the Charge 5 be available to be personalized?
Thanks for your question. Unfortunately, we have no news about the JBL Charge 5 for personalization. Please subscribe to our newsletter for updates and promos of our products.
Date published: 2021-06-06
Do the jbl portable Bluetooth speakers support hands free voice commands (via google or Alexa) hike in the Bluetooth mode.
Our JBL Charge 5 doesn't support voice commands for Google Assistant or Alexa.
Date published: 2022-03-23
I charge the charge 5 with a battery pack which only allows 1.04 amps.   What are the amps for the charge 5?  Thx
Our JBL Charge 5 has a 5V 2A. Higher current is okay but lower than 2amp will make the charging time longer. You can charge your speaker through powerbank As long as the device delivers that output power.
Date published: 2021-10-29
Is the Battery replaceable?
Our Charge 5's battery isn't replaceable as they are portable speakers, but if it is no longer lasting. Our units only have a one-year limited coverage, please reach out to us if you need more help so we can check your options. https://support.jbl.com/us/en/#call
Date published: 2022-10-23
whats the usb port for? i tried to play music through usb and it didnt work
The USB port of our JBL Charge 5 is for charging other devices.
Date published: 2022-12-24
can i connect my pc to jbl charge 5 even though pc does not have bluetooth?
Thanks for your inquiry. Our JBL Charge 5 doesn't have a 3.5mm aux jack for connecting to non-bluetooth devices. To connect to your speaker on your PC, you may use any Bluetooth transmitter or adapter.
Date published: 2022-12-21
Is it possible to connect an external microphone to this speaker for announcements? If so, do you have similar products?
Our JBL Charge 5 does not have a mic input for a microphone, We recommend the JBL Partybox-On-The-Go or the JBL PartyBox Encore as these portable speakers include a wireless microphone and are loud enough for announcements.
Date published: 2023-03-17
Does the charge 5 connect to the charge 4?
Thank you for your question. Unfortunately you can not connect the Charge 5 to the Charge 4. Charge 4 supports Connect + and Charge 5 supports Partyboost. Should you wish to receive further support, you may contact the Harman Customer Support team by telephone, email or chat in order to receive direct assistance. Please see https://uk.harmanaudio.com/support-contact.html#ns for further details. Thank you.
Date published: 2021-06-06
The amazon product page says: "Bluetooth or Plug and play: Connect your device with Bluetooth or use the included USB connectors." Is it correct that you can use a wired usb connection as an alternative to bluetooth to play music from a phone or pc?
Thank you for your question. No is not true as the USB connection allow you to use your JBL Charge 5 as a powerbank to keep all your devices charged. Should you wish to receive further support, you may contact the Harman Customer Support team by telephone, email or chat in order to receive direct assistance. Please see https://uk.harmanaudio.com/support-contact.html#ns for further details. Thank you.
Date published: 2021-08-04
I want to buy a JBL speaker that works with the JBL wireless microphones and receiver. I need an aux port that is compatible, a microphone 1/4 port. Which speaker has this?
The JBL Wireless Microphone set allows 2 x wireless microphones* to be connected to any Partybox model through the use of a dongle connected to the Mic/Guitar jack input. Additionally, a 3rd wired microphone - like the JBL PBM100 Wired Microphone, can also be connected to the switchable Guitar/Mic 2 input (available on the Partybox 310). This will also work when using the non-switchable Guitar input on other Partybox models - however, this will bypass the karaoke effects including echo for the connected microphone and, would generally have a slightly different sound character/timbre to a microphone connected to the Microphone input. Please checkout our JBL Partybox speakers using this link. https://bit.ly/3p18bia
Date published: 2021-12-16
What are the different versions of the charge 5? Specifically related to the differences in the serial numbers like TL, TT, ND etc.? 
The serial number of our JBL Charge 5 has different chipsets that are used for the firmware. Both units (GG, TL) are designed and manufactured with the same materials and equal performance.
Date published: 2021-10-18
I got jbl charge 5 from best buy and can steam from a hot shower damage my jbl charge 5?
Yes, steam may damage your JBL Charge 5 as it can penetrate the internal components by creating moisture that could possibly damage the electronic components.
Date published: 2021-09-03
Does the Charge 5 support APTX Low Latency bluetooth from a capable transmitting device?
Thank you for your question. No, the JBL Charge 5 only supports SBC and AAC. Should you wish to receive further support, you may contact the Harman Customer Support team by telephone, email or chat in order to receive direct assistance. Please see https://uk.harmanaudio.com/support-contact.html#ns for further details. Thank you.
Date published: 2022-04-20
How do I turn it off if the power button isn't working and the factory reset option won't turn it off?
We're sorry to hear about what happened to your JBL Charge 5. We'd like to work with you directly and get more information from you so we can check your options. Please contact customer service at. https://bit.ly/2WocMfi
Date published: 2021-07-11
How do I fix my charge 5? It won't connect to Bluetooth or stay on when you press the power button. So there's no way to factory reset it.
Thanks for reaching out. We want you to get the most out of our product. It would be best if we can work with you directly to get more information and to do troubleshooting with your JBL Charge 5. Please Contact JBL Customer Service for technical support and assistance.
Date published: 2022-03-29
Will There Be More Colors Released Later Or Are These The Only Colors?
Hi there, as of now. our Charge 5 comes into various colors, including Black, Blue, Gray, Red, Teal and Camo. We have no news yet if there will be be other colors that will be relesed in the future.
Date published: 2021-06-06
Is the charge 5 stereo? Please tell me is stereo and not mono.
Our JBL Charge 5 is a mono speaker. You'll need two units to setup a Stereo configuration.
Date published: 2021-07-23
To best preserve battery life, is it best to use my Charge 5 plugged in and only use on battery when away from power (the minority of the time) or is it best to "cycle" the battery with routine use?
The battery of our JBL Charge 5 will eventually degrade if not connected to a power source so it would be best to plug it in if you're not going to use it away from a power source. It is not harmful to use it as it includes PCM circuits that manage battery charging. To ensure that the battery's health is prolonged, we recommend always making sure that the unit is charged and not leaving the battery drained for long periods.
Date published: 2023-03-16
Does the charge have an fm radio 
Thank you for your question. The Charge 5 does not have FM Radio as a native feature. We recommend checking out the Tuner 2 for radio use. Should you wish to receive further support, you may contact the Harman Customer Support team by telephone, email or chat in order to receive direct assistance. Please see https://uk.harmanaudio.com/support-contact.html#ns for further details.  Thank you.
Date published: 2021-09-11
i have an iphone 7 bluetooth 4.2 will it work with the jbl charge 5?
Our JBL Charge 5 is compatible with both iOS and Android mobile devices.
Date published: 2022-02-27
bvseo_sdk, dw_cartridge, 18.2.0, p_sdk_3.2.0
CLOUD, getContent, 11ms
questions, product