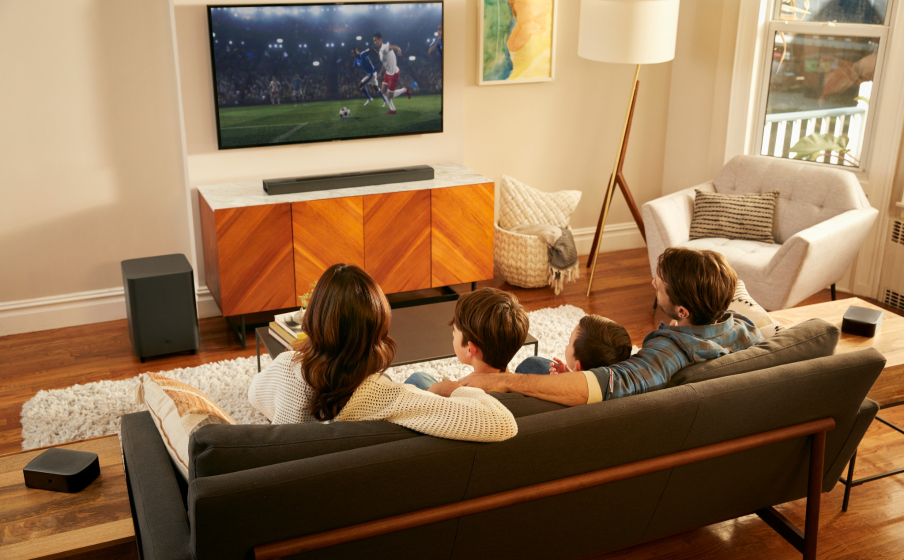 Den ultimata 3D-ljudupplevelsen
Uppgradera ditt tittande eller spelande från ordinärt till extraordinärt. Inbyggt Dolby Atmos®, DTS:X™ och fyra uppåtriktade högtalare studsar ljudet mot taket och sedan ner mot dig, vilket skapar en fantastisk, äkta 3D-känsla.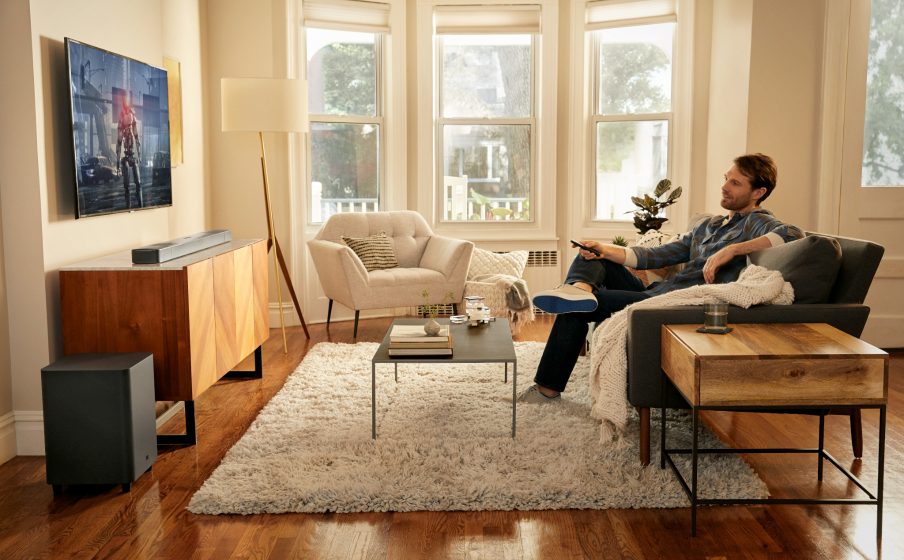 Riktigt surroundljud på en sekund
Njut direkt av en riktig 9.1-surroundupplevelse. Placera bara de två löstagbara högtalarna bakom dig. Inga extra kablar och inga extra strömanslutningar, så du slipper allt krångel.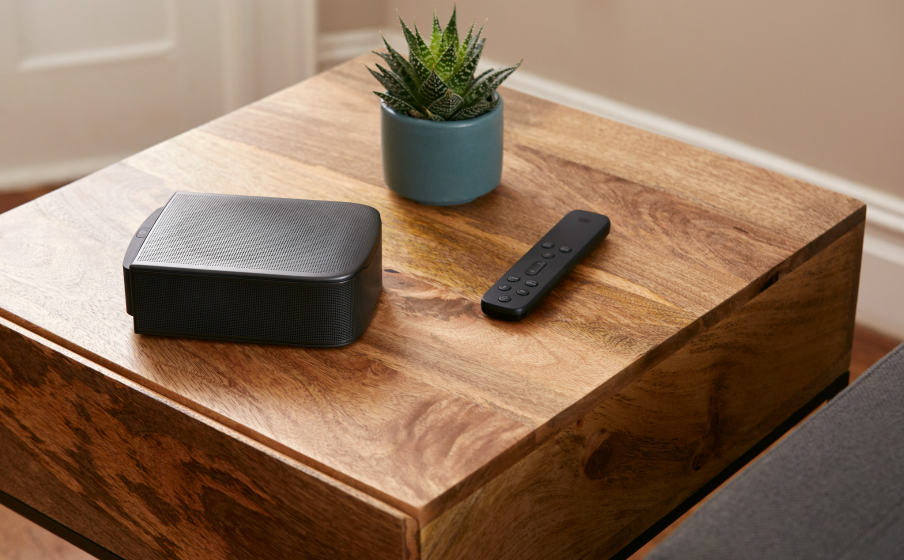 Löstagbara högtalarna som kan placeras vart som helst
Inbyggda batterier betyder ljudfrihet. Du kan placera de två löstagbara surroundhögtalarna var som helst i rummet och ändå få samma otroliga ljudupplevelse. Efter 10 timmars speltid behöver du bara docka dem i soundbaren för att ladda.
Funktioner
820W Uteffekt
Upplev dina filmer, spel och din musik som aldrig förr med sammanlagt 820 watt. Låt det uppslukande och kraftfulla ljudet ta din tittarglädje eller spelupplevelse till nästa nivå.

Spännande bas
Slagkraftig, exakt bas från en mäktig 10-tums trådlös subwoofer drar igång actionfilmer och musikkänslan.

Ultra HD 4K Pass-through med Dolby Vision™
Otrolig 4K-videoupplösning förtjänar otroligt ljud. JBL Bar 9.1-soundbaren är det ultimata powerparet tillsammans med din TV

Inbyggt Chromecast och Airplay 2
Inbyggd Wi-Fi och kompatibilitet med Chromecast och Airplay 2 innebär att du kan streama all din favoritmusik online med kristallklartljud med en enkel fingertryckning.

Streama allt
Inte på filmhumör? Inga problem. Med JBL Bar 9.1-soundbaren kan du även njuta av streamad trådlös musik via Bluetooth från din mobil eller surfplatta.
Detaljer & Nedladdningar
Item# JBLBAR913DBLKEP
Beskrivning
*- Känn dig som om du var där med 3D-surroundljud

JBL Bar 9.1-soundbaren levererar en storslagen hemmabioupplevelse, med två avtagbara surroundhögtalare och Dolby Atmos® samt DTS:X™ 3D-ljud. Känn kraften från 820 watt och en 10-tums subwoofer som ger spännande, intensiv bas. Eller ta det lugnt och strömma musik via Chromecast och Airplay. Känn dig uppslukad av de senaste filmerna eller se på gamla godingar eller sportmatcher. Den mest fantastiska hemmabioupplevelsen är här.
Allmänna specifikationer
Ljudsystem

5.1.4 kanaler

Strömförsörjning

100 - 240 V AC, ~ 50/60 Hz

Laddningstid för batteriet

3 timmar

Total uteffekt, högtalare (Max. vid 1 % THD)

820 W

Soundbar uteffekt (Max. vid 1 % THD)

400 W

Surroundhögtalare uteffekt (Max. vid 1 % THD)

2 x 60 W

Subwoofer uteffekt (Max. vid 1 % THD)

300 W

Soundbar-element

4 × ovala element + 2 × uppåtriktade fullregisterelement + 3 × 0.75-tums diskanter

Surround-element (per enhet): uppåtriktade fullregisterelement + 0.75-tums diskanter

Subwoofer-element

10 tum

Driftstemperatur

0–45 °C

Standby för Soundbar (när alla trådlösa anslutningar har inaktiverats) < 0.5 W

Sieťový pohotovostný režim (soundbar) < 6.0 W

Sieťový pohotovostný režim (subwoofer) < 2.0 W

Tid till standby

<10 minuter
Ljudspecifikationer
HDMI-videoingång

1

HDMI-videoutgång (med enhanced Audio Return Channel, eARC)

1

HDMI HDCP-version

2.3

Max. SPL

103dB

Frekvensåtergivning

34 Hz – 20 kHz

Ljudingångar

1 optisk, Bluetooth, Chromecast, AirPlay2, USB
Mått
884 x 62 x 120 mm (soundbar)

173 x 60 x 120 mm (löstagbar surroundhögtalare, per enhet)

305 x 440 x 305 mm (subwoofer)

3,64 kg/ 8,0 lb (soundbar)

0,72 kg x 2/ 1,6 lb x2 (löstagbar surroundhögtalare)

11,10 kg/ 24,5 lb (subwoofer)
Specifikationer, styrning och anslutning
USB-port

Typ A

USB-gradering

5 V/ 500 Ma

Filformat som stöds

MP3

MP3-kodek

MPEG 1 Layer 2/3, MPEG 2 Layer 3, MPEG 2.5 Layer 3

MP3-samplingsfrekvens

16 kHz - 48 kHz

MP3-bithastighet

80 kbps - 320 kbps

(USB-uppspelning är tillgängligt i amerikansk version. För övriga versioner är USB enbart för service.)

Bluetooth-version

4,2

Bluetooth-profl

A2DP V1.2, AVRCP V1.5

Bluetooth-frekvensomfång: 2402 MHz - 2480 MHz

Maximal sändningsstyrka, Bluetooth

13 dBm (EIRP)

Moduleringstyp

GFSK, π/4 DQPSK, 8DPSK

Wi-Fi-nätverksanslutning IEEE 802.11 a/b/g/n/ac (2,4 GHz/5 GHz)

2.4G Wi-Fi-sändarens frekvensomfång: 2412 − 2472 MHz (2,4 GHz ISM-band, USA 11 kanaler, Europa och övriga 13 kanaler)

Maximal sändarström för 2.4G Wi-Fi

20 dBm (EIRP)

Moduleringstyp

DBPSK, DQPSK, CCK, QPSK, BPSK, 16QAM, 64QAM

5G Wi-Fi-sändarens frekvensomfång: 5.15~5.35 GHz, 5.470~-5.725 GHz, 5.725~5.825 GHz

Maximal sändarström för 5G Wi-Fi

22 dBm (EIRP)

Moduleringstyp

QPSK, BPSK, 16QAM, 64QAM, 256QAM

5G trådlöst frekvensomfång

5725 - 5825 MHz

Maximal sändarström för 5G

13 dBm (EIRP)

Moduleringstyp

QPSK
Vad innehåller förpackningen?
1 x huvud-soundbar
2 x löstagbara trådlösa surroundhögtalare
1 x trådlös subwoofer
Fjärrkontroll med 2 batterier
Nätkablar (upp till 8 st beroende på regionens SKU)
HDMI-kabel x 1
2 x L-formade väggmonteringsfästen (för soundbaren) + 2 x U-formade väggfästen med skruvar (för surroundhögtalare)
Snabbstartguide
Garantikort
Säkerhetsblad
Endast för vissa regioner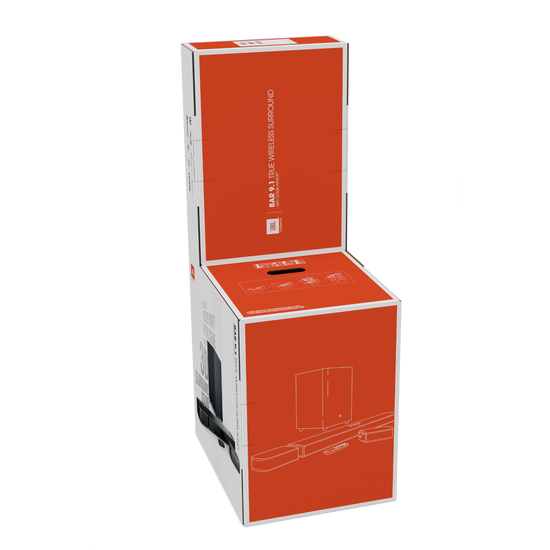 Dokument och hämtningar
Kundrecensioner
Rated

1

out of

5
by
Alanm829
from
Calibration Issues
The speakers sound good but the problem I am having is the calibration issues. This is my 3rd set and all have the same problem. The first and second set worked perfectly until I did the firmware update. The third set I received directly from JBL already had the current update already installed so I was never able to complete the calibration process. Apparently the most current firmware (20371180) is giving some people issues with the calibration process. I was told that there is a new update that will be released. This issues has been going on since October of last year!! Why is it taking so long for this update???? Very unhappy.
Date published: 2021-04-15
Rated

4

out of

5
by
RockyKarthik
from
Great speaker. The best so far by JBL.
I switched from a 3.1 channel soundbar to this 9.1 channel one. The sound quality is excellent. It totally transformed my living room into a movie theatre. The detachable speakers offer surround sound which totally offers a different level of experience. Some cons: - Sometimes I hear a lot of disturbance from the detachable speakers - the audio quality is excellent but the maximum Volume is not sufficient for me. Max volume is 32. I would've been happy if the max volume is at least 40 or 50. When at high Bass and high Atmos, the voices and lyrics are not clearly audible. Other than that this is a fantastic speaker and gives you a mind blowing experience.
Date published: 2020-06-19
Rated

3

out of

5
by
Anonymous
from
Great Sound, Trouble with Satellite Speakers
Speaker/soundbar sounds great, but the satellite speakers have had issues. 1. The left side speaker does not charge when seated in the sound bar. No matter what I did it would not charge. When all the way seated, it is not flush, clearly an issue 2. They tend to not stay all the way seated into the sound bar and "drop" down a bit but do not fall out JBL since told me to go back to company for solution and they "do not have any in stock and don't expect to" so I am stuck with either dealing with one speaker not charging or just returning and everyone else is sold out as well. So, I guess I will just go with another product.
Date published: 2021-03-20
Rated

5

out of

5
by
XBTV
from
Very happy with this soundbar for eARC ATMOS needs
After reading everything carefully and learning all the features I am VERY happy with the sound bar. Some things to note for first timers. If your TV has ATMOS and eARC make sure to set your TV to "PASSTHROUGH". It will send the 5.1 ATMOS single to the bar and the bar will display ATMOS for apps such as NETFLIX and D+ without having to use PCM. (PCM wouldn't cut it for me, passthrough worked like a charm, but be sure you have eARC or you will most likely have to use PCM.). Also using passthrough cleared up any sync issues. If you are having problems with getting to calibration mode 1 after completing mode 2.. Turn off the speaker then turn back on and you can reconfigure Calibration 1. To turn off Smart Mode (which will output general sound to all speakers when no surround is dected) Hold down the Mute button for 3 seconds.. LET GO OF THE MUTE BUTTON the press the volume up.. You will see a Display stating "SMART MODE OFF".. It was tricky to figure out cause I'd hold down mute and keep it pressed while I pressed the volume up. The sound quality is amazing and the sub is very powerful. The fact I can keep my rears on the bar until ready to use without any wires is just Phenomenal for my home situation. I'm very happy with the JBL 9.1 and look forward to more improvements from firmware updates.. Hopefully EQ settings for front, center, rear via Phone App or something.
Date published: 2020-08-27
Rated

5

out of

5
by
Jetc33
from
Awesome Sound
I have become a fan favorite of JBL products. I have bought a few portable speakers from my phone carrier but I am a satisfied customer. When given the opportunity for jbl backstage this has only made my experience better. My 16yr old son helped me put it together and WE ARE PLEASED. He first tried it with his PS4 and the sound quality is just crisp clean all around AWESOME. We then listened to the music quality via bluetooth.. another winner. The base sound was not too overwhelming just all round great beats. The tv sound quality is also great...now my mom doesn't have to turn up the tv too loud...Everything is Crystal Clear. We are more than Satisfied. Another AWESOME piece of equipment to have.
Date published: 2020-06-24
bvseo_sdk, dw_cartridge, 18.2.0, p_sdk_3.2.0
CLOUD, getReviews, 5ms
reviews, product
Frågor och svar
Did anyone have any luck using the Soundbar with a Fire TV Cube (2nd Gen) ? All the apps (Netflix, Prime, Disney) let me select Atmos sound but the soundbar only says "Dolby Surround". No luck getting help from JBL .what is the solution?
I was able to get Dolby atmos on my direct cube but you need to make sure you have the newest version 2020.  The first cube 2019 does not support Dolby atmos.  I found that not all titles were supported with Dolby atmos by Amazon if it doesn't say Dolby atmos on the actual screen when selecting movie it will most likely play in Dolby surround.  For this reason I returned the Amazon fire tv cube and got the roku ultra newest version and it upgrades everything to Dolby Atmos!  Even the menu screens registers Dolby Atmos.    I also tried the the Apple TV 4K and that had even less that would play in Dolby Atmos none of my Amazon prime videos or Vudo UHD would play Dolby Atmos.  As soon as I switched back to the Roku ultra 2020 all the videos I thought should be Dolby Atmos were across all play forms.  This works for me because Roku supports airplay so I don't need the Apple TV.  
Date published: 2022-03-14
Does the JBL 9.1 display Dolby Atmos when playing Dolby Atmos?? I have directly connected ShieldTV and FireTV to it (over HDMI) and am passing Dolby Atmos titles to JBL 9.1 but it says Dolby Surround on the soundbar. It says that for ALL Dolby signals. 
Passthrough Passthrough Passthrough .. I couldn't get D+ on my LG app to get atmos.. I put on PASSTHROUGH on TV.. ATMOS LISTED ON SOUNDBAR! TV must have HDMI eARC 2.1
Date published: 2021-06-06
Updated software and now noticeably quieter. Voices were clear at lower volume levels and now have to increase volume so everything is loud just to hear speaking.
Mike you are not the only one, I am having to increase the bass from 3/5 previously to 5/5. volume was 9 before now im going up to 13 depending on the source. I have a feeling that the update has limited the power of the system some how. I hope they resolve this
Date published: 2021-06-06
Do the side caps for both the soundbar & read speakers come with the UK version? In the specification & manual it states "some regions only"
Yes they do, although the "UK version" I ordered came with two EU power cords, not UK ones!
Date published: 2021-06-06
I have an 86" LG 86SM9070PUA that has eARC HDMI 2.1 on the #2 input. I have my JBL 9.1 connected correctly, however if I play something from Disney+ app that is supposed to have Dolby Atmos? It doesn't display as such, it only shows "Dolby Surround"
This a known issue with Disney+, at the very least in certain territories. Outside of its content list it is frankly not a very good app. Add this issue to lots of fake Dolby Vision shows and films. Basically it's Disney lying to customers and not delivering on its promises to save money, unfortunately 
Date published: 2021-11-19
Does the sound bar have any selectable EQ settings to boost center/voice or treble/bass levels?
Bass ✅ Atmos ✅ Rear ✅ To boost centre speaker turn up the main volume and reduce bass / Atmos / rear as required
Date published: 2022-07-10
Bought this yesterday and I can't adjust the rear speaker volume when I press it says "NOT SUPPORTED" speakers are working fine and it's detached as well.
Unfortunately you have a defective peice. The charging case of your detachable speaker is malfunctioning which is causing the 'Not Supported' error, the case needs to be replaced. This is been noted in the March 2021 manufactured models mostly. JBL knows this.
Date published: 2021-12-12
Calibration keeps coming up as retry?
Ethernet between JBL and router / modem... the JBL SB behaves much better with a wired connection. THIS IS VIP: As the calibration is wireless ie. between SB and rear speakers make sure you disable wifi from  PC, mobile, tablets etc if not remove them from the area between SB and calibration placement (see manual).  Thats what JBL omit from their manual yet its so logical... 
Date published: 2021-06-06
bvseo_sdk, dw_cartridge, 18.2.0, p_sdk_3.2.0
CLOUD, getContent, 167ms
questions, product