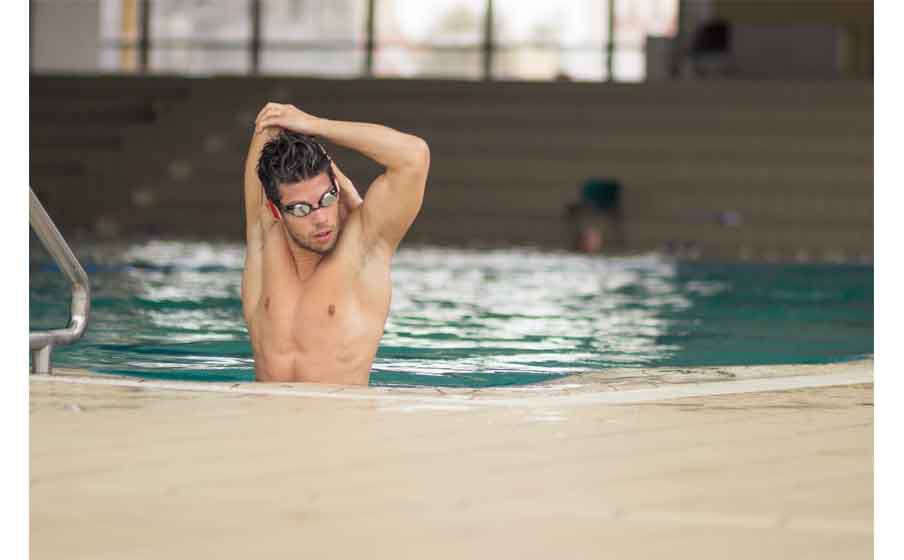 8 timmars trådlös speltid med snabbladdat batteri.
Med Bluetooth® strömmar du din favoritmusik trådlöst i hela 8 timmar utan att behöva krångla med trassliga sladdar som stör träningen. På bara 10 minuter kan du ladda hörlurarna för 1 timmes musik.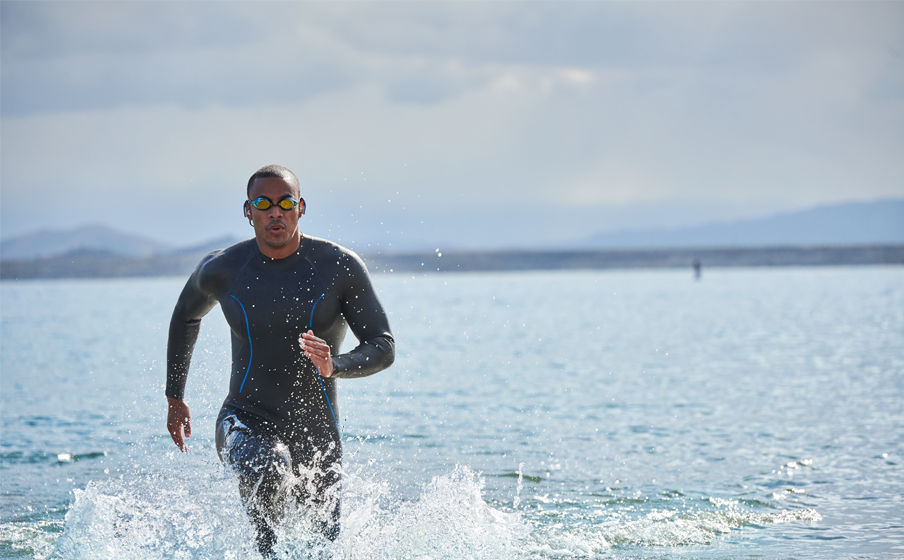 Inbyggd MP3-spelare
Tack vare det inbyggda minnet på 1 GB kan du enkelt välja bland mer än 200 låtar direkt från dina hörlurar.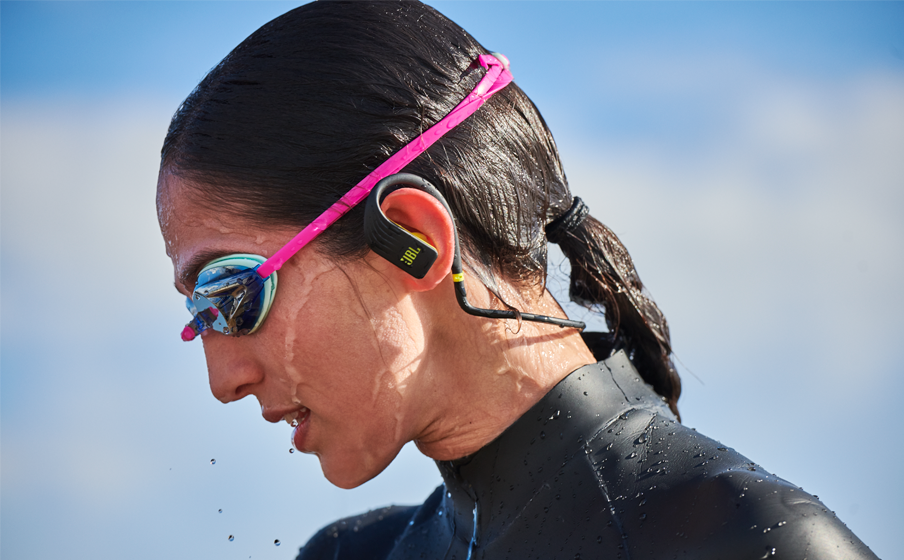 PowerHook™
Öronkrokar med säker passform som automatiskt slås på/av strömmen när du tar på eller av hörlurarna.
Funktioner

Alltid bekväma. Trillar aldrig ur.
Tack vare TwistLock™ och FlexSoft™ är dessa hörlurar lätta och ergonomiskt utformade och garanterar säker passform och stabilitet för all träning.

Vattentäta
JBL Endurance DIVE är IPX7-klassade och utvecklade för att användas för simning och i alla väder. Robusta och gjorda för att hålla i alla väder.

Touchkontroller
Enkel hantering av musik och samtal, volymreglering, uppspelning och spellistor med bekväm touchkontroll, så att du kan hålla igång.

Handsfree-samtal
Med Bluetooth®-tekniken kan du hantera handsfree-samtal och koncentrera dig på träningen.

Skyddande påse
Hållbar bärväska i silikon.
Detaljer & Nedladdningar
Item# JBLENDURDIVEBLU
Beskrivning
Alltid bekväma. Trillar aldrig ur

När du tränar både på land och i vatten är JBL Endurance DIVE gjorda för att hänga med. DIVE är garanterat alltid bekväma, trillar aldrig ur och förstärker din träning med IPX7-täthetsklassning. Med det smäckra PowerHook™-utförandet slås de på automatiskt när du sätter dem bakom örat, medan ett säkert trådlöst nackband håller dem på plats. Lämna din musikspelare hemma, DIVE har 1 GB minne som räcker för upp till 200 låtar som du väljer med touchkontrollerna. Med 8 timmars batteritid är DIVE redo för poolen, löpspåret och gymmet samma dag.
Allmänna specifikationer
Ljudspecifikationer
Antal element per öra

1.0

Elementkänslighet vid 1 kHz/1 mW (dB)

-20dB

Dynamiskt frekvensomfång (Hz)

20 Hz - 20 kHz

Impedans (ohm)

16.0
Specifikationer, styrning och anslutning
Bluetooth-version

4.2

Bluetooth-profiler

HFP v1.6, A2DP v1.3, AVRCP v1.5

Bluetooth-frekvens

2.402GHz-2.48GHz

Bluetooth-sändarmodulering

GFSK, π/4DQPSK,8DPSK

Bluetooth-sändareffekt

4 dbm
Batteri
Taltid (timmar)

7

Laddtid (timmar, från tomt)

2

Max speltid (timmar)

8
Egenskaper
Stöder Siri, Google Now

Nej

Inbyggd MP3-spelare

Ja

Transportfodral

Ja

Handsfree-samtal

Ja

PowerHook™

Ja

Comfort Stay Secure Fit

Ja

Touch-kontroller

Ja

TwistLock®-teknik

Ja

Vattentät

Ja

In-ear

Ja

IPX-klassificering

IPX7

Inbyggd mikrofon

Ja

Trådlös

Ja

Snabbladdning

Ja

Uppladdningsbart batteri

Ja
Vad innehåller förpackningen?
Endurance DIVE-hörlurar
Örontoppar i 3 storlekar
1 x förstärkare
Laddningskabel
Sportfodral
1 x garantisedel/varning (W/!)
1 x snabbguide/säkerhetsblad (S/!)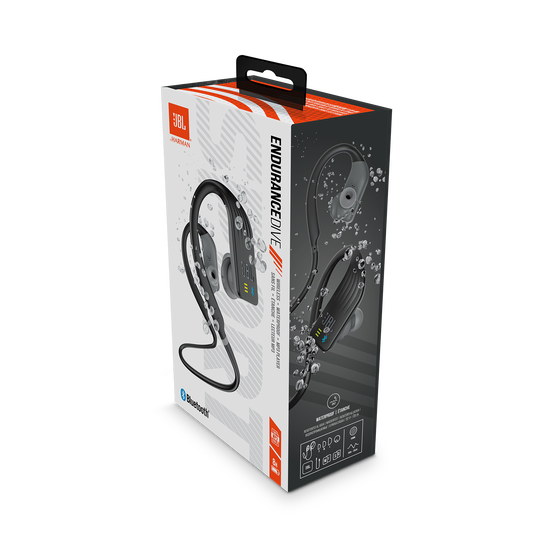 Dokument och hämtningar
Kundrecensioner
Rated

5

out of

5
by
Anonymous
from
Totally perfect
Before I bought, I saw many negative comments online, some people only gave 1 star. After I used for a week, I feel it is perfect for swimming and those poor guys just don't know how to use it. Bluetooth wave can't transmit in the water, so no Bluetooth product can be used under the water, OK? Before you go into the pool, just switch to MP3 mode and double click the right hand side and hold for more than 3 seconds to LOCK it so that it wouldn't have any issue when you swimming with it. Use your goggle bands to keep it on your ears so that no water will go into the earbuds and the sound volume won't be decreased. The sound quality is also NOT BAD.
Date published: 2019-06-18
Rated

1

out of

5
by
Kelsey12345
from
Waste of money
These headphones are marketed as waterproof SWIMMING headphones but I don't think I have ever used a more infuriating and useless piece of technology. The MP3 function switches to Bluetooth as soon as you hit the water, rendering the headphones useless as Bluetooth doesn't work underwater. Think you have the headphones locked on MP3? Nope. Guess again. The sound cuts out and switches back to Bluetooth as soon as you push off from the wall. These are basically awkward, bulky, and overpriced wireless Bluetooth headphones. Save yourself the money and headache. Do not buy these if you're looking for swimming headphones. Useless money grab.
Date published: 2020-01-16
Rated

1

out of

5
by
Anonymous
from
Not for swimming, non waterproof, loses 90% volume
One week old JBL Dive, soaking wet inside 3 hours after swimming, lost 80-95% volume! That black textile like film gets soaking wet (non hydrophobic coated!) and perhaps allows some water through into the headphone thus you cannot hear anything hours later either. That film shall be waterproof, watertight and hydrophobic material whatever its purpose is...! And the silicone caps shall be specifically designed for swimming, for water tightness in various shapes and sizes if not heat forming material for individual shaping! JBL you owe me like 20 Euros refund and a JUMP model because I will not swim in this...
Date published: 2019-12-11
Rated

5

out of

5
by
Naman
from
The best activity driven headphones
I got these a week ago and I am glad I did. They fit great and I have tried to get them of by violently shaking my head and still not been able to. This is very important if you like to take your music along for your activities. The music quality is also superb for the price. I feel the secure fit helps with consistent music being pumped. The last activity based headphones I had would become loose around my ears and the music would keep waning out in terms of volume. The pair being water resistant surely helps. Once I went straight into the shower without realising I was still wearing them and no issues. Great headphones if you are seeking them for music during activities.
Date published: 2018-05-26
Rated

1

out of

5
by
Erica28
from
Controls are too sensitive!!
I wanted them to work, but they don't. At least not for lap swimming. Yes, I put them into MP3 mode BEFORE entering the pool. Even with them in MP3 mode, they would switch to bluetooth or pause the song every time I turned my head to take a breath on the right side. The difference in pressure between the water and the air when breathing was enough for the device to think I was touching it and switch modes or pause the song. If you're a snorkel swimmer it might work perfect, since your ears stay at the same level the whole time. Sound was great underwater, loading music is easy, the contols are just to sensitive. If there is a different way to LOCK them besides entering into MP3 mode, the manual doesn't list it.
Date published: 2019-06-21
bvseo_sdk, dw_cartridge, 18.2.0, p_sdk_3.2.0
CLOUD, getReviews, 4ms
reviews, product
Frågor och svar
How to switch from shuffle to consecutive play
these responses are two years old - is this ever going to be fixed? For an mp3 player specifically for swimming, the fact that it doesn't shuffle drastically reduces it's usability. I'm actually stunned that it went to market without resolving that - after "playing music", shuffling is probably the most important function of a workout mp3 player. Will this ever be addressed?
Date published: 2021-06-06
Hi, what distance will the Bluetooth work? I.e could I leave my phone on the pool deck and swim 25m still connected?
The problem with the bluetooth setting and the pool is the touch sensor and the water. You can't lock the headphones in bluetooth mode, only mp3. I tried using bluetooth in shower and found my unit going crazy trying to take the touch commands from the water.
Date published: 2023-02-16
If I am wearing the headphones and they go into sleep mode is there any way to wake them up without taking them out of my ear and allowing the automatic power on function to initiate? Or is there a way to turn off the 5 minute sleep mode?
To be honest, this was the most horrible design decision for an otherwise capable sport headphone (after unintuitive and jumpy touch controls and lack of voice prompts). And could be fixed by fw update. As much as I admire JBL products for their reliability in the audio range, this put me off from buying any more products.
Date published: 2021-09-22
How do I create playlist with the MP3s?
An alternative option is to rename the files and set the same number for the songs that you wanted to be part of a playlist. (For example, 0 - name of song by name of singer/band.)
Date published: 2021-09-22
How can I put the earphones into the carrying case? The photo of the catalog is not clear. I think the pouch is not comfortable at all.
I dont think its possible to do it the way the diagram shows
Date published: 2021-06-06
Bluetooth only connected the first time and will not reconnect ever since. the bluetooth light keeps blinking and when trying to connect to phone, it says device not within range. What do I do?
Figured it out last night. Make sure you are not using the mp3, off so switch to Bluetooth. Next on your phone locate the Bluetooth connection of the headset and remove it from your phone. This will restart the Bluetooth signal and your phone should be able to find it again. I tried it several times moving from the mp3 to the Bluetooth and it seems you have to forget the Bluetooth device on your phone in order to get a connection every time you use the mp3. Hope this helps.
Date published: 2021-09-22
i cant connect phones to PC it doesnt appear as USB do i need any driver? Windows 10 here
1. Place the MP3 music files that you want to transfer to the Dive headphones on your computer, where you can find them again. The sequence is not important, they will be played in alphanumerical sequence. If you want to have a special sequence to your tracks, you can add a number as the first file name. 2. Connect the Dive to your computer with the USB cable. Please use the cable that came with the headphones, since other USB cables may be wired for charging only, and may not work. 3. Your Dive will now pop up in your explorer folder overview as a new drive. Total capacity is about 991 MB. 4. Now you simply drag-and-drop the MP3 files from their location onto the Dive, or you mark the files, copy them and paste them onto the Dive. Do not use folders of any kind, and do not try to place other file types on the Dive's memory. MP3 files with a resolution of 320 kbits/second is maximum quality possible. I hope that these steps will help. Thank you and have a great day!
Date published: 2022-04-02
I have deleted all the files from my jbl endurance dive in order to add some new mp3 and now it doesn't work on the mp3 mode.
Thank you for bringing this issue to our attention. We'd like to work with you directly so we could try some troubleshooting with your JBL Endurance Dive. Please reach out to our Customer Support at https://support.jbl.com/us/en/
Date published: 2022-06-21
bvseo_sdk, dw_cartridge, 18.2.0, p_sdk_3.2.0
CLOUD, getContent, 5ms
questions, product