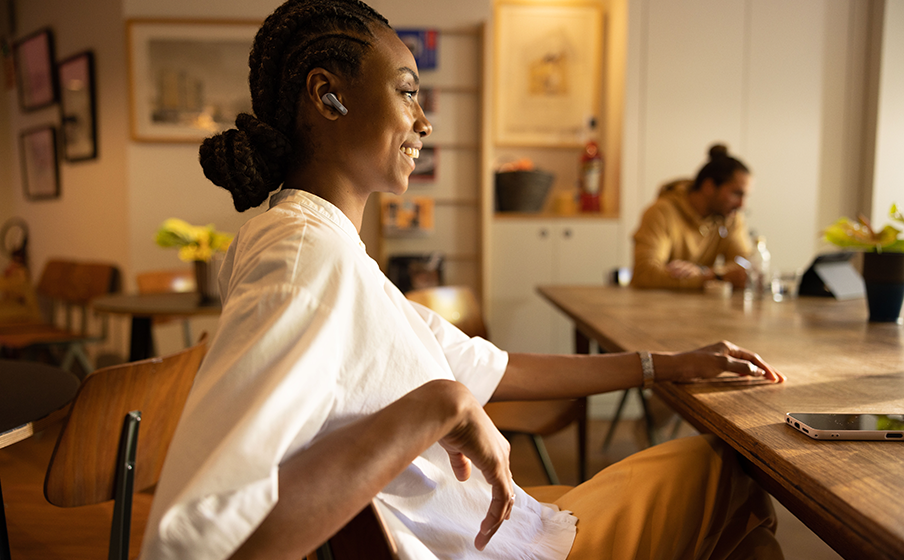 JBL Signature Sound
Det finns inget som slår musik och samtal med otroligt ren ljudkvalitet från 11 mm dynamiska element som drivs av JBL:s signaturljud.
True Adaptive-brusreducering med Smart Ambient
True Adaptive-brusreducering justeras automatiskt efter omgivningen, rensar bort alla störningar och ger ett bättre ljud var du än är. Använd annars Smart Ambient när du behöver vara uppmärksam på omgivningen, utan att behöva ta ur hörlurarna.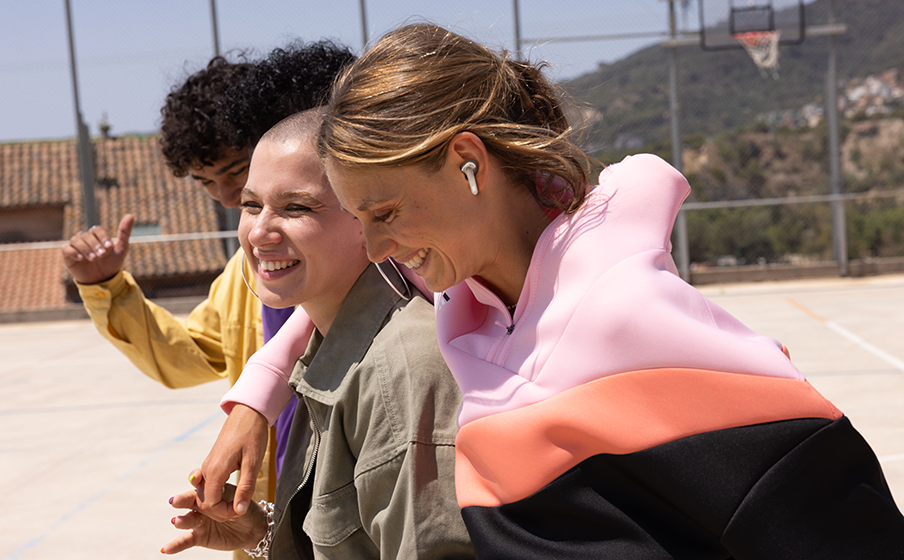 40 (10+30) timmars speltid med trådlös laddning
Med 40 timmars Qi-kompatibel batteritid behöver du aldrig missa ett ögonblick (inklusive 10 timmar i hörlurarna och 30 timmar i fodralet). Behöver du en boost? Med bara femton minuters snabbladdning får du ytterligare en hel timmes speltid.
Funktioner

Sex mikrofoner som ger perfekta samtal utan brus
Sex mikrofoner med optimalt ljudupptagningsområde ger mindre störningar av vind och oljud, och din röst överförs klart och tydligt. Med VoiceAware kan du välja hur mycket din egen röst ska höras genom att styra mikrofonvolymen som leds tillbaka till hörlurarna.

Ovala rör ger bättre komfort, isolering och bas
Bättre form med bättre ljud. Det är anledningen till att JBL har utformat dessa hörlurar med ovala rör och ovala silikontoppar som ger perfekt passform. Den tillslutna utformningen med ovala rör ger bättre bruseliminering och högre ljudkvalitet för alla som föredrar en renare estetik.

Dual Connect & Sync med flerpunktsanslutning
Ringer telefonen mitt under ditt favorit-TV-program? Inga problem. Med flerpunktsanslutning kan du snabbt och enkelt byta hörlurssignal från en Bluetooth-enhet till en annan. Du får också snabb och enkel parkoppling med valfri Android-enhet när du växlar mellan mono och stereo, eller vänster, höger eller båda öronsnäckorna.

Styrning med touchkontroll och röst
Funktionerna på JBL Live Pro 2 aktiveras enkelt med touchkontroller. Du kan annars använda röststyrning med Hey Google (*) eller Alexa (**). (*) Stöds endast på Android (**) 6.0 eller senare krävs för fullständig åtkomst av Alexa-funktioner med denna enhet.

Skyddsklassning IPX5 mot vattenstänk och svett
Oavsett om du tränar på gymmet eller råkar ut för en regnskur behöver du aldrig vara orolig. IPX5-klassningen betyder att JBL Live Pro 2 är vattentåliga.

JBL Headphones-appen
Med den speciella appen kan du välja lyssningslägen, justera ANC- och Smart Ambient-funktionerna, anpassa reglagen och optimera komforten och ljudkvaliteten – lyssna på ditt eget sätt. Du kan också ställa in EQ-kurvan och röstuppmaningar på ditt språk ger vägledning för att hitta olika funktioner.
Jämför produkt
LIVE-PRO-2-TWS-
TUNE230NCTWS-
TOUR-PRO-2
TUNE-FLEX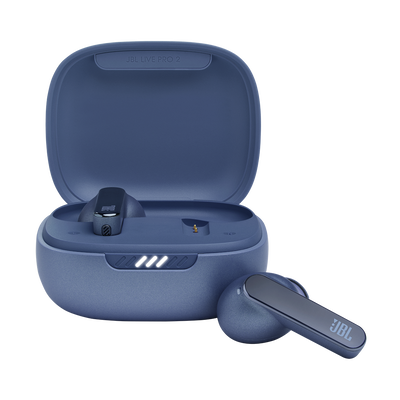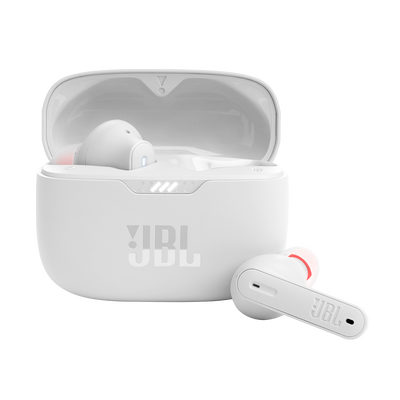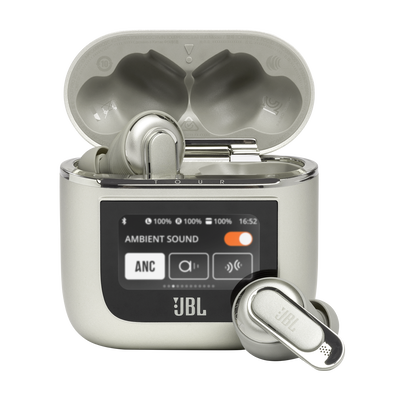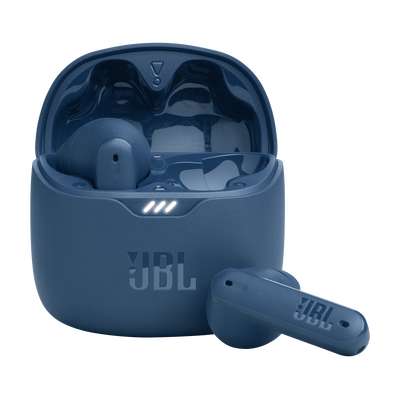 Funktioner
Riktigt adaptiv brusreducering
Riktigt adaptiv brusreducering
Riktigt adaptiv brusreducering
Riktigt adaptiv brusreducering
Multifunktionell TalkThru-knapp
Multifunktionell TalkThru-knapp
Multifunktionell TalkThru-knapp
Multifunktionell TalkThru-knapp
Legendariskt JBL Pro Audio
Legendariskt JBL Pro Audio
Legendariskt JBL Pro Audio
Legendariskt JBL Pro Audio
Detaljer & Nedladdningar
Item# JBLLIVEPRO2TWSBLU
Beskrivning
Lyssna och bli hörd. Hela dagen, överallt.

Lev uppkopplad hela dagen med eleganta följeslagare för arbete och fritid. JBL Live Pro 2 ger upp till 40 timmars speltid med otroligt JBL-ljud (med 10 timmar i hörlurarna + 30 timmar i fodralet), snabbladdning och Qi-kompatibel trådlös laddning när batterierna behöver fyllas på med energi. True Adaptive-brusreducering rensar bort alla störningar och ger ett helt omslutande ljud medan Smart Ambient gör att du har koll på omgivningen. Den tillslutna utformningen med ovala rör ger bättre bruseliminering och högre ljudkvalitet för alla som föredrar en renare estetik. Har du något att säga? Ring perfekta samtal med sex mikrofoner med optimalt upptagningsområde eller anslut till valfri röstassistent för oavbruten "handsfree"-kontroll och -anslutning oavsett vart livets äventyr tar dig.
Allmänna specifikationer
Elementstorlek (mm)

11

Number of Microphones

6
Ljudspecifikationer
Elementkänslighet vid 1 kHz/1 mW (dB)

105

Dynamiskt frekvensomfång (Hz)

20 Hz - 20 kHz

Impedans (ohm)

16
Mått
Element

11 mm (0,43 tum) dynamiskt

Öronsnäckor

4,8 g/st (9,6 g tillsammans)

Laddfodral

48,4 g
Specifikationer, styrning och anslutning
Bluetooth-version

5.2

Bluetooth-profiler

A2DP V1.3, AVRCP V1.6, HFP V1.7

Bluetooth-frekvens

2.4 GHz - 2.4835 GHz

Bluetooth-sändarmodulering

GFSK, π/4 QPSK, 8DPSK

Bluetooth-sändareffekt

< 12 dBm EIRP
Batteri
Laddtid (timmar, från tomt)

2

Max speltid med ANC av (timmar)

10

Max speltid (timmar)

40
Egenskaper
Riktigt adaptiv brusreducering

Ja

Handsfree-samtal

Ja

Klassiskt JBL-ljud

Ja

Touch-kontroller

Ja

Helt trådlöst

Ja

Water Resistant

Ja

Laddfodral

Ja

IPX-klassificering

IPX5

Charging cable

Ja

Röstassistent

Ja

Ambient Aware

Ja

Inbyggd mikrofon

Ja

Flerpunktsanslutning

Ja

Multifunktionell TalkThru-knapp

Ja

Trådlös

Ja

Snabbladdning

Ja

Uppladdningsbart batteri

Ja

Bluetooth

Ja
Vad innehåller förpackningen?
1 par JBL Live Pro 2-hörlurar
3 par örontoppar i olika storlekar
1 USB-C laddkabel
1 laddfodral
1 garantisedel/varning
1 snabbguide/säkerhetsblad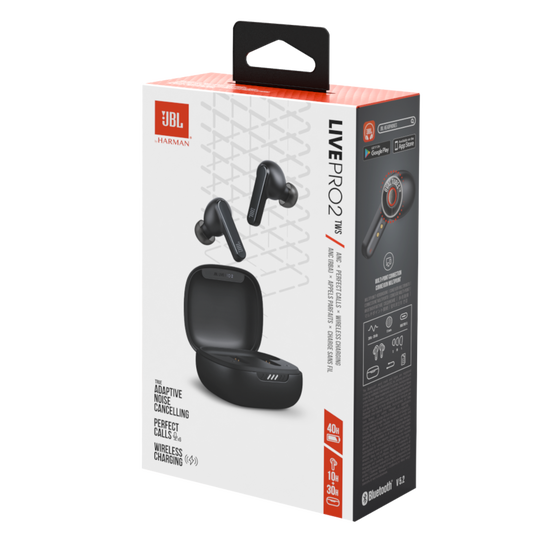 Dokument och hämtningar
Kundrecensioner
Rated

4

out of

5
by
Elimel
from
Great All Around and Versatile
These headphones are great! I have had multiple pairs of airbud-style headphones and these are by far the best pair! First of all, these are truly noise canceling. I am able to have a normal conversation without cranking the volume all the way up. They are also great for just kicking back and relaxing. The quality is amazing. They pair up the first time on my iPhone, The only issue I am having is they tend to fall out. I have tried multiple sizes of the included ear tips but they still tend to fall out after a little while. The bottom line is great a pair of headphones for avid listeners to serious business-minded professionals who make tons of calls daily.
Date published: 2022-06-30
Rated

5

out of

5
by
TDTechOfficial
from
Outstanding All Around Product!
Strait out of the box, the setup is very strait forward and easy. Downloading the app to adjust settings with ease and creating a custom equalizer to achieve a perfect sound is super easy to do. The JBL Live Pro 2 provide a great, clean and crisp sound. The signature JBL sound is very alive with these earbuds. The sound signature of these earbuds is very enjoyable. Good low notes with crisp highs and prominent mids. Packaging is organized and give a great presentation. Overall these are one of the best sounding and most portable high quality earbuds out there. I highly recommend these.
Date published: 2022-06-14
Rated

5

out of

5
by
Kathy2812
from
Great sound, easy handling!
I use the headphones for over a week now as a testing product and I love them. They are my regularly companions at my dog walks. I love to hear audio books during my walks. The sound is brilliant. I live it that you can switch out ambient sounds, so that you just hear the audio book or the current song. Great quality. I'm very astonished about the good quality at phone calls. The microphone is very clearly and sensitive. So phone calls are can be made at good quality. The operation is very easy. Just on or two short clicks or a long Click at the headphones. The installation was also very simple by using the JBL App.
Date published: 2022-07-25
Rated

5

out of

5
by
Sabo 1
from
High quality of sound and hardware
Bought them yesterday and to be honest they're much better than I expected this is my first jbl product and I can absolutely recommend it to anybody who wants to buy it, the hardware quality is high and it fits perfect in the ears. I compared it to my other earbuds too and the jbl live pro 2 sounds much better.
Date published: 2022-09-23
Rated

5

out of

5
by
ThatGuyYouKnow
from
Blown away by the improvements
So I have a pair of the JBL Live Pro + headphones. They have been my everyday earbuds since I got them and I was super happy with them minus a couple exceptions. When I saw the Live Pro 2, I knew I had to get a pair and try them out. I wanted to see what was changed. I loved the sound of the Pro + but the Pro 2 sound even better. Now switching between the two, I can hear much better mids and highs than the Pro+. Even the bass is better on the Pro2, which I honestly didn't expect since the Pro+ had very good bass. I was also pleasantly surprised how much better they fit in my ears. The Pro+ were fine and I didn't have any fit issues at all but the Pro2 seem to just stick in my ears. When I shake my head they don't move at all. Another improvement that I noticed and really love is when using a gesture to switch between Active Noise Canceling, Ambient Aware, and TalkThru. The Pro+ would just beep and you would have to know which one you switched to. While this isn't a huge issue it made it sometimes difficult to tell. Now with the Pro2 you get voice feedback after switching between the different settings. The voice prompts can all be changed in the app to a handful of different languages or just off if you don't want it. The gestures also were slightly updated, where now I can have my favorite assistant as a hold and still be able to skip, play/pause songs. This wasn't possible with the Pro+ as using an assistant used up all the gestures on the ear bud for the assistant. The JBL app also got a nice visual upgrade for these earbuds and some new features. There is now a VoiceAware slider so you can adjust the amount of your voice you hear on phone calls. There is also more settings to customize the ANC which is nice. The only thing I was hesitant on was the color. I usually get black but this time I got the blue. I'm happy I did, they look really sharp. Overall, I'm really happy with these. They fit great, have awesome sound and have an even longer battery life. I can finally use them for a full day of work. I tend to listen to music or I'm always in some meeting or call for work. So I tend to have these in for close to 8 hours on a work day. It's nice not having to charge them during my lunch break in order for them to last the rest of the day. I can't recommend these enough, Great Product.
Date published: 2022-06-15
Rated

4

out of

5
by
taro
from
Good sound quality and battery life
The sound quality has been the strength for me in the base response in different modes. Good to stay connected with exception of in phone calls over 30 minutes, there are intermittent half a second pause in audio (but the person on the app the other end of the phone call stated they perceive no pause in the microphone transmission.) The ANC is effective but not as good in filter out medium frequency hums than the Bose headset that I have to compare it to. The fit is adequate but for my ear cannel after 4 hours of wearing does give me some ear ache. This could be just a price to pay for a good seal for the ANC. To give the context I am using an iOS device with the Live Pro 2.
Date published: 2022-06-16
Rated

5

out of

5
by
MmeR
from
Toppbetyg!
Jag som använder hörlurar dagligen till musik, ljudböcker och samtal älskar dessa hörlurar. Det absolut bästa är batteritiden! Många andra hörlurar fångar upp alldeles för mycket av bakgrundsljudet när man pratar i telefon ute, men de här är de bästa jag har provat. Jag tycker att det är snygg och smidig design och de sitter bekvämt och bra i öronen. De är väldigt lättanvända och ljudkvalitén är riktigt bra. Jag har provat en hel del andra märken men har aldrig blivit riktigt nöjd innan, så jag är så glad att jag inte gav upp och nöjde mig med AirPods. Jag rekommenderar alla dessa hörlurar!
Date published: 2022-08-01
Rated

5

out of

5
by
Jeremy22
from
Outer space tank
I've had these earbuds for about a year now and I think they deserve a review. I lost my left earbud for a month one time and had no idea where it went. Turns out I dropped it outside to my surprise I plug it back in and it works perfectly! With me mowing over it, rain and cold temps it kept all its high tech features. This is as about 3 months ago and it still works… Just an amazing product!
Date published: 2022-11-15
Rated

5

out of

5
by
Jaqueline87
from
Wow! Amazing sound and very nice look!
I was very suprised by unboxing my package. The In-Ears look very beautiful. The charging box has a very smooth touch, it lies well in the hand. The three lit bars indicate the battery status. So you can see very easiliy if you have to charge. The In-Ears fit perfectly in my ears. I'm not afraid to losing them. And now to the sound: WOW! Clear and great sound. Noice cancelling is working very good. You can adjust the sound in the app until you find the perfect sound for you. I've used samsung in-ears in the past. I have to say that these are significantly better. I love JBL.
Date published: 2022-07-26
Rated

3

out of

5
by
X27D
from
Good headphones but...
Headphones are good, audio fidelity is above average, not amazing. However, they are let down by a terrible accompanying app, which for some bizarre reason must be downloaded to use them with an android device. They also occasionally dropout for no reason on to resume a second latter, hopefully this will be resolved with a firmware update.
Date published: 2022-07-21
Rated

4

out of

5
by
Jbl_customer
from
Good headphones
This product is great! I decided to splurge and not get the cheapest wireless headphones I could find. These are well worth the investment. No buttons to break or that require you to mash them into your ear to pause. The magnetic clasp feels sturdy and secure. They last almost a week on a full charge (using them for about an hour or two a day). The only small thing is that occasionally the audio cuts out for a split second. I don't know if it's my phone or the headphones, but it happens rarely enough that I'm assuming the next software update will take care of it.
Date published: 2023-05-20
Rated

1

out of

5
by
Snfv
from
Not nice
Was raining and they stop to work nor even a week since I bought them
Date published: 2022-08-18
Rated

4

out of

5
by
barrayar1
from
Great Sounds
The JBL Live Pro 2 In Ears have a great sound. It can be scaled even better by downloading the JBL Headphone app. What is noticeable is that the bass portion is always too high - even in the vocal setting. The small charging case is nice and fits in any trouser pocket. The charging case is connected to a high-speed charging cable within 2 hours. The InEars are fully charged within a good 3 1/2 hours. The charging case still has 60% charge. The InEars adapt perfectly to the ear cups and the ANC is awesome - the JBL InEars are really only recommended.
Date published: 2022-07-31
Rated

4

out of

5
by
brandon687
from
Great vocals and sound clarity
Overall I would recommend these headphones to anyone that goes to the gym or is busy and on the go they are easy to use and the connectivity is some of the best I have seen and used. The sound quality is crystal clear and it's easy to hear and understand things or the vocals coming from the artist. The only reason I did not rate this as 5 stars is because the bass is lacking and I feel like the drivers could be bigger.
Date published: 2022-11-20
Rated

2

out of

5
by
Cheks
from
Very disappointed
I've had these for almost 6 months. They've never really been jaw dropping like the way a lot of people say. People cannot hear me properly when I'm on the phone, there's no noise cancellation on them and worst of all, I'd have my music on blast in my ears but the outside world is way louder! It sounds like the volume is on low constantly. The charge time definitely does not last as long as it says it does for me. I don't know if I got a bad batch but it's sub par quality. I should have just stuck with AirPods.
Date published: 2022-06-16
Rated

5

out of

5
by
Meghan
from
Amazing ear buds with minor draw backs!!
Overall I am loving these wireless ear buds! When I first received them I liked the compact design and case felt well built. The compact case is definitely a sleek design. But because the case is more flat instead of tall, I found opening the case was a bit tricky and a 2 handed operation. The sound quality is amazing with good bass and an overall clear sound. I did find that after extended use, the plastic portion (not the rubber changeable part) of the ear buds did seem a bit too big in my ear and felt slightly uncomfortable but they stayed in my ear better than other ear bud designs. The noise canceling from these are amazing. Standing next to my washing matching while it was running sounded completely silent with ear buds in and no music playing while connected to my phone.
Date published: 2022-06-17
Rated

5

out of

5
by
momof2
from
Sleek and mighty in a small package
Sleek and attractive right out of the box. I have the blue - which is a cool metallic color. Once inserted, could immediately sense the noise cancellation properties. Comfortable and lightweight in ear. The headphones linked easily to my iPhone - all to had to do was find it listed under Bluetooth and clicked on the link to connect. Controls were easy enough to figure out. Sounds quality was great - I'm not an audiophile but my music sounded great - a good mix of treble and bass.
Date published: 2022-06-30
Rated

2

out of

5
by
good but bad
from
Good earbuds, problem
I honestly really liked them, the noise cancelling was good so was the equalizer, but after only a month a half of using them the left ear bud simply stopped working properly, The left earbud would almost never charged. The right earbud and case worked perfectly.I tried cleaning it resetting it everything. I never got it wet dropped the case but they just stopped working after a month and a half. There was almost no advice on this. They were good, but no one likes to use one earbud.
Date published: 2023-02-16
Rated

4

out of

5
by
Charllet
from
Topplurar!
Toppenlurar! Hörlurarna sitter perfekt i öronen, sluter tätt och allt yttre ljud försvinner. Det finns tre olika storlekar att sätta på hörlurarna för att få så bra passform som möjligt. Mycket bra ljud och bas. Liten box att förvara lurarna i och som du även kan ladda dina lurar när de har slut på batteri, förutsatt att den lilla boxen är laddad. Enda jag båda saknar och inte är en sladd bakom nacken för att kunna hänga lurarna runt halsen när jag inte använder dem.
Date published: 2022-07-26
Rated

4

out of

5
by
bobby0712
from
overall..
the sound quality is spectacular with a bunch of different options! volume is also wonderful, though very loud. i think i might of screwed up my hearing tbh but that's not the earbuds fault. the battery life is also spectacular! i would charge them every night since i would typically use them all day and they would last! if battery was close to dying on the buds, just put 'em back in the case for a few minutes and it would last another couple hours. my only issue with the buds is comfortability. my ears are so sore after using these earbuds!! i've tried all of the different size rubber ear thingies and it didn't change anything. though it's probably just my ears. that really bummed me out because i got them as a christmas gift. overall i'd give the earbuds a 3/5 because comfortability is extremely important to me!
Date published: 2023-03-28
Rated

4

out of

5
by
Lindahl77
from
Fantastiskt bra lurar!
Har haft möjlighet att testa dessa lurar och jag är mkt imponerad. Batterilängden är otrolig och ljudet är också helt fantastiskt. Att samtal med dom är också en sak som är bättre än genomsnittet då dom stänger ute allt onödigt ljud. Bra funktioner som noice cancelling och medhörning fastän du har dom i öronen. Överlag ett par bra lurar. Det enda negativa är att jag inte riktigt tycker att dom passade bra inöeonen. Är ganska aktiv och då satt dom inte jättetight.
Date published: 2022-08-02
Rated

5

out of

5
by
Drbll
from
Top quality earbuds
Not sure how they did it, but these are the nicest earbuds I have had. Of course the JBL sound is amazing, that is a given. The ease of use and the app make these my favorites. Using the check my fit feature, I changed the rubbers to the large size and they fit securely and sound great with a good seal. The black chrome accents look good and match my car nicely. The case is smaller than most, which I hope I don't loose it, but the app has a finder feature.
Date published: 2022-06-13
Rated

4

out of

5
by
prjio307
from
Great Buds, Lots of Features, Subpar Mic
These headphones are wonderful if you are someone looking for high quality sound for music and movies/videos. For content consumption, these are some of the best sounding earbuds in this price point, and they honestly punch above their price point in terms of sound quality. However, if you are someone looking for great call quality for business calls, these are not it. That's not to say that the mic is terrible, because it's not. It's just not up to par when it comes to blocking our background noise. Sound quality: excellent, 5/5 in my opinion here. Highly customizable with EQ and app features. You can really fine tune the EQ across a wide range of frequencies. Comfort: again, excellent, 5/5. These are the most comfortable earbuds that I've worn in a long time. I forget they are in! Noise cancellation: very good, 4/5. Excellent noise cancellation for this price point, but it's not the best of the best. The noise cancellation is also customizable via the app and tunes itself to your surroundings and your ear shape. Cool stuff! I found that this did make a difference once I did this in the app. Ambient mode: excellent, 5/5. Conversations sound natural, like you're not wearing anything. This is also customizable in the app as far as how much ambient sound you want to let in. Good stuff. Style: subjective. The buds speak for themselves but I find them to be very stylish! The color options are awesome and the blue color is stunning. Charging case & Battery life: this little case is awesome. 5/5 It packs 30 total hours of charge and charges FAST. Both the earbuds and the case charge very fast and last a LONG time. Much longer than other earbuds I have used. I can get through a whole workday just fine, with room to breathe. 5/5 for battery life. Features: oh boy - 5/5 for sure. Extensive EQ options, a video mode for lip syncing (not an issue for me, even in audio mode, but it's nice to have!), talk through, customizable ambient mode, noise cancellation tuning, the list just goes on. These are very feature rich and customizable. Connectivity: excellent 5/5. These paired up quickly and reconnect INSTANTLY when taking them out of the case. You can also use either earbuds independently of the other. The app: 5/5, very easy to use! Straightforward and easy to jump in and start tweaking to your liking. Call quality: here's where we run into some not so great. 2/5 here in my opinion. To be fair, folks I tested calls with told me they could hear me loudly, however I sounded a bit muffled and they could hear EVERYTHING in the background. They said it sounded like I was on speakerphone and they could hear all of my surroundings. In a quiet environment, it was fine, but in even a lightly noisy environment, these did not perform well. These are fine for calls when you are in a pinch, but I wouldn't buy them for this purpose. Overall, these are an awesome set of earbuds. I'm very happy to see how far we have come in terms of truly wireless earbuds. The future is bright and I would recommend these buds to anyone looking for excellent sound quality, great noise cancellation, comfort, style, and features!
Date published: 2022-06-10
Rated

5

out of

5
by
fayhope
from
New Favorite
Oh my gosh! These are my new favorite! These earphones are so comfortable and do not fall out. They sound they put out is absolutely amazing. I don't have to worry if it's raining outside because thankfully they are water resistant which is really good because I live in an area when you never know if you will get caught in a storm. They were easy to switch from on device to another and that is so helpful. The charge seems to last forever.
Date published: 2022-06-22
Rated

5

out of

5
by
JD Ford
from
JBL got these right !
Wow JBL got these right! The Live Pro 2 ear buds are truly amazing. First the sound is incredibly full and has bass along with clarity. They are excellent in noise cancelling the outside world. I have used them mowing grass and I don't hear the mower just the music which is awesome. I have wore these for several hours at a time and they are very comfortable in the ear and sweat does not seem to bother them. They hold a charge well too for at least six hours at high volume. These connected quickly to my phone and stayed connected so no issues with bluetooth. I have owned many different ear buds and I have to say these are my favorite for sure. I highly recommend them to anyone looking for excellent fullness with bass and clarity in their music. These things do not disappoint so go ahead and buy you some they are a tremendous value for the sound quality.
Date published: 2022-06-14
Rated

5

out of

5
by
boudreaux
from
Better than expected! Great color!
The JBL Live Pro 2 TWS were even better than I expected and I always expect JBL to be fabulous! The color is amazing and the sound is crystal clear. These earphones stay charged 10 hours and get to a 2 hour charge in just 15 minutes so if you need a quick charge for a run it is just perfect. I use them for calls and listening to music and they work great for both. They are so comfortable to wear and stay put. I love these!
Date published: 2022-06-22
Rated

3

out of

5
by
tootoochan
from
its waterproof but cannot swim with them
disappointed. i am returning them. they are IPX8 waterproof but the sensors are too sensitive such that the ear pods connect and disconnect and connect and disconnect multiple times when the pods sense the pressure of the water / waves in the swimming pool. Maybe i should not have expected waterproof ear pods to be suitable for swimming. I was not diving. if you dont buy them for swimming, then they work fine.
Date published: 2022-09-12
Rated

5

out of

5
by
Top_Gear_Fanboy
from
Great quality and comfort
I really enjoyed this product. They are actually extremely comfortable in your ears and Ive worn them for a great deal of time and I don't really get any fatigue. The app is also pretty cool and allows you to change in between the different modes (basically whether it passes in outside sound or just uses noise canceling). Overall I really enjoyed them. I also liked how small their case was as it was very convenient.
Date published: 2022-06-25
Rated

5

out of

5
by
BlondeAzn
from
AMAZING!
I can't believe how amazing these earbuds are! This is the third set of JBL earbuds that I've been lucky enough to try and this by far is the best ones yet. The charging case is a little square. Sleek and not bulky. I absolutely love the interchangeable noise canceling feature. The quality of the sound is so clean and crisp. I wear these while I workout and I've had 0 issue with them falling out. They are very comfortable and fit my ears perfectly. They take about 15 mins to change and once charged, I can use them for a few days depending on how many hours I use em. There's a little light indicator on the case to let me know when I need to charge them. A nice feature is they can be charged wirelessly. The touch feature is perfect for working out so I don't have to reach for my phone, I can just tap the earbud to pause my music. I got the blue pair but I know them come in different colors.
Date published: 2022-06-12
Rated

4

out of

5
by
Obbla
from
Helt ok lurar
Jag har haft möjligheten att testa dessa genom Reviewclub. En hel del är positivt, ljudet är bra, noice cancellation helt ok. Batteritiden helt ok (tveksamt att den klarar 10 h i en lyssning dock) och qi laddningen av fodralet fungerar utmärkt. Kopplingen till min Samsung s21 var föredömligt enkel. Däremot var det inte helt enkelt att köra igenom inställningarna i appen då den klagade över passformen/inneslutningen. Just passformen är väl inte perfekt för mina öron, oftast sitter de helt ok men det finns andra som är bättre på den punkten. Kontrollerna på lurarna fungerar bra för ANC/ambient. Men fungerar inte för att styra play/pause i exempelvis Spotify/audible mm vilket är lite irriterande. Om man ställer om den till att reglera volymen istället så fungerar det fint. Ljudet verkar vara bra när man talar i telefon, ingen som har klagat över volym eller att det är svårt att höra iallafall.
Date published: 2022-08-03
bvseo_sdk, dw_cartridge, 18.2.0, p_sdk_3.2.0
CLOUD, getReviews, 5ms
reviews, product
Frågor och svar
What country are these made in?
Our products are designed in the USA and manufactured in China.
Date published: 2022-10-17
Can noise cancellation be turned off or its sensitivity changed, or is it always on? Thank you!
Yes, you can enable/disable the Adaptive Noise Cancelling by tapping the touch control button of the left earbud. You can enable advance controls by connecting your JBL LIVE PRO 2 TWS to JBL Headphones App.
Date published: 2023-02-03
Good for working out gym?
Our JBL Live Pro 2 TWS doesn't have waterproof or sweatproof rating. We would recommend checking our sports headphones here: https://www.jbl.com/sport-headphones/
Date published: 2022-10-24
Can you adjust the volume on the touch control facility on the earphone?
Thank you for your question. The headphones does not have a volume control of their own, you can adjust the audio profile on the source device and change equalizer settings in the JBL Headphones app.
Date published: 2022-08-12
Do these have a mute button?
Yes. Our JBL Live Pro 2 TWS has a mute button in each earbud,
Date published: 2022-07-05
How do I get bigger earttips? The app is telling me I don't have a secure fit in my right ear, and I'm using the biggest buds. I can't find any options to go to XL tips, say
Thank you for your question. Unfortunately there are only the 3 sizes that come with the device itself in the box, that is, it is not possible to buy larger ones For further support, we welcome you to contact our JBL Customer Support team: https://support.jbl.com/gb/en/ Thank you.
Date published: 2023-05-22
I have los the charging case for my Jbl live pro 2 tws, is it possible to buy a replacement case?
Thank you for your question. Following is a direct link to our website, where you can buy just the headphones: https://www.jbl.se/spare-parts/FGLIVEPROPTWS-.html?cgid=spare-parts For further support, we welcome you to contact our >BRAND<Customer Support team: https://www.jbl.se/ Thank you.
Date published: 2023-04-15
The tips that come with these are too small to fit well in my ears, always falling out. Do you not sell larger silicon tips for these? I would pay extra, I just don't want to have wasted my money on these earbuds over some cheap silicon.
Thanks for your inquiry. Please note that our JBL Live Pro 2 comes with 3 sizes of ear tips (S, M, L) You may choose the right size for your ears so that they will stay in your ears and not fall out. If you need more help with your device, please contact our customer support for further assistance.
Date published: 2023-02-23
If I lose one earbud, is there a way to buy another single earbud?
Yes. Our JBL Live Pro 2 TWS earbuds can be purchased separately by contacting our customer support. You may also download our JBL Headphones App which has a feature to find the earbuds in case they got lost within the vicinity.
Date published: 2023-02-22
Can you control the volume levels via the headphones?
Our JBL Live Pro 2 TWS does not have a feature to adjust the volume using the earbuds. You may adjust the volume using the connected source device.
Date published: 2022-11-27
Replacement earpiece
Thank you for your inquiry. You can order replacement earbuds for the JBL Live Pro 2 via our customer support. You may reach them through our official website or toll-free number.
Date published: 2023-05-05
Do they have multipoint?
Yes, our JBL Live Pro 2 TWS does have Multi-point and Dual Connect features.
Date published: 2023-04-26
Does the JBL Live Pro 2 TWS support any codecs like Aptx or LDAC?
Our JBL Live Pro 2 have the standard SBC codecs. We don't recommend pairing our JBL Live Pro 2 to a T.V. because you may experience audio/video sync issues since the headphones don't support low latency and APTX codecs.
Date published: 2022-10-24
The charging case of the live pro 2 tws is the same size of the live pro + tws?
Yes, the charging case of our JBL Live Pro 2 and Pro+ has the same size.
Date published: 2023-01-28
JBL live pro 2 TWS. How waterproof are they? Can you swim with them?
Our JBL Live Pro 2 has an IPX5 rating which means that it has been deemed sweatproof and can offer protection from sweat on rigorous workouts. Submerging the units into the water can damage the unit.
Date published: 2023-01-28
Can you set it up so that you use one earphone only and it still works?
Thank you for your question. Yes, the JBL Live Pro 2 TWS can be used in stereo and mono mode. For mono mode, simple wear just one pod and the second one can remain in the charging case. Should you wish to receive further support, you may contact the Harman Customer Support team by telephone, email or chat in order to receive direct assistance. Please see https://uk.harmanaudio.com/support-contact.html#ns for further details. Thank you.
Date published: 2022-07-28
Can you just use one JBL ear bud instead of two?
Our JBL Live Pro 2 TWS has the Dual Connect feature in which you can use both earbuds (stereo mode) or just one (mono mode) while the other side is in the charging case.
Date published: 2023-01-09
Are there compatible memory foam tips for these? I like them for the most part, but have tried all 3 sizes of the silicone tips and they still gradually fall out of place which causes issues with the mic/my voice on calls.
Thanks for your inquiry. We don't sell any foam tips for our JBL Live Pro 2 TWS. You may search from third-party retailers online such as Amazon or eBay for compatible ear foam tips.
Date published: 2023-02-23
Passar dem till en iphone?
Tack för din fråga. Våra JBL Live Pro 2 TWS hörlurar passar till iPhone. Alla våra hörlurar är kompatibla med både iOS och Android. Om du vill ha mer hjälp är du välkommen att kontakta Harman kundtjänst: https://support.jbl.com/se/sv/ https://support.harmanaudio.com/se/sv/ ​​​​​​​Tack.
Date published: 2022-12-20
how do i find the charging case if i lost it but still have the earbuds
Our JBL Live Pro 2 has function to find missing earbuds but it does not have a function to look for the charging cases. For replacement part orders for the charging case of your live Pro 2, please reach out to our Customer Support team via our official website or toll-free hotline.
Date published: 2022-11-01
Apple watch series 8 won't find JBL live pro 2 tws
Where can I find replacement buds for these?
Do JBL Live Pro 2 TWS earbuds connect with AppleWatch?
What's the difference between these and Live Pro+ TWS
bvseo_sdk, dw_cartridge, 18.2.0, p_sdk_3.2.0
CLOUD, getContent, 5ms
questions, product