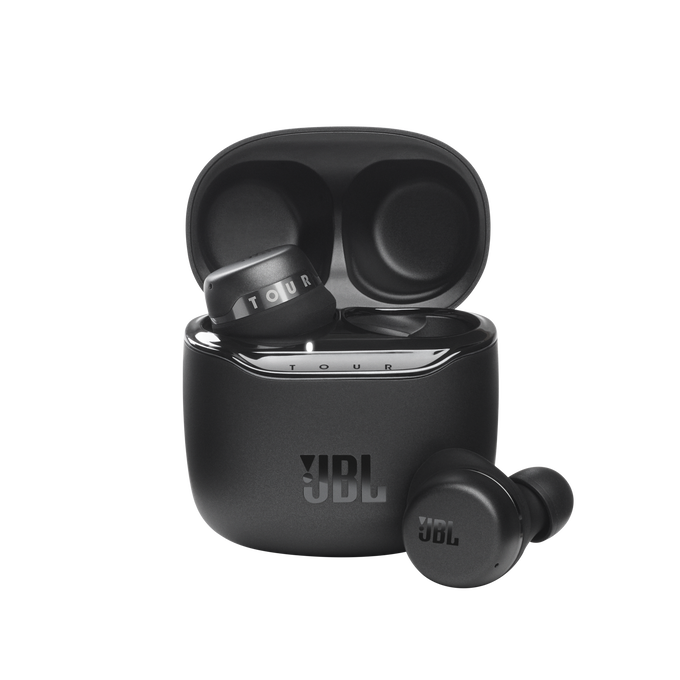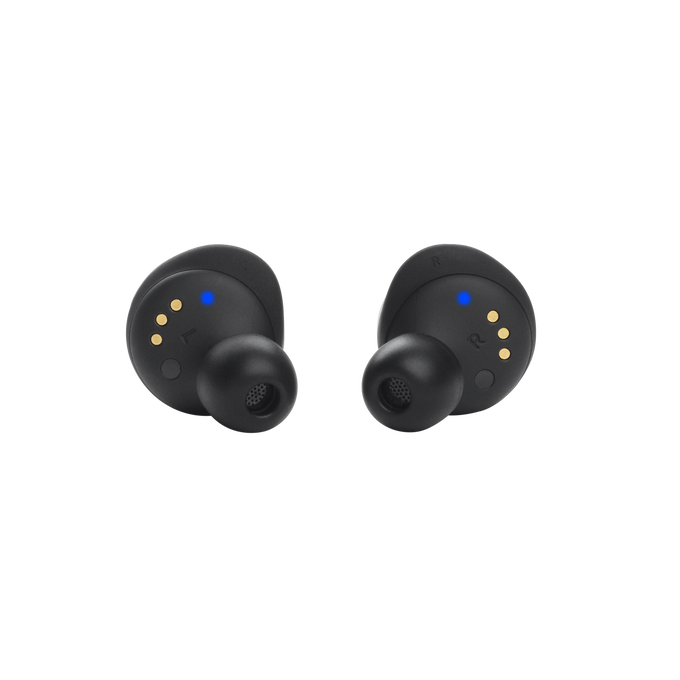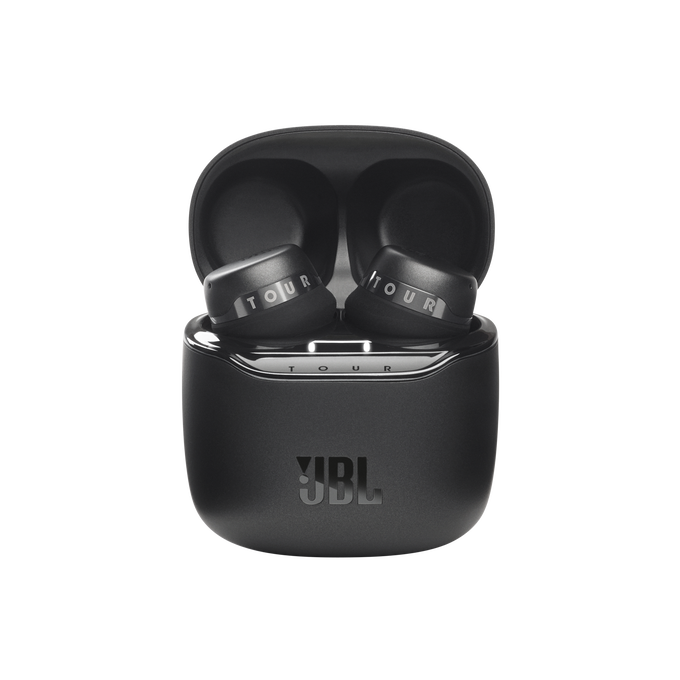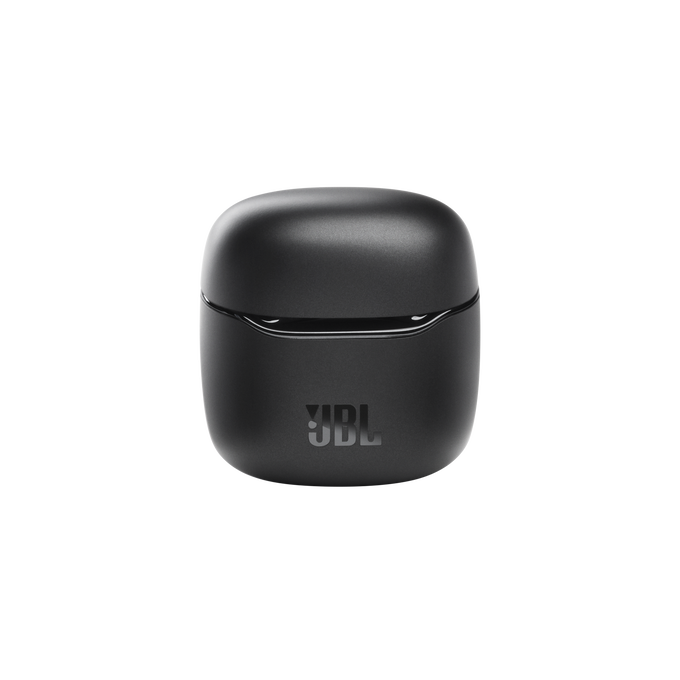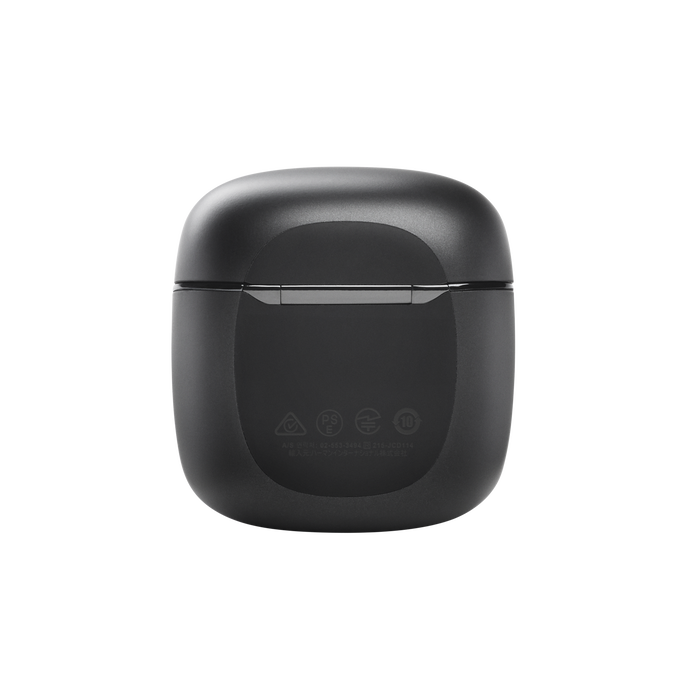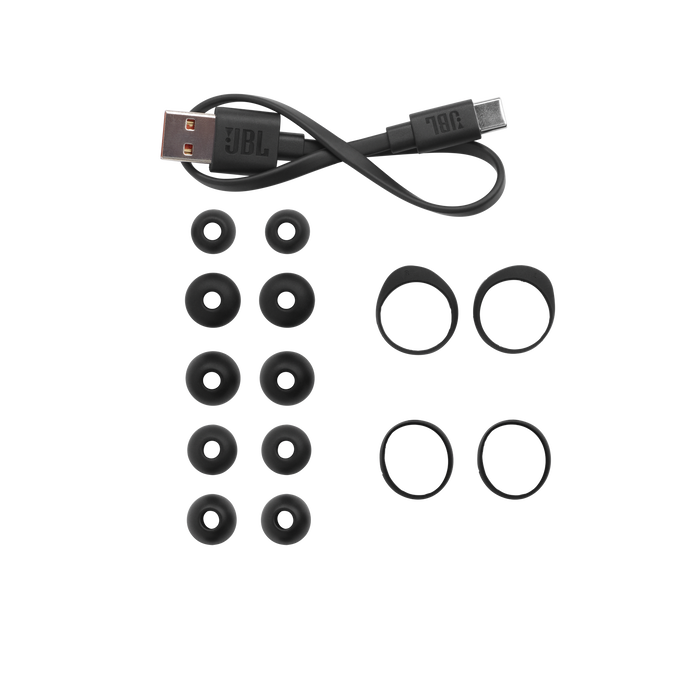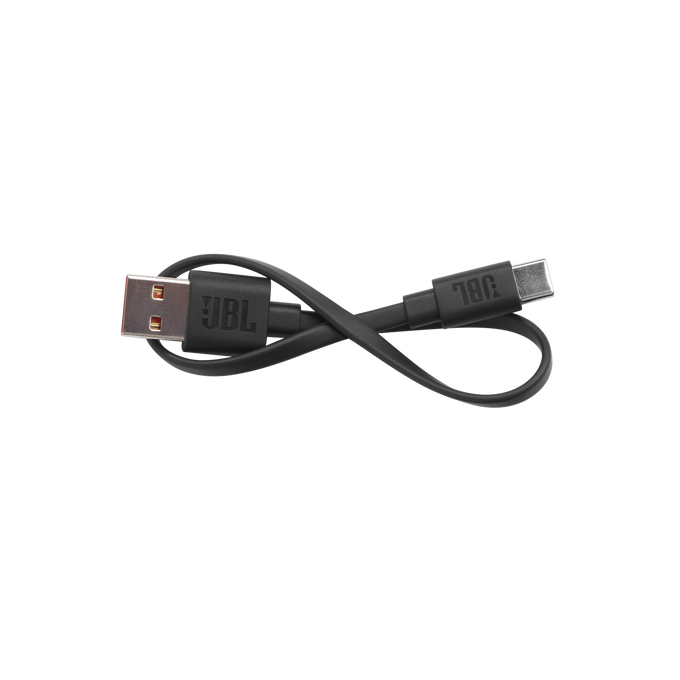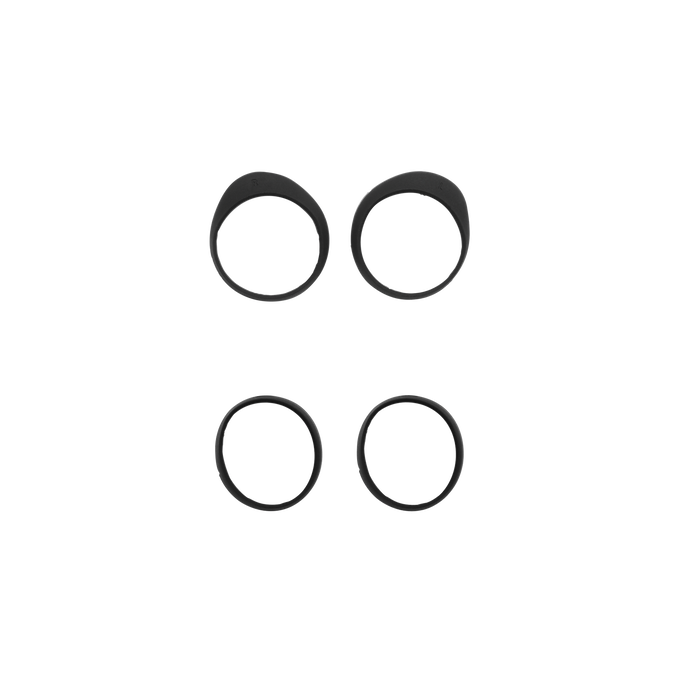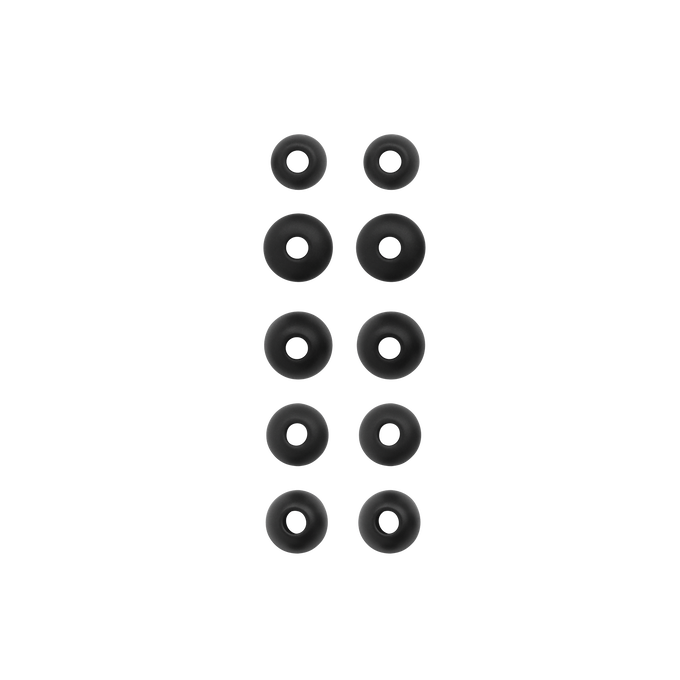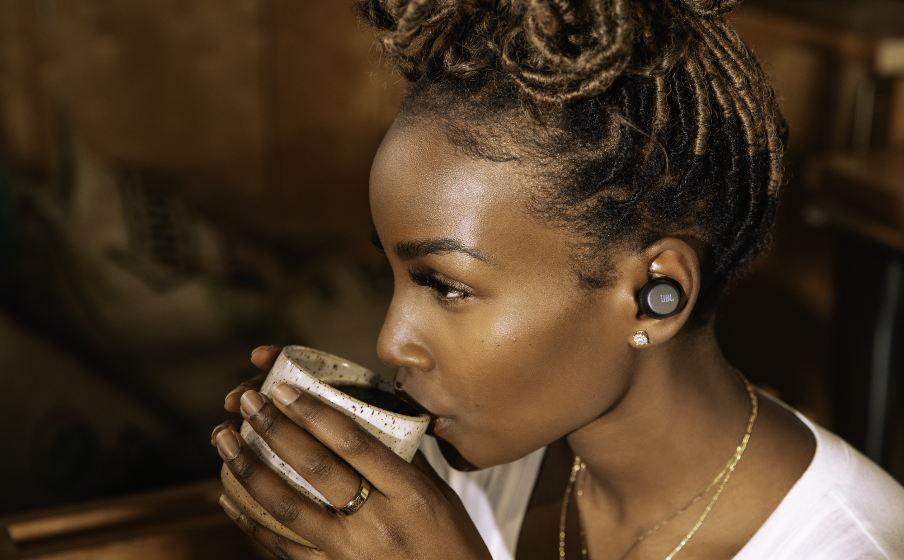 Adaptiv brusreducering med Smart Ambient
Med hjälp av inre och yttre mikrofoner minimerar JBL:s adaptiva brusreducering alla störningar och maximerar samtidigt ljudkvaliteten i ditt livs ljudspår. Med Smart Ambient Technology uppfattar du världen omkring dig och kan höra vänner och kollegor tydligt med en knapptryckning eller via JBL-appen.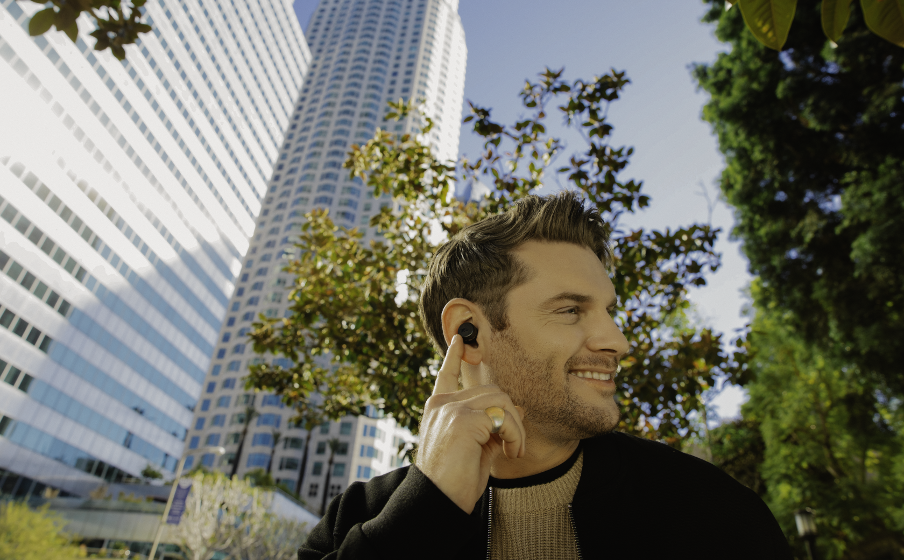 JBL Pro-ljud
Från fyllig, kraftfull bas till kittlande diskant kommer du alltid att uppleva ett perfekt ljud med de dynamiska 6,8 mm-elementen i JBL Tour Pro+ TWS med JBL Pro Sound.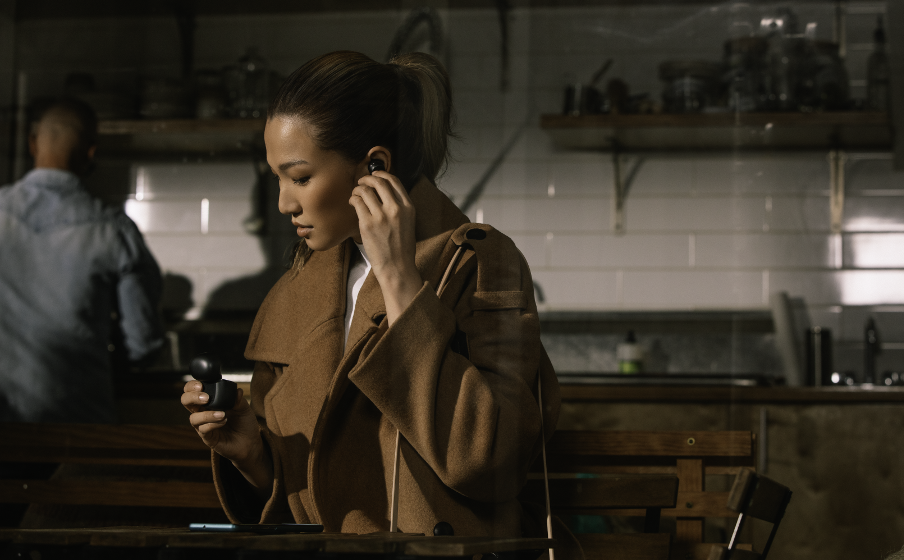 Upp till 32 timmars uppspelning, trådlöst
Var uppkopplad hela dagen med upp till 32 timmars batteritid, Qi-kompatibel trådlös laddning och tre extraladdningar i fodralet. Och skulle du ändå bli utan musik så småningom så kan du snabbt ladda en timmes speltid på några minuter.
Funktioner

Tydlig röst tack vare sex mikrofoner
Bullrig miljö? Inga problem! JBL Tour Pro+ TWS garanterar perfekt röstskärpa under samtal, med en uppsättning av två yttre strålriktade mikrofoner och en tredje för att minska vind och andra distraktioner.

Öka din produktivitet
Skapa en perfekt ljudvärld där du kan fokusera helt på dina uppgifter. Behöver du en tyst plats? SilentNow har koll på dig. Hörlurarna stängs av automatiskt efter en tid som du själv väljer med Auto Off. Beställ väckning med My Alarm, finjustera ljudet med Smart Audio & Video och pausa dina hörlurar automatiskt när du tar av dem. Alla dessa funktioner styrs från appen My JBL Headphones.

Dual Connect + Sync med Fast Pair
I samma ögonblick som du öppnar fodralet startar Dual Connect Bluetooth-synkroniseringen för en ultrastabil anslutning. Öronsnäckorna ansluts oberoende av varandra, och du kan tilldela funktioner till vänster eller höger öronsnäcka och ta emot samtal med någon av dem eller båda.
Handsfree med röstkommando
Håll kontakten med din digitala värld var du än befinner dig. Aktivera den röstassistent du föredrar med röstkommando. Du kan också styra hörlurarna med röstkommandon och Hey Google. Röstmeddelanden finns på flera språk. (*) Stöds endast på Android. (**) Android 6.0 eller senare krävs för fullständig åtkomst till Alexa-funktioner när du använder denna enhet.

Anpassa hörlurarna efter dina önskemål med den kostnadsfria appen My JBL Headphones
Anpassa ditt livs ljudspår med appen My JBL Headphones. Hämta den kostnadsfria appen för att ställa in anpassad EQ, slå på adaptiv brusreducering eller justera omgivningsljudet med Ambient Sound Control.
Detaljer & Nedladdningar
Item# JBLTOURPROPTWSBLK
Beskrivning
Styr din omgivning, öka produktiviteten

Ha en underbar dag med JBL Tour Pro+ TWS som drivs av JBL Pro Sound. Med 32 timmars speltid, trådlös laddning och en kompatibel app för ultimat anpassning ger dessa snygga in-ear-hörlurar inspiration och engagemang, med adaptiv brusreducering och Smart Ambient för reglering av ljudet från omgivningen. I samma ögonblick som du öppnar fodralet hittar du smarta funktioner, skapade för att du ska kunna jobba effektivare med oöverträffad komfort. De tre mikrofonerna garanterar hög samtalskvalitet även i bullriga och blåsiga miljöer. Du är redo att ta dig an nya arbetsuppgifter eller att kasta loss, vart dina äventyr än leder dig.
Allmänna specifikationer
Ljudspecifikationer
Elementkänslighet vid 1 kHz/1 mW (dB)

100

Dynamiskt frekvensomfång (Hz)

10Hz - 20kHz

Impedans (ohm)

16

Antal element per öra

1
Mått
Charging Case Weight (oz)

2

Earpiece Weight (oz)

0.5

Laddfodralets vikt (g)

56.8

Öronsnäckans vikt (g)

15
Specifikationer, styrning och anslutning
Bluetooth-profiler

A2DP V1.3 AVRCP V1.6 HFP V1.7

Bluetooth-frekvens

2.4 GHz – 2.4835 GHz

Bluetooth-sändarmodulering

GFSK, π/4DQPSK, 8DPSK

Bluetooth-sändareffekt

0 - 12dbm

Bluetooth-version

5.0
Batteri
Max speltid med ANC av (timmar)

8

Max speltid med ANC påt (timmar)

6

Max speltid (timmar)

8
Egenskaper
Bluetooth

Ja

Charging cable

Ja

Röstassistent

Ja

Adaptiv brusreducering

Ja

Ambient Aware

Ja

Inbyggd mikrofon

Ja

Laddfodral

Ja

Handsfree-samtal

Ja

Uppladdningsbart batteri

Ja

Fjärrkontroll på öronkåpor?

Ja

Snabbladdning

Ja

Helt trådlöst

Ja

Trådlös

Ja
Vad innehåller förpackningen?
1 par JBL Tour Pro+ TWS hörlurar
1 USB typ C-laddkabel
1 laddfodral
5 storlekar på örontoppar
2 storlekar på stabiliserare
1 garantisedel, varningsmeddelande
1 produktsnabbguide, 1 Google Assistent-installationsguide, 1 Amazon Alexa-installationsguide, säkerhetsblad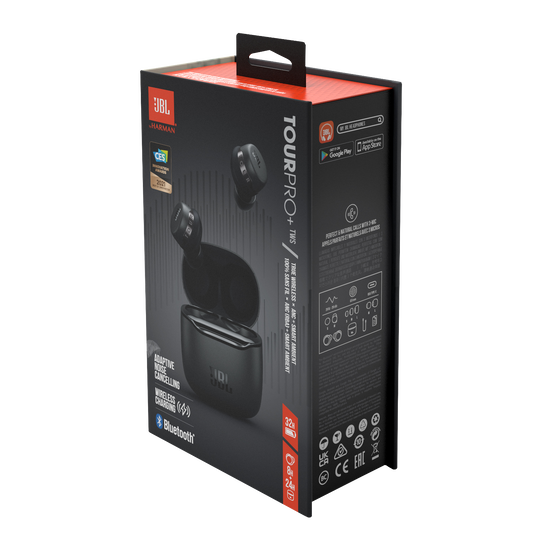 Dokument och hämtningar
Kundrecensioner
Rated

3

out of

5
by
Osterklausi
from
Good sound but doesn't fit my ears
I tried the JBL now for several days and also put the extras on it or changed them, but I have to recommend that my ears are not made for them. It hurts in my ear due to the fact that the plastic is too hard. But I also tried them and listen to music and books and I can say that the sound is really clear and the noise canceling works really fine. I also think it's perfect that you can download the app and then you can check if the JBL's fits perfect in your ear so the sound can be as perfect as it could. I also like the touch function to change the volume and also you can use the touch in order to make any other choices which you can fix in the app
Date published: 2021-06-17
Rated

4

out of

5
by
481_ndh
from
Good quality and sound but too big for normal ears
I got this JBL Tour Pro+ TWS 2 weeks ago and I have to admit, these are one of the best In ears I've ever had expect of its size. Let's start with the quality. The quality of the charger and of the in ears are unbeatable very solid and high quality. The sound is very good as well which is supported by the App you can download in the AppStore. Very good base bass and overall TOP Sound! And now to it's sizing. For me it's personally too big even if I change the in ears sizings. (Btw i got the smallest one but its still too big for my ears) It's hard for me to put them in my ears cuz of its big and solid build. But overall 4/5 Stars
Date published: 2021-06-17
Rated

5

out of

5
by
Rockin 64
from
*MY NEW GO-TO*
These Tour Pro+ wireless in ear headphones are everything they advertised and more! Great JBL sound, that what keeps me coming back. The nuances in the music are superb. Like all the other JBL products they practically pair themselves and have a great range. Out of the box I thought they might be a little complicated but then was surprised they have voice alerts for the adaptive noise cancelling system, just tap the left earpiece and you know exactly what mode you are in. Plus you can use these with Google Assistant by setting up the App. Alexa comes built in. Compatible with Bixby, SIRI, and more. I would recommend!
Date published: 2021-03-22
Rated

5

out of

5
by
D Warren
from
By far the best yet
I've had some earbuds and these are by far the best. It has an ambient sound option if I want to leave them in and pretty much amplifies the noise around me. Noise canceling option is great it deaden the noise perfectly. The best option it has is that when on a call you can hear the caller in both ears. Maybe the ones I had before weren't top of the line but most of them I could only use the right earbud to listen to my calls, unless it was wired or the 2 were connected together but wireless. But with these earbuds I can use left or right to talk and listen or both simultaneously. By far the best. Also listening to music is a huge plus factor, it has multiple EQs to choose from and i can also create my own. I'm completely satisfied with my purchase.
Date published: 2021-06-28
Rated

4

out of

5
by
aidu
from
Good in-ears
I got this headphone for testing from the reviweclub uk. Thank you for 4 weeks of testing. The box in which the headphones come is very stable and stylish. There are many different interchangeable silicone buds so everybody can find the perfect match. The pairing was very fast and easy, even without the app. One minute and it was done. The in ears fits good and I used it for running. One time it falls out of my ear but that was not a big problem. By tapping the headphone you can skip a song or use google or alexa or change between modes. I tried the noice cancelling but for me I can not hear a big difference. I always hear the cars on the motorway 100 yards away. For running it is good because I recognize my surrounding. One thing I don't like. If switching between noise cancelling and ambient aware there ist always a announcement an this is very loud. I haven't found a possibility to cancel this.
Date published: 2021-06-15
bvseo_sdk, dw_cartridge, 18.2.0, p_sdk_3.2.0
CLOUD, getReviews, 7ms
reviews, product
Frågor och svar
Does the original JBL connect to App and fake doesn't. Ali express selling jbl with No app support and is cheap. How to tell original vs fake?
Thank you for bringing this to our attention. Our JBL Tour Pro TWS is supported by the JBL Headphones app. You can check if the unit is authentic if it has a valid serial number usually printed on a small white sticker. To avoid getting a copy, please shop directly from our website or authorized retailers. You can contact them here: https://bit.ly/2ZtSp1F
Date published: 2021-06-14
Can either one work while the other is in the case? Or does the left one rely on the right one to be on?
Our JBL Tour Pro+ TWS have a Dual Connect feature where each earbuds can connect independently to the phone or source device.
Date published: 2022-05-25
2 questions one is what does the ringing mean is it too close to a device?  Also when I connect and open the app it show one earbud offline and one earbud and case shows online? It's on tourpro +tws.
We'd like to work with you directly to know when you see the "ringing" option on your JBL Tour Pro+ TWS and to get more details about your concern. Please contact our customer support team for assistance.
Date published: 2022-11-16
How do I check for Driver Updates if any?
Thanks for your inquiry. Our JBL Tour Pro+'s latest firmware is V 3.6.0. If you go into the JBL Headphones app, tap on settings, then scroll down to "about," you can see the firmware version of the earbuds and case. One thing to keep in mind is that if you only have one earbud out and the other is in the case, when you check the firmware section, it will prompt you that there is an update available, which is incorrect and is being addressed. If you need more help, please contact our customer support for assistance.
Date published: 2022-11-29
Can the Tour Pro+ TWS be paired w/ the laptop for video call?
Our JBL Tour Pro+ TWS isn't recommended to be used for your TV as you may experience audio/video delays. Our Bluetooth Headphones are designed for listening to audio/ music.
Date published: 2022-05-25
JBL Tour Pro+ TWS My playback Control is activated i the ap but does not work. I tried this on left and right side. Nothing happens exept "tap & hold" It activates Voice Assistant.
Thank you for your question. This is not the experience that we want you to have with our JBL Tour Pro+ TWS earbuds. On the basis of the information provided, we recommend that you reset your headphones: With both earbuds ON, and not charging, triple-tap & hold button on the right earbud for more than 2 seconds. You may need to 'forget' the headphones in Bluetooth settings on your phone/tablet in order to pair it again. For further support, we welcome you to contact our Harman Customer Support team: https://support.jbl.com/gb/en/ https://support.harmanaudio.com/gb/en/ Thank you.
Date published: 2022-10-13
Can the earbuds be connected to multiple devices simultaneously?
Our JBL Tour Pro+ TWS doesn't have a multipoint connection. It can pair to multiple devices but can only connect to one device at a time.
Date published: 2022-09-14
My JBL Tour keeps disconnecting about every 5 -6 Minutes, then it makes the Same sound as when the JBL Bluetooth Speakers are turned off. 15-20 seconds Later one Earbud seems like recovering and then Both are back on track. What can I do?
Thank you for bringing this to our attention. You may try to reset your Tour Pro+ by following the instructions below: - Double-tap the button on the right earbud, then on the third tap - press and hold the button for more than 5 seconds (until the unit shuts off). - This restores the earbuds to the factory defaults. - TWS must be connected to perform the reset, so neither of the earbuds should be off or in the charging case. - It also may be necessary to remove or forget the earbuds from the list of paired Bluetooth devices in order to pair again. If the issue persists, please reach out to our Customer Support to check your options here: https://bit.ly/3EGyyiM
Date published: 2021-12-08
bvseo_sdk, dw_cartridge, 18.2.0, p_sdk_3.2.0
CLOUD, getContent, 5ms
questions, product